We are excited to announce the onboarding of CharmVerse. A web3 community platform, CharmVerse is a solution for token communities that are re-inventing the future of work. Through CharmVerse's Spaces, communities can build relationships, work collaboratively, and vote on proposals.
CharmVerse users will now be able to pay in crypto and purchase subscription access to Spaces using Loop's crypto payments checkout.
Focused on supporting web3 native communities, it was critical for CharmVerse to be able to accept crypto payments. They decided to use Loop because it:
Enabled crypto autopay in the checkout experience so that users only need to sign one transaction to set up recurring payments

Supported the ability to bill for quantities. This allowed users to purchase multiple CharmVerse Spaces in one checkout session.

Saved CharmVerse hours or even days of manual payment reconciliation and follow-up with automated receipts, webhook notifications, and transaction data immediately captured

Allowed CharmVerse to grow its customer base by appealing to web3 native users who want and need to pay for services in crypto
In addition, Loop's unique ability to integrate with Stripe was critical. This permitted CharmVerse to implement crypto payments alongside their existing fiat solution and eliminate hours of reconciliation work navigating between two systems. With Loop, CharmVerse can continue to use Stripe as its subscription management platform while utilizing Loop as its crypto payments gateway that seamlessly pushes all crypto transaction data into Stripe.
"We decided to move forward with Loop Crypto because it allowed us to implement an automated crypto payment experience. It was the only solution out there that enabled us to offer crypto in combination with fiat via Stripe. Making crypto payments available to our web3 native user base was key and helps us to further strengthen our ability to meet the needs of web3 communities that want to pay in crypto." - Alex Poon, CEO & Co-Founder of CharmVerse
‍Using Loop's API infrastructure, CharmVerse has embedded the Loop Crypto checkout experience within its platform. Upon upgrading, users see the option to pay with crypto to purchase one of CharmVerse's paid plans.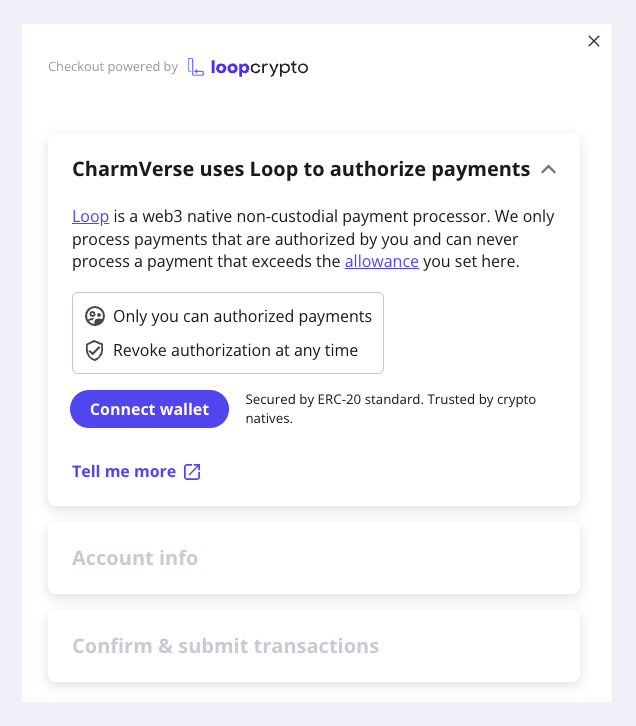 After completing Loop's checkout, the user's payment is processed on chain, and that user is then granted product access. This flow was automated and simple to implement as a result of Loop's Stripe integration.
You can learn more about CharmVerse on their website. If you're ready to get started with crypto subscription payments, reach out to Loop Crypto here.
‍
---
Loop Crypto
Loop Crypto makes it simple to collect and pay in crypto by allowing companies to turn on autopay and schedule payments. Built by web3 veterans, Loop unlocks payment automation to reduce customer churn and eliminate time-consuming payment collection and follow-up. By connecting on-chain and off-chain data, Loop streamlines invoice reconciliation, accounting, and fits seamlessly into your financial stack.
Loop crypto is programmable payments.
Are you ready to supercharge your payments? Book a call with Jeff, our Head of Business Operations, or head to our docs to learn more.
Stay in the Loop.
Twitter | Medium | LinkedIn | Blog | Paragraph | Website
‍
CharmVerse
CharmVerse is the solution for web3 communities to build relationships, work together and vote. Manage members, coordinate tasks, facilitate structured discussions & decisions, and hold each other accountable.
Subscribe to Loop Crypto and never miss a post.
#crypto payments
#cryptocurrency
#web3