Gm,
I am excited to announce that Loop now integrates with QuickBooks for invoicing!
You can manage all of your invoices in QuickBooks for both fiat and crypto payments. Simply create an invoice in QuickBooks and include a Loop payment link. As soon as the payment is processed on chain, your invoice will be automatically updated as paid in QuickBooks. Simple as that!
If you're already using QuickBooks for accounting but didn't realize you can use QuickBooks for invoicing, it's actually free to generate invoices. Give it a try!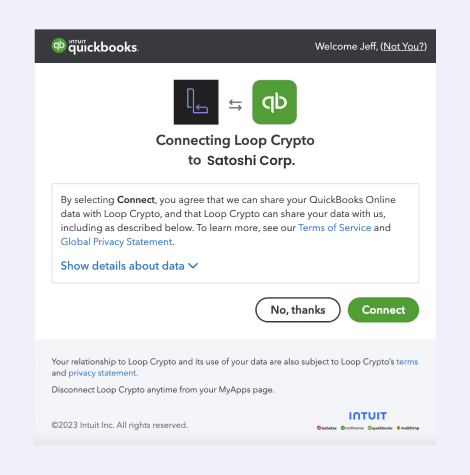 As soon as a payment is made, you'll see the invoice updated in QuickBooks and receive a webhook notification via Slack. If there are other ways you want to be notified, just let us know.
You can read more about the integration in our latest blog post. If you're using QuickBooks already for invoicing or want to start, we'll get you set up during a quick 10 minute call. Here's my calendar.
Best,
Jeff
Subscribe to Loop Crypto and never miss a post.