We are happy to announce that Loop Crypto is joining the Onchain Summer fun and is now available on Coinbase's Base Layer-2 (L2) network. With a focus on simplifying the web3 user experience and providing a platform for more dApp development, Base has the potential to open access to web3 for a broad audience. We share similar values here at Loop as we strive to simplify crypto payments and make it easy to facilitate one-time and recurring crypto payments for businesses and projects.
Over the last two years, we've seen significant progress in the L2 landscape as chains like Optimism, Arbitrum, and others have deployed their mainnets and migrated thousands of project teams to their ecosystems. With their significantly lower gas fees and high throughput, we see a lot of potential for L2 networks as the payment rails of the future. Even in the initial days after the launch of Base's mainnet, there is already tons of activity and development on the chain as some of the latest charts from Artemis indicate.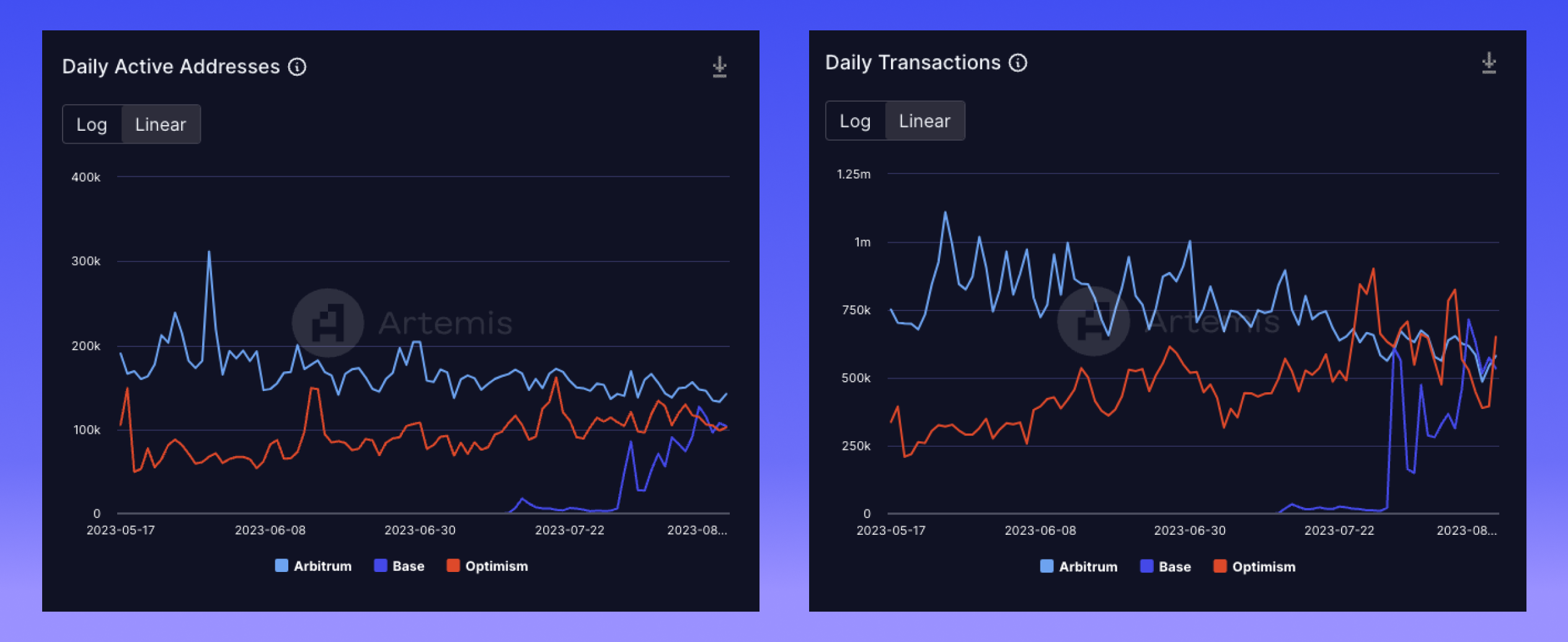 In addition to low transaction fees and high network activity, we're also excited about Base because it's one of the first steps in leveraging Optimism's stack and realizing the vision of an L2 Superchain. While we remain chain agnostic and will always build where our customers are, we believe there could be further opportunities down the road to support payments on additional chains built with the Optimism (OP) stack.
If you're ready to get started with crypto subscription payments or one-time crypto payments on Base, reach out to Loop Crypto here. Loop is also available on Ethereum, Polygon, Arbitrum, Optimism, and BNB Smart Chain (BSC).
‍
---
About Loop
Loop Crypto makes it simple to collect and pay in crypto by allowing companies to turn on autopay and schedule payments. Built by web3 veterans, Loop unlocks payment automation to reduce customer churn and eliminate time-consuming payment collection and follow-up. By connecting on-chain and off-chain data, Loop streamlines invoice reconciliation, accounting, and fits seamlessly into your financial stack.
Loop crypto is programmable payments.
Are you ready to supercharge your payments? Book a call with Jeff, our Head of Business Operations, or head to our docs to learn more.
Stay in the Loop.
Subscribe to Loop Crypto and never miss a post.
#cryptocurrency
#crypto payments
#web3
#base