We are excited to announce the onboarding of Webacy who is now enabling crypto subscription payments for its customers. A leading provider of web3 security products, Webacy helps users navigate the world of web3 safely. The company takes a three-pronged approach to security by building products that enable users to assess, monitor, and act in the face of hacks and other vulnerabilities.
Both Webacy and Loop Crypto share a vision of making the use of non-custodial wallets easier and more secure. This is why Webacy chose to work with Loop Crypto. The Loop protocol makes use of the ERC-20 allowance function, which enables users to always maintain control of their funds and determine how much of a given token a contract can access. Maintaining direct control over funds is a central feature of web3. It alleviates the need to trust companies with payment details like credit cards and bank account numbers, which can be easily compromised.
The combination of Loop Crypto's smart contract architecture and back-end infrastructure assured Webacy that Loop Crypto was the most secure method to accept payments in crypto. Loop Crypto also offered a range of features that would eliminate any manual work related to collecting crypto payments, as Loop integrated directly into Stripe. This meant that as soon as a crypto payment was processed on chain the transaction hash and accompanying metadata would be immediately pushed to Stripe. Webacy can manage its subscribers from one dashboard in Stripe while offering both fiat and crypto payment options.
In addition to a free tier that provides wallet risk scores and wallet monitoring, Webacy offers a paid subscription that unlocks a range of features related to wallet recovery and backup. With a product rooted in security and trust, Webacy wanted to work with a team grounded in the same values and offer a crypto payments solution that had security built into its core.
‍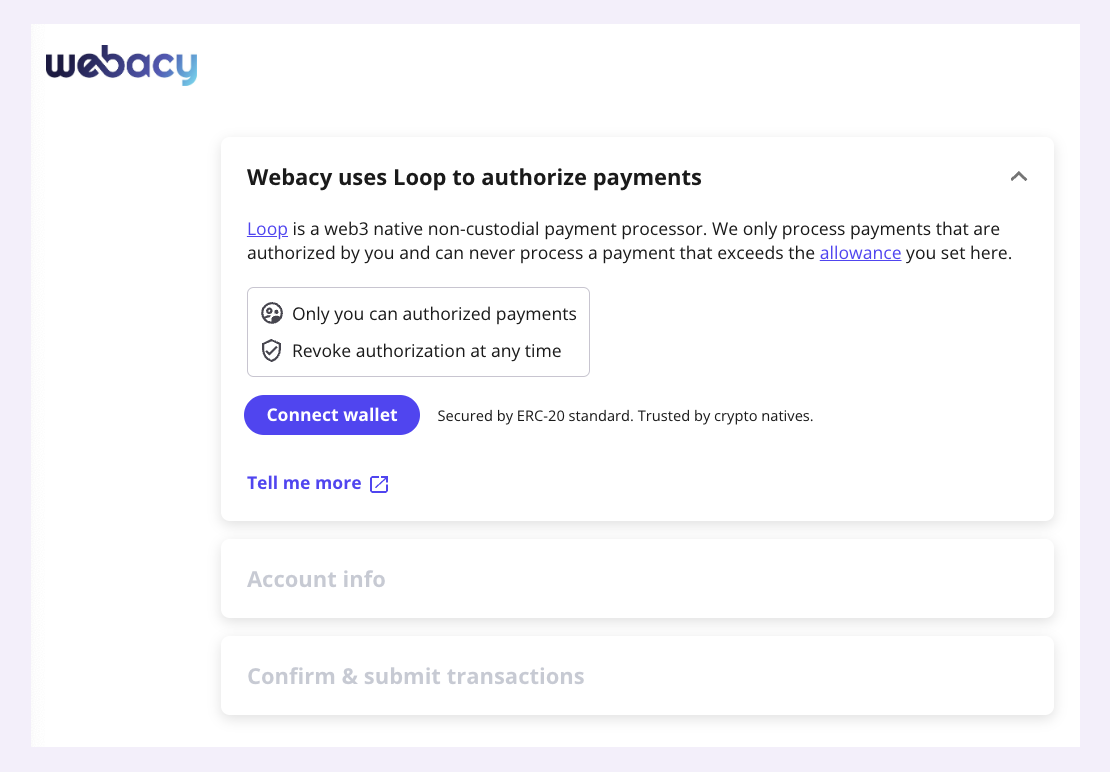 ‍
Comfortable with the security and automation Loop offered, Webacy ultimately decided it was critical to give their customers options and cater to web3 users who want to pay in crypto.
"We are a crypto company...so we thought you should be able to pay with crypto. We felt that Loop was the best team to deliver this solution and shared our values around security and safety. We love options, so we wanted to enable crypto subscriptions so that users have more options to get the protection they deserve." - Maika Isogawa, CEO & Co-Founder of Webacy
‍You can learn more about Webacy on their website, or go directly to their dApp. If you're ready to get started with crypto subscription payments, reach out to Loop Crypto here.
‍
‍
---
Loop Crypto
Loop Crypto makes it simple to collect and pay in crypto by allowing companies to turn on autopay and schedule payments. Built by web3 veterans, Loop unlocks payment automation to reduce customer churn and eliminate time-consuming payment collection and follow-up. By connecting on-chain and off-chain data, Loop streamlines invoice reconciliation, accounting, and fits seamlessly into your financial stack.
Loop crypto is programmable payments.
Are you ready to supercharge your payments? Book a call with Jeff, our Head of Business Operations, or head to our docs to learn more.
Stay in the Loop.
Twitter | Medium | LinkedIn | Blog | Paragraph | Website
Webacy
Webacy is the ultimate protection layer for your self-custodied assets. Our safety suite helps users Assess risk, Monitor their wallets, and Act in an emergency.
Subscribe to Loop Crypto and never miss a post.
#crypto payments
#cryptocurrency
#web3