Rather, it now plays a significant role in our daily lives, much like the banking system, for instance.
Rather, it now plays a significant role in our daily lives, much like the banking system, for instance.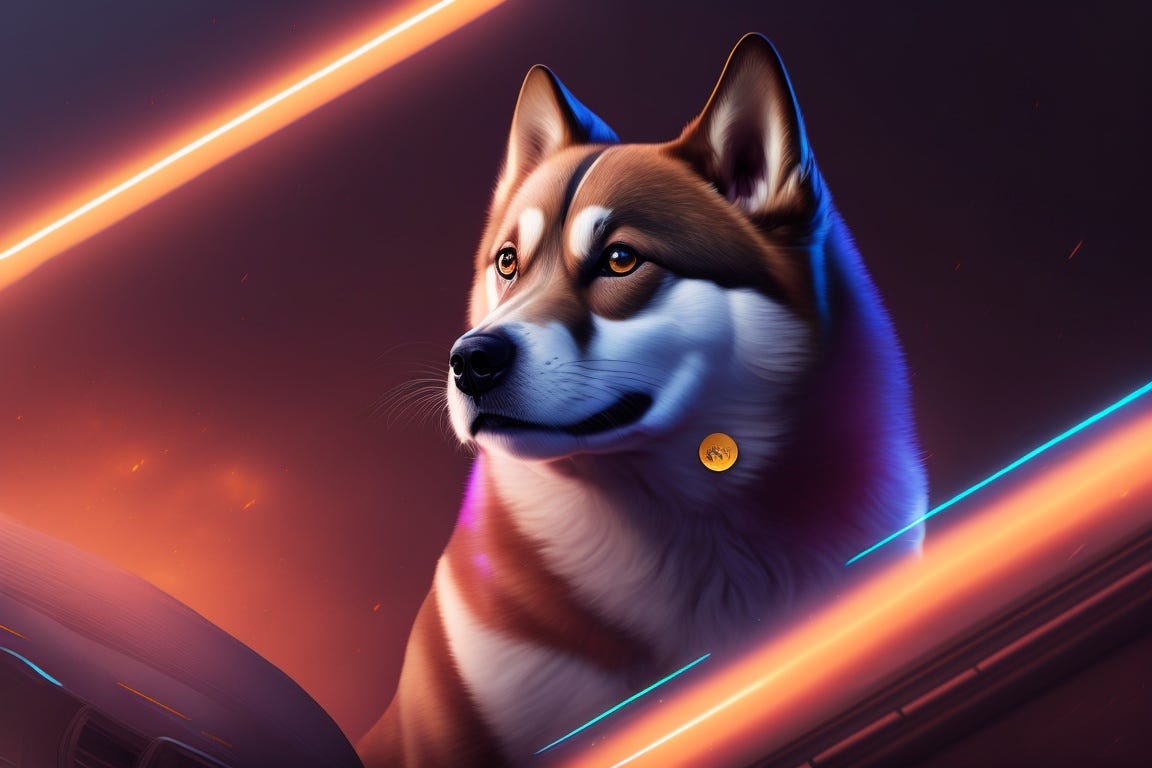 It's amazing how quickly this sector is growing; only a few people were aware of cryptocurrencies ten years ago, but today it's already possible to use so-called "imaginary money" to make purchases on some online platforms.
There are still more intriguing examples, and you can already use cryptocurrency to pay for goods and services right now. Yes, the coins that were designed as a joke, an experiment, and for fun can now be used seriously. In particular, we're referring to Dogecoin, the original "meme" cryptocurrency of the Web 3.
What is Dogecoin (DOGE)?
Before we discuss places where we can spend DOGE, let's recall a few facts about this token:
the coin was created in December 2013 by programmers Billy Markus and Jackson Palmer as a joke, and 10 years later it turned into an actively promoted means of payment;

the first "meme" token, was created in order to sarcastically point out the fact that people can give value and popularity to even the most stupid things;

it is distinguished by high transaction speeds (on average, it takes 1 minute to create a block);

its main advantage is low fees for operations;

Elon Musk, the founder of Tesla, and Vitalik Buterin, the founder of the Ethereum blockchain, are Dogecoin partners.
Top 5 Companies Accepting Dogecoin
A love story that inspires legends and songs is the one involving Elon Musk and DOGE. Tesla's CEO referred to Dogecoin as "the people's crypto" in a tweet from 2021. Elon Musk supports this initiative in every way he can, including by donning a T-shirt that promotes it and changing the Twitter logo to one for Dogecoins. Therefore, it is not shocking that Tesla customers can buy cars with Dogecoin.
Bitrefill is a service for buying gift cards and prepaid cards that you can use to make purchases on platforms such as Apple, Spotify, Amazon, PlayStation and Xbox game stores, etc. For DOGE tokens, here you can purchase basically any certificate you like: for clothes, products, games, travel, entertainment, pre-orders of unique goods and so on. Don't forget to use my link a get a 5$ bonus.
Isn't the ability to buy airline tickets with tokens bearing a cute meme dog's image a marvel of the twenty-first century? Someone's childhood fantasy appears to have come true thanks to the Latvian airline airBaltic. Obviously, this is not the most common method of paying for airline tickets, but the mere fact that it exists inspires faith in miracles. Flights are offered by AirBaltic to Scandinavia, Finland, Estonia, Latvia, and Lithuania.
A well-liked channel for online gaming. Here, users can purchase a "Turbo membership" and pay with Dogecoin. The advantages of this subscription include the lack of ads, new chat features, increased stream storage, and many other things. Executives from Twitch claim that Dogecoin appealed to them because of its friendliness and openness.
The biggest online electronics and computer retailer in North America will start accepting DOGE payments in 2021. The business collaborated with the Bitpay service in order to accomplish this. The management of Newegg determined that Dogecoin would simplify things for its customers. So we can now use this quick and cheap alternative coin to pay for online purchases.
Conclusion
Over the past few years, Dogecoin's popularity has increased. It has evolved over time from being merely a dog meme to a form of exchange. It is regarded as the best by many users, who also favor it over market leaders like Bitcoin and Ethereum.
Many traders today believe that DOGE will reach its all-time high of $0.73, set back in May 2021, this year. Why? Well, primarily due to Elon Musk. He continually draws attention to this alternative coin, which raises the price. For instance, the CEO of Tesla and Twitter recently tweeted that he would give one million DOGE to anyone who could show that his family is the owner of an emerald mine. Following that, the price of DOGE increased right away. Prior to that, Musk posted a picture of his Shiba Inu dog, Floki, along with the caption "Twitter's new CEO is amazing."
All of these actions raise hopes that Twitter will eventually accept Dogecoin payments. The fact that Twitter is working with eToro to integrate cryptocurrency into its platform only served to confirm these suspicions. Without a doubt, DOGE's price will increase if it ever enters the Twitter ecosystem. But for the time being, you can easily use Dogecoin in the locations we listed above.
#dogecoim
#crypto
#doge
#elon musk
#banking