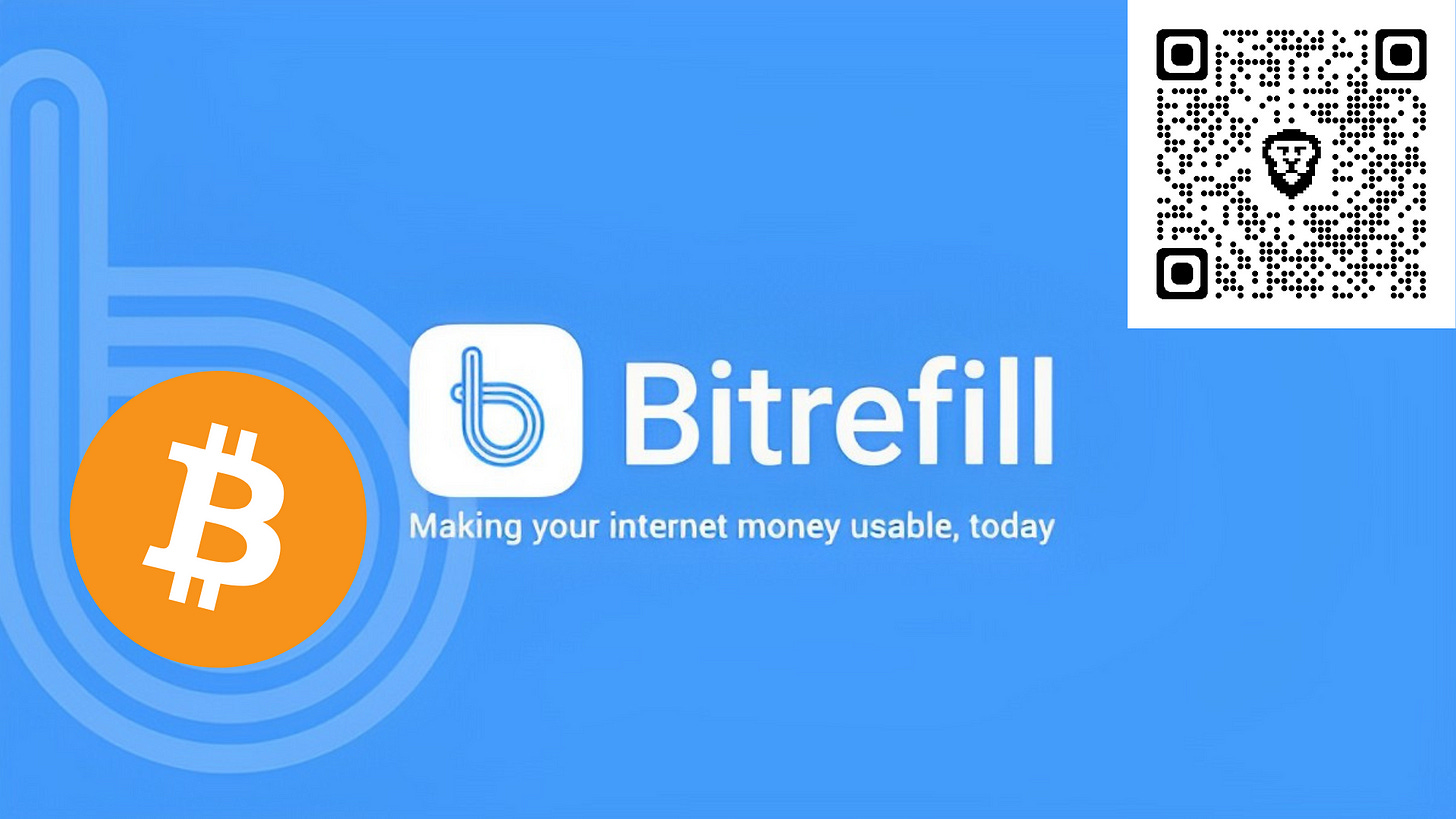 Before we can directly pay with cryptocurrency for everyday purchases at the grocery store, in a coffee shop, or while we're on vacation, there is still a long way to go.
Bitrefill is a potential solution for crypto enthusiasts who want to live off their digital assets.
One of the first companies to offer crypto payments is Bitrefill, which also offers gift cards. The startup, which was established in 2015 by Sergej Kotliar, Michael Grünberger, and Michel Gustavsson, aims to make it possible for individuals to use cryptocurrencies to pay for common things both online and in physical places.
What you can buy with Bitrefill?
You can purchase gift cards from Bitrefill to use as coupons to pay for items like electronics, food, apparel, phone refills, and even lodging and travel for your upcoming vacation.
To be clear, these gift cards are not actual cards; rather, they are vouchers that you may use to pay for goods at participating retailers. You will receive these vouchers by email.
According to the company's website, the network already has more than 4,500 merchants integrated in 186 countries, including well-known companies like Amazon, Airbnb, Domino's, Netflix, Nike, T-Mobile, Walmart, and many more.
There are two key product groups in Bitrefill's offering:
Gift cards for vouchers.

Prepaid phone refills.

Travel vouchers
Similar to a credit card, you receive cashback credits every time you buy a gift card or a phone refill. Some retailers even give rewards as high as 10%.
You should be aware that you will get these benefits in the form of Bitcoin (BTC), the biggest cryptocurrency. This enables users to amass bitcoin and, if wanted, later use their money to make purchases.
The Lightning Network, a secondary payment layer for Bitcoin that settles transactions immediately and essentially for free, is used by Bitrefill.
The Lightning Network-based payment application Strike has the platform embedded into it as well. Strike users who purchase Bitrefill gift cards can receive a 5% Bitcoin cashback.
Get 5$ Bonus on your purchase using my referral link.
How to buy gift cards with Bitrefill
To obtain a gift card from Bitrefill, all you need is an email address; no account needs to be created.
The easy methods to obtain a gift card are as follows:
Pick a merchant on Bitrefill's website which you want a gift card/phone refill from.

Select the amount and select the currency or crypto you want to pay with.

Type in the email address you want to receive the voucher.

Scan the QR code and send the payment to Bitrefill.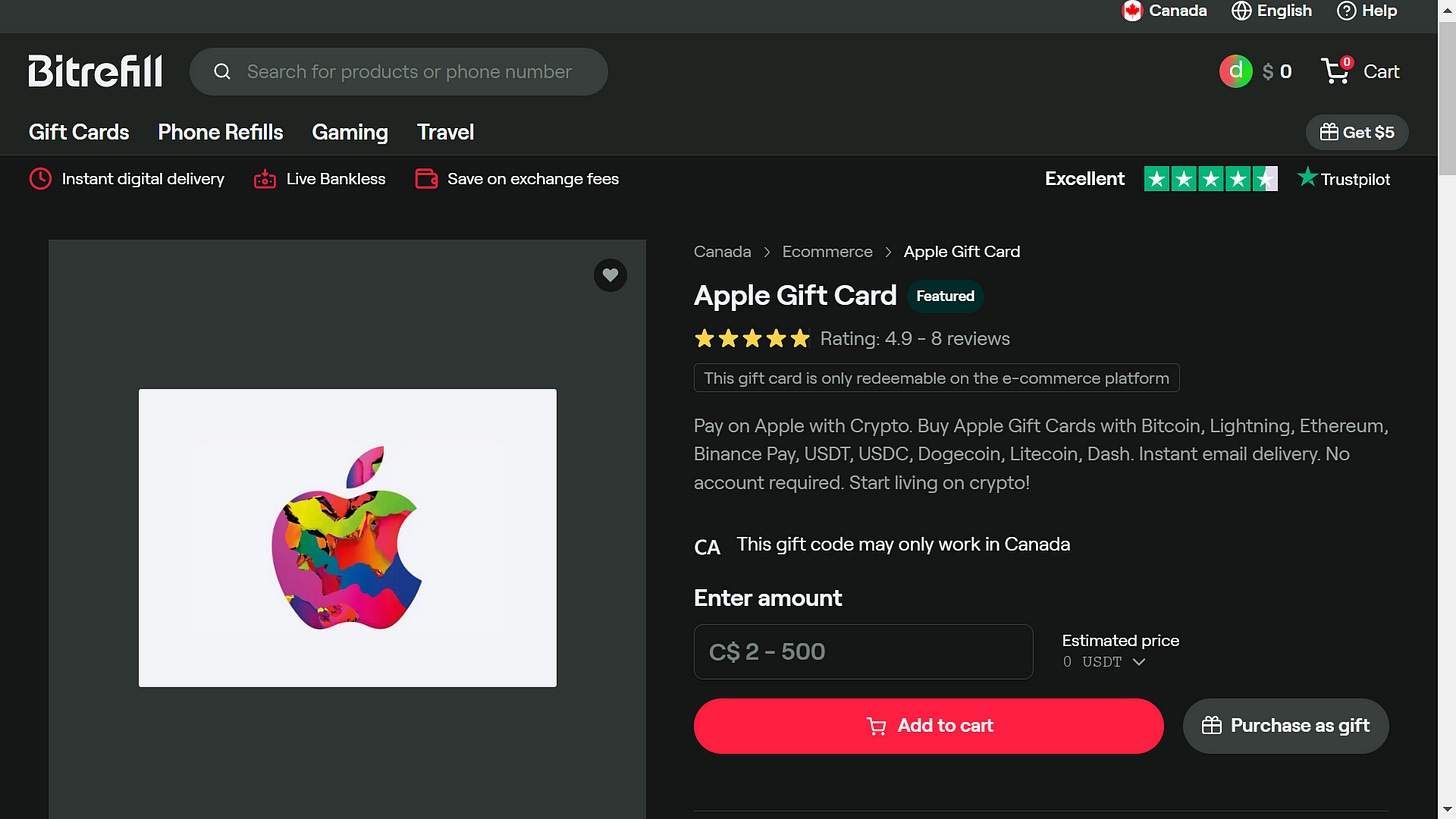 The Bitrefill platform is used by thousands of merchants.
When you wish to reload your phone, the procedure is essentially the same. Choose your retailer, choose the currency, and the refill amount (in some situations, you must choose from predetermined amounts), and you will receive the voucher in your inbox.
A voucher can also be bought as a present. To do so, go to the product page and click the "Buy Gift" option. Fill out the necessary information, select whether you want your gift delivered immediately or at a later time, and then click "Add to Cart."
Numerous conventional fiat currencies, including US dollars, euros, Indian rupees, and others, are accepted by Bitrefill. Users can also use the following cryptocurrencies to purchase goods:
The service provider charges a tiny percentage fee to convert your payment from fiat cash to bitcoin. The service charge, as an illustration, is 60 cents for a $10 purchase.
How to use Bitrefill rewards
Every time you make a purchase, you can receive a reward in satoshis, the smallest unit of bitcoin, equal to 1% to 10% of your money.
While only an email address is needed to purchase gift cards, users must register for an account to use the rewards.
You'll need a password and an email address to sign up.
When you have a sufficient number of rewards, you can pay with them. This is how:
First, make sure you are logged into your account to access the rewards.

Go to the product page, pick an item you want to buy, and add it to the cart.

When you pay for the cart, change the payment method to Rewards Balance.

Then confirm the payment method on the payment page.
You can combine your awards with another payment option if the total of your points is insufficient to cover the entire purchase.
#bitrefill's gift card
#spend your crypto
#how to
#bitrefill