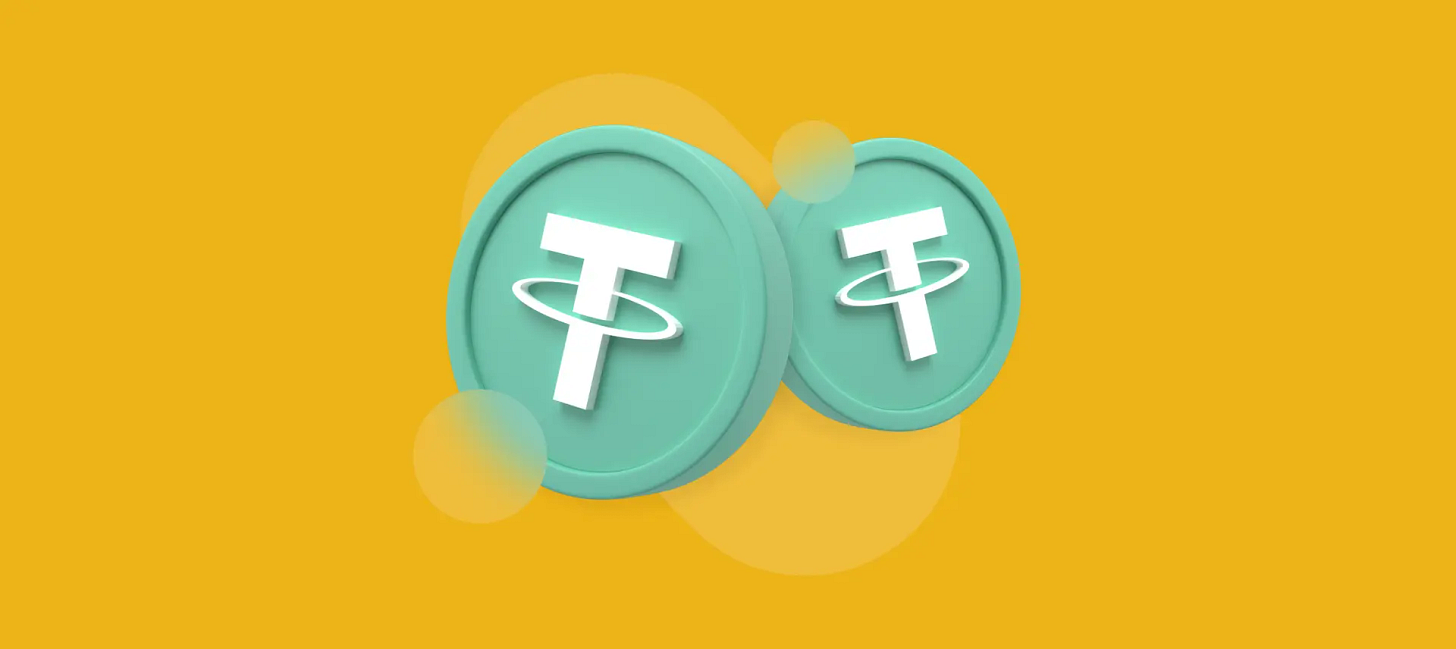 This blog post will cover:
About Tether (USDT)

Where did Tether (USDT) come from?

What are the advantages of Tether (USDT)?

What are the disadvantages of Tether (USDT)?

How to buy Tether (USDT) on SimpleSwap?
About Tether (USDT)
The first and largest stablecoin by market capitalization is Tether (USDT). One USDT is typically worth $1 due to its pegged value to the US dollar. Investors, particularly those who are new to the crypto world, are drawn to buy this token because it is backed by fiat money at a 1-to-1 ratio and has a stable value. This is because, typically, digital assets are very volatile.
The project aims to integrate blockchain technology's innovations with fiat's ease of use and dependability.
A user (who may be an individual or an organization) first sends USD to Tether's bank account, after which they receive the same amount of USDT, minus transfer fees, in their digital wallet. The USDTs are taken out of circulation if the user later chooses to redeem their fiat money. For these operations, SimpleSwap can be used.
On some platforms, USDT can be used as a payment method and as a deposit for borrowing assets; users can also lend the tokens for rewards or store them so they can later trade them for other cryptocurrencies.
Where did Tether (USDT) come from?
The Tether's history began in January 2012. The prospect of creating new currencies on top of the Bitcoin Protocol was then discussed by J.R. Wallet. He developed the Mastercoin to demonstrate that it is plausible. The Tether cryptocurrency was developed on top of the Mastercoin protocol. On October 6, 2014, the initial token was released. The first three cryptocurrencies that Tether supported were USTether+ for US dollars, EuroTether+ for euros, and YenTether+ for Japanese yen. Every currency, according to the team, is fully backed by real money.
Later, the Omni Foundation took the place of the Maincoin Foundation.Tether trading was made possible on the Bitfinex platform in 2015. But it's still not clear how Bitfinex and Tether are related. The Paradise Paper claimed that they share the same owner, despite some representatives' assurances to the contrary.Tether token supply increased from $10 million to about $2.8 billion between 2017 and 2018. This growth is outstanding in every way. It increased to 80% of Bitcoin volume only in the summer of 2018.
What are the advantages of Tether (USDT)?
Overall, USDT brings some clarity to the cryptosphere.

The token's value is very obvious.

Since the US dollar serves as its backing, it can be used as a trading strategy to reduce risks.

The business pledged to manage the coin reserve.

The USDT can also be used electronically.

Employs the Bitcoin blockchain

The fact that this blockchain has been tried and tested and is already operational may be advantageous to some.

Fees that are incredibly low compared to those of other cryptocurrencies

Although USDT appears to be a simple cryptocurrency to grasp and use, there are some drawbacks you may want to be aware of before using it.
What are the disadvantages of Tether (USDT)?
Utilizes financial institutions

Users must undergo account verification and confirmation in order to buy and sell fiat money.

Ambiguous audits

Numerous updates have been made by the company, but none of them mention upcoming audits.

It has a centralized design.

USDT should not be used if you're looking for a decentralized currency.
How to buy Tether (USDT) on SimpleSwap?
Let's say you want to buy Tether OMNI. What should you do? We suggest you go to the SimpleSwap homepage and follow the instructions below:
For example, you want to swap BTC for USDT. Select the currency you want to exchange (e.g. BTC) in the first drop-downlist. Then enter the amount you want to swap.

Select USDT in the second drop-down list. You'll see the estimated amount that you'll get after the exchange.

Click the Exchange button.

Enter the Recipient's Address. USDT will be sent. Be careful and make sure you use the correct address.

Create the exchange.

You will see the Bitcoin deposit address. You need to transfer the necessary amount of BTC to this address to start the BTC to USDT exchange.
Thanks you for reading and don't forget to subscribe.
#crypto
#blockchain
#tether
#stable coin
#money