As a free newsletter, I started PATRICWEEKLY (now named the YOU CHAN DO IT issue).
But later on, I realized it should not be free anymore (apart from this issue) for the benefit of the readers and me. Yes, it's beneficial for them to pay. I'll explain why later.
The short answer to why the issues are not free:
Because for the right person reading it, the fee* is ridiculously affordable as the content inside will help them to earn so much more money in return.
* The fee is to collect our NFT, and the NFT will unlock all of the issues.
However, for NOT the right person, the content is nearly useless.
So, serving the wrong market is not only taking away energy (and also a money-losing activity) but also taking your time away from those you can truly serve.
For instance, I teach about MARKETING in this issue, How It Consistently Makes 6-Figure USD In Less Than 60 Seconds. But seems like "Andr," who read the issue, didn't get the value of the marketing lesson.
Instead, see his comment: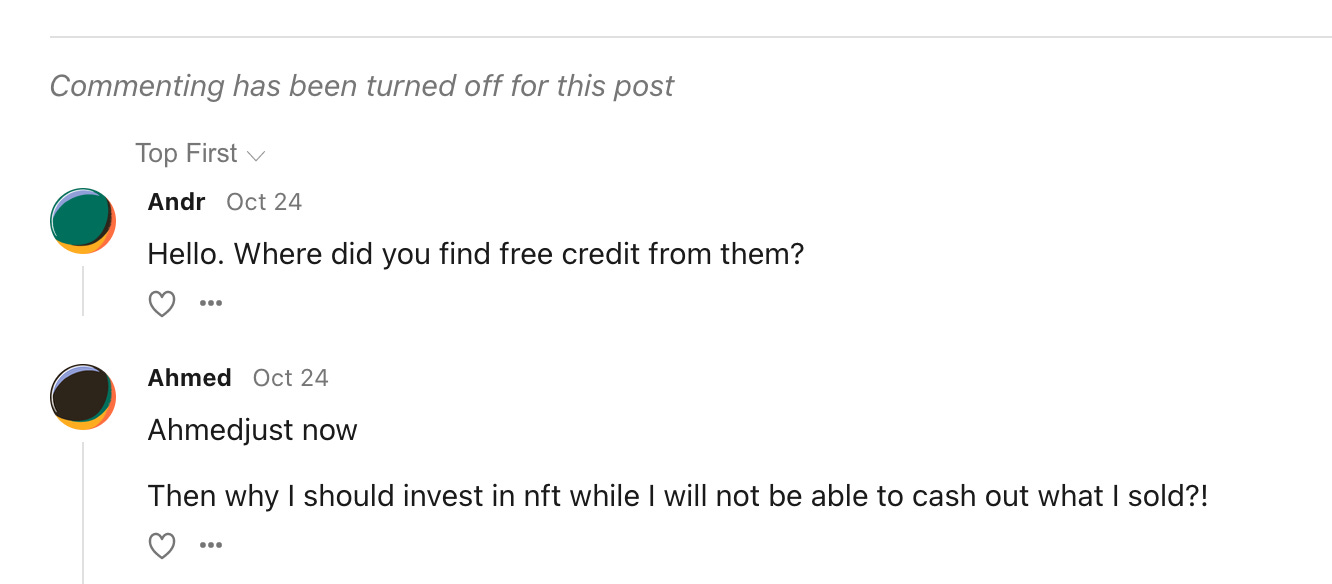 Andr asked where to get free credit from a crypto trading platform. Not only it's off-topic (I left a link to sign up for a crypto exchange at the PS as a "resource"), it's self-explanatory. The free credit is on the website.
Then "Ahmed" was asking about something else too. :-)
The comments are so out of tune I had to turn off the comment function to avoid confusion to my other readers and to avoid more unrelated questions like these being posted.
This leads to the next point…
IT AFFECTS THOSE WHO YOU WANT TO SERVE.
In the above example, if it weren't for the "wrong audience," I would have enabled the comment function to serve those who understand the newsletter's content. So when they comment, I can have a fruitful discussion and answer their questions.
Charging a fee is the ideal "gate" to get the right audience for your business.
So, in this issue, I'm going to share these two insights:
How Charging For Your Content Is Beneficial For Your Customers

How Charging For Your Content Will Attract The Right Customers
How Charging For Your Content Is Beneficial For Your Customers.
Think of it this way - if you are seeking advice for nutrition for your body.
Although there is much free content about this topic, would you prefer to learn from RELIABLE CONTENT?
I mean, you're going to consume external food into your internal body. Wouldn't it be preferable to ensure the information you are learning can be trusted?
And secondly, the content provider can also give you further advice.
This is why your customers should pay for your content.
When they do that, you'll be more responsible for ensuring the accuracy of your content, and secondly, you'll be able to respond to their inquiries. Because if they are not paying, it's tough for you to impart your time away for free.
Example:
It took me about 2 1/2 hours to prepare this one issue. Yup, no kidding. It looks easy, but writing good content without using A. It is a lot of work.
Imagine this is free and even at no cost. The wrong market folks are not benefiting from it either.
Like "Andr" and "Ahmed" commenters above.
It also doesn't help in branding because they did not benefit from my expertise. So, the 2 hours ++ are a total loss.
For those who will benefit from reading this issue, paying a few bucks for it is NOTHING. They'll pay for it to learn as they seek new ideas, perspectives, and strategies for their business.
They are more focused on GETTING THE VALUE over the few bucks. It's pointless, even if it's a dollar, but it has no value. If it's only a few bucks, it's no longer about the amount charged. It's more about the value they're receiving in return.
How Charging For Your Content Will Attract The Right Customers
At this stage, we both understand that it makes more sense for you to charge when delivering value to the right audience; true?
But what's more important is helping you to get even more customers!
You see, when you know who to attract as your paying customers, you'll be able to do these:
Put Up The Right Marketing Message.
Let's take YOU CHAN DO IT (previously known as PATRICWEEKLY) as an example again.
Who is this for?
It's for those who have a marketing mind and appreciate learning STRATEGIES. It's for those who have already launched an online business or currently selling their products. Not for the "quick rich" or those "how to make money online biz opp" folks.
You see, my right group of people will not respond to "quick rich" marketing messages. When you repel the opposite, you'll attract the right audience.
Producing The Right Content.
At first, I wanted it to be for "everyone." So, I must always include some basic explanation of a particular concept.
However, I don't have to do this if I'm not serving the wrong market anymore because the right market folks would find the content of the primary explanation to be time-wasting!
But what's more important is this - I'm now ABLE TO DELIVER THE CONTENT THEY WANT.
For this newsletter, I can even enable the Comment section again. Having the "wrong market" spoils your "community."
In summary, once I know my audience, I can convince more to subscribe (and pay).
This is a paid newsletter.
Collect this post to permanently own it.
Subscribe to NFTs for Creators and never miss a post.