DotA is back! All of our teams had some thrilling matches, ⌐◧-◧ish stomps, and spectacular finishes. New NEW served up, right now! Be sure to share and subscribe!
---
Play of the Week
RECHAO doing work 3v1 with Barbarian class. Check out that first bonk and outplay to secure the 3rd kill. Game: Dark and Darker.
Submit your gaming highlight for a chance to win $25 USDC each week! Any game, doesn't matter, let's see those hype moments! Head to Discord #play-of-the-week for more information.
---
Team Updates
DotA 2 
Nouns DotA is preparing for its toughest challenge yet later today in the BTS Pro Series Season 14. With convincing wins over Infinity and Beastcoast earlier this week, they'll take on the star-studded lineup of Shopify Rebellion in the Upper Bracket Finals.
Tune in here at 16:00 EST/13:00 PST and be sure to spam ⌐◧-◧ in chat!
VOD of Game 2 against Beastcoast, with our very own manager Neph on the cast!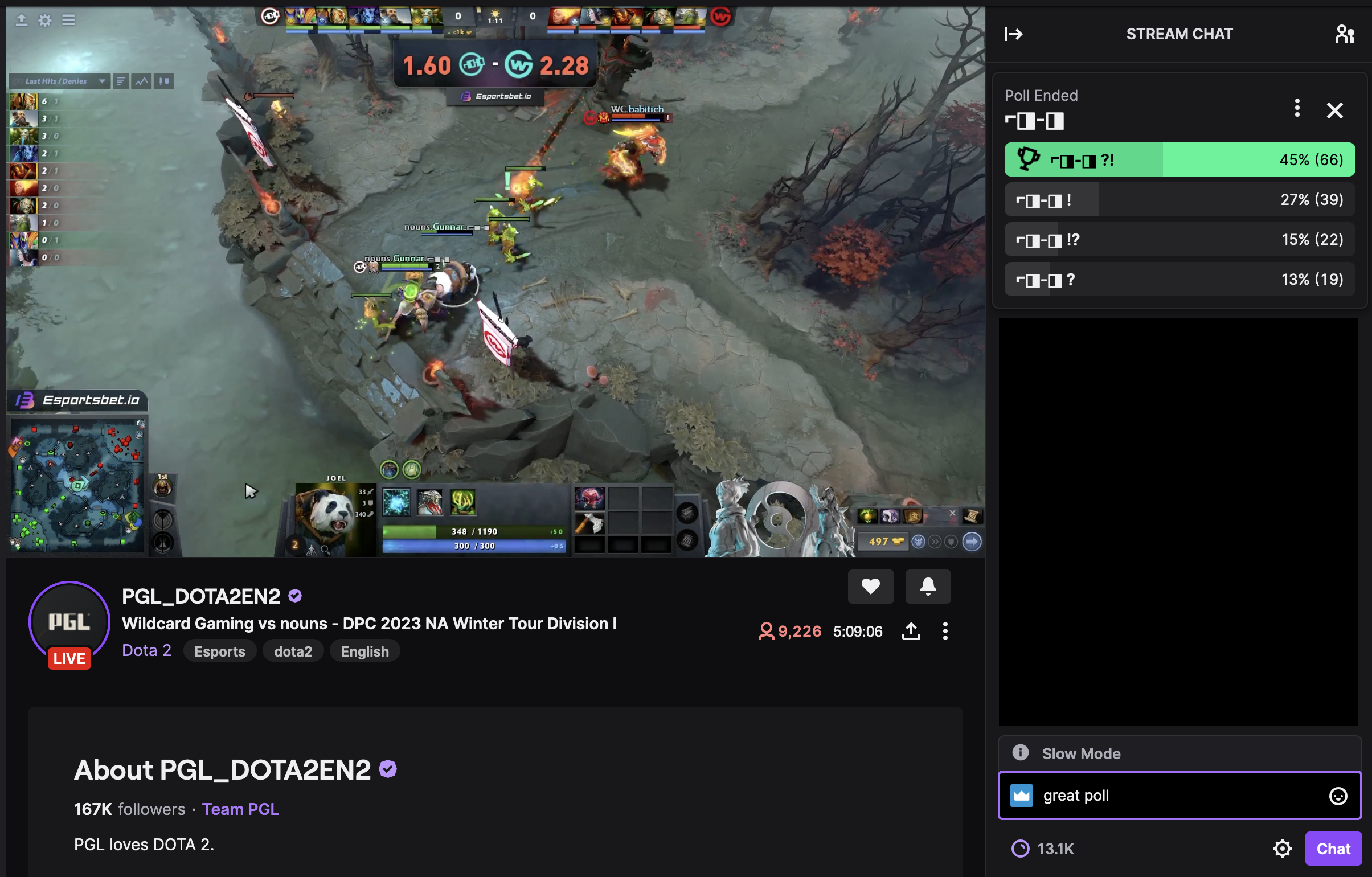 CS:GO 
Tweet sums it up, thanks hamtaro1H!
If you haven't tuned into a match, what are you waiting for!? Witness some incredible plays, live for yourself. Here's an example:
CSGO play of the week is bwills glock 4kill on overpass (map 1) pistol rd in the CCT Grand Final vs paiN, which ultimately started our momentum and lead to us placing 1st in CCT NA Series 3 (credit: hamtaro1H)
With MarkE on the roster, the CS:GO team has looked strong, with 1st place finishes in the CCT tournament and the most recent ESEA Cash Cup.
Good luck to the team in their next next matches later today and Feb 21!
Pokémon Unite
Big congratulations to our Pokémon Unite team for placing 2nd in the Pokémon Unite Championship Series February Finals: Europe. The team was bounced early from Upper Bracket 2:1 by TimetoShine, but regrouped, made a run, and later beat them in Lower Bracket Finals!
The team was on a roll and even forced a Grand Finals Reset against Talibobo Believers! Unfortunately, they came up a bit short in the dying embers of a thrilling series. Oh well, they'll get 'em next time!
GGs all around and well done on securing 240 Championship Points!
Super Smash Bros. Melee - Aklo
First of all, HAPPY BIRTHDAY to Aklo! Catch him again at the next Melee major event as he prepares for Collision 2023, March 10-12, in New Jersey. If you're on the East Coast and would like to attend and support in-person, reach out to Boosh!
Twitter: @NotAklo | Instagram: @ssbmaklo | Twitch: @Aklo214 | Coaching: @aklo
---
Taki's Corner
Taki is our Valorant player, streamer, and creator from Brazil! Be sure to subscribe to her social media channels below. Catch her streaming on Twitch, approximately every weekday at 8AM BST / 6AM EST!

Taki é nossa jogadora, streamer e criadora de Valorant do Brasil! Se inscreva em seus canais de mídia social abaixo. Acompanhe a transmissão dela na Twitch, todos os dias da semana, aproximadamente, às 8h BRT/ 6h EST!
Dope play below:
Twitter: @soy_takii | Instagram: @soy_taki | TikTok: @soy_takii | Twitch: @soy_taki
---
Contributor Updates
Head over to the #website-and-revolution channel on Discord to get the latest from Sam and others regarding our website revamp. Sam is working on updating our current nouns.gg site with a fresh, modern, and most importantly, ⌐◧-◧ish look.
Peter put together an awesome pitch for a Smash Club. Check it out and be sure to leave feedback in Contributor chat.
We host a weekly Contributor Call on Fridays at 3PM EST on our Discord. Everyone is welcome! Drop by if you would like to discuss these ideas, get team updates, and more!
Also, check out our Contributor Dashboard for all things Nouns Esports.
---
The Week Ahead
Feb 17th - Nouns vs Shopify Rebellion in BTS PRO SERIES 14 (DotA)

Feb 17th - Nouns vs Detonate in Blast Paris Open Qualifier (CS:GO)

Feb 21st - Nouns vs Strife in ESL Challenger League Season 44 (CS:GO)
Things change and events are added/removed throughout the week, be sure to subscribe to our Google Calendar to keep up and get notifications for when things go live!
---
Meme of the Week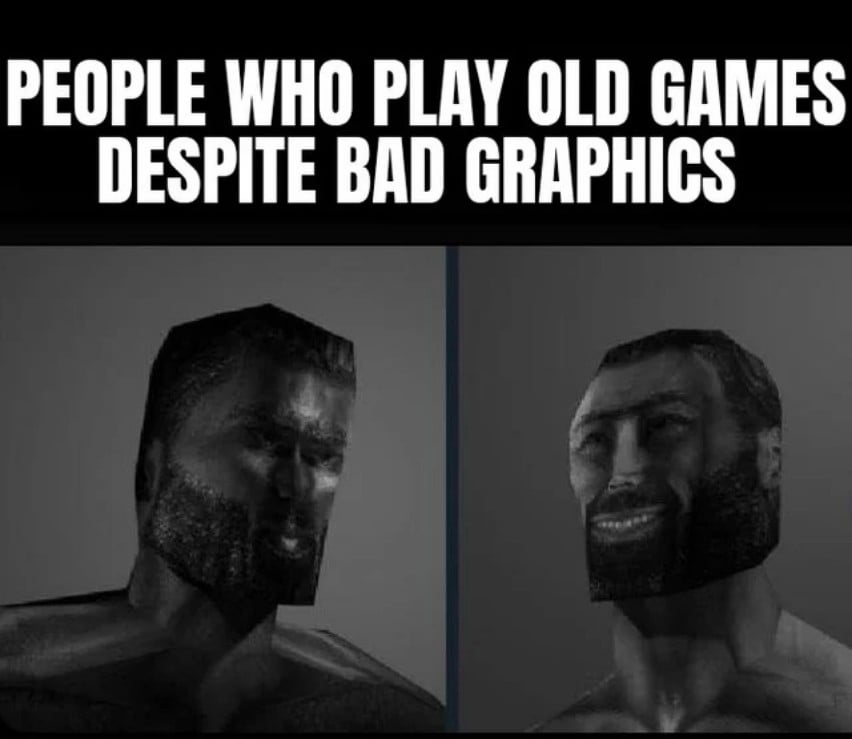 Submit your memes in the #meme channel on Discord to be featured here! 
---
Thanks for tuning in to another installment of Nouns Esports Weekly! ⌐◨-◨ Be sure to follow us on Twitter @nounesports & Instagram @nouns_esports. Follow me on Twitter: @boosh0x.
We publish on: https://paragraph.xyz/
#esports
#nouns
#newsletter
#⌐◧-◧
#daos
#web3