New month, new NEW! Fresh edition, delivered direct to you, dear gamer. LFG! ⌐◧-◧
---
Play of the Week
Community member, hellboy, with the ACE! CARNEFICINA! One by one, they all go down. Congrats on the big play to secure POTW! Game: Valorant.
Submit your gaming highlight for a chance to win $25 USDC each week! Any game, doesn't matter, let's see those hype moments! Head to Discord #play-of-the-week for more information.
---
Team Updates
DotA 2 
The Lima Major comes to a conclusion this weekend! One NA team, Shopify Rebellion, remains in the chase after getting bounced down to lower bracket by Team Liquid on Wednesday.
Check out Gunnar's Twitch stream for the watch party!
We're excited for Nouns to compete again with DPC NA Spring Tour coming up soon. Also, new patch!?
CS:GO 
We're so pumped for the AMERICAS RMR, April 5-9th, in Mexico!
You don't want to miss the remaining three matches in the ECL regular season!
We have a doubleheader scheduled for Tuesday, Mar 7th, vs Vendetta & Davenport University. However, there's a strong chance one of those matches will be rescheduled. Tune in, regardless!
The hamtaro1H selected CS:GO Play of the Week:
Aggressive play from MarKE results in a successful 3-kill flank at water on an Overpass rifle round (Map 1 of the ECL Bo3 vs EG)
Pokémon Unite
Nouns Unite won the Weekly de Pump #52 last Friday without dropping a single set! 👀
Impressive stuff!
Next, catch them competing in the Pokemon Unite Championship Series March Cup Qualifiers this Saturday! Tune in on our very own xBlaine's Twitch stream. Details here:
Finally, big congratulations to Ghatlue for becoming a Twitch Partner! Had an awesome subathon that was a lot of fun! Stream on the rise! 📈
Good luck to the team on Saturday!
Super Smash Bros. Melee - Aklo
Collision 2023 is next week (Mar 10-12th)! We're so excited to watch Aklo compete; should be a good one! Be sure to tune in on Twitch or check our Discord for more information.
Meanwhile check out this cool Link tech:
Twitter: @NotAklo | Instagram: @ssbmaklo | Twitch: @Aklo214 | Coaching: @aklo
---
Taki's Corner
Taki is at the VALORANT Champions Tour 2023: LOCK//IN in São Paulo! ⌐◧-◧
Twitter: @soy_takii | Instagram: @soy_taki | TikTok: @soy_takii | Twitch: @soy_taki
---
Contributor Updates
Our website, nouns.gg, is live! Go check it out and provide feedback in the #website-and-revolution channel on Discord. Looking dope, nice work, Sam!

The proposal to add Boosh & Mach as Pod members has been passed. There has been a lot of fantastic, healthy discussion over the past several months regarding current governance structure and charting ideas on a path forward. The goal now will be to increase governance of the organization for players, contributors, and supporters with the launch of Revolution in the next few months.

Really cool and very well made explainer video from the team at Nounish! Give it a look and a like:

Play-of-the-Week proposal is live to allocate a small amount of pod funds toward POTW. This program serves as a precursor to the launch of our own highlights platform where POTW will become a native thing in-app. Discussion located here.

Mach & Sasquatch have been working diligently on an on-chain proposal for DotA and CS:GO. More to follow on that, very shortly! Here's the proposal to fund DotA through February with Pod funds. Discussion located here.

We host a weekly Contributor Call on Fridays at 3PM EST on our Discord. Everyone is welcome! Drop by if you would like to discuss these ideas, get team updates, and more!

Lastly, check out our Contributor Dashboard for all things Nouns Esports.
---
The Week Ahead
Mar 4th - Nouns Unite in Championship Series March Cup (UNITE)

Mar 7th - Nouns CSGO vs Vendetta; vs Davenport University in ECL Season 44 (CSGO)
Things change and events are added/removed throughout the week, be sure to subscribe to our Google Calendar to keep up and get notifications for when things go live!
---
Meme of the Week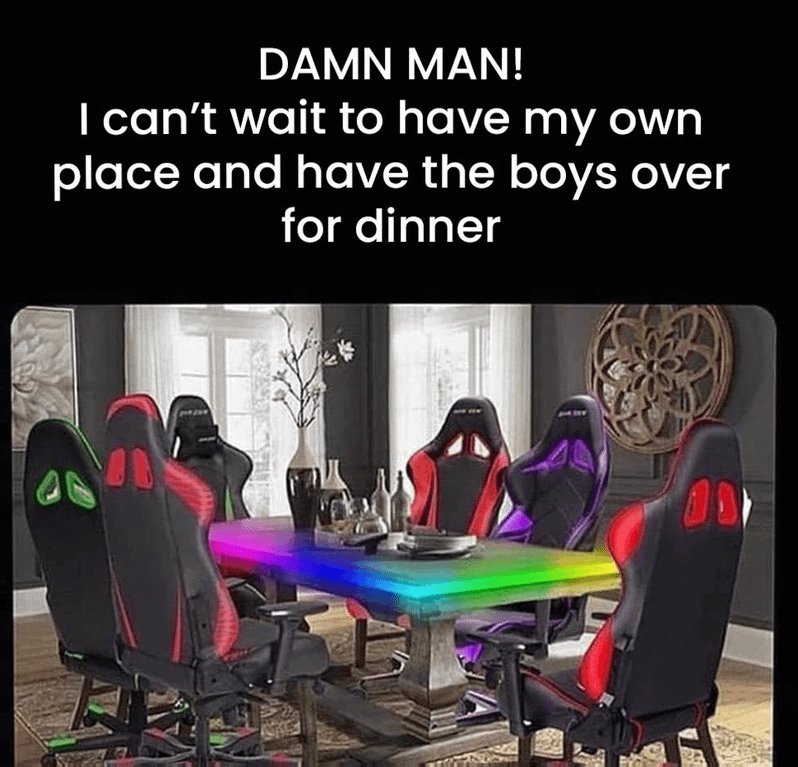 Everybody has one of these chairs. RGB table is pretty 🔥 tbh
Be sure to submit your memes in the #meme channel on Discord to be featured here! 
---
Thanks for tuning in to another installment of Nouns Esports Weekly! ⌐◨-◨ Be sure to follow us on Twitter @nounesports & Instagram @nouns_esports. Follow me on Twitter: @boosh0x.
We publish on: https://paragraph.xyz/
Subscribe to Nouns Esports Weekly ⌐◧-◧ and never miss a post.
#esports
#nouns
#newsletter
#⌐◧-◧
#daos
#web3