Hi everyone. It has been really awesome to get to see more and more familiar faces around the Discord lately. Not only are the vibes 👌✨, but there's been lots of great knowledge shared too! It's been so nice to count on our Discord as a cozy corner of web3.
With our first community research project underway, it's becoming clear that a lot of people really want to work on OpenUX and make it their own. That is really, really cool and has been the goal since day one! While there's plenty to figure out, there's no time like the present to start.
Today we want to share a new idea we had for OpenUX—Squads, a concept for getting more people involved in building up the community.
Looking back
The initial vision
As you may or may not know, our current Discord server went live in August 2022 when Estela, Manansh, and Henry applied to Seed Club, an accelerator for web3 communities. Around that same time, we met Georgia, who had launched a similar DAO earlier in 2022. Upon meeting, we realized we had many of the same community goals and decided to merge. After a few months of jamming, we officially launched in February 2023 as OpenUX with new website:
We had three areas of focus in mind, and we initially thought the best way to achieve them was to work in a sequential order:
First, assemble an expert squad of researchers to attract the best web3 clients

Next, support a community of researchers to collaborate and learn from each other

Then, do something to benefit the web3 ecosystem—make all our research public, build a tool to report UXR insights in a more digestible format, etc.
This sequential thinking led us to provide only one contribution path to the DAO at launch—contributing to client projects as an expert UX researcher. To ensure high quality work and protect the founding teams' personal connections to clients, we created pretty strict approval criteria to limit approved applicants to experts only.
Growing the team
By March, the team who had been 'approved' to work on client work grew to seven. As we spent weeks working together, we found that we had different interests, experience, and availability—often in fields outside of client research. For lack of a better structure, we repurposed this client research team to OpenUX's 'core team'.
We also split up the core team's work into different domains. To increase our accountability, we assigned a single 'Steward' to each domain to be the trusted, proactive, diligent, and empathetic leader for that area of work. This became our Stewards Proposal: OpenUX Stewards Proposal, electing 5 stewards to support multiple Domains including Client Research, Community, Growth, and Operations.
We soon learned there were many community members interested in doing more than just chatting in Discord—many wanted to actively work on OpenUX! As it turns out, there several multitalented members in our Discord with expertise in DAO strategy, video content, curriculum design, and more.
Overall, there's more than enough interest to grow the OpenUX 'team' and give more people a chance to build together. So that's what we're doing—we're opening up 5 teams of OpenUX called "Squads" and we're making them open to anyone.
Squads
Summary of Squads
There are currently five Squads (sixth one soon?)
Content Squad

Community Squad

Agency Squad

Brand Squad

Operations Squad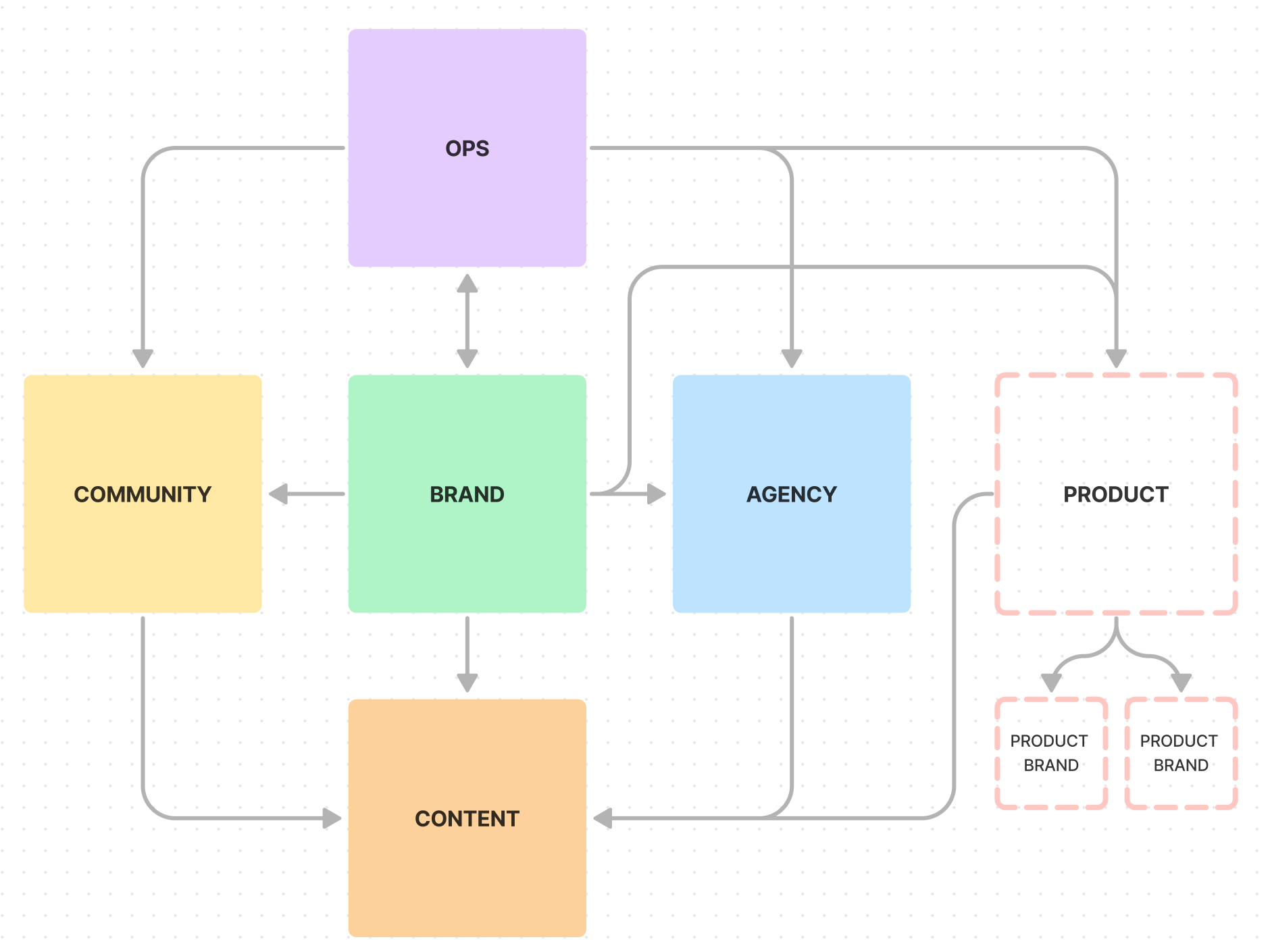 Squads are open to all community members
Squads are self-selected groups of OpenUX members based on collaboration in different community verticals. The goal of squads is to encourage anyone to focus on a specific aspect of OpenUX they're most called to—be that programming, content, research, governance, or something else—in collaboration with smaller, more focused groups.
Community members can join Squads by choosing a role in a dedicated Discord channel. Squads coordinate in public, but autonomously from each other. Every two weeks, all Squads come together to coordinate in an "All Squads" meeting.
Squads are stewarded
Squads have a rotating Steward role who is the directly accountable individual for that domain of work. Stewards are responsible for being proactive in their domain by collecting data on how well we're doing, and advocating for opportunities and challenges. They are accountable for outcomes, but they don't make every decision or run every project
Active Squad projects
1. Content (Steward: Georgia, georgiarak#9788)
Promoting community members' UX blog posts

Collaborating on article ideas in our backlog
2. Community (Steward: Manansh, manansh#7167)
Launching new community events

Continuous interviews with community members
3. Agency (Steward: Georgia, georgiarak#9788)
Finding grants to apply to
4. Brand (Stewards: Steven, USERSTEEN.ETH#1993)
Refining brand vision, values, and guidelines

Designing a new website
5. Operations (Steward: Henry, henryh#2743)
Improving permissions for OpenUX shared accounts

Designing a community reputation system
How to Join Squads
Take a look at the new section in Discord to find your Squads!
Pick your Squad(s)

Say hello in your Squad channel(s)
More Details on Squads
You can find the original Squads proposal posted here which includes many more details on our vision for Squads: https://docs.google.com/document/d/1xh6l6opnm3yfQo1iBQqwVUOqIJGqtgArkk5CM4kmSig/edit?usp=sharing
One thing we want to highlight explicitly from the proposal is related to the topic of Squad work and compensation. For a considerable time, OpenUX intends to be a community offering members many things—a network of peers, an audience for personal updates/writings, tangible work experience, career support, education, fun social experiences, and more—but contributing to OpenUX outside of client work will likely not be a means of earning an income.
Why is this the case? OpenUX's treasury is currently built on client research, where our policy is to pay researchers 75% of the price we negotiate from clients, referrals 10%, and keep 15% for our treasury. These incentives are important to keep our Agency running at full steam, but have limited the growth of our treasury.
We would like to find new ways to generate revenue (more grant applications, higher contract take rates, membership fees, etc.), but we also have expenses (legal registration fees, software subscriptions, etc). The reality is that OpenUX is likely going to grow a treasury slowly, and roles beyond work on client contracts will likely be unpaid for a while. Since launch, all work launching the community has been volunteered by the founding team.
In spite of this reality, we do have an opportunity to use web3 tokenization as an effective tool to provide meaningful community incentives for participation. For more on why this might be our best strategy for longevity, we recommend this Twitter thread on the importance of community rewards remaining stronger than economic rewards. One of the biggest upcoming projects of the Operations Squad will be designing a community reputation and reward system focused on human connections in our network. If you're interested in this, hop into #🚜ops-squad to join the convo.
Thanks to the original Squad 💚
We really appreciate the feedback we've received from the community in the past few weeks. Squads is the result of many conversations during our Community Calls, adhoc 1-1s, and our Community Research Project. If you have more feedback about the structure, feel free to share in the new #🌐all-squads channel in Discord!. And if you have more ideas for OpenUX and want to discuss them privately, you can fill out this form here to schedule a call with someone from 🌱 Community Squad: https://docs.google.com/forms/d/e/1FAIpQLSdv5diHHfYo3eOx-1HpasYCgoWBAXC6NPt2iW1DH_Wjr7vn1w/viewform
That's all for now, have a great week, and see you in Squads!