🌱 Dear Regens,
This is the Regens Unite Roundup for April 2023!
We hope this message finds you well and thriving.
We are thrilled to bring you the second edition of our monthly newsletter, packed with exciting updates, events, and stories from the regenerative movement. We have so much to share with you, from new partnerships and collaborations to inspiring success stories and innovative initiatives. So, grab a cup of tea, sit back, and get ready to dive into the world of regenerative change!
For day-to-day updates, follow us on Twitter, LinkedIn, & Facebook and connect with the community on Telegram!
👀 Sneak Peek:
The next Gitcoin Grant is live 🚀

Regens Unite on the GreenPill Podcast 🎧

Retreats, Events, & Twitter Spaces 🐦

Gitcoin coordiNATION game 🤝
---
Regens News 🗞️
---
Gitcoin Beta Round has started! 👀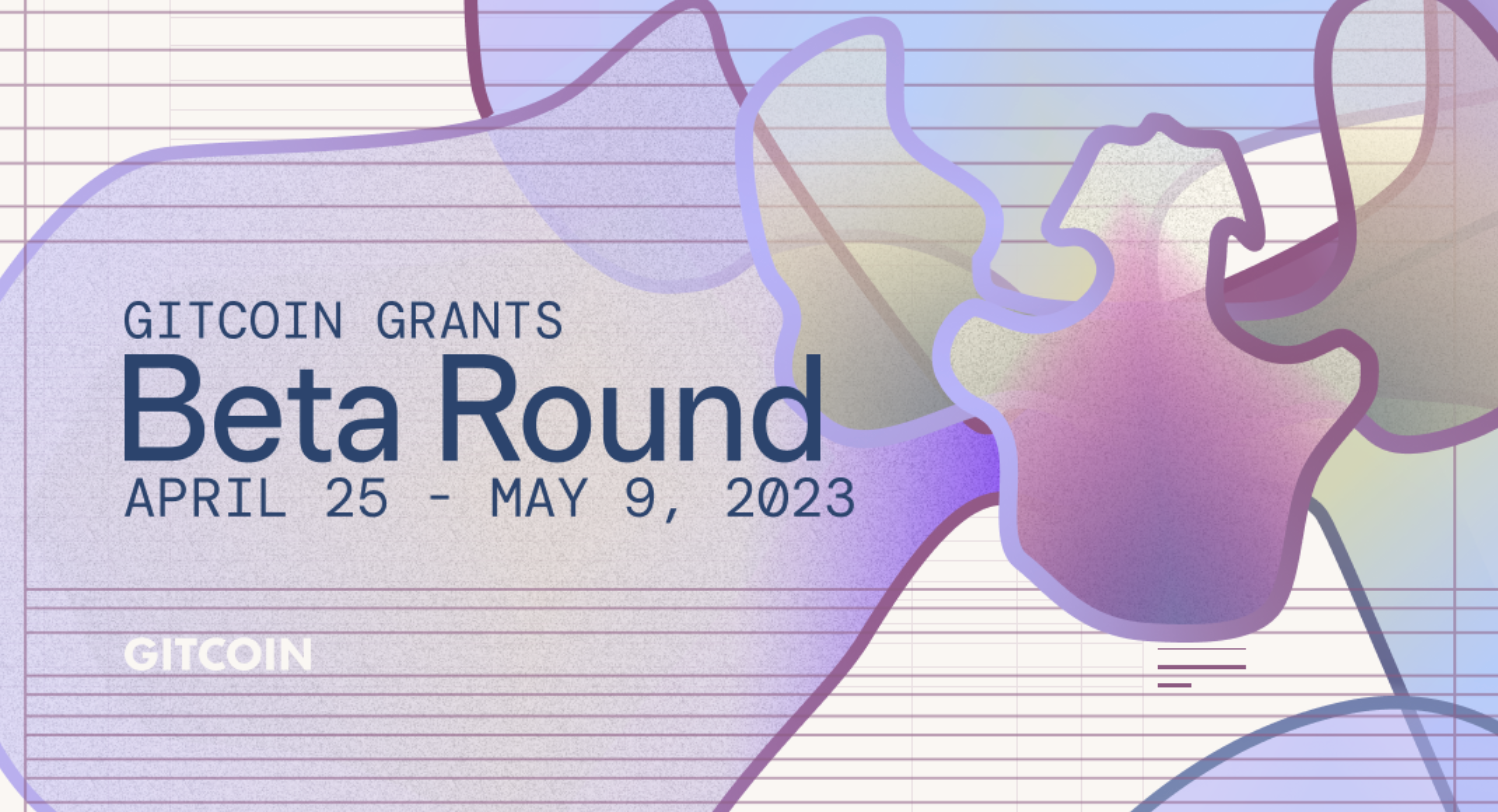 We are thrilled to announce that our grant is approved and live for this Gitcoin Beta Round!
You can check out the details of our grant here, where we outline everything we've built since the last round and what we're planning next.
One important note! We've moved our grant from the Climate round to the Community & Education round.
With a track record of bringing together thinkers and doers from various sectors, Regens Unite wants to continue creating intentional spaces for learning, collaboration, and unification to drive forward global solutions. The new Community & Education round felt like a better fit for our focus.
With our application submitted, we are eager to see what opportunities and collaborations may arise from this beta round. Stay tuned for updates on our progress and the impact of the Gitcoin Grants program on the regenerative movement!
If you are interested in supporting us and many other exciting projects through the Gitcoin Grant, here is the link 👉 REGENS UNITE GITCOIN GRANT
Featured on the GreenPill Podcast 🎧
We are absolutely over the moon to have had team members Xavier Damman and Leen Schelfhout speak with Kevin Owocki on the Green Pill podcast!
In this 50-minute chat, they discuss the mission and origin of Regens Unite, what it means to 'regen' and to host a regenerative gathering, how the newly launched Regens Unite Handbook enables this movement, and more.
If you haven't heard it yet, give it a listen - it's a good one! 🔥
Regens Unite Community Video 🌱
We're making a little video to help spread the vibes of the Regens Unite community!
If you've been to one of our gatherings, we warmly invite you to send us a short video recording sharing a memory, learning, or a feeling you had during that event. It can be as short as a single sentence, or you can tell us a full story of up to 2 minutes.
All of your video clips will be used to create a community-driven montage to inspire more regens to join this movement. We also plan to use it to raise awareness for regen projects in this Gitcoin round, so send us your video clips over the next couple of days!
The more voices in this mix, the better. 💚
Are you in? It's super easy to contribute, just click here to drop us your regen vibes. 👉 https: www.videoask.com f838yql4w
---
Past Events 👀
---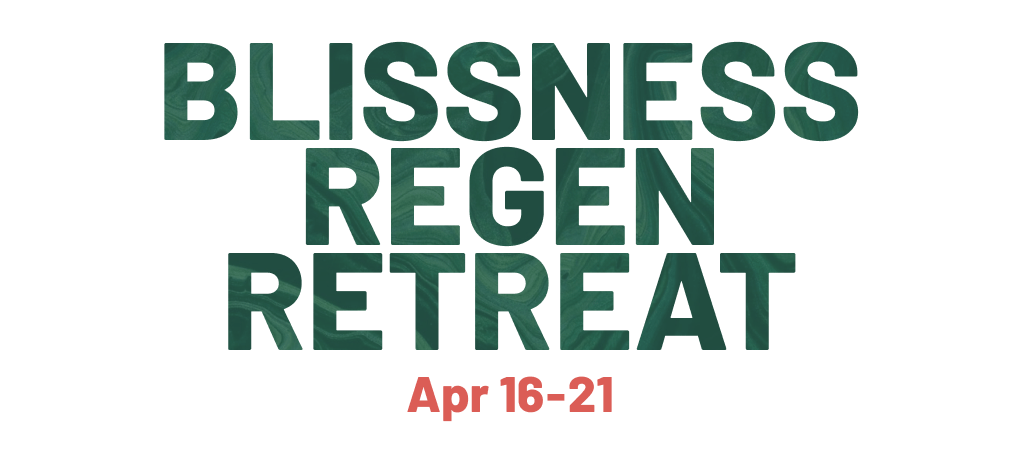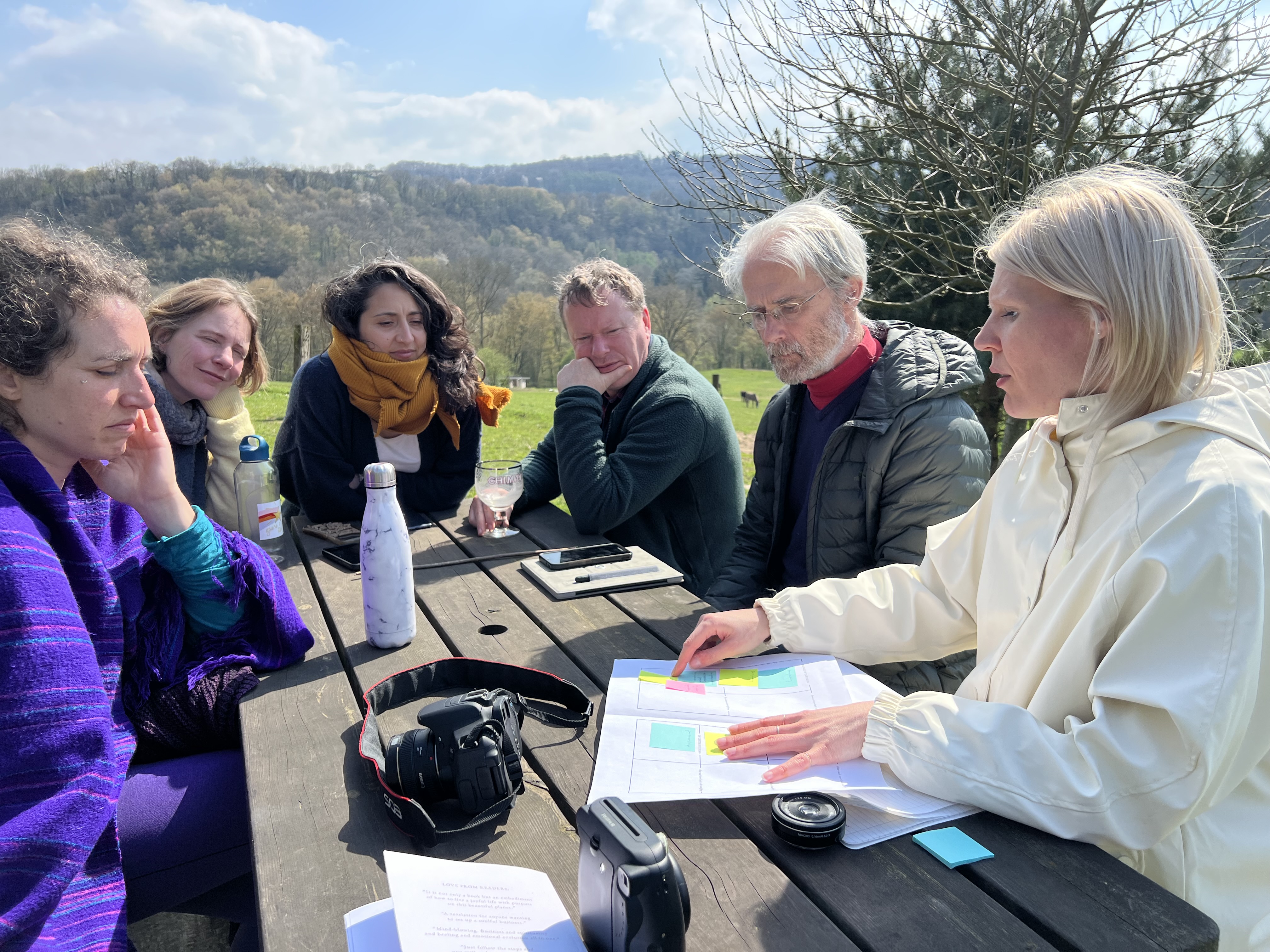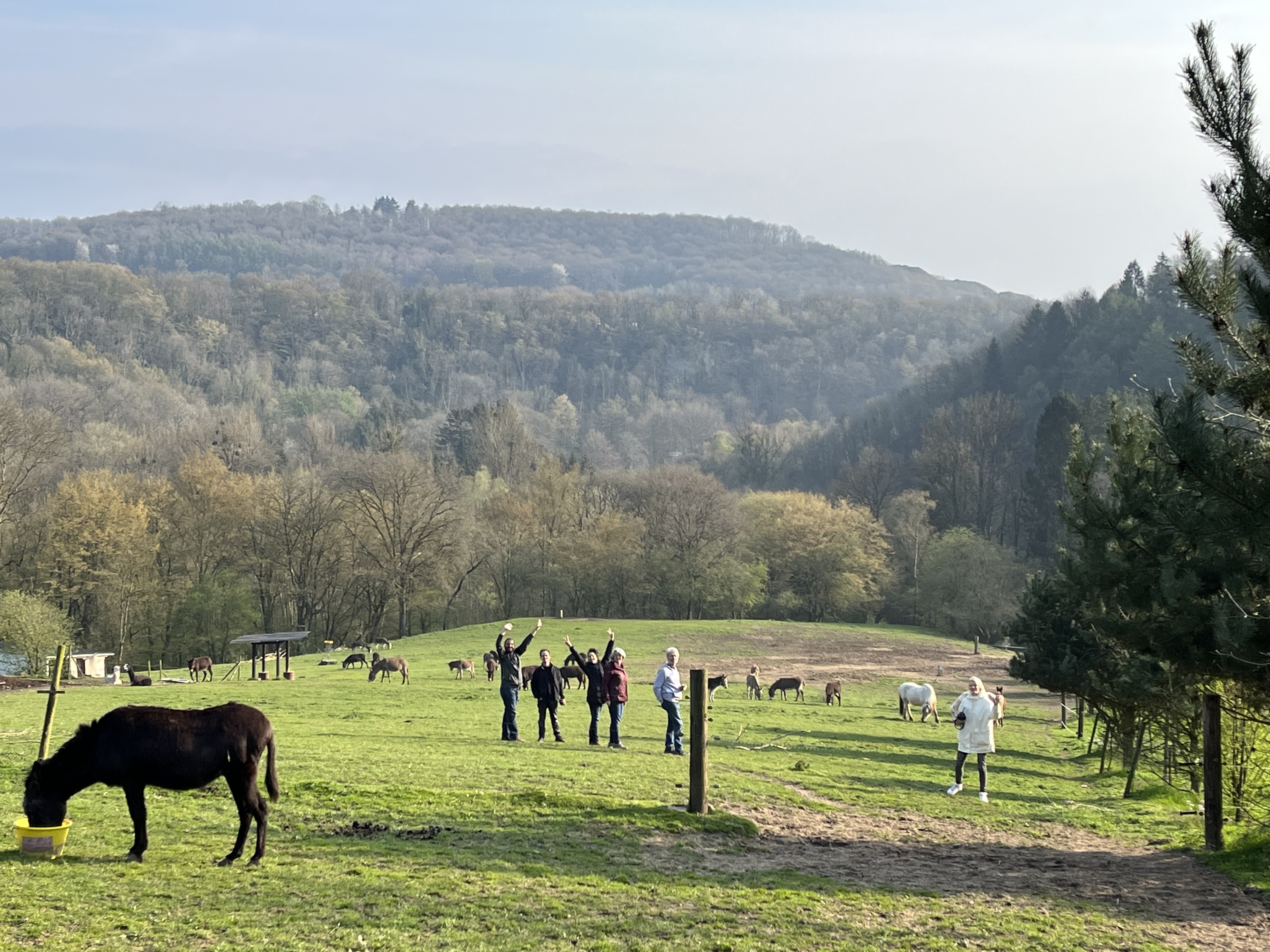 Blissness Retreat
"Definitely worth the money! I really believe in this retreat formula and the team leading it. To me it felt like a game changer - even if you've already started looking for a way to become an entrepreneur, like I did. With this you'll tap into your own resourcefulness, and that of the group. And you can renew your connection with nature in a beautiful environment.
I'd say: jump in open-minded and swim and experience how it benefits you as an entrepreneur and a human being." - Attendee
Regens Unite recently hosted an inspiring retreat called the Blissness Regen Retreat, which explored the values that drive our businesses and how they impact the world around us. The retreat was held in an ecovillage in the South of Belgium, surrounded by nature, and provided a perfect backdrop for participants to disconnect from the outside world and reconnect with themselves.
By bringing together like-minded individuals and fostering a sense of community, we created a space for people to work towards a more regenerative future.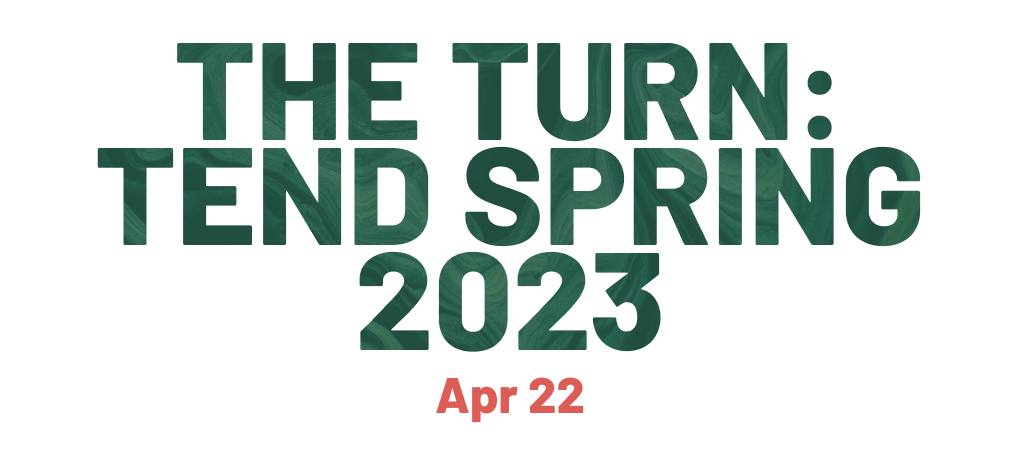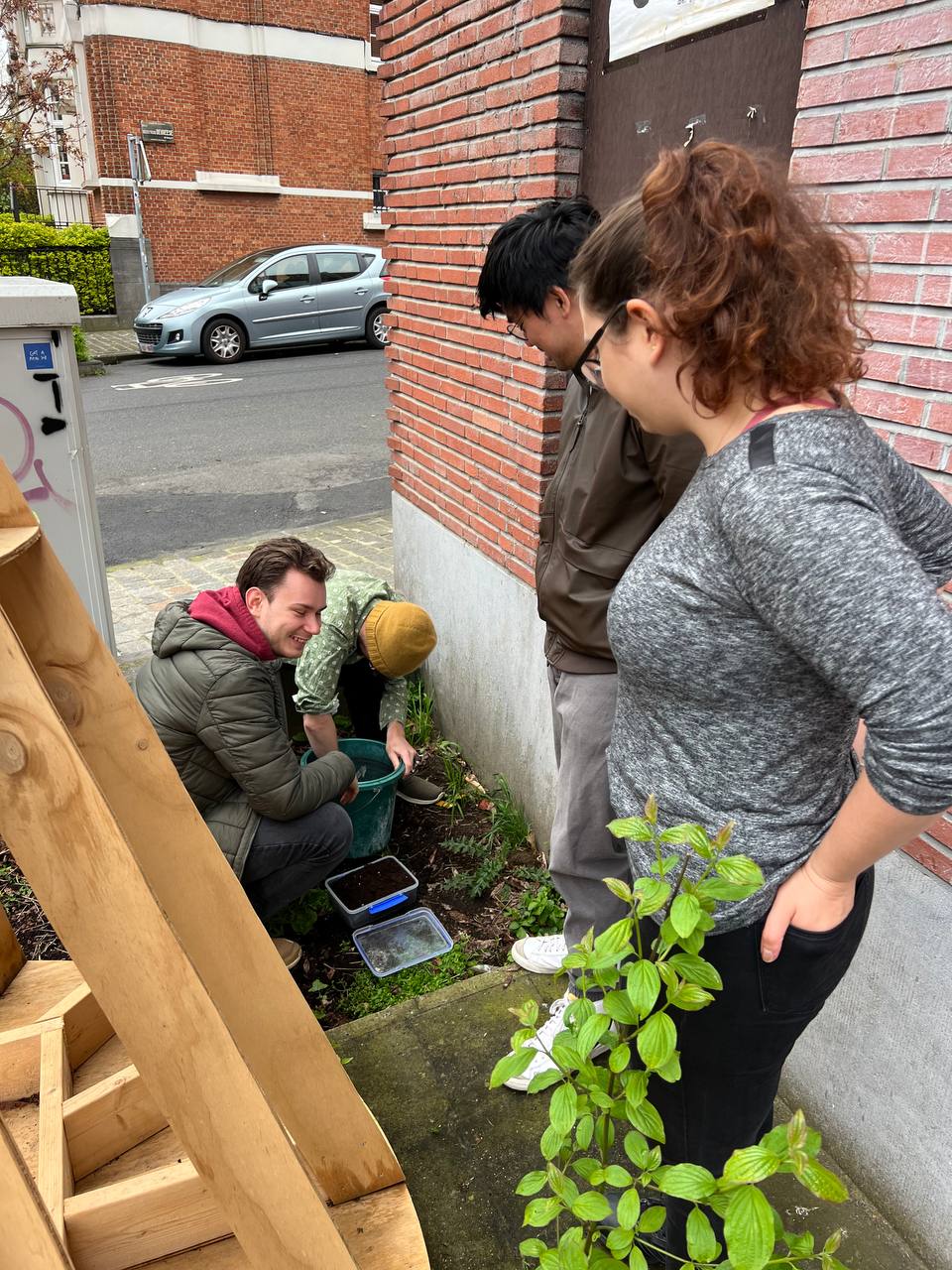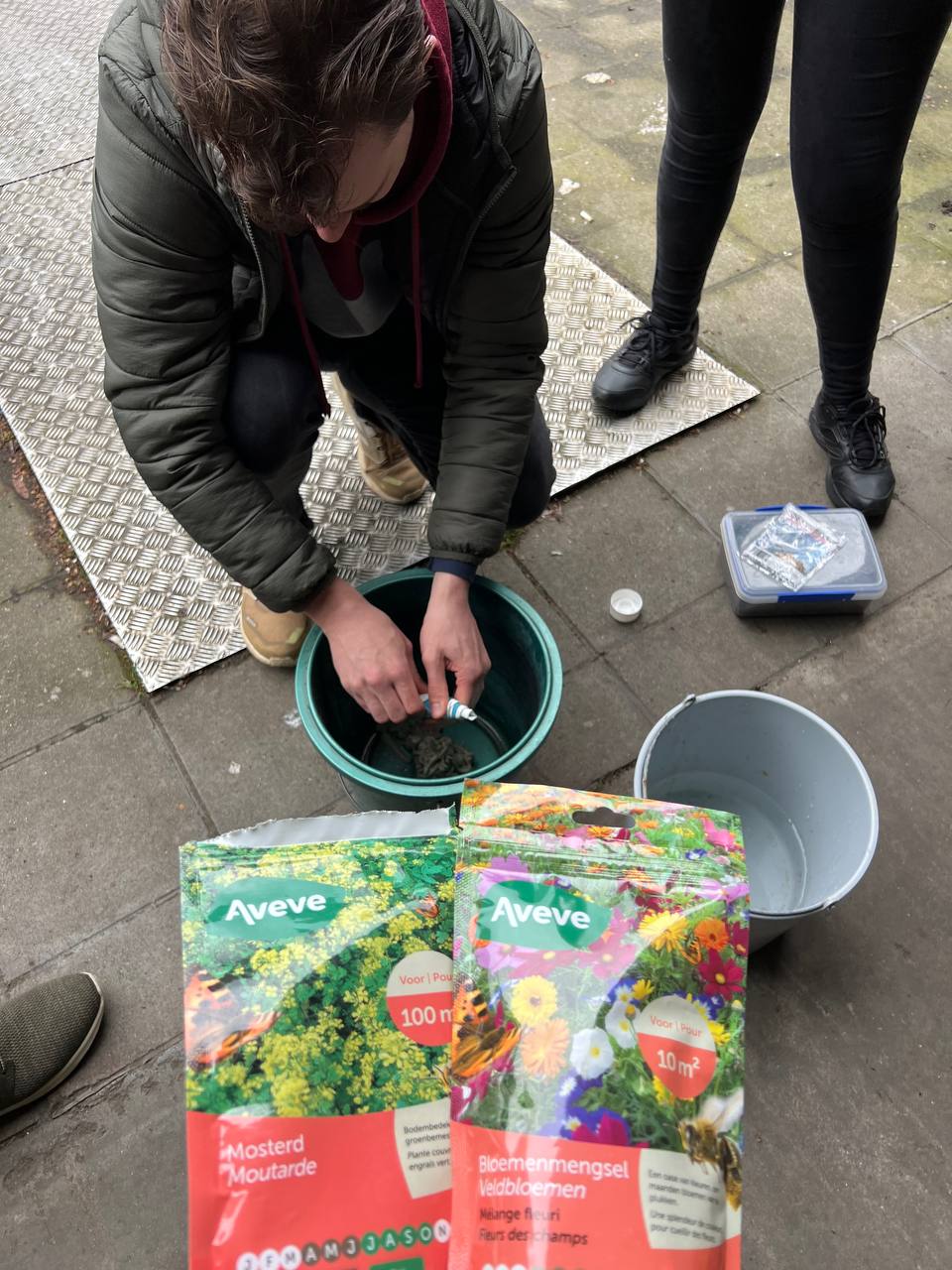 The Turn: Tend Spring 2023
On April 22nd we celebrated Earth Day. There were some incredible events taking place all over the world! 🌎
Our very own Jeremy Akers and Laurence hosted an event called The Tend which took place across Amsterdam, Brussels, and Berlin. To take part, a group of Regens in each city created seed bombs, dispersed them, and then played a regenerative card game!
It was super successful and a fun day for family and friends to get involved.
Keep your eyes peeled for the next Tend, or get it started in your own city! 👀 🌱
---
Upcoming Events 🌍
---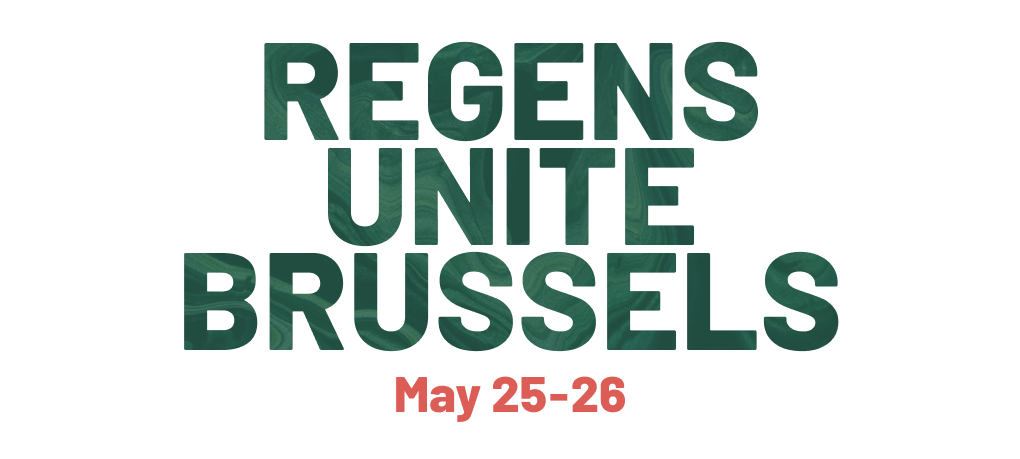 Dates: May 26th and 27th
Location: Citizen Corner, Brussels, Belgium
We are putting together this gathering to create a safe and brave space where we can meet each other and unite despite our different perspectives. It's the opportunity to get out of our respective bubbles, discover new solutions, build new friendships and find out how we can support each other.
👉 Apply to attend here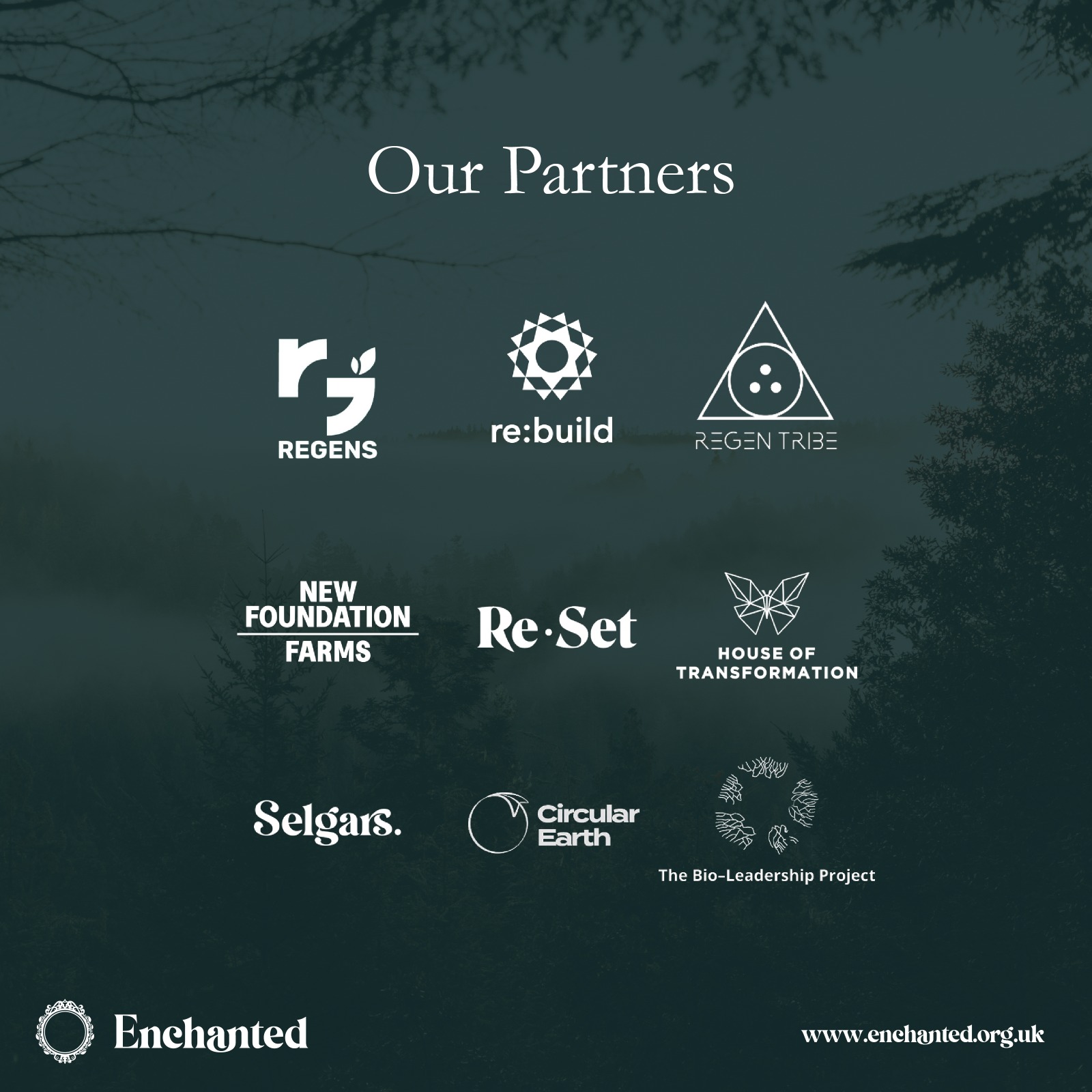 Dates: July 6th - 10th
Location: Selgars Mill, Uffculme, UK
Enchanted is an event that invites us to look at old problems with new perspectives; to take a leap of imagination together and allow ourselves to explore new ways of being, living and working.
We are co-creating a thoughtfully designed unconference filled with beauty and magic where you can meet and learn from a tribe of regenerators who are building the regenerative places and businesses of tomorrow.
And for our Regen Community we have a reduced price when you use the code 'RUEnchanted2023' 💚
👉 Apply to attend here.

Playdrive: Open Source Play 🏃‍♀️
Dates: June 4th - 11th
Location: Commons Hub Austria, Hirschwang
Playdrive brings together ludic theorists, game designers, cosmos coders, holographers and metaversians to explore how to open source the soul of play.
Over the course of a week, they will explore the biological, psychological, and sociological roots of play to better design toys, games, and metagames that will help the world unleash the power of its playdrive. Overall, the playdrive offers a new and exciting way for individuals to engage with the global brain and contribute to the collective intelligence of humanity.
👉 Apply to attend here.

Chinwag #0: Building Future-Proof DAOS
Dates: May 8th - 11th
Location: Pałac Osowa Sień, Poland
A cross between a think tank, hackathon and retreat in a beautiful natural location, Chinwags are retreats where web3 builders come together to work on solutions to bigger industry challenges.
Chinwag #0 is the first event that will take place in an antique castle in Poland, focused on key topics for the DAO ecosystem.
👉 Apply to attend here.
---
Regens Community 💚
---
Gitcoin CoordiNATION
ReFi DAO, Regens Unite, Greenpill Global, & Metacrisis.xyz are hosting a four-day coordiNATION game to combine efforts and amplify impact during the Gitcoin Beta grants round. Events will take place in-person across a variety of cities and online on Twitter and LinkedIn. Berlin & Lisbon are already this week!
Twitter coordiNATION:
May 2 from 15:00-17:00 | May 4 from 15:00-1700
On May 2nd, the first Gitcoin coordiNATION game took place in digital form where representatives from all four orgs came together in a 2-hour Twitter Space to hold space for a community discussion around Gitcoin fundraising.
👉 Check out the recording here!
Attendance included John Ellison, Kevin Owocki and other industry experts including our very own Corinna Schlicht. It was filled with insightful conversations, learnings, laughs, and valuable feedback from regen projects participating in the Gitcoin round.

In-person coordiNATION:
📣 If you are located in Berlin or Lisbon this week, there are in-person meetups happening to continue the coordiNATION game:
Berlin 🇩🇪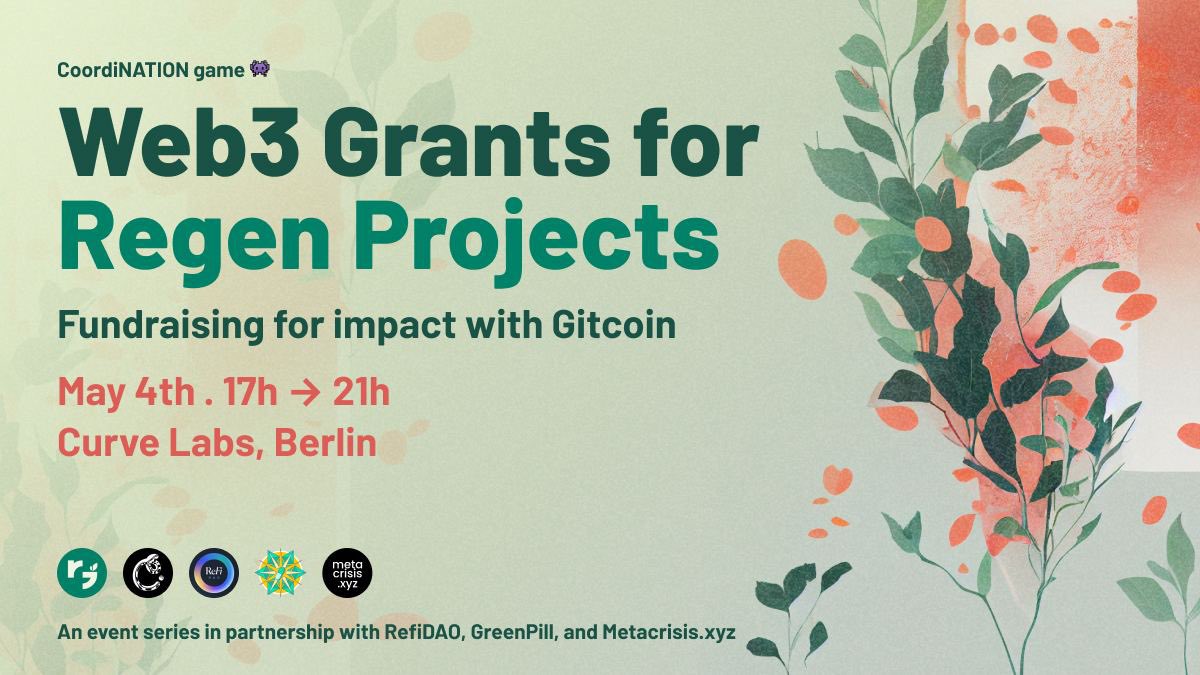 This event will include a Gitcoin onboarding session that covers everything you need to know about creating your own grant, best practices for grant writing, how to donate, and how this round works. We'll also provide guidance on getting set up on passport.
This is a great opportunity to learn more about web3 fundraising and connect with like-minded individuals! Join us on May 4th in a beautiful space graciously provided by Curve Labs.
Lisbon 🇵🇹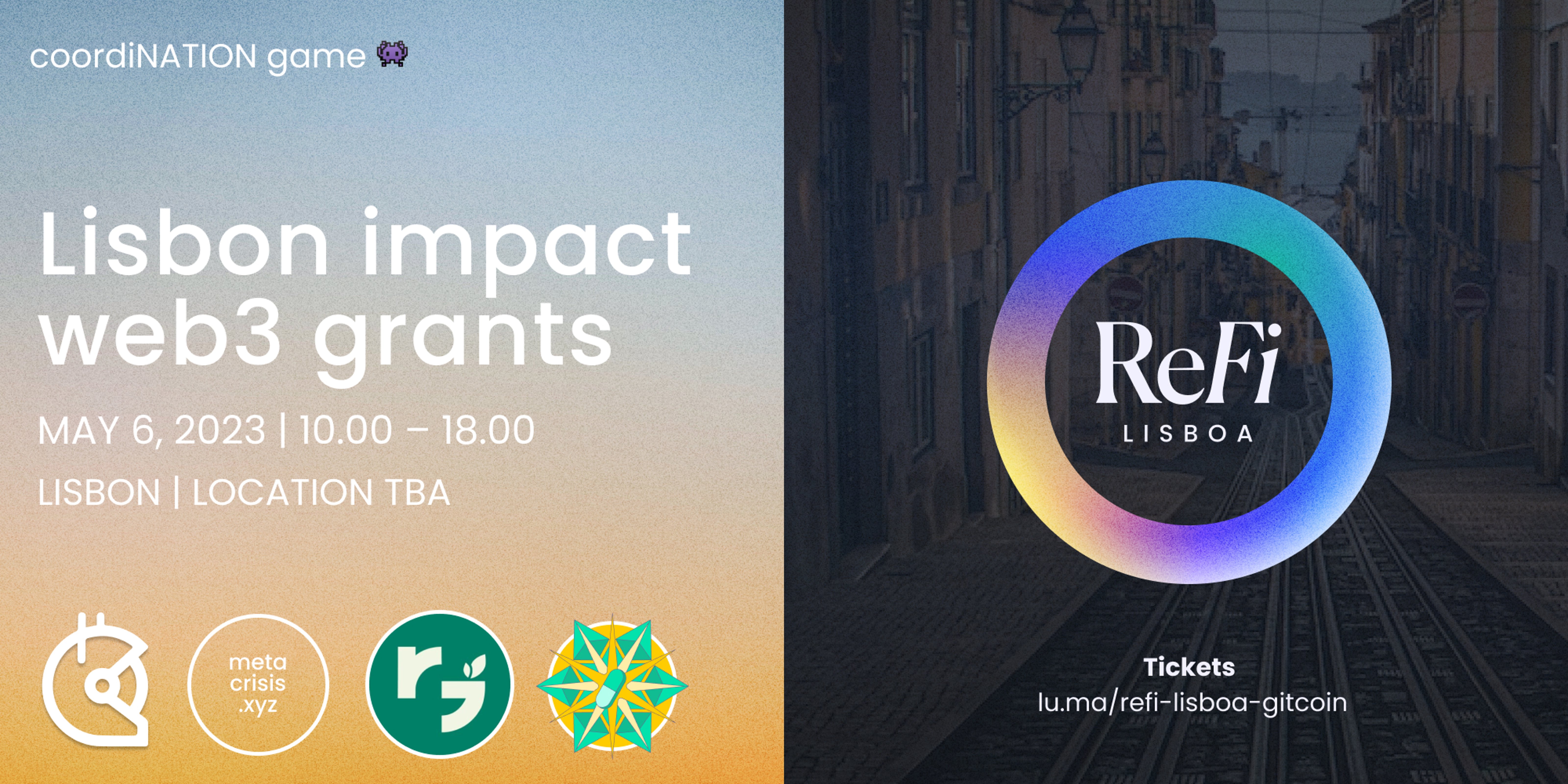 Lisbon friends, on May 5th get ready to join the ReFi Embassy party together with GreenPill. ReFi Lisboa is hosting a day-long Activation Station to get new donors, and match funders and projects onto Gitcoin!
Come with your phone or laptop, a debit or credit card, and an intention to learn and support some amazing projects.
24-Hour Twitter Space with Solarpunk Guild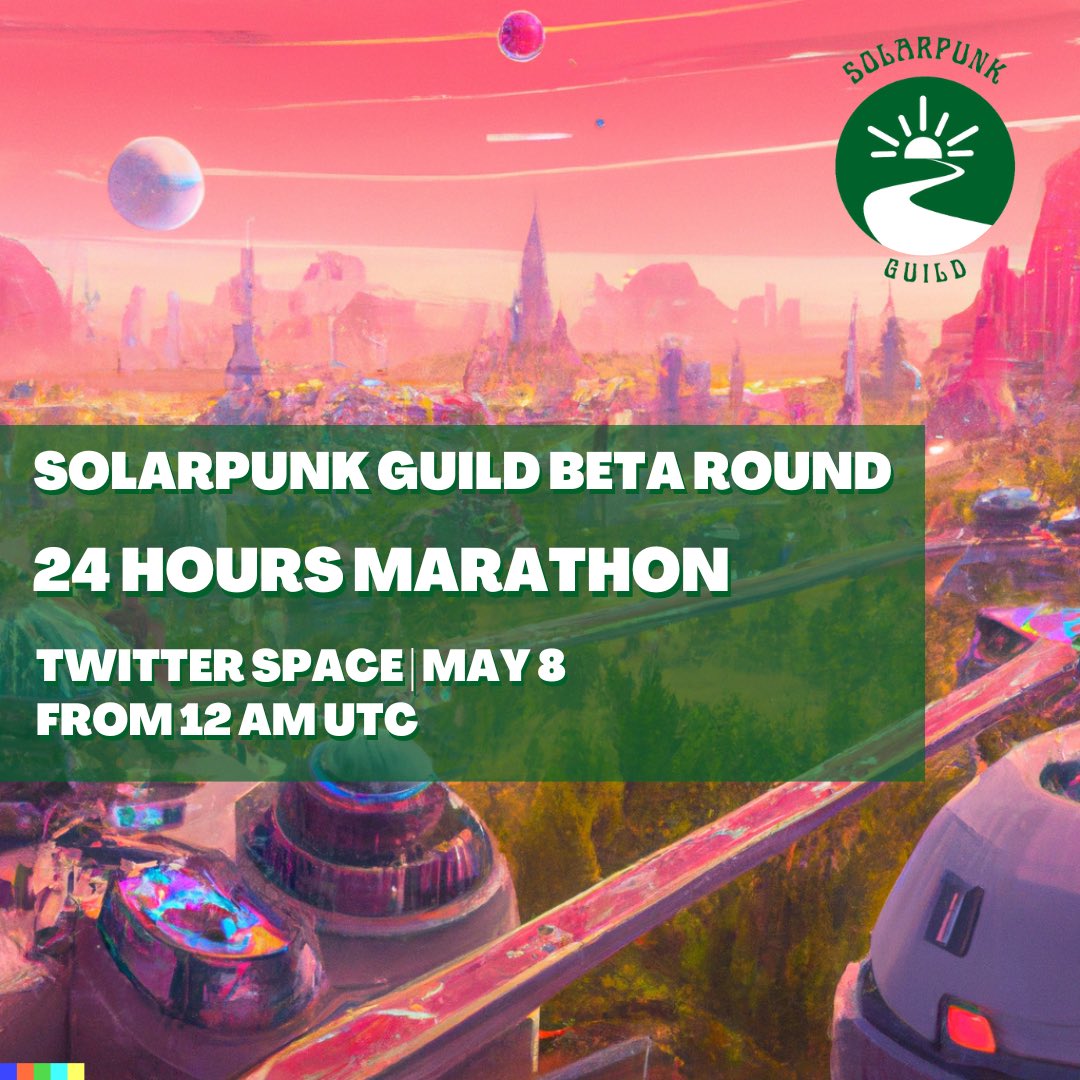 As with any Gitcoin Grant Round, Twitter spaces hit an all-time high! Our friends over at Solarpunk Guild are hosting a 24-HOUR, Twitter Space on May 8th, yes you read that correctly. It is one of the last Twitter Spaces to get involved in and get your project heard! So mark the date on your calendar! 🚀
Green Pill Germany Movement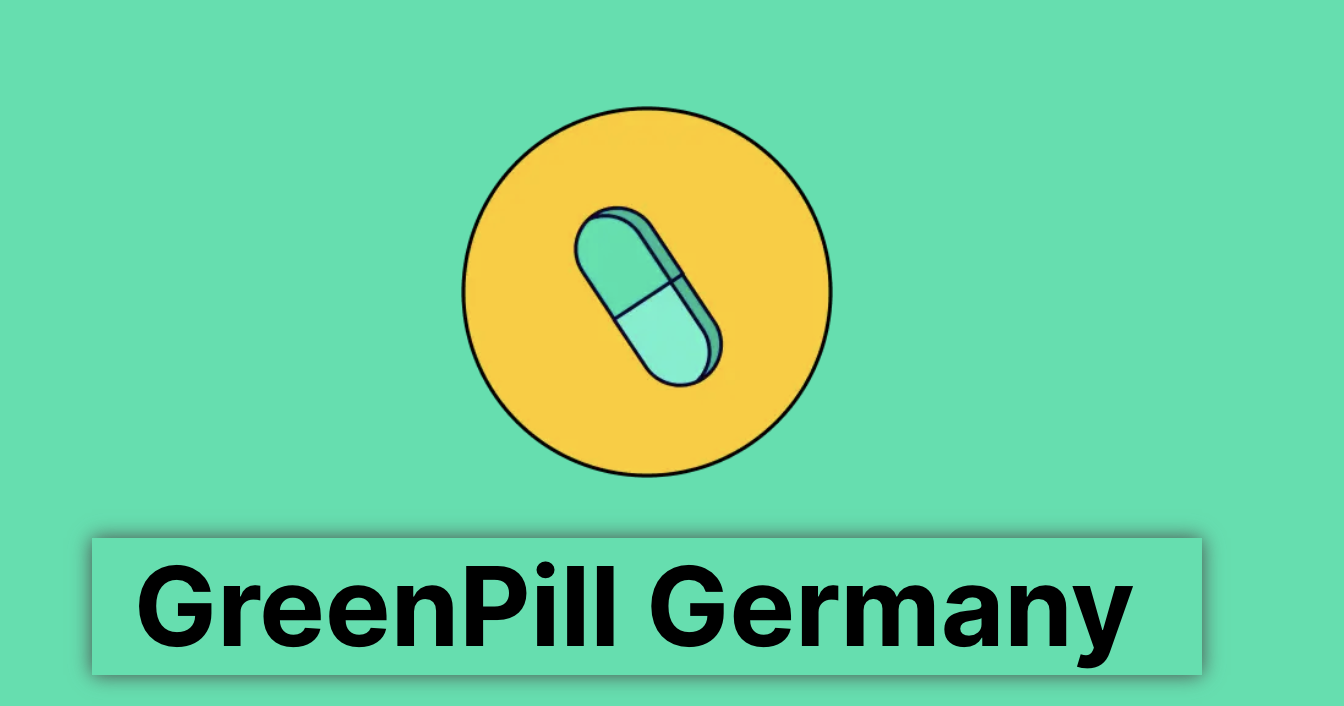 The GreenPill movement has arrived in Germany with the help of Manuel Olariu!
With a focus on creating a decentralized and caring community that seeks real-world solutions to pressing environmental issues, the GreenPill Germany chapter is dedicated to educating and raising awareness about regenerative finance movements and social entrepreneurship. From daily Schilling Sessions in Twitter Spaces to ReFi events in major cities, GreenPill Germany is creating a space where like-minded individuals can connect, collaborate, and make a positive impact on the planet. Join the movement and be a part of the change!
They are also participating in the Gitcoin Beta Round, check our their grant here 👉 https: tinyurl.com 5n7eu95a
Impactopia Twitter Spaces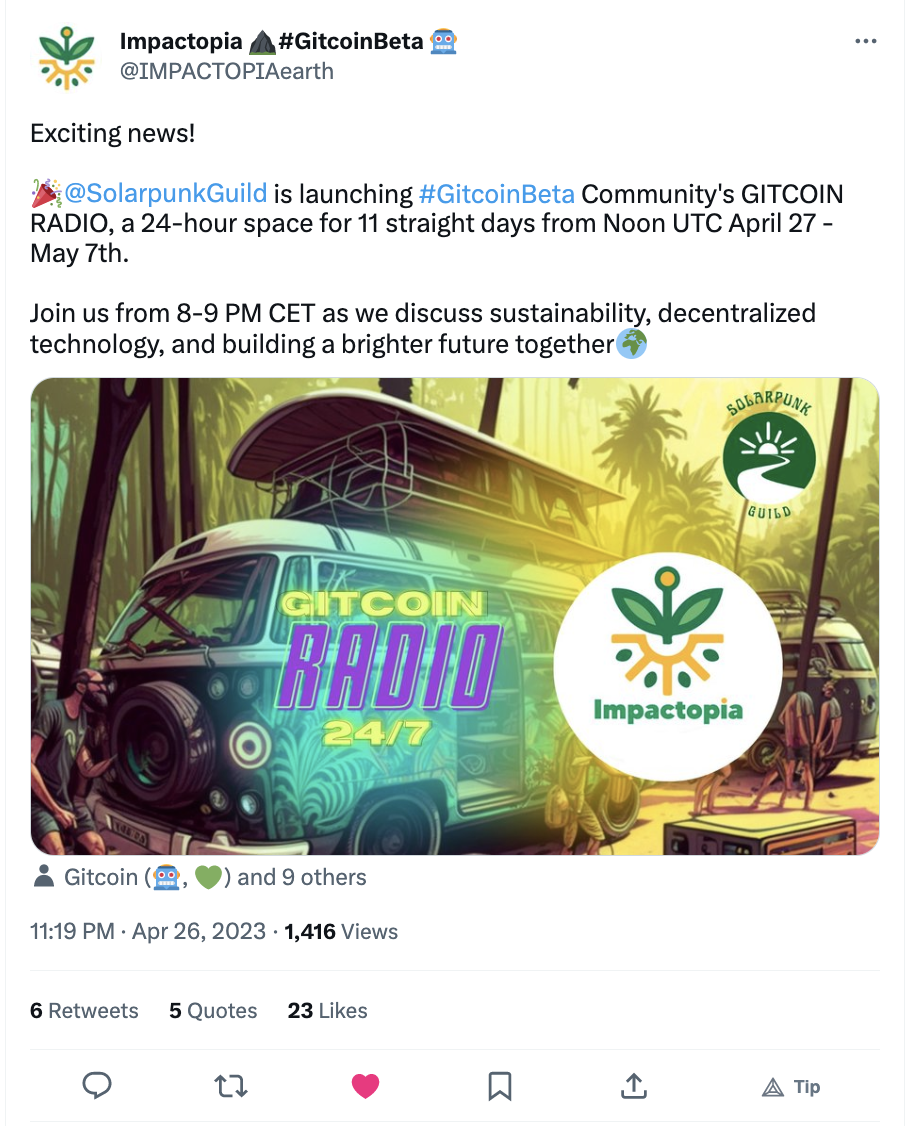 And if the 24-hour Twitter space wasn't enough, 🤯 Solarpunk Guild is launching a Community Gitcoin Radio that will run for the next 11 days straight! We are in for a good time this round.
The amazing team at Impactopia will be there from 8-9 PM CET every evening until May 7th. They will be discussing all things sustainability, decentralized technology, and building a brighter future together. So get involved and don't miss your chance to join in this discussion!
---
Thank You! 🤩
---
We encourage you to share this newsletter with anyone who may be interested in joining our mission. Together, we can build a better world for ourselves and future generations.
Wishing you all the best,
The Regens Unite Team
---
If you want to stay up-to-date on our latest news and events, make sure to follow us on Twitter, LinkedIn, & Facebook.
Connect with our community on Telegram to continue the conversation!