🌱 Dear Regens,
This is the Regens Unite Roundup for July 2023!
We hope this message finds you well and thriving.
Events, events, events - what a busy month it was! We're excited to share with you the latest updates from the Regens Unite community after our activities in Barcelona and Paris, as well as news of our next fast-approaching gatherings and the latest happenings within the regenerative ecosystem at large. Let's see what's going on!
For day-to-day updates, follow us on Twitter, LinkedIn, & Facebook, and connect with the community on Telegram.
👀 Sneak Peek:
Exploring and Adventuring on Two Wheels 🚲

A Regen Hub at EthCC 🇫🇷

Upcoming events in London & Berlin 👀

Summer Camps from England to Brussels ⛺

Introducing the Traditional Dream Factory 🥳
---
Regens News 🗞️
---
Exploring Sustainability and Adventure on Two Wheels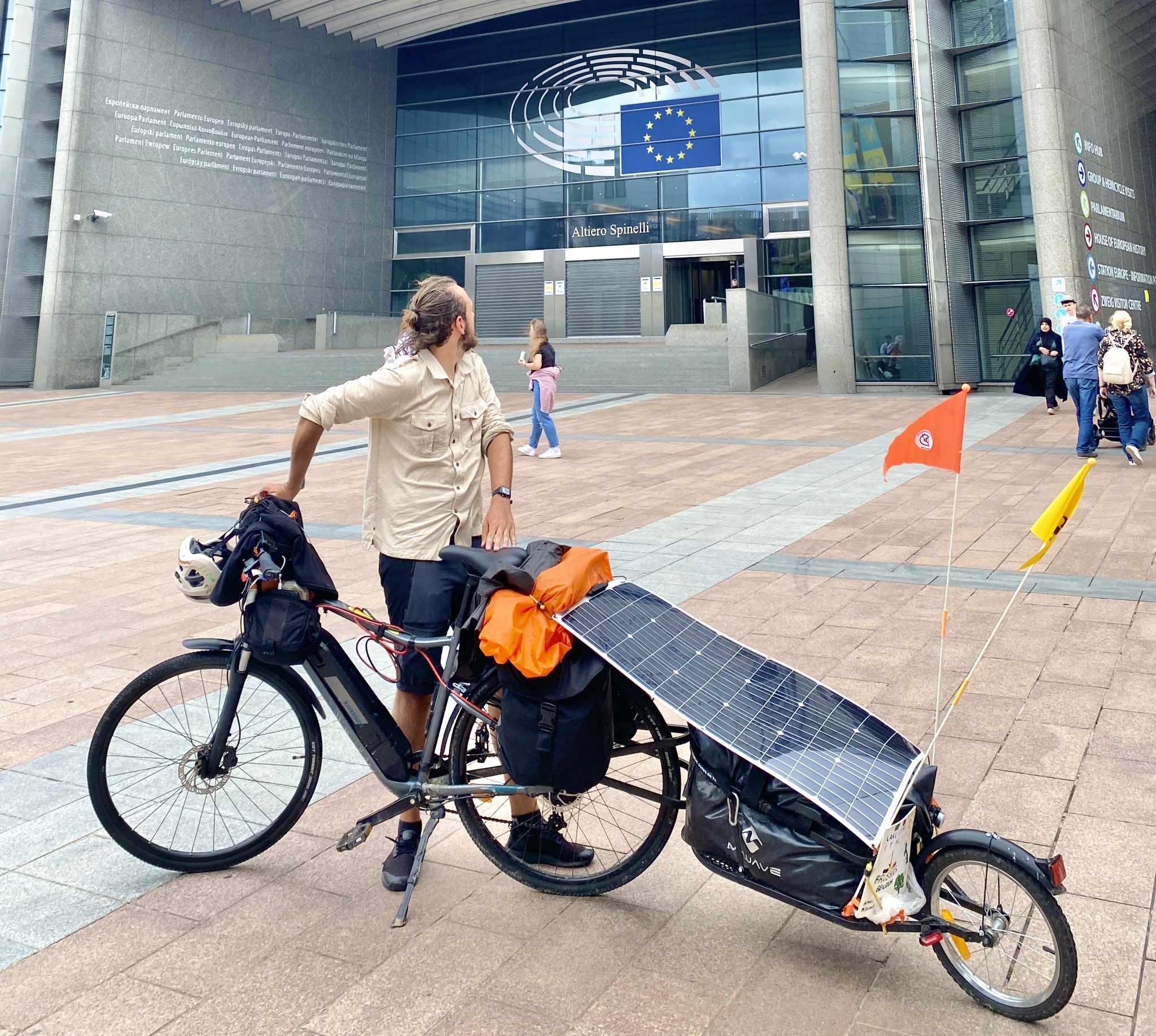 Marco Bear, co-founder of Solarpunk Nomads, took his first European bike expedition from Lake Como in Italy to Brussels in Belgium. A total of 1500km was cycled!! The aim? To pioneer the first-ever route for Solarpunk Nomads, a trailblazing project seeking to blend sustainable technology and adventure travel into a seamless union.
The expedition had been a mixture of experiences, laughter, and challenges. As Marco traversed the miles, he encountered an array of extraordinary moments. From quaint villages to lush meadows, the European landscape unfolded before him, inviting him to connect with the beauty of nature and the communities that thrive within it.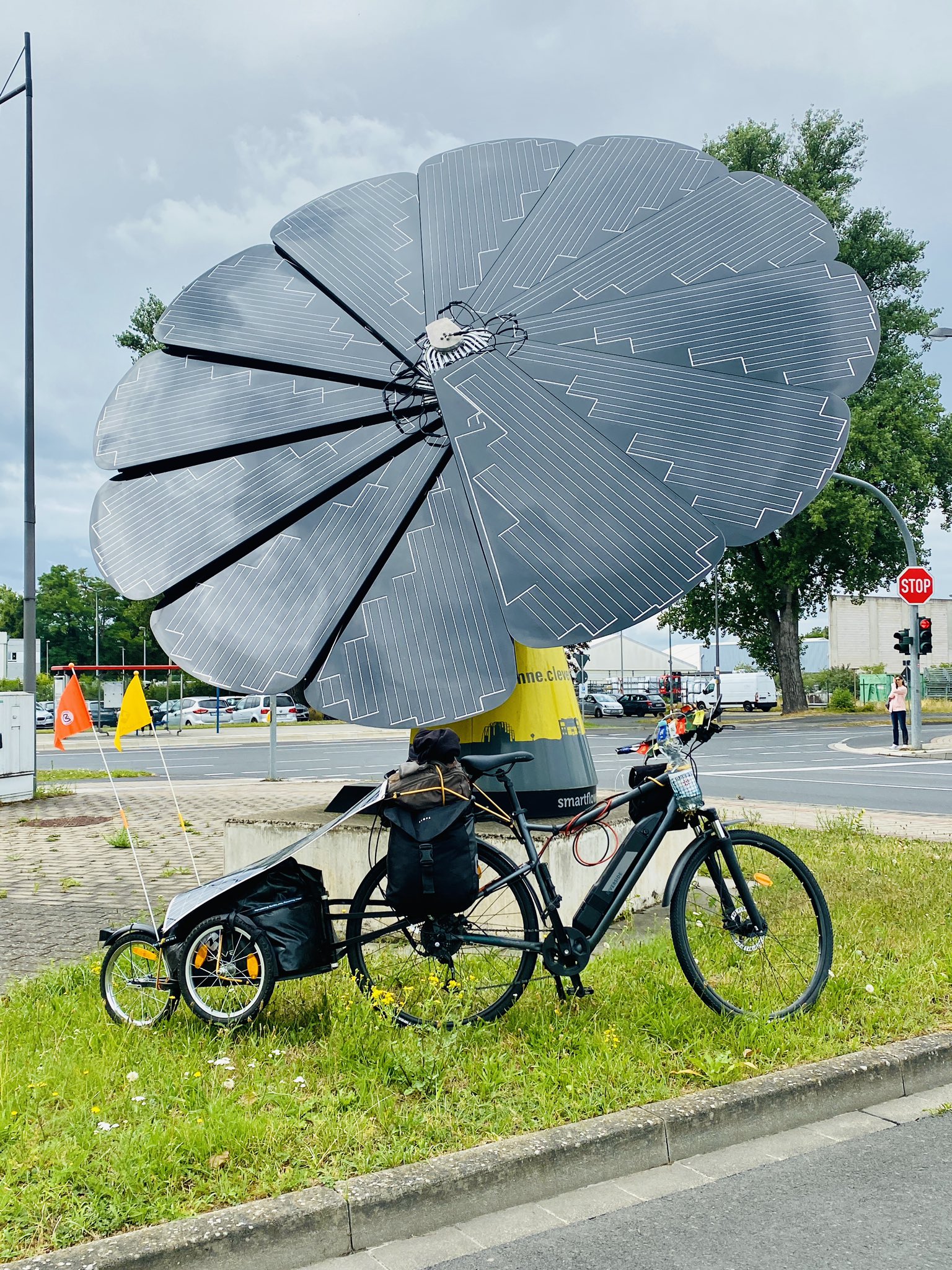 The journey had been no less than an adrenaline-fueled rollercoaster. Marco experienced the unpredictable European weather firsthand, with fast storms, scorching heat waves, and chilly nights testing his endurance and adaptability. Despite these challenges, he smiled through it all, proving that passion and determination are the driving forces behind every successful adventure.
As the adventure concluded, the Solarpunk bike reached its destination, bringing with it a tale of inspiration and a mission for the future - paving the way for others to follow and embrace sustainable travel options. The combination of electric vehicles and solar-powered technology presents an exciting possibility for reducing the environmental impact of travel while fostering a connection with nature.
To find out more about Marcos's adventure, check out his Twitter here as he brings you through his whole journey.
Leen and Xavier's Epic Bike Adventure: Journey from Brussels to Paris and Back! 🚵
Our very own Leen & Xavier embarked on an incredible adventure, biking from Brussels to Paris and back for the highly anticipated ETHCC event. Their journey was filled with breathtaking landscapes, charming pit stops, and a dash of unexpected excitement. Here's a summary of their remarkable travels!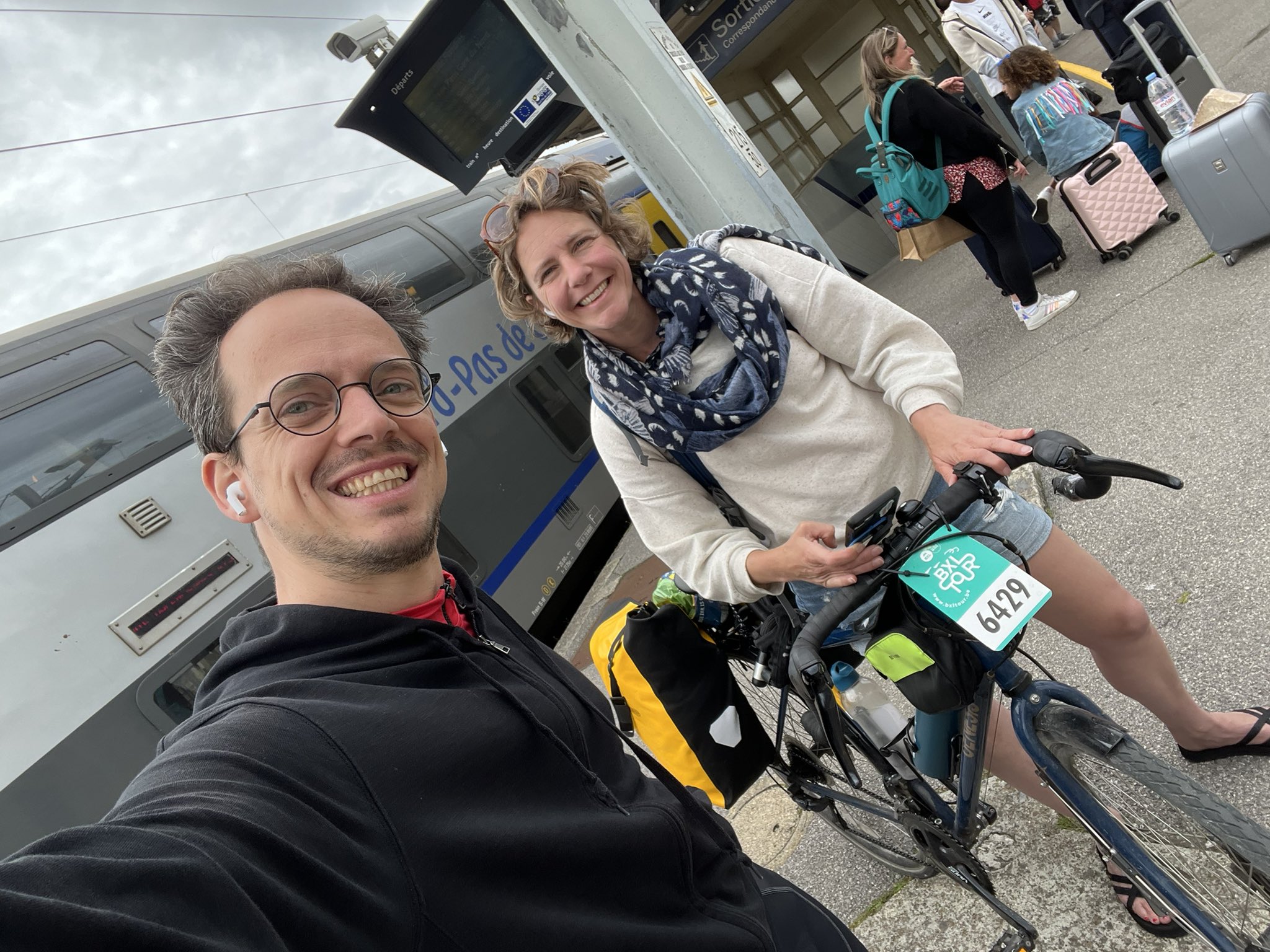 From Brussels to Paris
The journey began with a train ride to Charleroi, followed by an invigorating bike ride to Aulnoye-Aymeries, France. They found a welcoming host through http://welcometomygarden.org and set up their cozy tent for the night. Next, they hopped on a TER train to Compiègne, seamlessly transporting themselves and their bikes. A rejuvenating strawberry break was a sweet pause before they reached Chantilly, where they rested and prepared for the final stretch. With just 45km left, the pair pushed on and made their way to Meaux, surprised by the abundance of car-free paths along the route, before finally arriving in Paris.
From Paris to Brussels
The second part of their journey was equally captivating. Leen and Xavier embraced the calming embrace of nature, allowing it to revitalize their energy as they pedaled an impressive 83km in one day.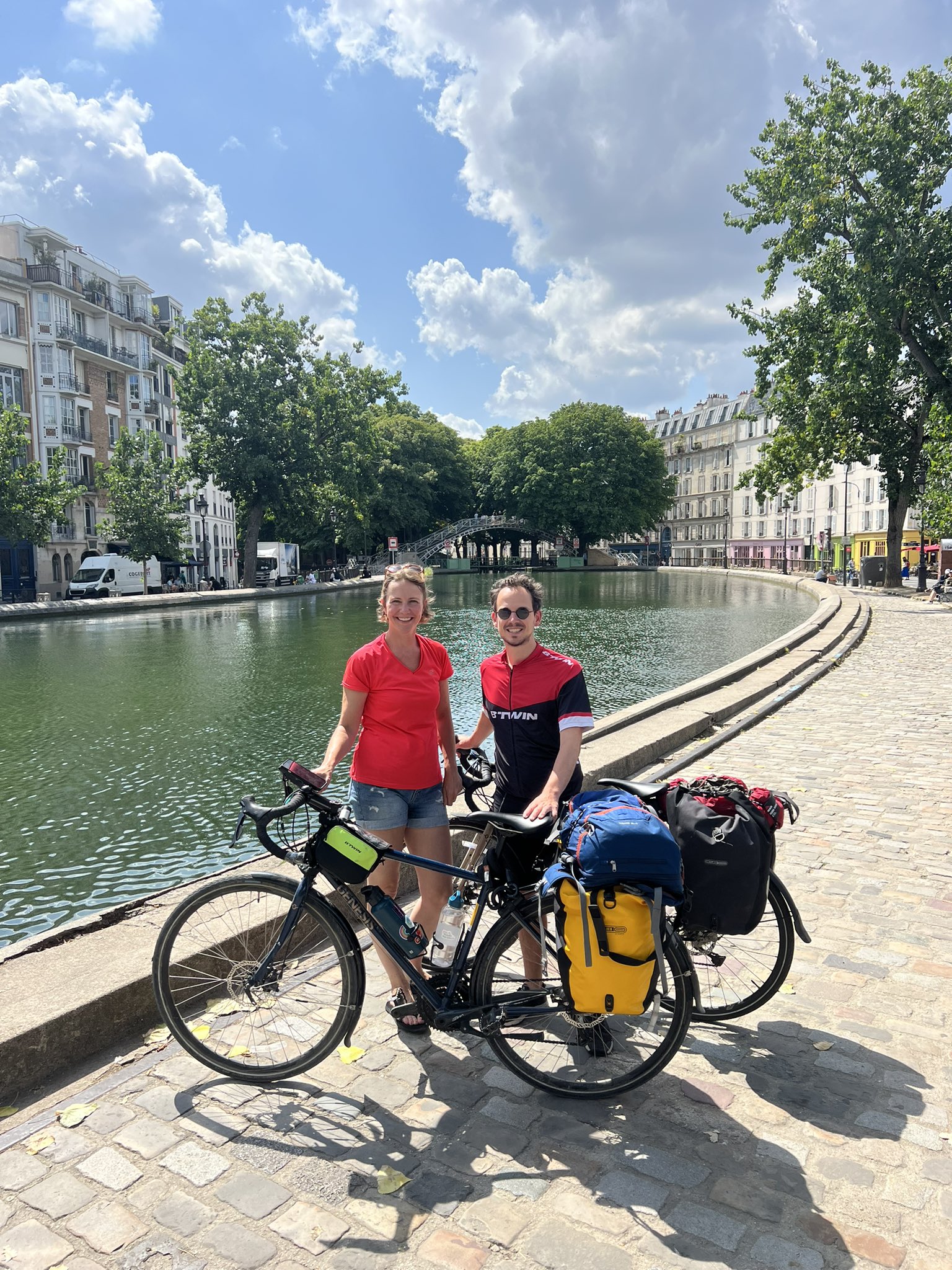 Their adventure took an unexpected turn as they stumbled upon a hidden wilderness trench, feeling like they'd discovered a parallel universe. Their accomplishment of covering 500km+ by bike is an inspiration to us all, a reminder that with each pedal stroke, new horizons can be reached and cherished memories can be made.
Marco, Leen & Xavier, show us that regenerative travel isn't just a concept – it's a reality. Their bike journeys aren't just about distance; it's about the connections they made, the landscapes they explored, and the rejuvenation they experienced along the way.
---
Past Events 👀
---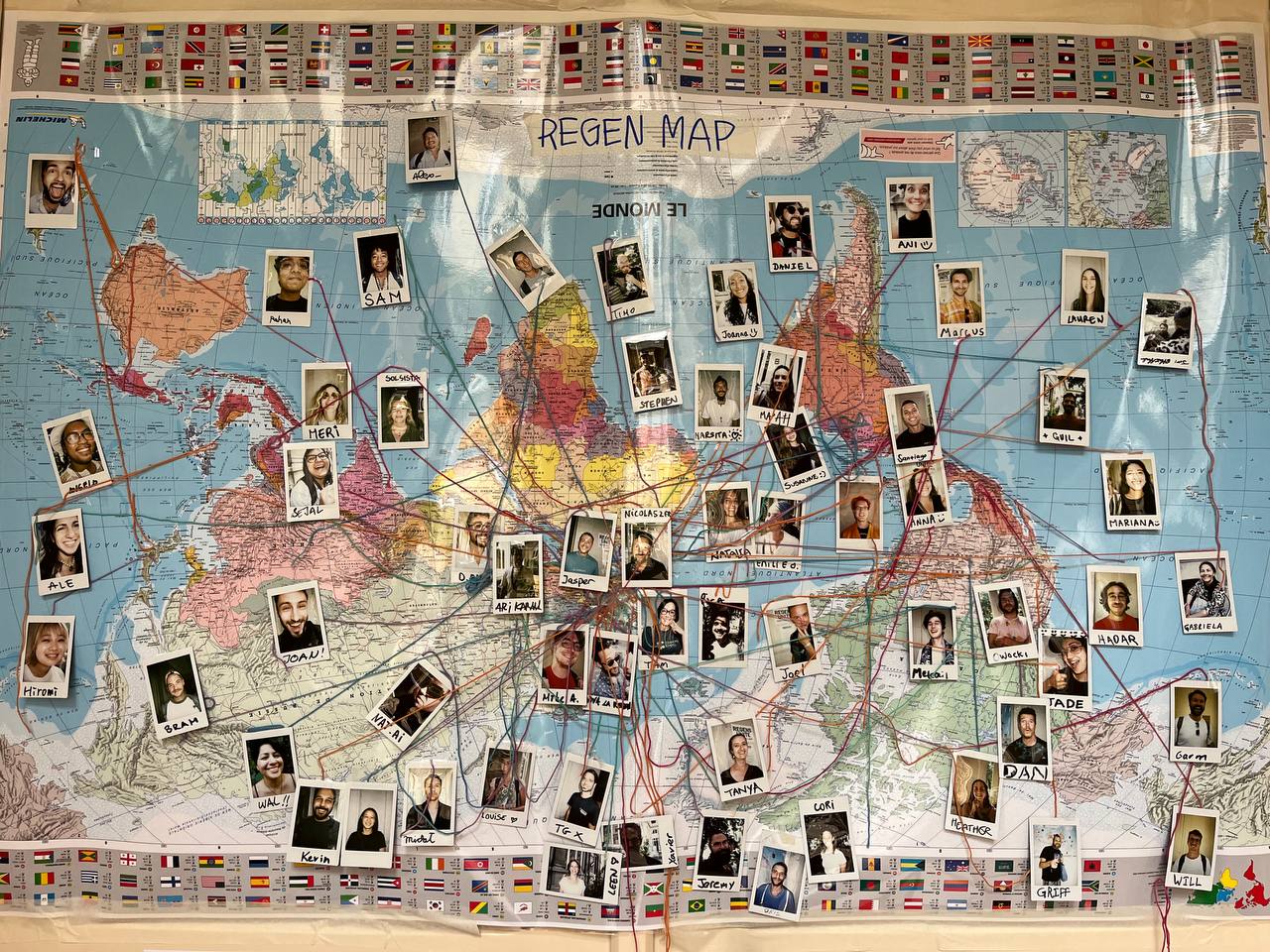 Regen Hub at IBC Paris 🇫🇷
On a beautiful July day, Regens Unite hosted a full day of community-led interactive workshops and deep conversations at L'Académie du Climat in the heart of Paris. In partnership with the Impact Blockchain Conference, organized by Blockchainforgood.fr and Decentralized Desires, we created safe and brave spaces for regens to dive into a broad range of topics around community impact and coordination, the climate crisis, and building resilience together.

Check out our after-movie by the very talented Guilherme Maueler! 👇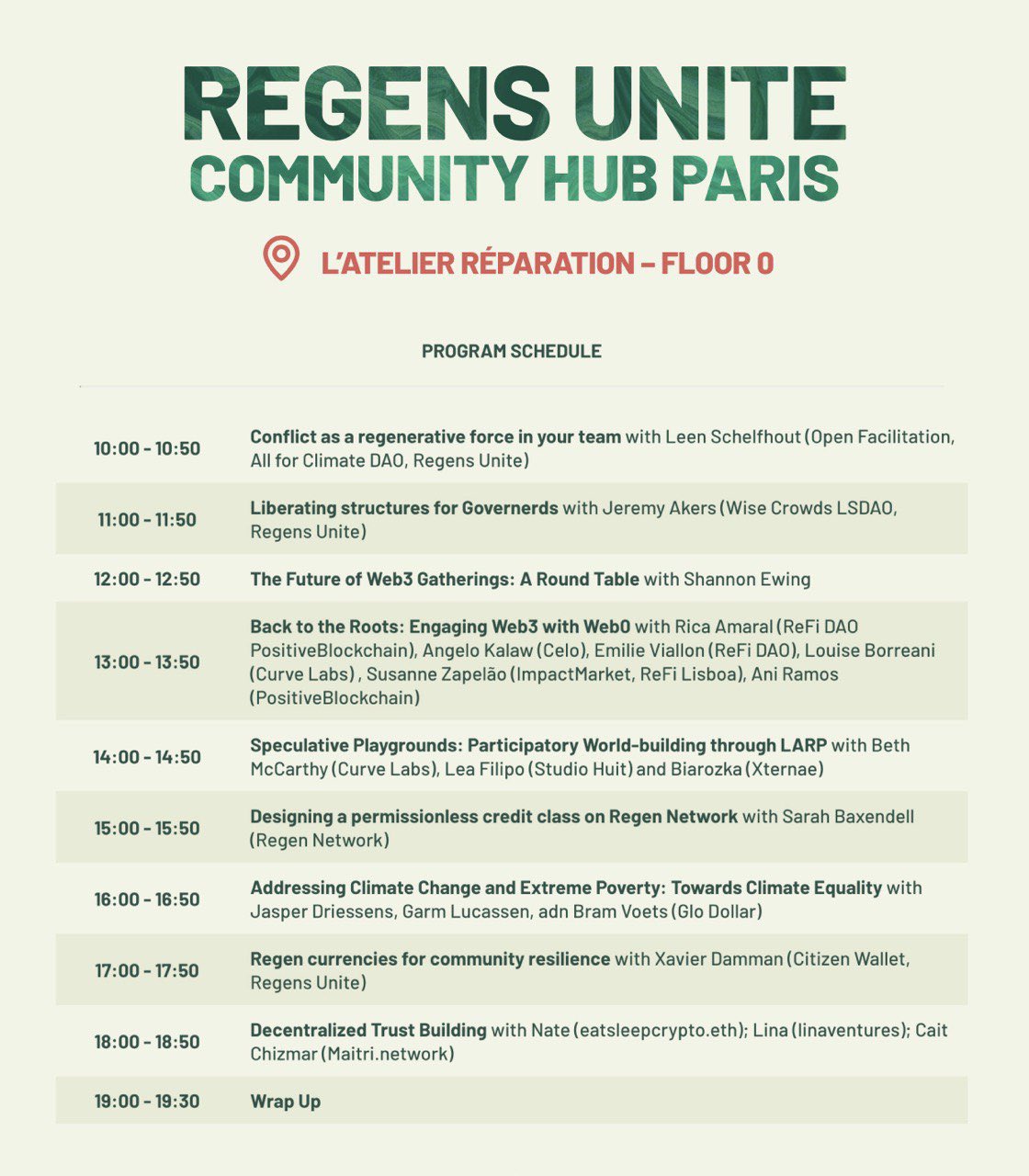 Phew, what a turnout! The full-day program included participation from a broad-range of partners across our community, including ReFi DAO, Celo, Curve Labs, ImpactMarket, ReFi Lisboa, Positive Blockchain, Studio Huit, Xternae, Regen Network, Glo Dollar, Citizen Wallet, and more.
☀️ You can find the full written recap here of this inspiring day.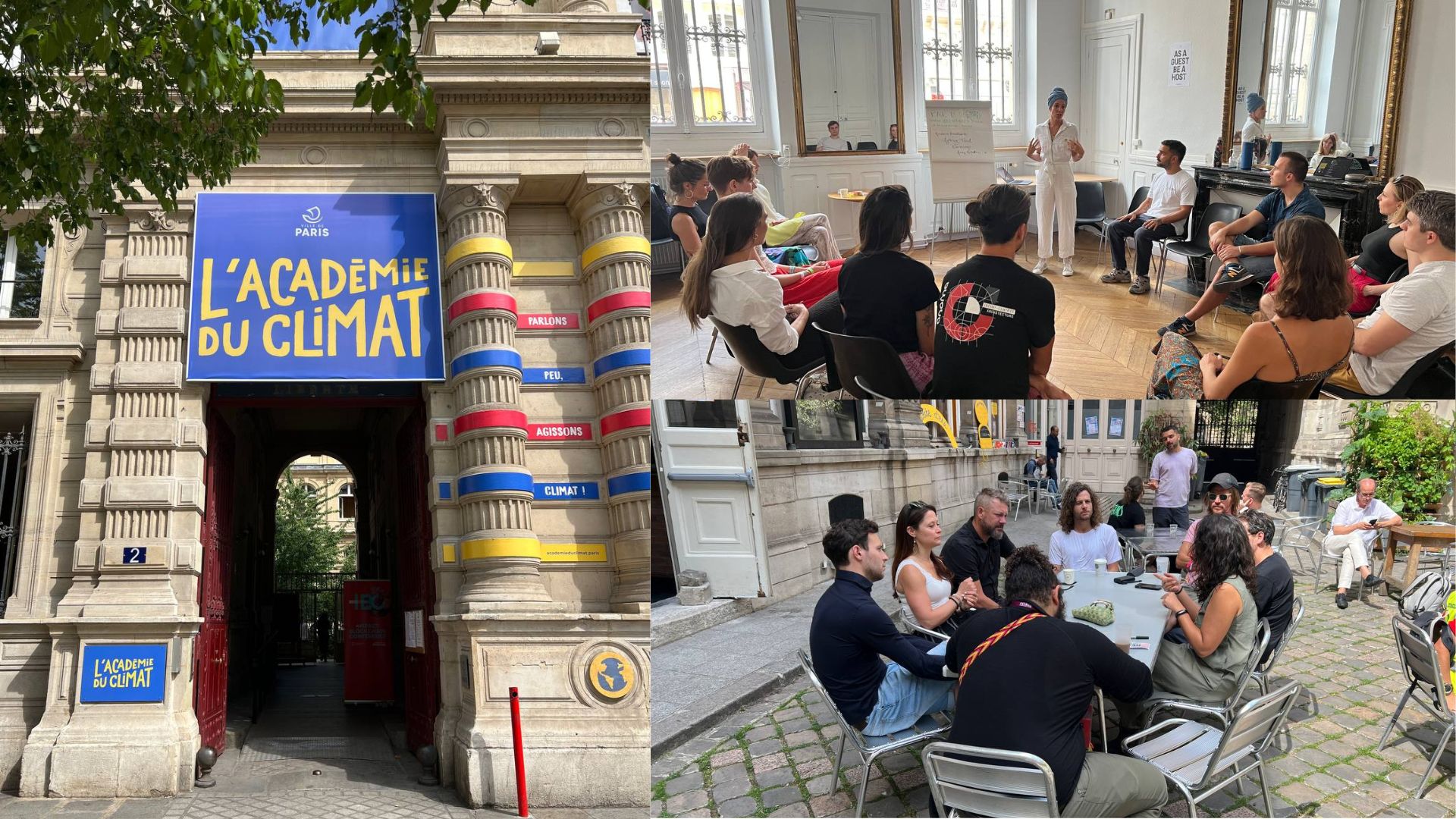 Enchanted Village: A Journey of Inspiration and Regeneration 🏴󠁧󠁢󠁥󠁮󠁧󠁿
We are thrilled to share the incredible experience that was the Enchanted event that took place in early July – a gathering that blended fun, learning, and life-changing connections while reimagining sustainability and regeneration. Held at the captivating Selgars venue, this unique unconference brought together a diverse tribe of forward-thinkers, re:builders, and regenerators to explore new perspectives and solutions for a brighter future.
Check out the new after movie! 👇
A Magical Gathering
Enchanted was not your typical conference. It went beyond the ordinary, infusing every moment with magic and beauty. Attendees were transported to a world of imagination, where they were encouraged to challenge conventional thinking and embrace novel approaches to age-old problems. The event aimed to ignite inspiration, and it succeeded brilliantly.
Looking Back with Gratitude
The memories created, the ideas shared, and the connections forged will continue to resonate in the hearts and minds of all who attended. As we reflect on this extraordinary gathering, we extend our heartfelt gratitude to everyone who contributed to making Enchanted an unforgettable experience.
Take a peak for yourself and see what was in store 👀
A Transformative Experience at the L'Arbre qui Pousse Summer Camp 🌱🏕️
We've just wrapped up an incredible journey of self-discovery, connection, and rejuvenation at the Griffon Regen Summer Camp! For one inspiring week, participants from all walks of life came together to experience the magic of intentional community living in the heart of the vibrant ecovillage, just south of Brussels.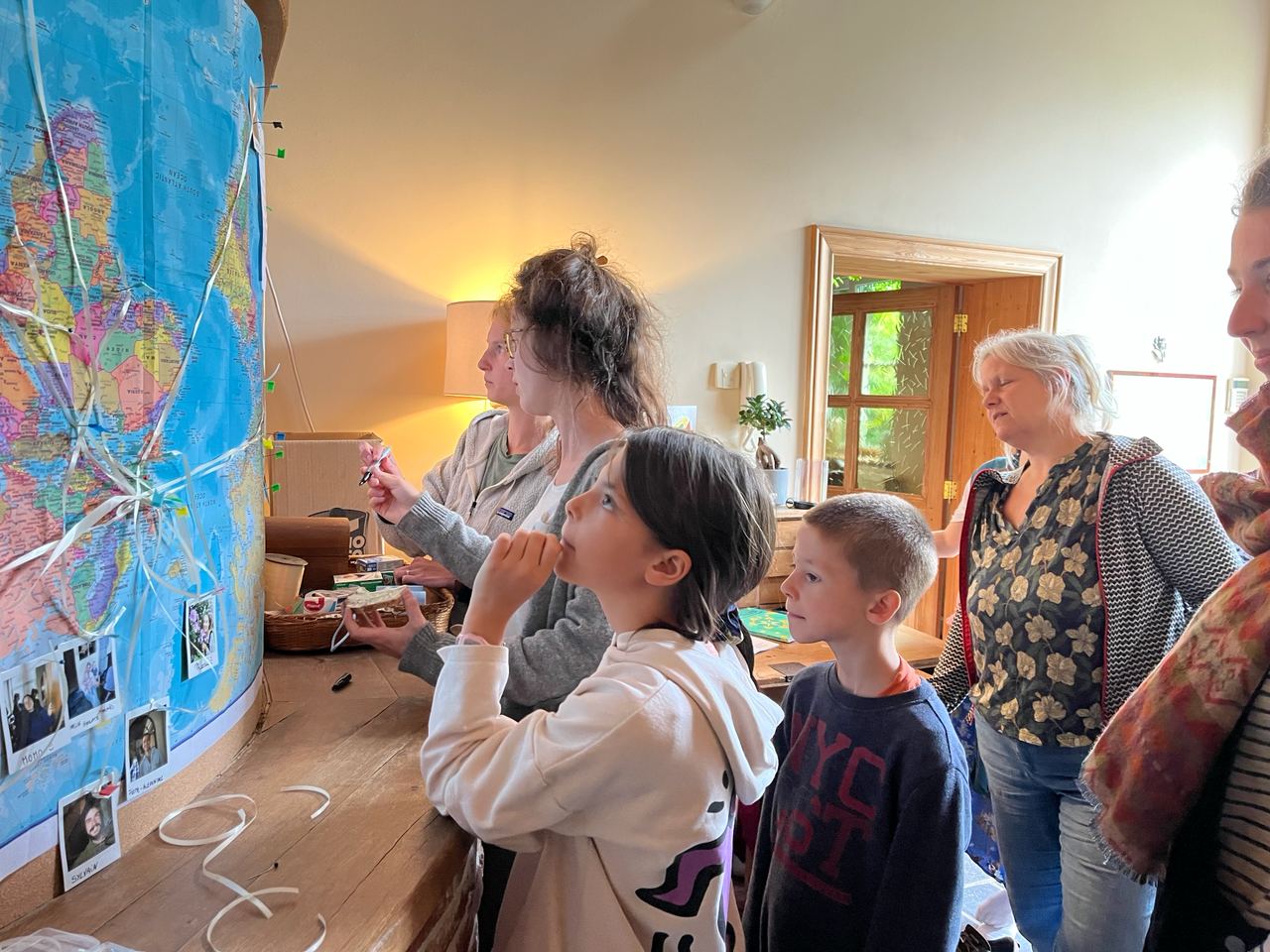 Creating a Harmonious Community:
Throughout the camp, the principles of care and respect guided every activity. We lived, worked, played, and learned in harmony with ourselves, the land, and the community around us. From sharing stories to working side by side on sustainable projects, every moment was an opportunity to bond and grow.
Embracing Regeneration
The regenerative power of intentional community living was evident throughout the camp. As we unplugged from the stresses of daily life, we found solace in nature, fostered deep connections, and allowed ourselves to be truly present in the moment.
Leaving a Positive Impact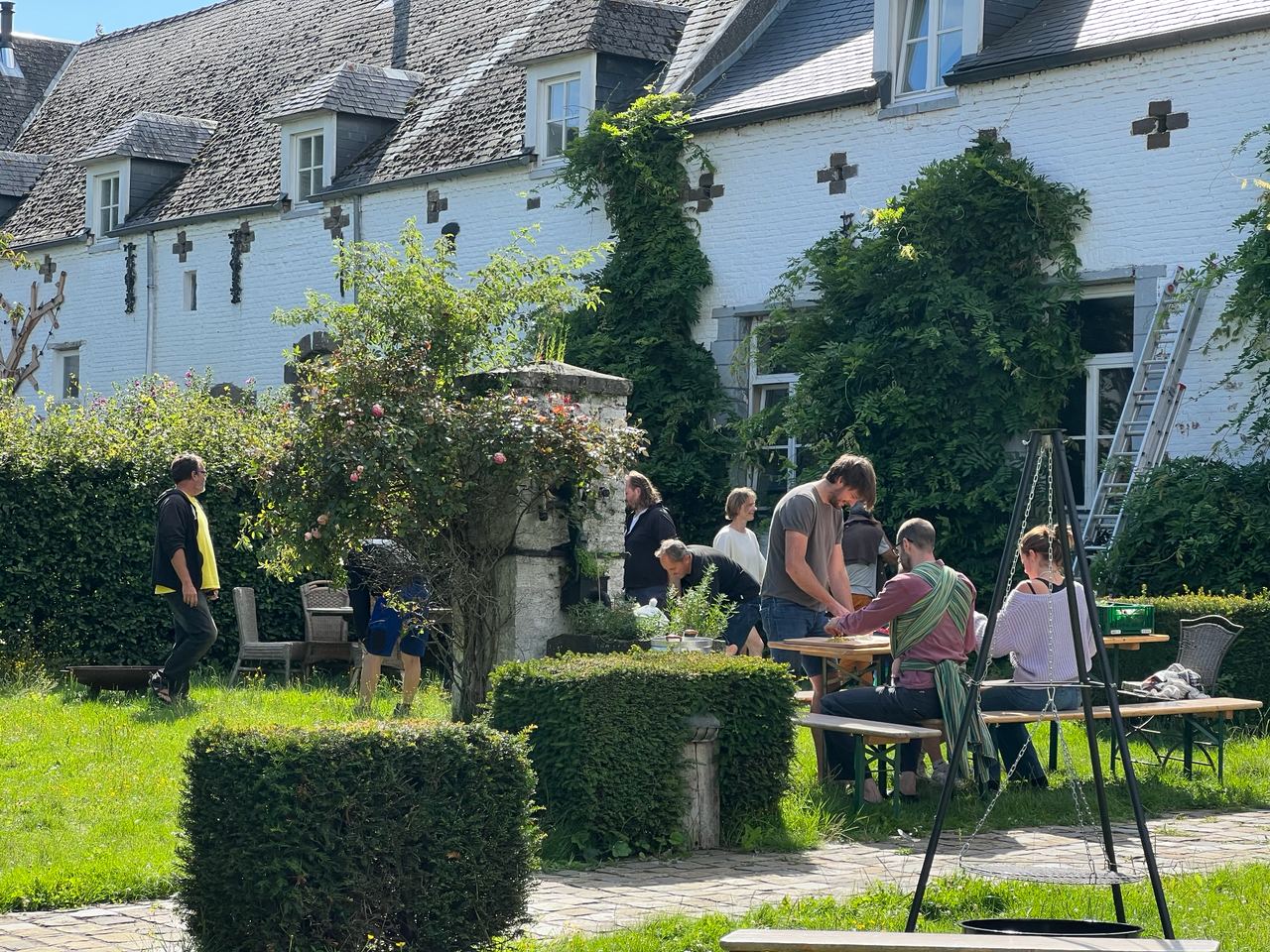 One of our core values was contribution. By the end of our time together, we had not only grown individually but had also left a lasting imprint on the community and L'Arbre qui Pousse. Through various sustainable initiatives, we worked to enhance the environment and ensure that those who followed would find an even more welcoming and beautiful space.
As we bid farewell to the Griffon Regen Summer Camp, we take with us cherished memories, newfound friendships, and a profound sense of growth. The experience was a testament to the beauty of intentional community living and the transformative power it holds. We extend our heartfelt gratitude to everyone who participated, contributed, and made this journey an unforgettable one.
---
Upcoming Events 🌍
---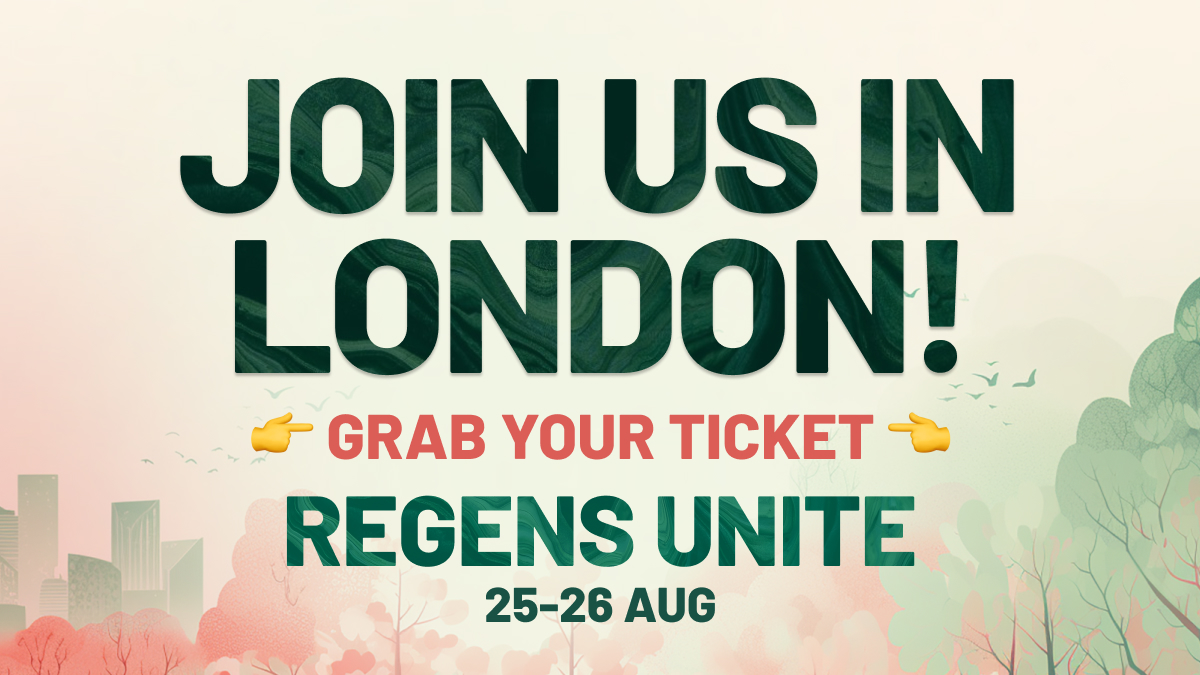 Dates: Aug 26th - 27th
Location: London, United Kingdom
A gathering in East London for technologists, healers, finance workers, charities, environmentalists and creatives to establish new relationships. A safe and brave space where we can meet each other and unite despite our different perspectives. Learn how to use new (crypto) currencies, use ChatGTP for your work, about the management of green spaces in this unique part of London, how to mint a digital collectible, or take a guided nature walk.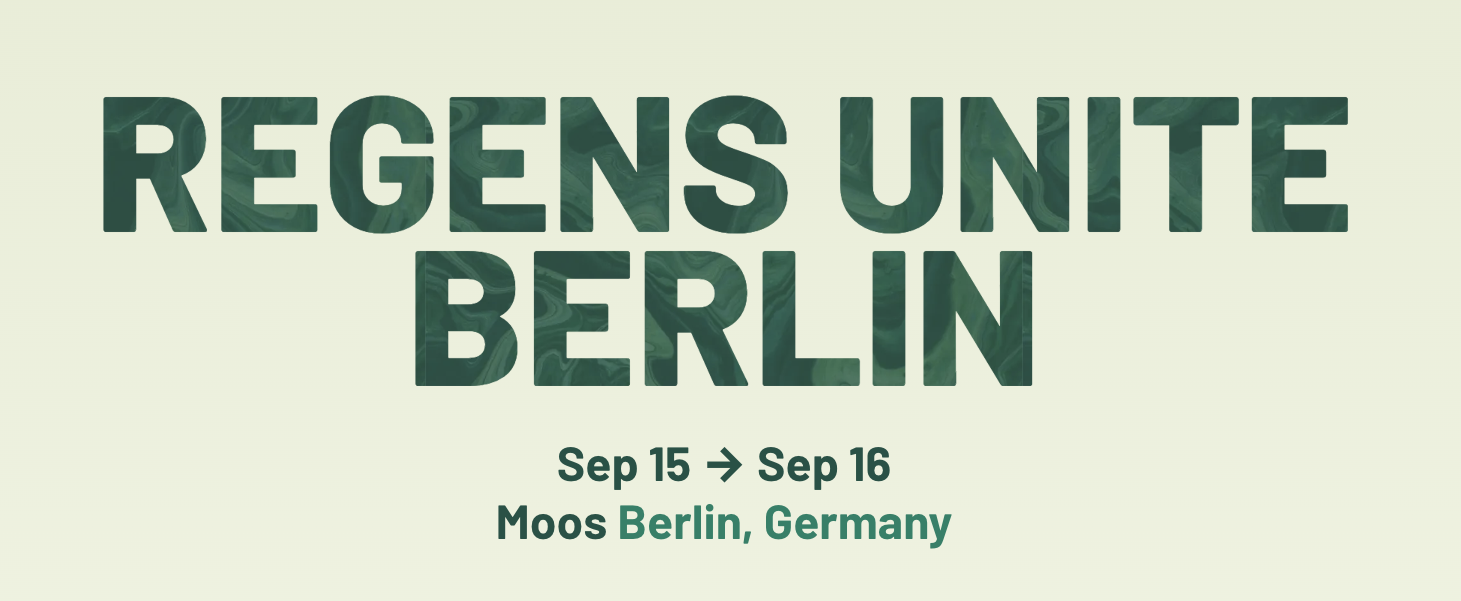 Dates: September 15th - 16th
Location: Berlin, Germany
We are excited to bring together regenerative thinkers and doers in DAOs, ReFi, DeSci, Platform Coops, Purpose Orgs, Climate Activism, and Art to co-create & share projects, knowledge, food, kindness and hope.
And BIG NEWS - this year we're partnering with Schelling Point for the full two days! Stay tuned in our social and community telegram channels for more updates.
👉 Apply to attend, or host a session, HERE.
The Turn 🎡
Dates: September 23rd - 24th
Location: Amsterdam, Brussels, Berlin, Bangalore, Bristol, Brno, Brussels, Lisbon, Vienna
Introducing The Turn, a groundbreaking planetary festival that redefines competition. Join cities as they engage in a playful contest to regenerate and uplift. Feeding the hungry, cleaning up communities, and weaving captivating stories are the challenges on this remarkable journey. Plus, with a unique crypto incentive from partners like Crypto for the Homeless (https://cryptoforthehomeless.com/), regenerative action gets a boost. Reflect on the past, plan for the future, and be part of this transformative movement. The Turn is here to reshape our world, one joyful game at a time. Don't miss it! 🌟
👉 Join the telegram group, HERE
---
Regens Community 💚
---
🌳🐑 Introducing $TDF - Your Regenerative Real Estate Token 🌳🐑
Traditional Dream Factory, fondly known as TDF, proudly launched $TDF on Celo mainnet in early July! 🎉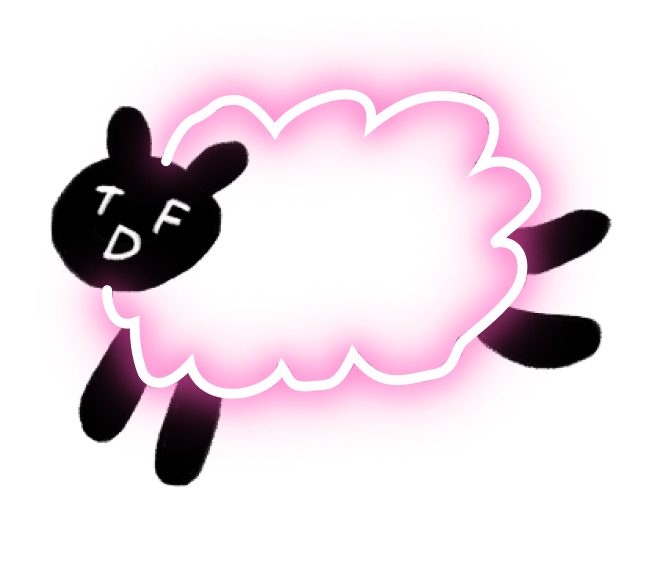 TDF is at the forefront of regenerative housing, crafting a co-living model that fosters positive interactions among people, nature, and the local ecosystem. In 2021 they got the keys to this crazy chicken factory and embarked on an inspiring reforestation project adjacent to a flourishing food production area - guess what! There's a vibrant market garden feeding 30 people and thriving seedlings growing to be a food forest. 🌱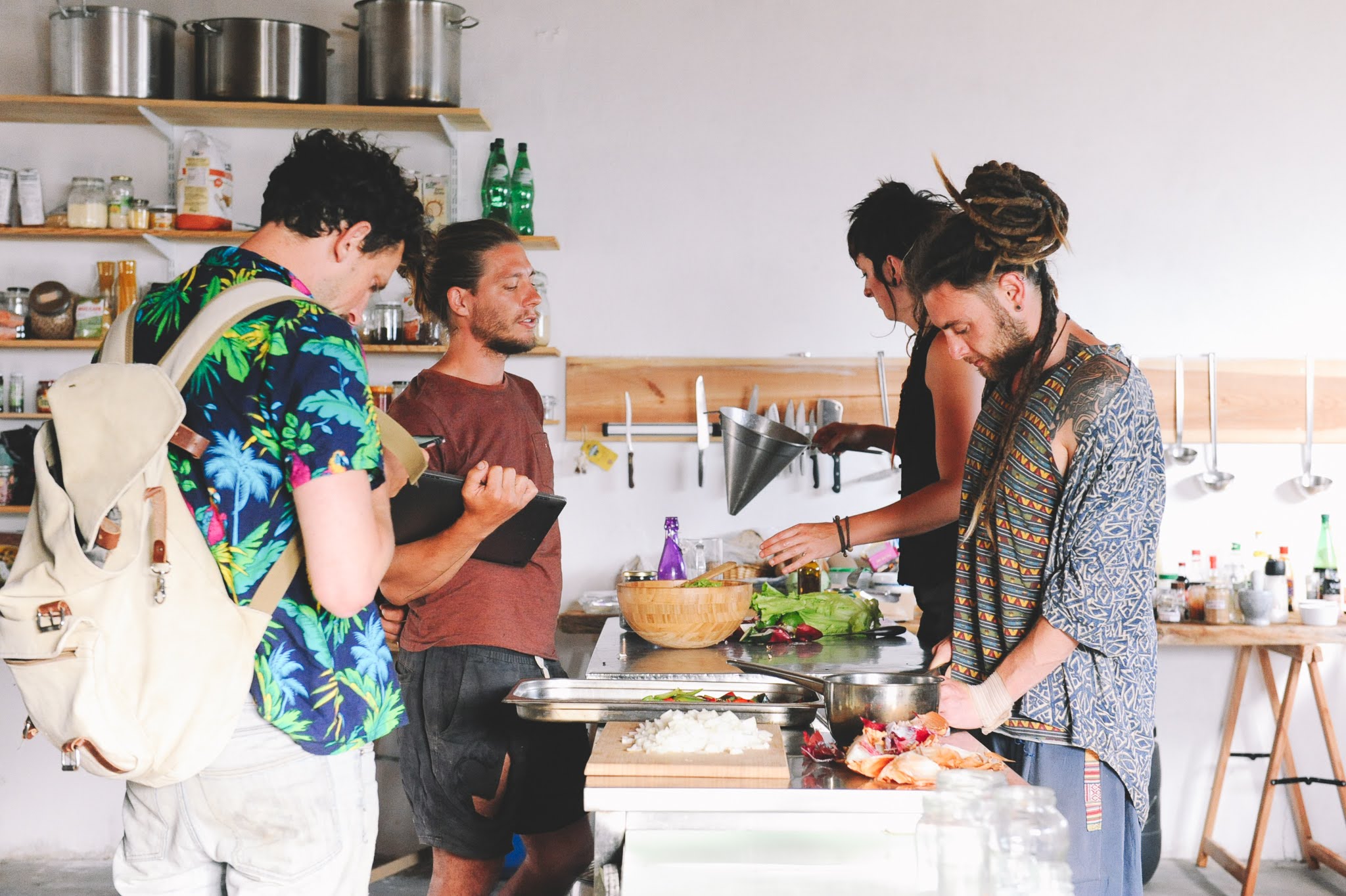 With 1 $TDF, you gain perpetual access to the co-living facilities, providing you not just housing but also governance influence based on your time spent or labor contributed. It's a crypto housing token - you get real estate access, really. Funds from the token sale support the team and the development of these incredible facilities and lands. It's time to get the power of crypto making a real-life impact!
TDF is a vibrant community for solarpunks, artists, families, regen futurists, crypto enthusiasts, entrepreneurs, and digital nomads to unite, collaborate, and envision a better tomorrow. Exciting and wholesome events await this Fall!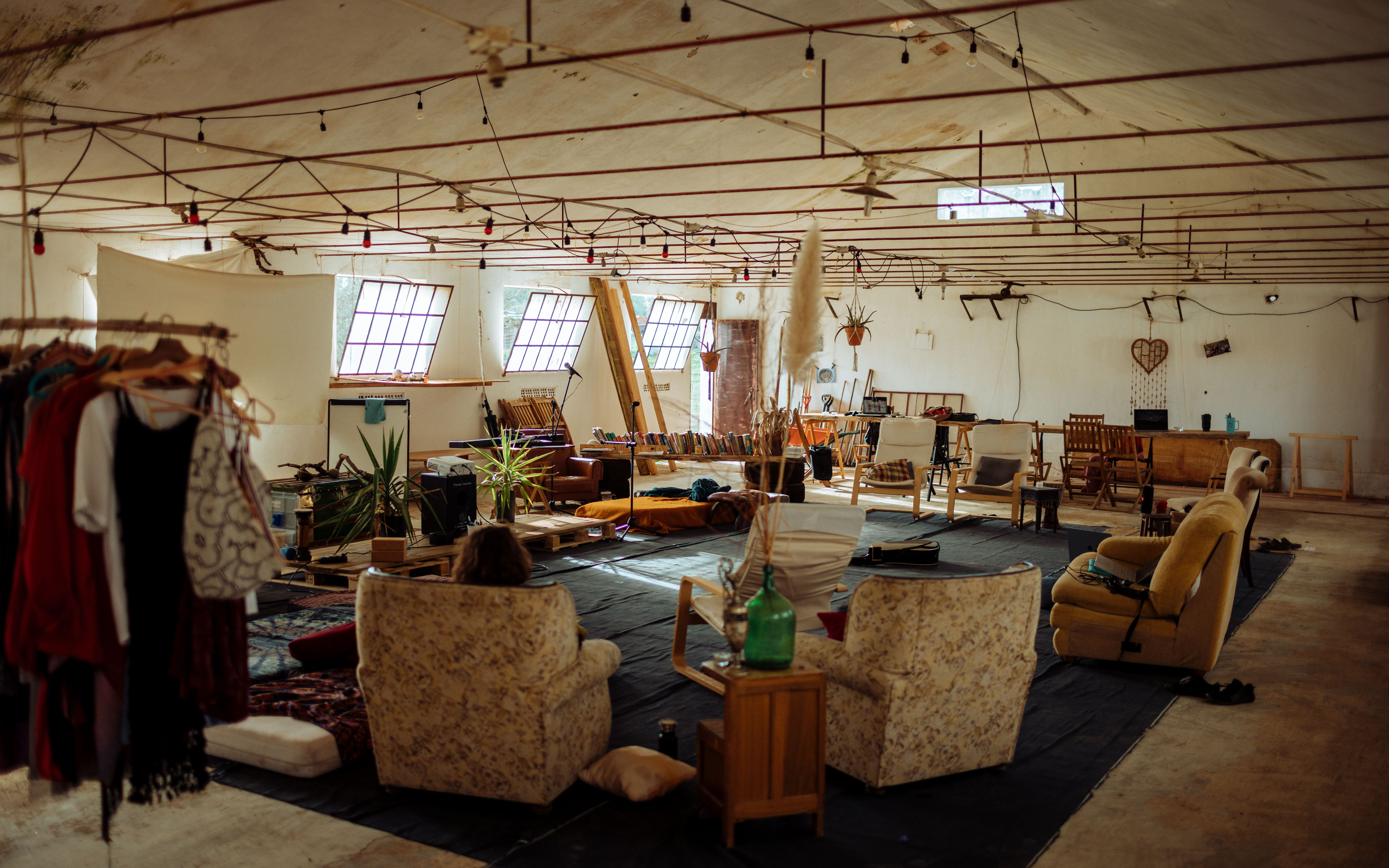 Visit their website to dive into tokenomics, explore their visionary mission, and get invited to a Welcoming Call.
Embrace your regenerative dream with TDF! 💭🏡🌍
Glodollar Token Launch
Congrats to our friends at @glodollar, who officially launched a regenerative finance initiative that is tackling world poverty by circulating a stablecoin.

What is Glo Dollar?
Glo Dollar is developed by the Glo Foundation, a mission-driven organization focused on ending extreme poverty. We donate revenue to basic income programs for people in extreme poverty.
---
We encourage you to share this newsletter with anyone who may be interested in joining our mission. Together, we can build a better world for ourselves and future generations.
Wishing you all the best,
The Regens Unite Team
---
If you want to stay up-to-date on our latest news and events, make sure to follow us on Twitter, LinkedIn, & Facebook.
Connect with our community on Telegram to continue the conversation!