Welcome to the 13th episode of the Weekly Grail - a number that's considered unlucky by some, but not by us! It's too bad that we don't release articles on Fridays, as the Friday the 13th theme would fit well with our brand full of skulls. So, be brave and dive deep into this edition of the Weekly Grail.
Our series of articles/newsletters keeps our community informed about our achievements and upcoming updates.
If you have any questions related to the project, feel free to ask on our Discord channel. Our project team is always ready to assist.
Lil Skulls:
As we continue our WL activities for the upcoming Lil Skulls mint, we'd like to provide some insight into how this collection fits within our ecosystem.
Lil Skulls - 6'666 unique and vibrant pixel art NFTs.
Mint price: Free mint
Mint date: TBA
Utility: clean and stylish PFPs, access to whitelists, and other benefits during drops of future game-related collections within the RektSkulls ecosystem
Ownership: license to use and display the artwork in any personal or commercial context.
Giveaway: massive 6.666 ETH Treasure Hunt Giveaway. We've hidden treasure traits in 66 skulls from the collection, with a prize pool of 6,666 ETH divided among them. Owners of NFTs with treasure traits will receive ETH directly to their wallets after the reveal.
Lil Skulls serves as the main PFP collection of the RektSkulls project, aimed at establishing brand recognition and building a strong community.
Lil Skulls offers a simple entry point into the RektSkulls ecosystem for those not ready to dive deep into the more complex mechanics such as staking, utility NFTs, auctions, etc.
Just hold a Lil Skull and enjoy future benefits.
Ger GUARANTEED Lil Skulls WL
Just follow these 3 simple steps:
1. Buy 10,250 REKT (Links: https://app.1inch.io/#/1/simple/swap/ETH/REKT, https://app.uniswap.org/#/swap?outputCurrency=0x8a7664e782860e856031d6c31eb3bde721bc362b)
2. Mint Mystery Card for REKT and then redeem it for one of 4 Essences: https://app.rektskulls.com/mystery-cards
3. Stake Essence here: https://app.rektskulls.com/essences
As we approach the Mint Date, we'll be taking snapshots and awarding WLs to all Essence stakers. The number of Lil Skulls available for minting per staker will depend on the amount of Essences staked, with a minimum of 2 skulls per stake.
Project updates:
First and foremost, congratulations to the latest winners of our Genesis Skull auctions! Last week, two new skulls found their owners with impressive final bids.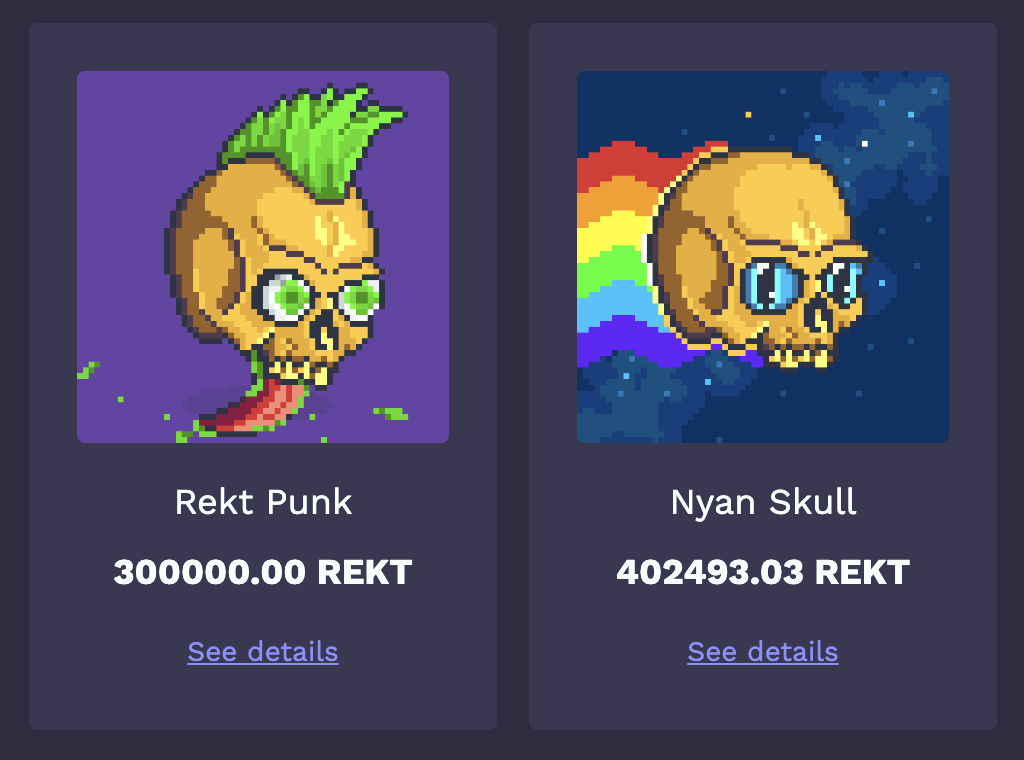 Not everything goes smoothly and as planned, we experienced a setback last week when one of our biggest liquidity providers for the REKT token left the pool and liquidated his position. This led to a depreciation of the REKT token price. However, on the positive side, he has sold almost all of his tokens and there won't be another large actor that threatens the REKT token with such a big position. Considering the upcoming 20% rewards drop from staking, the extremely low market cap, and the strong burn mechanics, this may present a nice entry point into REKT token. However, please note that this is not financial advice, just an observation of the current market conditions and REKT tokenomics.
Regrettably, we have encountered another setback, as OpenSea has temporarily disabled trading for our Essences utility collection. This may be due to a reporting error or a mention of staking and token in the description. Rest assured, we are in contact with OpenSea to resolve this issue.

Dima's game development blog:
Welcome back to the development blog for our upcoming RektSkulls multiplayer action RPG game. I am excited to share that over the past two weeks, we have been diligently working with our game studio team on a detailed game design document. This document outlines all of the mechanics that we plan to implement in the game's first version. With this phase completed, we have now moved into the actual production process.
While this stage may not always be the most exciting, we will do our best to keep you updated on any significant progress or updates. Thank you for your continued support as we work to bring this game to life!
RektSkulls ecosystem overview: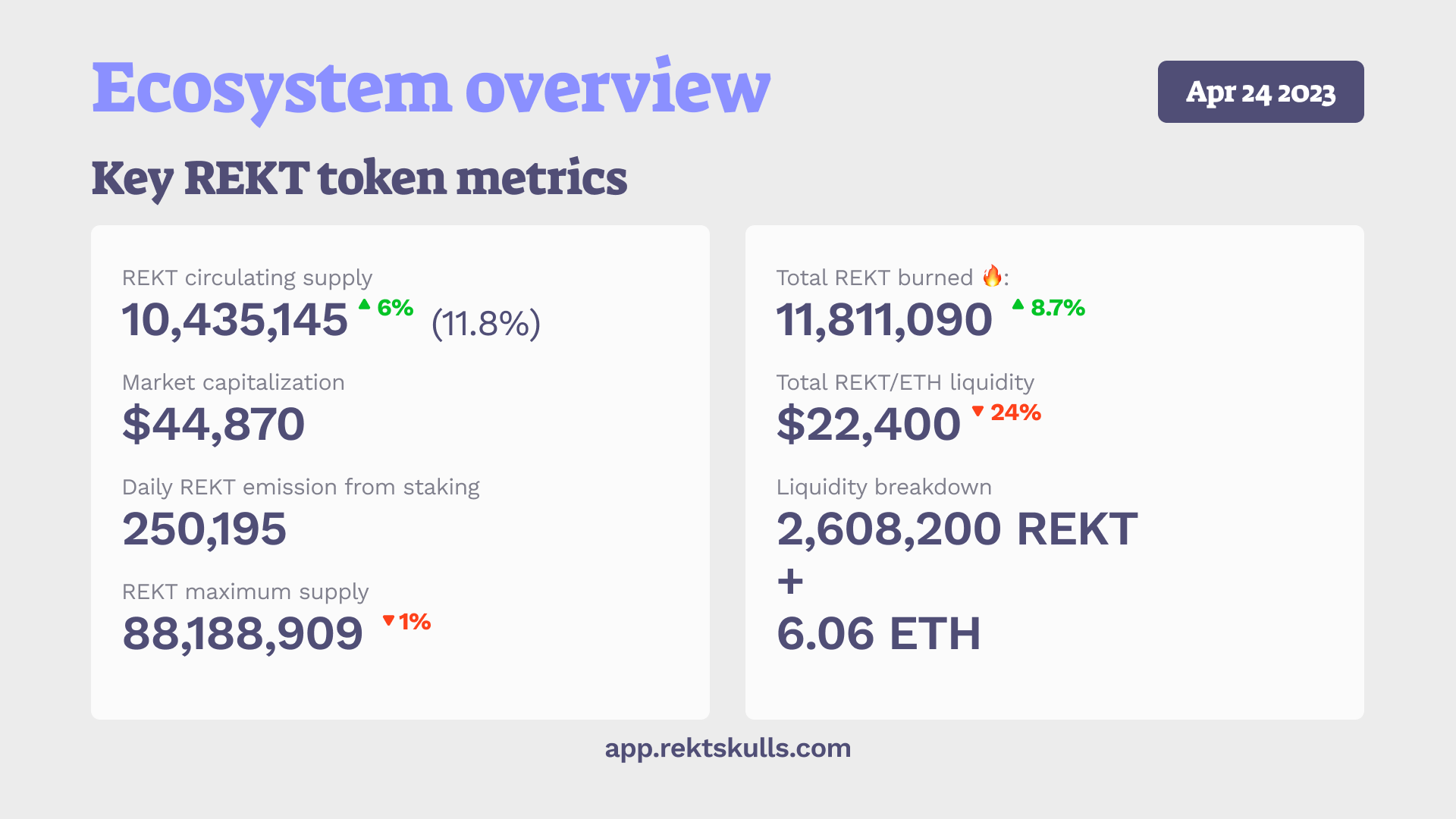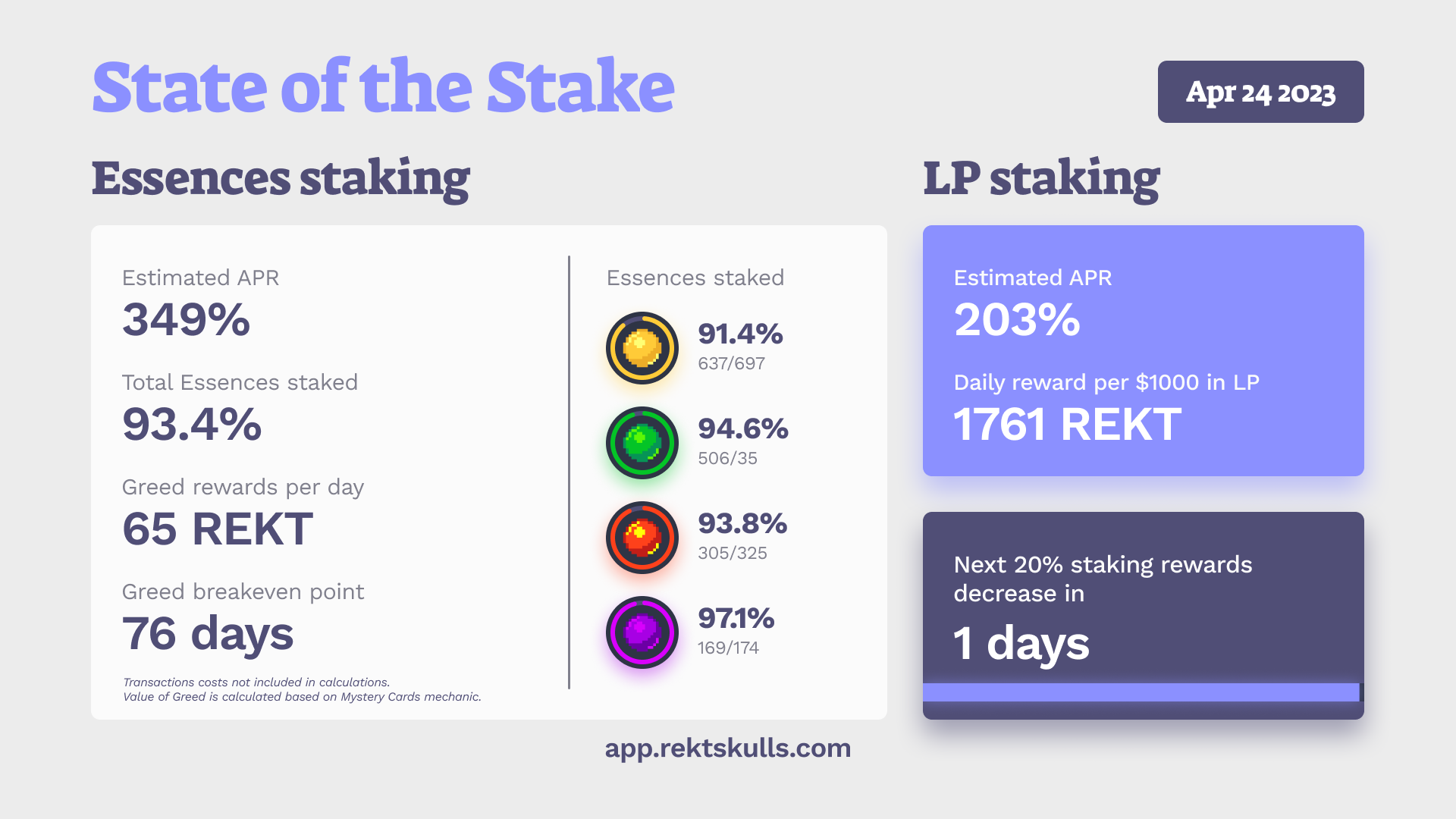 Thank you for dedicating your time to exploring this piece!
Be sure to follow our social media channels for all the latest updates and explore the additional links provided to learn more about our thriving ecosystem.
Genesis Skulls PFP collection: https://opensea.io/collection/rektskulls-genesis-skulls
REKT token: dexscreener.com/ethereum/0x2e8a9330147d9a4a50c893ed3b28ad20328ff486
Website: rektskulls.com
User dashboard (dApp): app.rektskulls.com
Twitter: twitter.com/RektSkulls
Discord: discord.gg/rektskulls
Subscribe to Rekt Skulls and never miss a post.