Absolutely no one expected it, but here it is - a new episode of the Weekly Grail! Enjoy!
Our series of articles/newsletters keeps our community informed about our achievements and upcoming updates.
If you have any questions related to the project, feel free to ask on our Discord channel. Our project team is always ready to assist.
Project updates:
Last week, we launched the Mystery Cards mechanic, and we were thrilled with the response from the community.
After four days, some stats include 2,847,000 REKT tokens burned (30% of circulating supply) and 290 Essences minted, with almost all of them staked. This makes REKT a truly deflationary token. Moreover, our upcoming releases, such as Genesis Skulls, Genesis Skulls Forks, and a new NFT collection, will all include aggressive burn mechanics for both the REKT token and Essences.
Genesis Skulls
Genesis Skulls are the most precious elements of the RektSkulls universe. They are 66 unique animated PFP NFTs that are distributed through auctions with bids only in REKT tokens. Genesis Skulls, when revealed and staked, produce Mystery Cards as staking rewards. In addition to these economic benefits, they grant players exclusive cosmetics and in-game powers.
Genesis Skulls Forks
Genesis Skulls Forks are more affordable and less exclusive versions of Genesis Skulls. They will be obtainable through the burning of REKT tokens and Essences. They will also have staking mechanics, though less powerful than in Genesis Skulls. And of course, they will have special in-game powers.
---
We're proud to be a 100% self-funded project that doesn't rely on VC funding, pre-sales in ETH, or any other means of attracting capital. In this sense, we're more like an "Indie" project.
VC funding is an effective narrative for projects to gain immediate hype and recognition, as well as funding for development. However, this also means that the VC has bought equity (if we speak about the NFT space) and will likely force the project to extract value from its holders (who might be better-called clients). Also, projects that already have funding are less incentivized to constantly release content and keep their ecosystem active. They often remain silent for months and years, with few releases for their community.
Our vision is fundamentally different. We want our holders (of Essences/Genesis Skulls or REKT token) to become the underlying economic layer of our ecosystem, like miners and node runners in the blockchain. This way, they will benefit from all upcoming releases.
Although we have an ambitious goal of raising $2M to start game development, we have already begun the process. While we can't provide any details or a timeline just yet, we want to assure you that we're working on multiple elements behind the scenes that will help secure the short-term, mid-term, and long-term future of RektSkulls.
RektSkulls ecosystem overview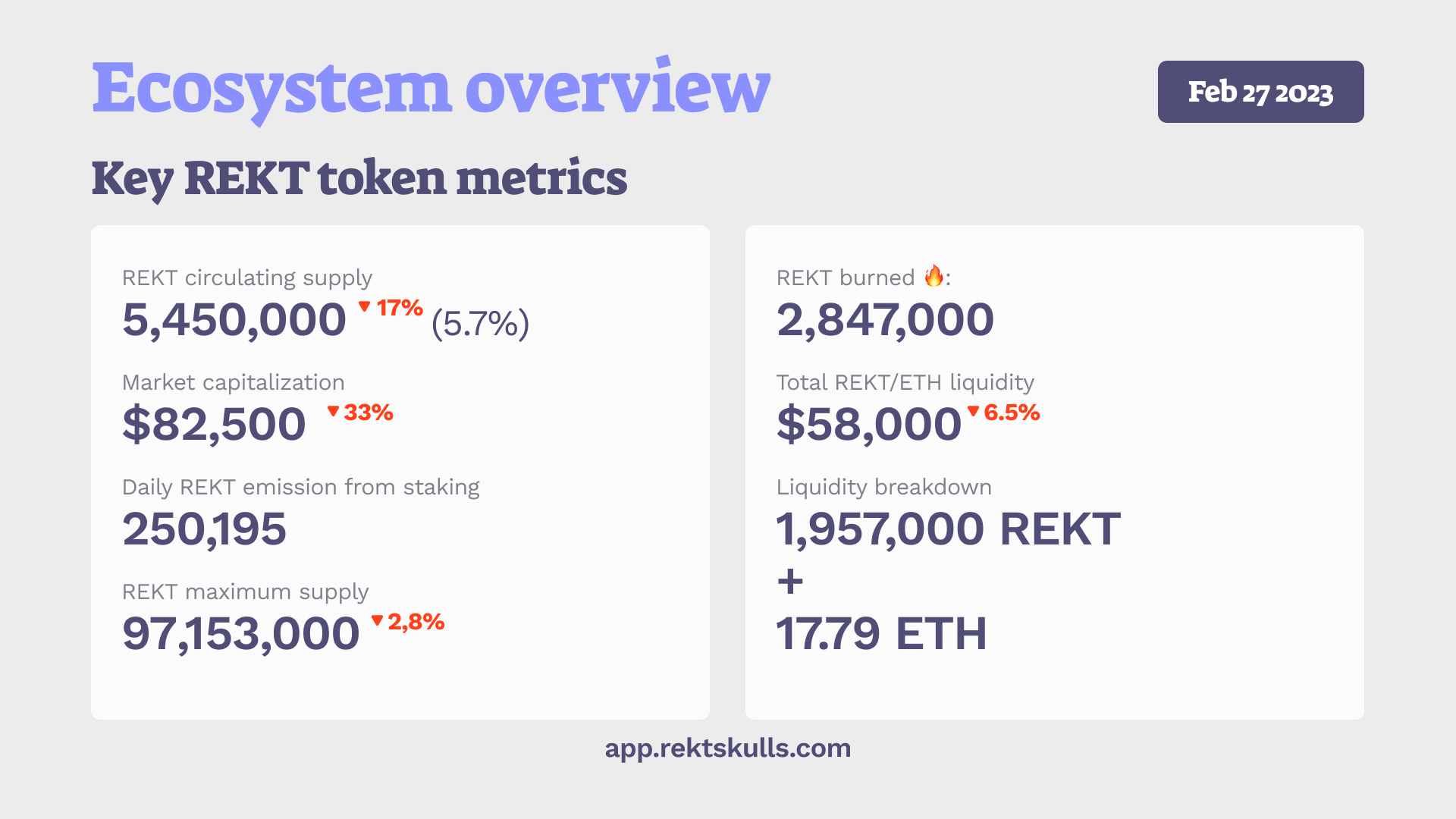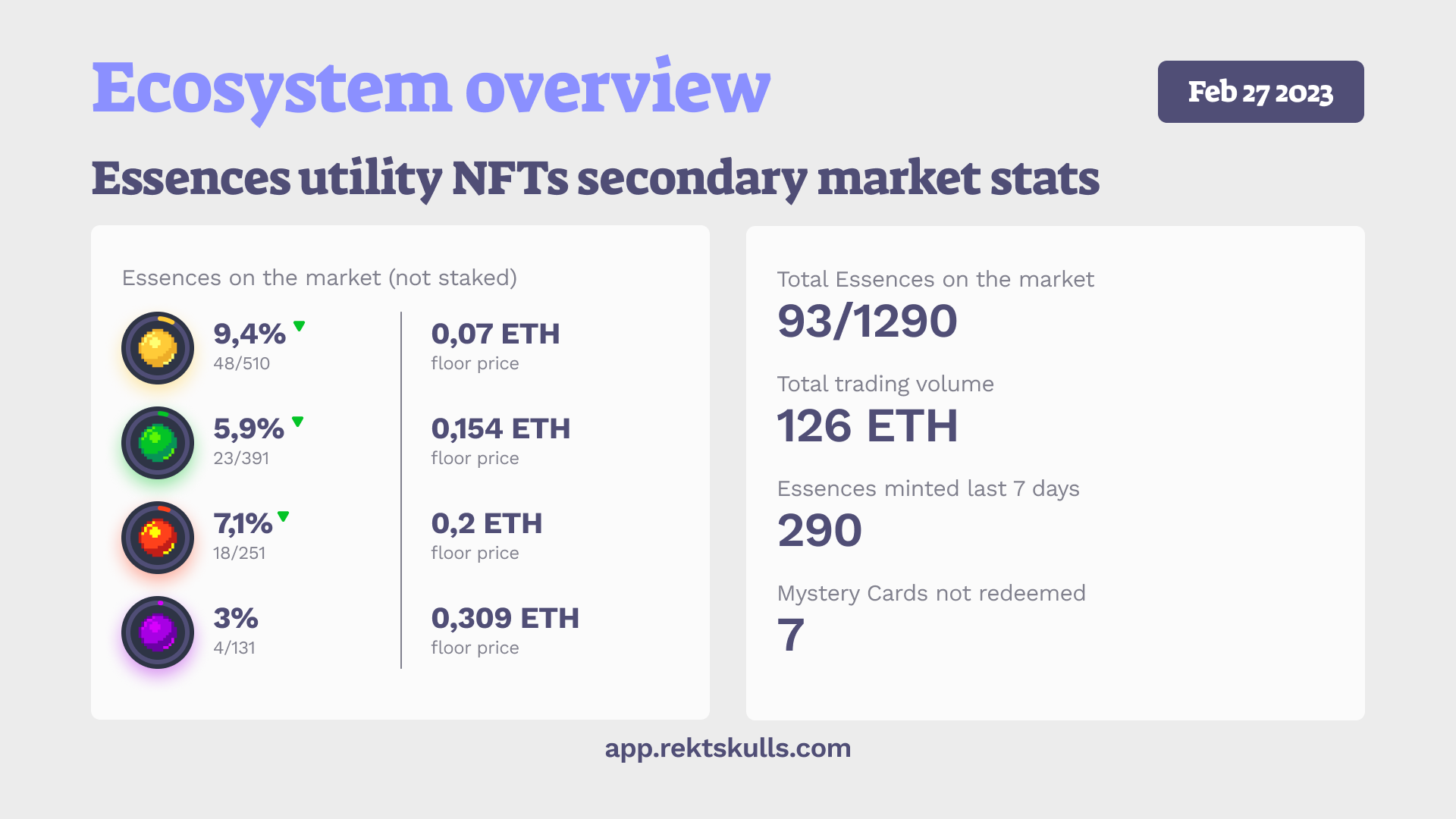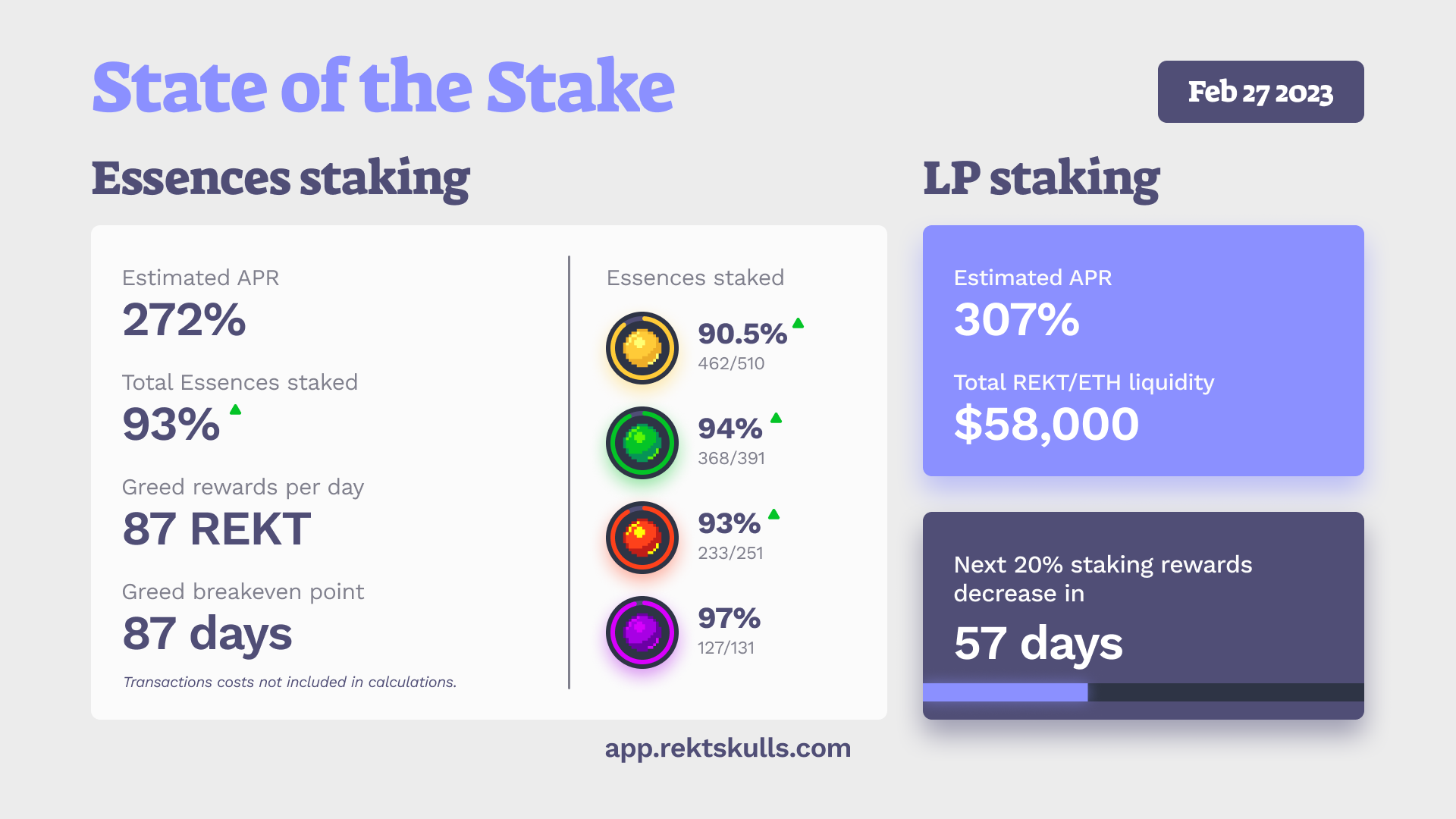 This week's priorities:
Launching a giveaway that features Mystery Cards as prizes
Negotiating to set up an AMA

Focusing on developing Genesis Skulls and its mechanics