Birds are singing, the sun is shining, and with the arrival of spring comes a new episode of the Weekly Grail!
Our series of articles/newsletters keeps our community informed about our achievements and upcoming updates.
If you have any questions related to the project, feel free to ask on our Discord channel. Our project team is always ready to assist.
Project updates:
Although last week was not packed with big events, we still had some exciting news to share with our community. We launched a couple of giveaways featuring Mystery Cards as prizes and secured an AMA for the next week. We've put all REKT tokens accumulated from trading fees and Mystery Cards to good use. They've been used to mint Mystery Cards for upcoming and ongoing event prizes. Additionally, we were pleased to see almost 1M more REKT tokens burned.
But the most thrilling developments are happening behind the scenes. As we mentioned in our previous Weekly Grail, we decided to pivot from our initial plan. Instead of waiting to earn 2M and then start game development, we have decided to bootstrap game development ourselves and have already started the process. From now on, we will be posting updates on the game's progress in the founders' section of the Weekly Grail.
We understand that everyone eagerly awaits the release of Genesis Auctions, and we share your excitement. Unfortunately, we have to inform you that it won't be launched this week. However, we're confident that we'll be able to release it next week. The wait for this important part of the RektSkulls ecosystem is almost over. Thank you for your patience and stay tuned for further updates.
Dima's game development blog:
I wanted to update you on the game development side of our project. Since deciding to start game development, I've been searching for a game developer or studio to hire. Currently, I'm in the process of going through candidates and conducting interviews.
I'm also working with hired specialists to finalize a detailed game design document for future development and collaborating with a game pixel artist on character concepts.
In each episode of the Weekly Grail, I'll be sharing some tidbits about the future game. This time, I want to discuss the high-level concept of in-game economy and token integration.
I'm firmly against the pay-to-earn (P2E) concept, which often relies on printing new tokens for player rewards, leading to constant pressure on token prices and demotivating players with lower and lower rewards. Instead, I've been thinking about popular games in the broadest sense, and I keep coming back to poker as one of the most popular monetized competitive games.
In poker, players deposit a certain amount of money and then, depending on their skill level, they either keep the same deposit and continue playing (if they're average), increase their deposit if they're skilled, or eventually lose their deposit if they're inexperienced.
In our game, players will deposit REKT tokens to play PvP matches or clear PvE levels. As players play the game - REKT tokens will be deducted from their balance and go into a weekly REKT pool. Progressing in PvP and PvE, they'll receive "lesser essences" (name to be finalized) as drops, which can be staked. At the end of the week, all REKT tokens in the pool will be redistributed to those who staked their lesser essences. The rewards will be based on performance, with winners receiving more lesser essences and bigger REKT rewards from the pool. It means that if you are actually good at the game (or lucky) - you can earn more than you have deposited, if you are average - you can keep playing with your initial deposit, if you are less skilled than an average player - you will need to top-up your REKT balance, similar to the subscription model.
This system will create an exciting and competitive environment and a healthy token economy that doesn't require printing new tokens or creating another in-game currency in order to reward players.
Of course, there will also be a drop of items, gear, and upgrades that can be traded on the in-game market, further boosting liquidity and demand for the token (or your earnings). Gearing will be a defining aspect of character-building, but we'll cover that in another episode.
I'd love to hear your thoughts about this system in our Discord.
RektSkulls ecosystem overview: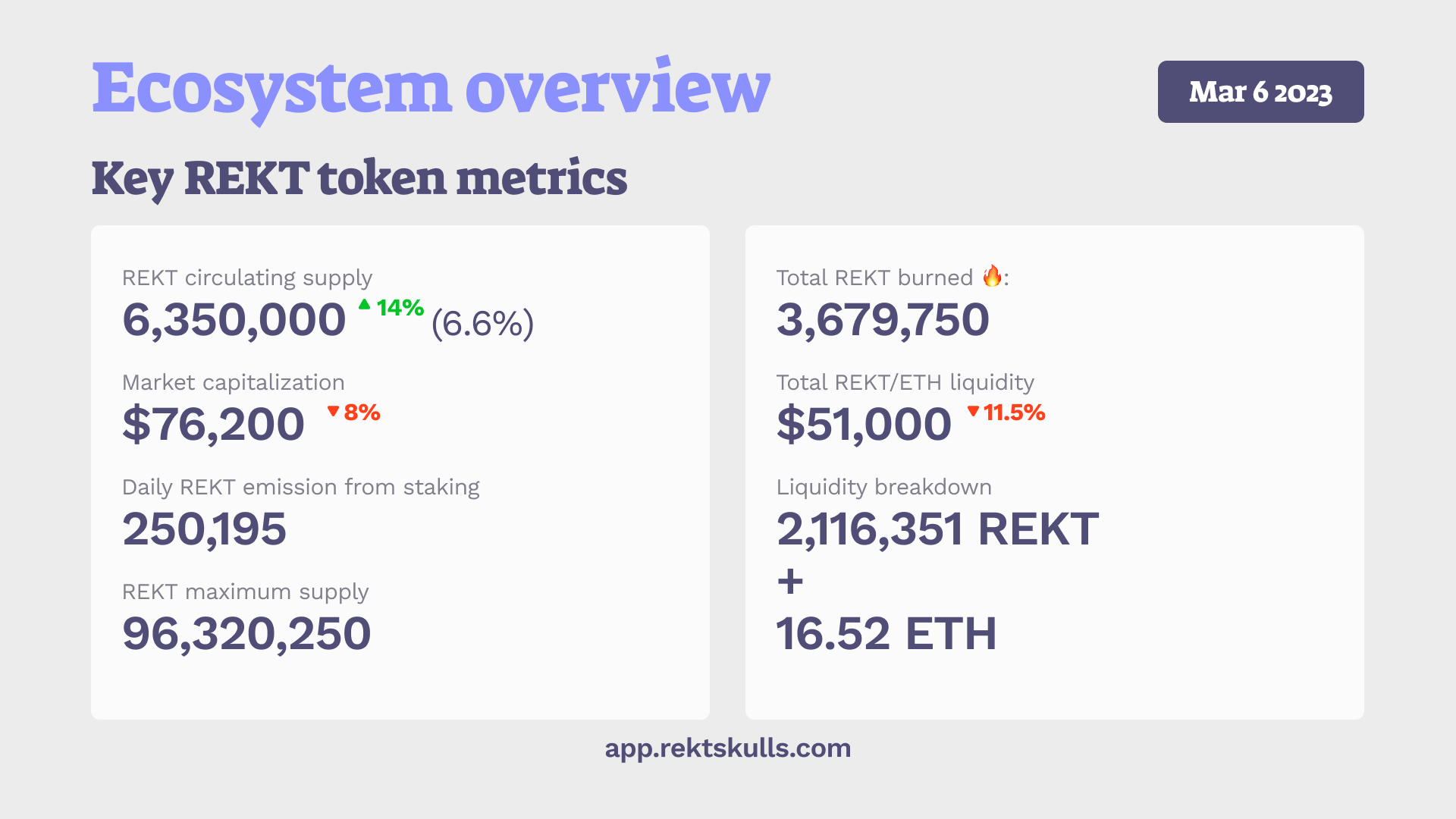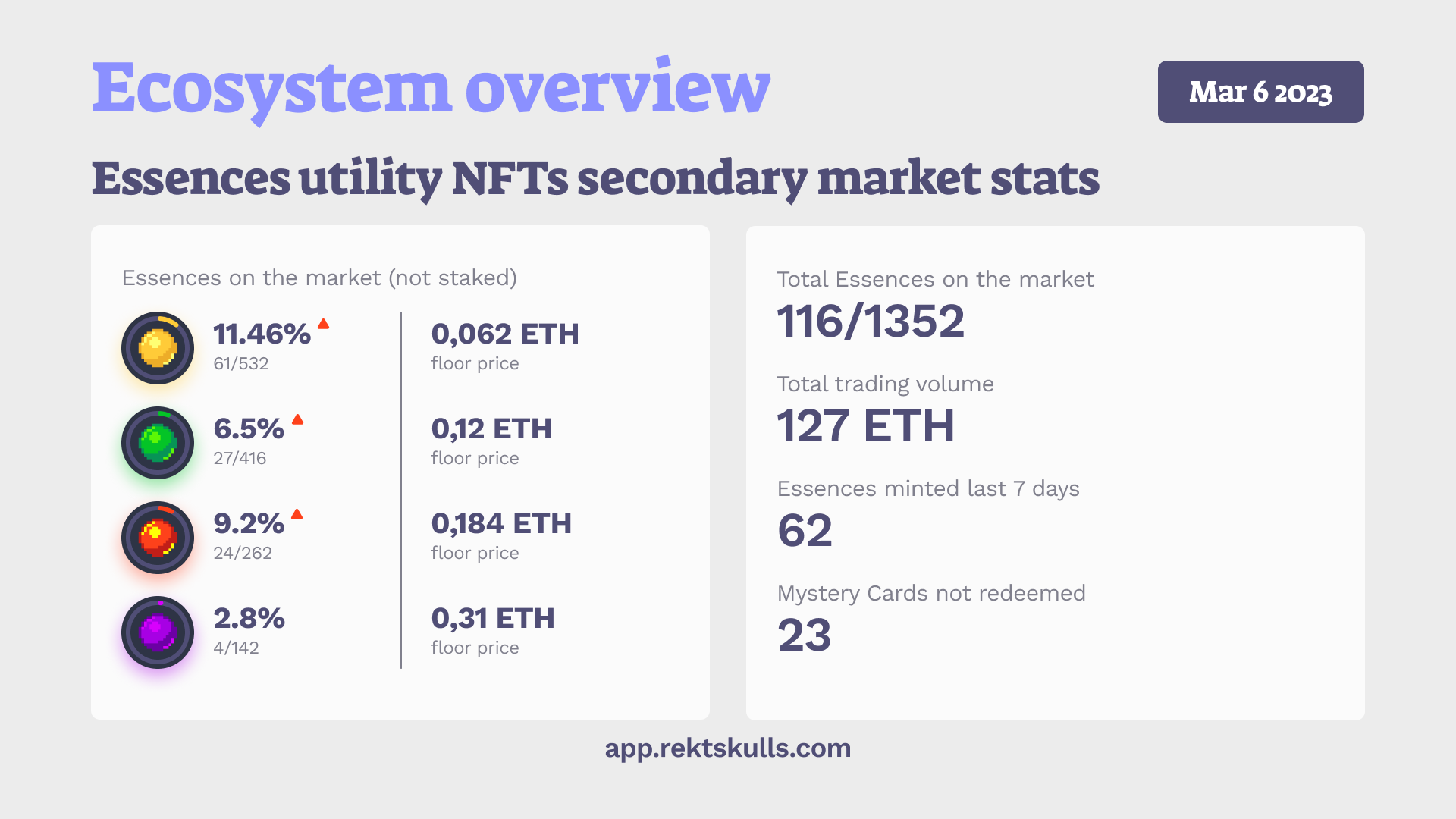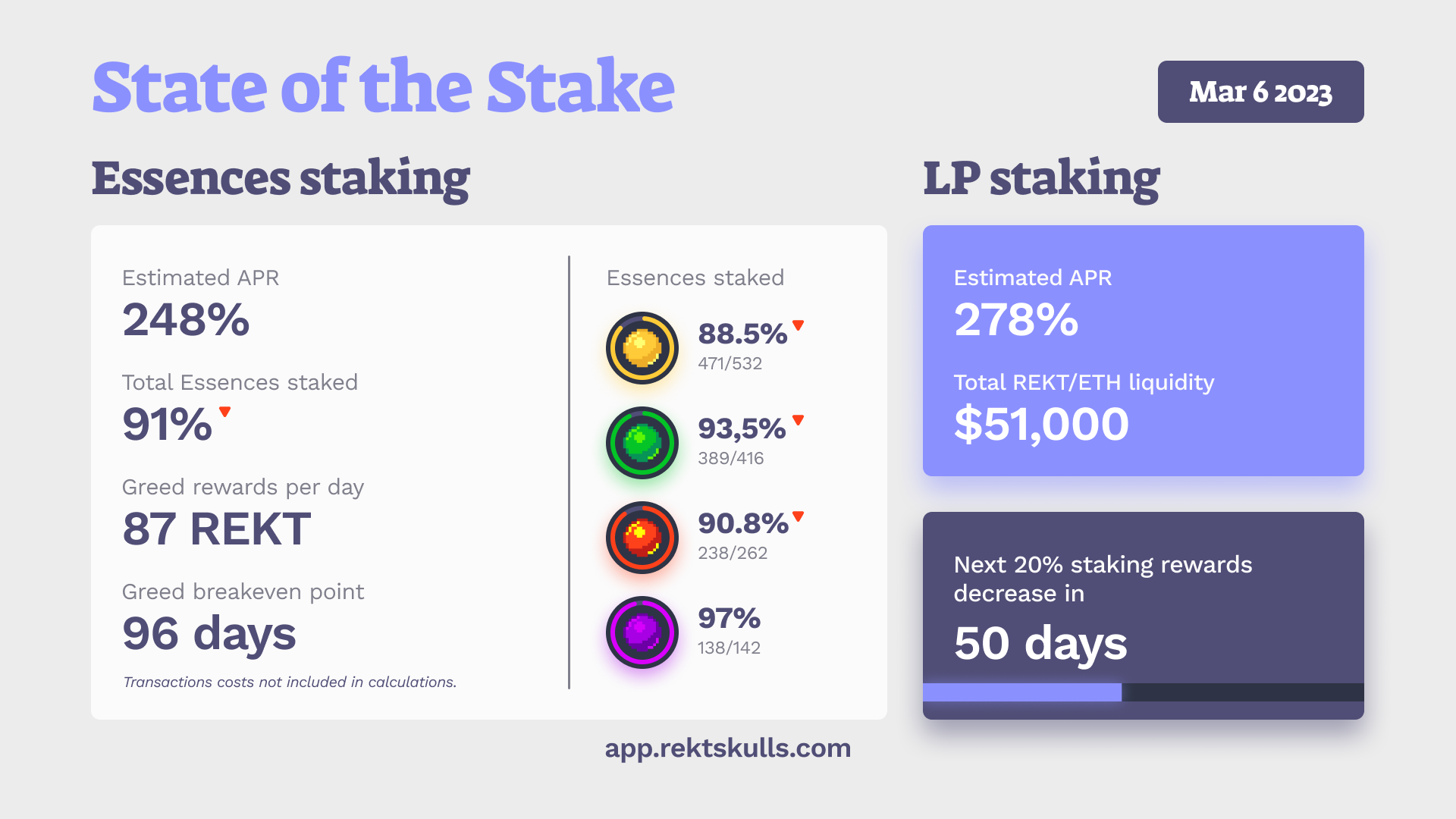 This week's priorities:
This week, our top priorities are centered around game development. We're interviewing game developers and studios, finalizing the game design document, and working on character and environment concepts.
Subscribe to Rekt Skulls and never miss a post.