GM Friends,
You are going to save a lot of time. After testing the top 14 Social Media Scheduling Tools, I am sharing my findings. Check out the latest episodes of Rocklaz Radio to get to know the rich culture and facts about 2 other countries from different parts of the world.
Parallel lines have so much in common. It's a shame that they will never meet. 😂
Outline
New Rocklaz Radio Episode

Tools and Tips: Scheduling Apps

Contest: AI Video

Joke
Rocklaz this week
#69 DR Congo's Educator, Innovator & Entrepreneur: Goretti Kat
Also direct links to Spotify and Apple Podcast
We talk to Goretti Kat, the founder and CEO of Minzoto Club, a youth empowerment organization in the Democratic Republic of the Congo. Goretti shares her insights on Congolese culture, education, and entrepreneurship. Gain fascinating insights into Congo's mineral resources, language diversity, wedding rituals, and the vibrant festivals of the country. Shortest people in the world! Explore thought-provoking questions on life, art, the future, and more. See timestamps for Chapters. Note: This episode is recorded in French and English. The thumbnail for this episode is based on the Festival of Congo.
#70 NFT GOAT Gallery Canada, CMS, Staying calm in stressful Situations: Stas Zlobinski
Also direct links to Spotify and Apple Podcast
We chat with the director of GOAT NFT Gallery in Toronto, Canada, about his journey into the world of crypto art, his thoughts on the current state of the market, and his advice for artists and collectors. We also discuss his experience working on complex, high-stakes digital technology projects, and his insights on how to stay calm in stressful situations.
If you are enjoying the show please Please drop 5 ⭐ Review on Apple Podcast and Spotify
Map Update Rocklaz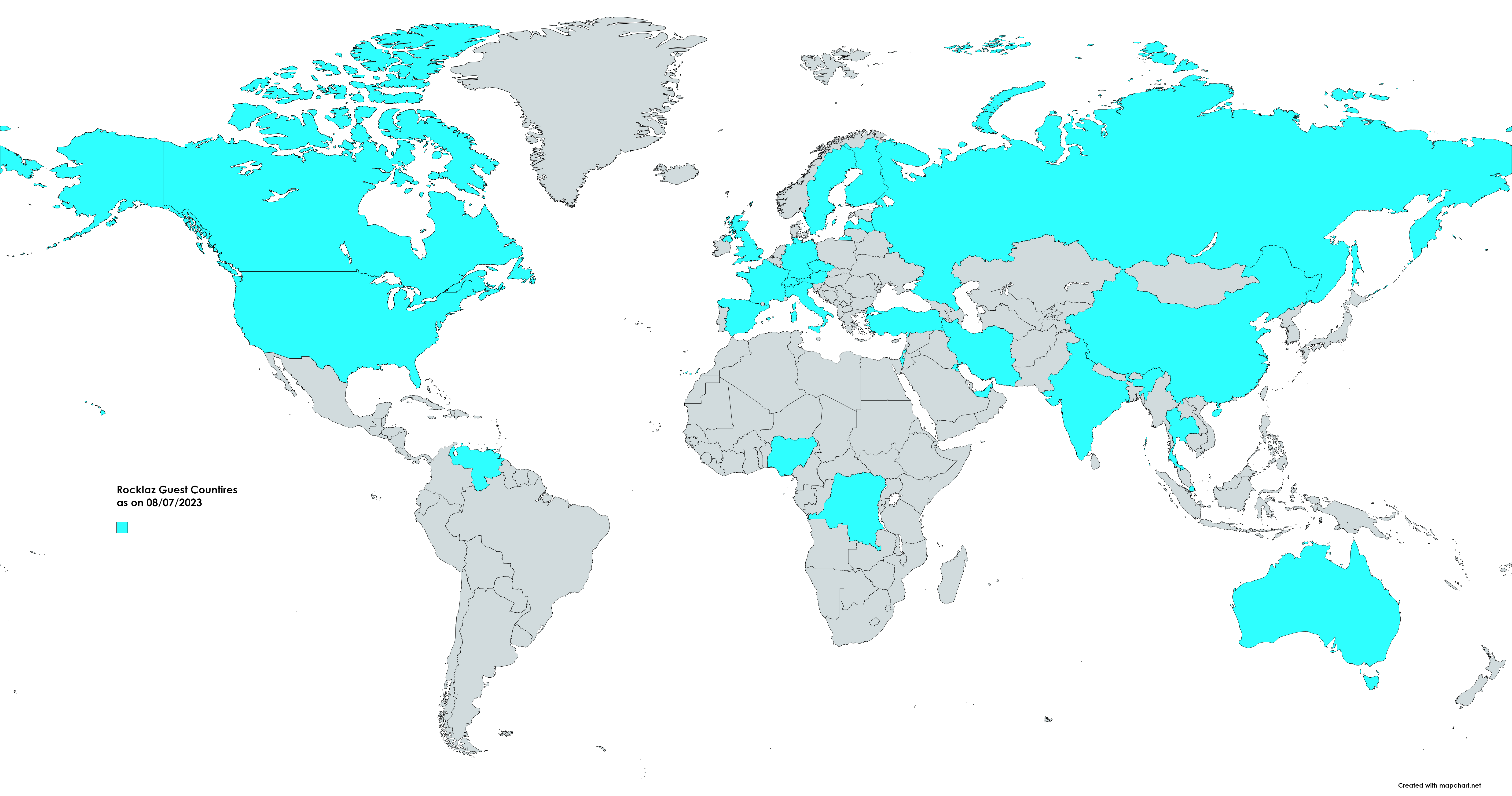 Rocklaz Guest Country Map as on 08/07/2023
Tools and Tips: Scheduling Apps
Why you should use Scheduling apps? They save you time and stress by automating the process of managing your social media posts, allowing you to focus on creating quality content. You can schedule posts on all platforms at once, bulk upload images and videos and even repurpose your posts. I have done the research so you won't have to. Note: Channels means Social Media Platforms per user. All platforms have 14 free trials. All pricing is per Month basis. The Titles have the link within them.
Short Answer: Best in paid catogary= SocialBee. Best in Free catogary= Buffer
Pro tip: How do you choose which is right for you? Make a list of your requirements as per your priority and then cross-check with each platform.
No Free Plan

Paid starting: $29 i.e. ₹2395 for 5 channels.

Pros:

Great Support: Quick and good guidance. You can also get on a Group call and ask questions to the team directly.

Can Schedule Youtube shorts.

Bulk Upload Available.

Bulk Schedule possible

Write descriptions for all before bulk importing.

CANVA integration

Instagram Coloborater Tag possible: Upload to Insta from Social Bee mobile app.

Monthly Analytics of all platforms sent to mail.

Cons:

No Auto resizing

Tagging is a problem, no dropdown list like Buffer. (You have to go to each platform and copy-paste)

Does not schedule Instagram Coloborater Tagged posts. (This is an Instagram platform issue itself) Workaround is to set reminders and then upload manually.

Limitations:

512mb limit for video (all platforms)

Twitter: 140-sec limit for Video. 512 MB file size limit.
Free plan: 10 posts per channel per month. 3 Channels.

Paid: $24 i.e. ₹ 1982 for 4 channels. Single channel available at $6

Pros:

Flexible pricing: Pay as per the channel used $ 6 for One and $36 for 6

Easly Tag people in Posts. You put @ and start typing it will show you a list like you see on Twitter and Insta.

Auto Resize! The only platform with does that! 16:9 videos are early zoomed and cropped into 9:16 for reels.

Mastodon integration is available. Mastodon is a completely Decentralised social media.

Can Schedule Youtube shorts.

Can Schedule Tweet Threads!

Repurpose the Content: Post the same in future without having to upload it again.

Analytics are available (but not on the Free plan.)

Cons:

Crashes: Failed to post many times without reason. Solution: Repost schedule it or upload a new post.

No Bulk Upload Option

Limitations:

Instagram: 15-min limit for Reels. 100 MB file size limit.

Twitter: 140-second limit for Video. 512 MB file size limit.

Mastodon: 40 MB file size limit
Free plan: 3 channels (no twitter).

Paid, starting: $16 i.e. ₹ 1,322 for 4 channels.

Pros:

Can Schedule Youtube shorts.

Good Support Response time.

AI for text and #.

Auto schedule feature!

Auto share is pretty cool: lets you share links on LinkedIn.

Delayed between account feature

Link in Bio feature for Instagram

Bulk upload Possible

Cons:

The card not getting accepted: Main reason for rejecting. You need a Credit/ Debit Card for the trial. Cards of Indian users get getting rejected without reason. No resolution from Platform yet.

No Twitter on the free plan.

No Rezise: 16:9 Video doesn't get cropped to 9:16 automatically.
Free plan: 50 posts per month. No Linkedin.

Paid starting: $22 i.e. ₹1817. 2000 posts per month.

Pros:

Best for Analytics

Reply to all comments and messages from one place.

Competitor Analytics.

Measure and follow your #

Cons:

No Linkedin on the Free plan

No Bulk upload option. Only CSV file.

No Resize

Limitation
No Free plan

Paid starting: $10.8 i.e. ₹900. 9 Channels.

Pros:

Integration with Other Zoho tools

Good Analytics

Good Support

Cons:

No Bulk upload

No Resizing
No Free plan.

Paid Starting: $40 for 3 Social sets (3 profiles per channel)

Pros:

Best if you are managing profiles for multiple businesses.

3 Users

Can Resize. Can Trim.

Cons:

Only 150 posts per profile on the basic plan

AI Caption is Paid.

Can not tag.

Very clunky interface.
Free plan: 3 Channels but not full fledge. No Video. No Twitter.

Paid starting: $10 i.e. ₹825 for 5 channels. Full access from $50 plan

Pros:

Auto Resize is available.

Publish content from your own blogs and sites.

Cons:

Free and Basic level paid plans have restrictions with Twitter and Video uploads.

Slow support response time.

A lot of limitations.
Free plan: 3 Socials, 10 posts at a time.

Paid, starting: $30 i.e. ₹2478

Pros:

Best for Designing & Editing within the platform

Graphic Design, Video Editing, Animation, AI Content writing and Scheduling, all in one.

Cons:

Bad Support

Need Twitter API
No Free plan but 30-day free trial.

Paid: $23 i.e. ₹1915. 10 Channels. Billed annually

Pros:

All messages in 1 inbox

Bulk scheduling

Cons:

Can not post Youtube Shorts
No Free plan

Paid: $30 i.e. ₹2478. 10 Channels.

Pros:

Bulk Scheduling

No CC is required for a free trial.

Cons:

A lot of limitations on Basic plans

Cannot reply to comments and messages

No Resise
No Free plan.

Paid Starting: $30 i.e. ₹2478. 5 Channels

Pros:

Automation and Reposting main features.

Adding content through imports.

Cons:

No Youtube posting

No Bulk upload for Videos

No Resizing video.

Bad Support.
No Free Plans

Paid: $35 i.e. ₹2891. 10 Channels.

Pros:

Hashtag suggestion

Sponsored posts for Facebook and LinkedIn.

Twitter thread scheduling

Basic photo editing in the app.

Cons:

No Resizing for Video

Restrictions on the Basic plan
Free Completely.

Pros:

Best for only Twitter users. Official Tool.

Can Repurpose Video Uploads

Can change the Thumbnail of Twitter Videos

Can Schedule Twitter live-stream

Tweet analytics.

Cons:

Need to convince Twitter to give you Media Studio access.

Need additional permissions to post more than 10min Videos.
Free Completely

Pros:

Best for Facebook and Instagram. Official tool.

Reply to all comments and messages from one place.

Analytics.

Bulk Upload

Paid Posts Boosts

Cons:

Only Meta/Facebook-related platforms.

No, repurpose.

No Resizing
Contest: AI Video
Hope today's Newsletter was valuable! Do let me know your favour Rocklaz News #. Tweet and tag me '@tanmayshah28 #Rocklaz News.'
Best wishes
Tanmay
---
Share and subscribe for more such amazing letters in your mailbox.
---
To support my efforts and #Rocklaz Radio:
Become Patreon: https://www.patreon.com/tanmayshah28
Donate using UPI id: rocklaz@ybl
Buy me a Coffee/ Chocolate Milkshake: https://www.buymeacoffee.com/tanmay28
Sponsorship and Ads: https://forms.gle/7KKtVnDxCNjQoPGT9
Rocklaz Club Membership: https://news.rocklaz.com/club
Buy some amazing Art & Merch:
T-Shirt, Mugs, Hoodies:
World Wide: https://rocklaz.myspreadshop.com
India Link: https://rocklaz.blinkstore.in/
You can collect this newsletter as a Digital Collectable/ NFT
Collect this post to permanently own it.
Subscribe to Tanmay Shah 🚀 Rocklaz and never miss a post.
#schedulting tools
#ai
#podcast
#tools