GM Friend, I trust you are doing well!
This week, I feel happy to share my Symbiosis College Guest Lecture video, which will take you from the basics of Web3 to selling your first Digital collectables. I have listed further resources on Courses and Discords. You will receive your Attendance NFT. Two amazing Rockaz episodes on Entrepreneurship & Art. There is something in Bonus too.
Overview
Rocklaz Radio's Latest Episodes

Ultimate NFT Guide: My College Lecture

NFT For Symbiosis Students Who Attended

Further Resources

Bonus
#71 Alec Oxenford: OLX founder, Serial Entrepreneur & Art collector from Argentina
Direct links to Spotify , Apple Podcast & YouTube
Join us as we delve into the fascinating journey of Alec Oxenford, a renowned serial tech entrepreneur and art collector. Alec shares his biggest accomplishments, offers advice to young entrepreneurs, and discusses the Cool Sh*t strategy of Myelin VC. Discover the story behind OLX's popularity in India and the vision Alec had when starting the platform. Gain insights into his process of collecting art and supporting living artists. Explore Alec's favorite artwork and artists. Hear interesting Facts and Conspiracy theories, about Argentina. Don't miss out on this inspiring & thought-provoking conversation! See the Chapters below for timestamps.
#72 Symphony Orchestra to AI Music with Bart Van der Roost of Belgium, famous for Music Festivals like Tomorrow Land!
Direct links to Spotify, Apple podcast and YouTube
We delve into the world of Western classical music, orchestras, and their business dynamics. We draw intriguing comparisons between Western and Indian classical music and explore the enchanting realm of opera. Discover the significance of artists in the era of AI and witness a demo of reading sheet music. Uncover fascinating facts about Belgium, including its iconic peeing boy statue, and famous waffles. Now a perfect location to be Europe's capital, back then it was a significant battleground from Waterloo to World War. Cultural and Language diversity is to be noted too. Our guest, Bart Van der Roost, Secretary General of The Royal Philharmonic Orchestra, shares his insights as an experienced cultural manager, artistic producer, founder of neoScores and TED speaker. Don't miss this thought-provoking conversation!
The Ultimate NFT Guide: Discover What NFTs Are, How to Create Your Own and more...
In this video, I take you through the fundamentals of Web3 to selling your first Digital Collectable. Overview of NFTs, Web3 & Blockchain filled with a lot of Real Life Examples. See the Chapters below for Time stamps. This was my guest lecture at the Symbiosis College in Pune, India. The students have won their first NFT for proof of attendance.
NFT for Symbiosis Students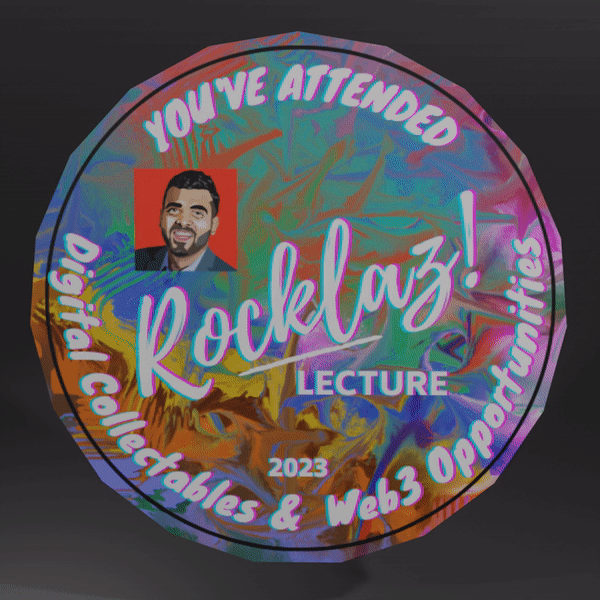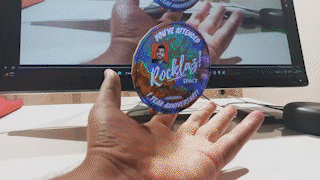 Yes! This NFT is 3D! You can put it up in your Metaverse gallery and play with it on website. The POET with the Custodial Wallet Technology is still a Work in Progress. Let me transfer your proof NFT with the traditional method.
To collect your POET, please comment with your Ethereum Wallet address and your email id (for verification.) Last date to submit 25th July 23.
Feel free to ask me any questions in the comments.
Link to creating your own Metamask wallet: https://metamask.io/
How to Set up a MetaMask Wallet:
Further Resources
Ape School: Web3 Educational project for Students, Teachers and Businesses. (It costs Zero) Watch the Rocklaz Episode with its founder.
Discords Servers- Resourceful & Active.
Hope today's Newsletter was valuable! Do let me know your favour Rocklaz News #. In next week's Rocklaz Newsletter, you will get to know about Live Video Call translation too. Tweet and tag me '@tanmayshah28 #Rocklaz News.'
Stay Happy, Stay Crazy!
Tanmay
Bonus
#59 Woman Entrepreneur, Social Media Guru, Forbes 40! WIN! Tal Navarro of Israel, now in LA
The most wholesome episode of Rocklaz. Tal, The Forbes 40 under 40 Social Media Guru empowering women by WIN: Women In Need. Hear some never shared stories of Love and Grief from serving in the Israeli Army to her diverse business ventures, including construction, kite surfing, social lady, & Web3 Marketing. Discover how this forever positive woman deals with negative thoughts such as anxiety, failure, quitting, and regret. Gain Important Tips on Networking: online and offline, and hear Tal's story about meeting Garry Vee. Tal also shares about the decision to Motherhood at an advanced age.

---
Share and subscribe for more such amazing letters in your mailbox.
---
Be part of the Rocklaz Initiative
Become Patreon: https://www.patreon.com/tanmayshah28
Donate using UPI id: rocklaz@ybl
Buy me a Coffee/ Chocolate Milkshake: https://www.buymeacoffee.com/tanmay28
Sponsorship and Ads: https://forms.gle/7KKtVnDxCNjQoPGT9
Rocklaz Club Membership: https://news.rocklaz.com/club
Buy some amazing Art & Merch:
T-Shirt, Mugs, Hoodies:
World Wide: https://rocklaz.myspreadshop.com
India Link: https://rocklaz.blinkstore.in/
You can collect this newsletter as a Digital Collectable/ NFT
Collect this post to permanently own it.
Subscribe to Tanmay Shah 🚀 Rocklaz and never miss a post.
#nft
#art
#entrepreneur
#music
#web3