Hi Friend!
Wish you a very Happy Friendship Day! Sharing 2 exciting and very insightful Episodes of Rocklaz. Along with Tools for scheduling and making life easier. We have added a Rocklaz Wold Map of July. Check out my Mann ki Baat.
Outline
Rocklaz Latest

World Map July Edition

Scheduling Tools

Maan Ki Baat.
#76 What nobody told you about South Africa!
Spotify: https://open.spotify.com/episode/7aRrhZgmXQejTA8KDpfv2G?si=J2zzQxCCT2y5l2eWO_LN-g
Apple Podcast: https://podcasts.apple.com/us/podcast/76-what-nobody-told-you-about-south-africa/id1616391906?i=1000623079992
Join us for an electrifying episode as we engage with Desmond Latham, a prolific Podcaster, Historian, Tech CEO, Journalist, and Aviation expert hailing from South Africa. Discover the untold stories of his personal interactions with Nelson Mandela and the real reasons behind the Anglo-Boer War, including surprising facts about Gandhi and Churchill. Discover the richness of South African culture and the dark legacy of apartheid. Listen to the sound of Zulu and Afrikaan Languages. Get a treat of his live guitar performance. After talking to the Russian highest ranked official, he shares the real reason for the Russia-Ukraine War. We hear a South African's perspective on BRICS. As an experienced podcaster, Desmond shares tips on growing a podcast and making money, as well as his 3 rules for managing wealth. This Aviation expert and host of plane crash diaries shares his own thrilling stories. Did you know about Elon Musk's Grandfather flying in South Africa and changing engines as per the availability of fuel?
Personal Highlights:
+ Stories of Nelson Mandela from someone who has met him several times.
+ How a boy who went to study at Stanford College becomes the coach of the Women's Rugby team, and what followed after that.
+ White Farm boy raised in Black Zulu Culture.
+ Inception of Human Race, in Africa But where exactly!?
+ Obsession of citizens to find their real identity and the surprising facts that come out.
+ Boer Wars and Afrikaans language!
#77 Nik Kalyani: Untold Personal Stories, Open Source Tech & Entrepreneurship
Spotify: https://open.spotify.com/episode/3ZbBHUABRWtDfRDlkKHns5?si=qGuIOutgSKaxHxTbEvoM7g
Apple Podcast: https://podcasts.apple.com/us/podcast/77-nik-kalyani-untold-personal-stories-open-source/id1616391906?i=1000623475424
Nik Kalyani, the innovative technologist, discusses Open Source Technology. The entrepreneur, now on his 5th startup, shares captivating insights on the entrepreneurial mindset through personal 'From Broke to Millionaire' anecdotes. As an art catalyst, he explores the concept of 'Open Source Thinking' within the realm of art. Embraced by the entire NFT art community, we engage in a conversation with the founder of NftyDreams DAO, which leverages web3 to create sustainable income opportunities for artists.
Nik's influence extends far beyond technology and business. Through his passion for the art collection and his groundbreaking technological contributions, he has positively impacted countless lives. He has generously made significant donations worldwide, including a remarkable sponsorship of VPN services for the entire country of Iran. Moreover, he sponsored the biggest digital collectables event in South Asia, known as 'Namastey NFT.' I have had the privilege of meeting him in person twice, making him the only guest on the show I have personally met IRL.
Our very own Tech Bubble on his BIRTHDAY!
Personal Highlight ( Would love to see your highlights in the comments)
+ Story about his personal loss and the kind of actions he took to overcome all challenges.
+ Opensource Thinking and How Artists Can Succeed!?
+ Entrepreneurial Spirit and all his Startup Stories.
Map Update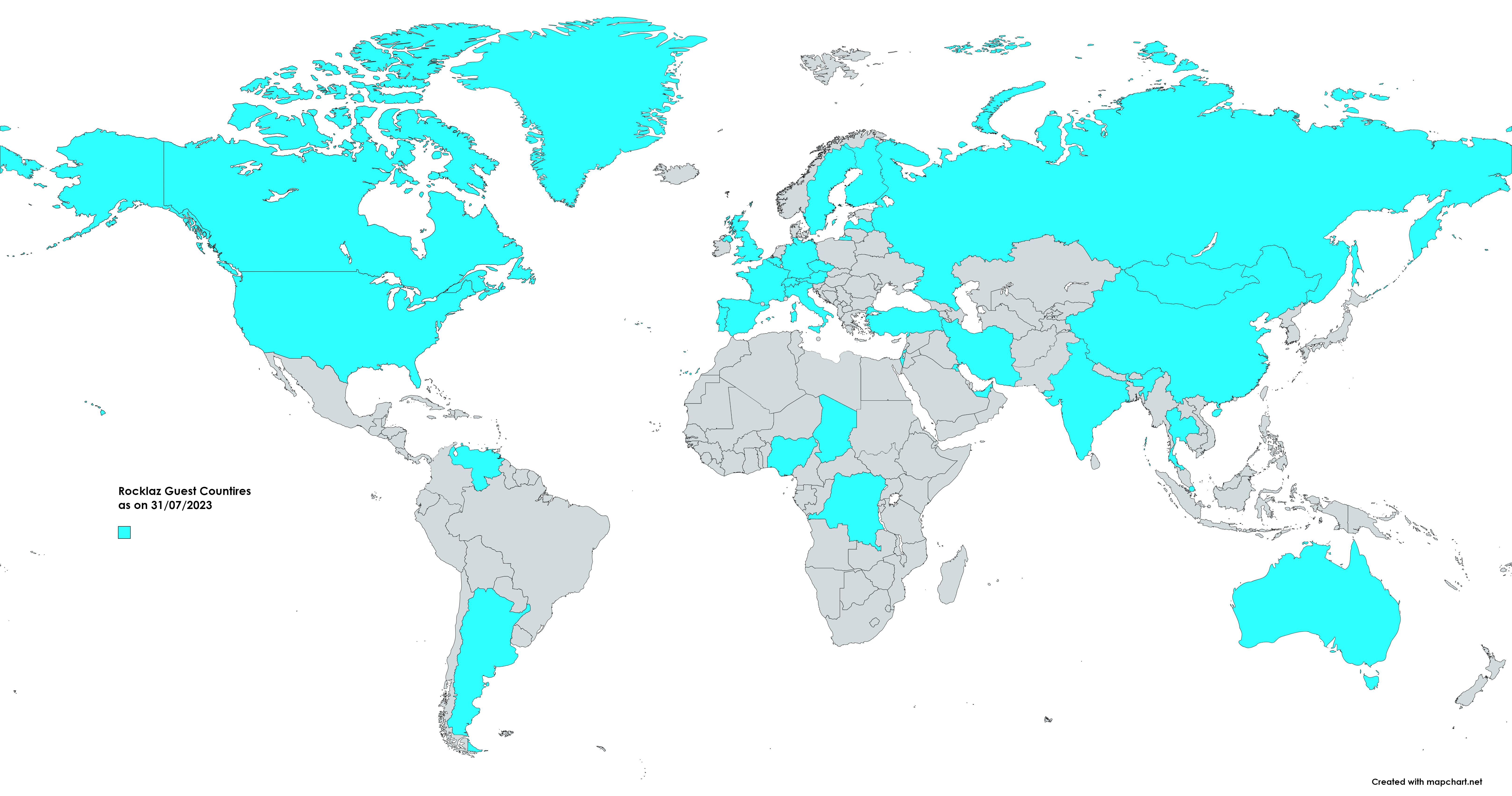 These were all countries covered on Rocklaz as of July 31st, 2023. Stay tuned! We are working on new tech that will let you see live Map update on our website: https://tanmay.rocklaz.com/
Tools for Scheduling
Cal.com vs Calendy: A Comparison
I have tried both scheduling tools extensively for Rocklaz Recordings. Initially, I used to go back and forth via email to confirm the time with guests. Thanks to these tools, I now save a lot of time. Currently, Cal is my favourite choice due to its many essential free features. On the other hand, Calendly is the most widely used option.
I prefer Cal.com because it allows you to set up workflows for free. For instance, you can send reminder emails to guests or clients, and even schedule a Thank you email to be sent a day after the meeting. This functionality is pretty cool, don't you think? Additionally, if you need multiple booking slots, you can create a public page with all the scheduled links.
One fantastic feature is that it lets you, as the host, confirm the meeting even after the guest has requested it. This flexibility comes in handy when you need to adjust your schedule. Overall, Cal.com has proven to be a reliable and efficient tool for managing Rocklaz Recordings' scheduling needs. (Ps. I got to know about Cal from Nik, who is the 2nd guest featured today)
Mann Ki Baat (Talk of the heart)
Rocklaz Radio, the World podcast. This is our new tagline because we are actually bringing stores from each and every country of the world. This week I recorded the Indonesia episode and tomorrow I have a recording with Lethovenia. So stay tuned!
Reading 'Gandhi before India', I mention it because I was reading the Boer Wars chapter and what synchronicity to be talking about it in the South Africa Episode of Rocklaz. Mahatma Gandhi started an ambulance crew. Taking stretchers and providing the first ade to soldiers not only for the British but also for the Boers. M.K. Gandhi was at the right place at the right time. When there are many unjust laws or a lot of radical reforms in a short time, Lawers have good work opportunities. When he was leaving for India, he returned all the presents he received, saying that will be useful as backup funds for Indian Natal Congress.
Afrikaan is an interesting language. Des gives a demo of that in the episode. It's Dutch at the base and infused with Zulu and other African Languages.
This week I spent a reasonable amount of time on admin work. We are expanding the Rocklaz team. There are freelancers readily available for any kind of work, you just need to look. Also, there are tools for everything. AI or not. You can make your life easier and save time using these. Just need to Google or read our newsletter every week as we share tools and hacks.
The song I heard on repeat was Khalasi. Which is in Gujarati. It's beautiful. If you pause and see the lyrics you will see it's inspiring. About a True sailor who keeps going even in rough weather. (ps. Did you notice there are twins singing the chorus?)
In the pipeline, you will also be able to see the transcripts of the Rocklaz Radio Episodes.
See you all in the next Rocklaz Newsletter
Stay Happy, Do Crazy!
Regards
Tanmay
---
Share and subscribe for more such amazing letters in your mailbox.
---
Sponsorship and Donations:
Become Patreon: https://www.patreon.com/tanmayshah28
Donate using UPI id: rocklaz@ybl
Buy me a Coffee/ Chocolate Milkshake: https://www.buymeacoffee.com/tanmay28
Sponsorship and Ads: https://forms.gle/7KKtVnDxCNjQoPGT9
Rocklaz Club Membership: https://news.rocklaz.com/club
Buy some amazing Art & Merch; T-Shirt, Mugs, Hoodies & more:
World Wide: https://rocklaz.myspreadshop.com
India Link: https://rocklaz.blinkstore.in/
You can collect this newsletter as a Digital Collectable/ NFT
Collect this post to permanently own it.
Subscribe to Tanmay Shah 🚀 Rocklaz and never miss a post.
#rocklaz
#tools
#map
#podcast