Dear Friend,
I trust you are doing well! I feel very thrilled (& bit nervous) to share the first Rocklaz Newsletter with you. Through newsletters like this, I want to share my observations and update you on Rocklaz episodes, tips and tools, Art competitions/exhibitions and featured Artists. Fun fact this newsletter is a Digital Collectable (NFT)!
What's blue and smells like RED paint? 🤔 (You will find out soon)
Contents of today:
Rocklaz Mission & Upcoming Guests

World's Oldest and Most Advanced Museums

Rocklaz Schedule & Update: Spaces, New episodes, Newsletter

Spaces: New Episodes & Newsletter

Join the Movement: Playlist & Reviews

Tips & Tools for Event Enthusiasts

Beijing Exhibition After Movie and Media News: Colours of Joy

Ongoing Exhibitions & Contests
Rocklaz Mission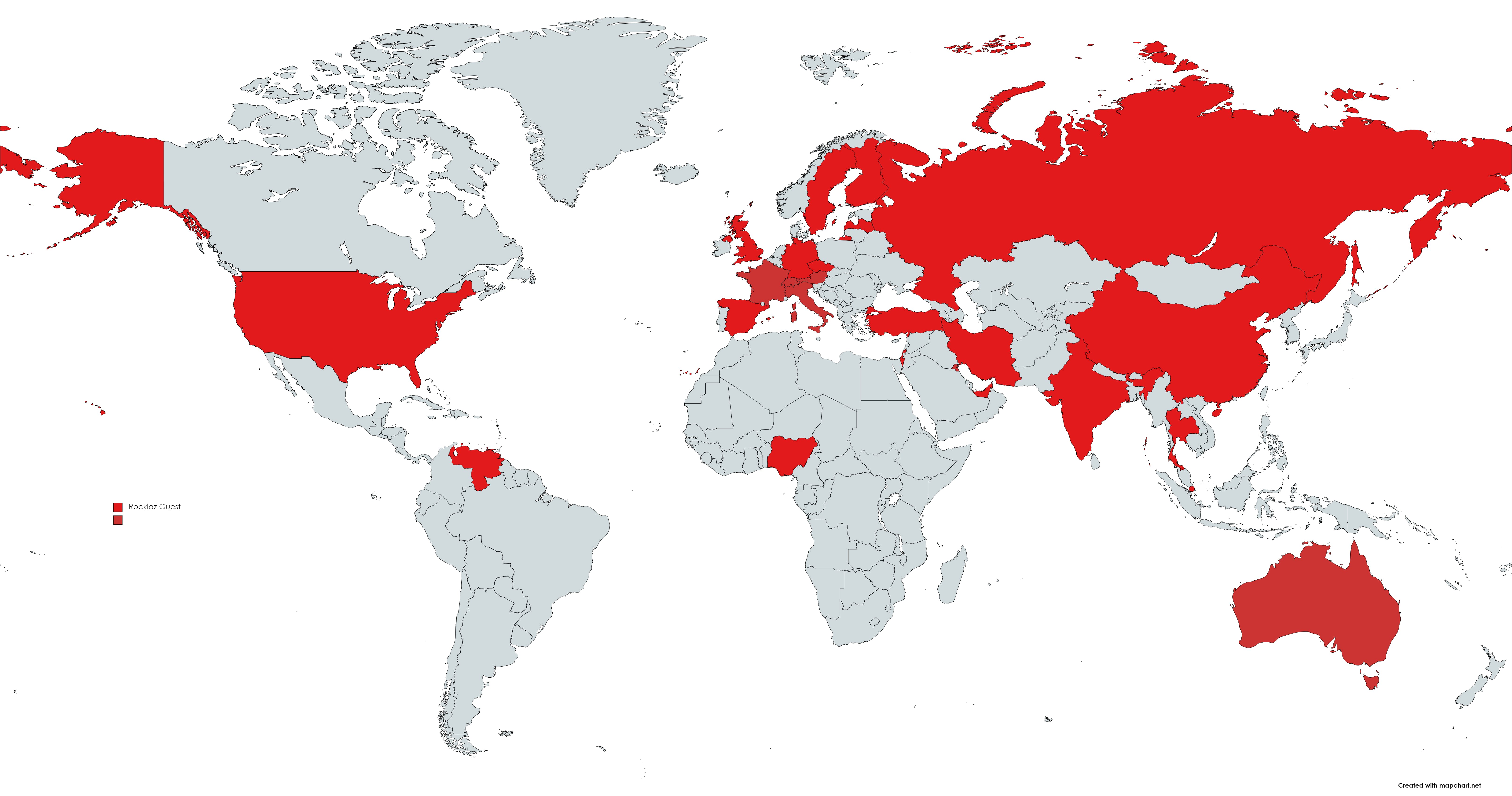 Rocklaz Radio has published over 66 episodes with guests from diverse backgrounds and expertise. Now, we are on a mission to have guests from every country of the world. It's not an easy task, we need your support, find how in 'Join the Movement' below.
Next week:
Worlds Oldest Museum
BUY the Kiss NFT link: ⁠​https://thekiss.art/?ref=NSGHFERRZ ​⁠ Use Referral Code: NSGHFERRZ
Rocklaz Made history by hosting one of the World's Oldest and most significant Museums. Watch The 300-year-old and Gustav Klimts Kiss NFT. Mr. Wolfgang, the Director of the world-renowned Belvedere Museum (Vienna, Austria) takes us on an exclusive behind-the-scenes tour. See Gustav Klimt's Famous The Kiss Painting brought to us as NFT. Join us as we go through Austrian history, culture, and culinary delights while engaging in thought-provoking discussions on theology, religion, and spirituality. Uncover the dark influence of World War II on this Museum, and gain insights into the flourishing art scene in Vienna. Get ready to be inspired and captivated by the hidden treasures of the Belvedere Museum.
Most Advanced Museum: MoCA
All new ways and tools for displaying your Art and Creating experiences. Embark on an exclusive tour of the Museum of Crypto Art, the cutting-edge museum, guided by its visionary founder, Colborn Bell, a former New York fund manager. Discover MoCA's remarkable features and offerings to artists and collectors. Delve into the fundamentals of NFTs, IPFS, and the Metaverse, while exploring the intricate relationship between art and museums. Uncover the capitalist culture of New York and its impact on social inclusivity. Prepare to be inspired by profound insights into entrepreneurship. Don't miss out on this extraordinary episode. Check the chapters for specific timestamps.
Rocklaz Schedule & Update: Spaces, New episodes, Newsletter
Space & LIVE: After completing 70! Weeks of Saturday spaces every single week, we are now evolving to Sunday Live. What does that mean? Your works can now be seen visually and be live broadcasted to 5 platforms: Youtube, Linkedin, Facebook, Twitch and of course Twitter.

New Episodes of Rocklaz Radio will be published every Tuesday and Friday. Upcoming episodes are of Shurooq Amin and Unchained Ninja! Subscribe and save the playlist to be notified.

Newsletters, like this, will be sent out once a week or once in 15 days.
Join the movement.
You can now be part of the Rocklaz Movement: by becoming a Rocklaz Club member, buying Merchandise like T-shirts, Mugs, Hoodies etc, becoming a Patreon, direct donations, becoming a sponsor, and to the very least Sharing this!
You can also work with us! Currently, we have an opening for Video Editor. Contact me for more.
Playlists & Reviews
How to review? Click here to find: ​Spotify​ or ​Apple Podcast.​
Tips & Tools
​Twitter Lists ​and ​Tweet Deck.​ Why?
Make the best out of Twitter and save time. You can make lists of specific people and categories to watch focused tweets. No need to scroll endlessly through your timeline. Tweet Deck helps you watch everything at a Glance: all your notifications, messages, home, timeline, Lists etc.
Pro Tip: In the Tweet deck put different lists in different columns.
Beijing Exhibition After Movie and Media News: Colours of Joy.
We had a grad exhibition, here is an after-the-move of that. Many thanks for participating and sharing your awesome work!
The winners have also been listed on the ​Joyn​ platform.
Did you know? As promised top Selected artists were featured in Chinese media.
Link: ​https://mp.weixin.qq.com/s/h4Nvf4lITZ0p5Hs1YcS26Q​ Try VPN or Tor browser if you can't access this link.
Ongong Exhibition & Contests
Biggest Tezos Art Contest. Brought to us by Kato, Rohit & Kato Krew.
SuperRare Onboarding and Physical Exibition in China:
I can't end this newsletter with a Joke so here we go:
What's blue and smells like RED paint?
"Blue paint!" 😂😂😂😂
You are amazing if you have read so far! Please drop a comment, I would love to hear your thoughts.
Have a wonderful time! Cheers
Tanmay