gm.
We released Nakameebto on January 19th with clear eyes and full hearts, both excited about the possibilities of what Seize The Meebs could become and cognizant that much of what may follow would not be entirely within our control. Needless to say, we have been absolutely overwhelmed by the amount of support we have received and are truly grateful for the STM community's embrace of our project. In the time since launch, we have released an additional six STM cards and now count nearly 2,500 unique holders amongst our ranks. We value each and every one of you, so thank you again for your continued support.
With the release of our second card, The Maneebfesto, we laid out our core tenets: Provenance, Utility, Mass Appeal, and Metaversability. Underlying the final tenet, we stated that with memes as the foundation, the composability of CC0 allows us to build and contribute to a future where the metaverse is open and decentralized. In keeping with this guiding principle, we have sought ways to ensure that STM drops remain accessible and inclusive. However, we acknowledge that in trying to do so, and in trying to be responsive to community feedback, we have created confusion around card drop mechanics and made it difficult for STM holders to make well-informed decisions with respect to how they should approach each subsequent card release. We apologize for these missteps, for while our intentions remained pure, we realize in hindsight that we may have been too reactive on a drop-by-drop basis.
We love beautiful art. As we also mentioned in The Maneebfesto, we are excited to partner with many amazing artists to deliver incredible art. We have had such a wonderful experience working with the talented artists that we have partnered with to date and cannot wait for the STM community to see the upcoming cards we already have in the pipeline. From the beginning, we have planned our card releases well into the future, but we have not communicated our release strategy with enough clarity. With your support, please allow us the opportunity to better explain how we plan to approach STM card releases in the future.
Explaining Sets. Our approach to future STM card releases seeks to both honor our commitment that Nakameebto will retain preferential status and to keep releases accessible to non-Nakameebto holders as well. To achieve this, we are introducing two new concepts for the collection: Naka Sets and Base Sets. Moving forward, all card releases will be categorized as belonging to either the Naka Set or Base Set.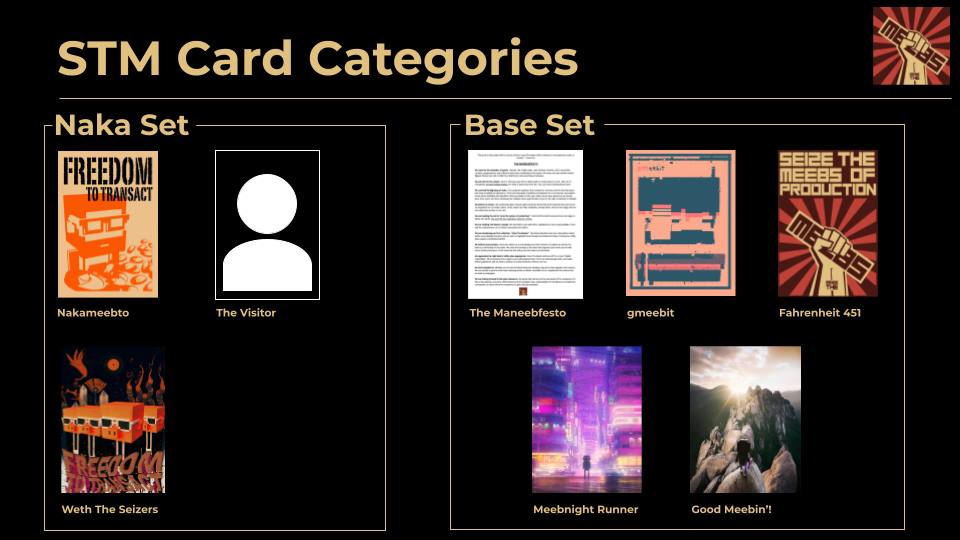 Naka Sets. On Tuesday, February 7th, we will release CARD 07, our third Naka Set card, featuring art from Arsonic and titled The Visitor. After analyzing the data from CARD 06 drop, we decided to maintain ongoing guaranteed access to subsequent drops for Nakameebto holders who are here for the long term, in-line with our original vision. Going forward Nakameebto collectors must hold a corresponding number of each unique Naka Set cards to keep their guaranteed mint spot. If you hold 1 Nakameebto you will also need to hold 1 Weth the Seizers to receive 1 guaranteed mint for The Visitor and any subsequent releases of all card types. If you hold 2 Nakameebtos and 2 Weth The Seizers, you would hold 2 complete Naka Sets and would be entitled to receive 2 guaranteed mints for The Visitor, and so on. As additional Naka Set cards are released, you will be required to hold these as well, but rest assured that Naka Set cards will remain less frequent and more limited releases (we will also have limited supply available for non-Naka holders via drawings).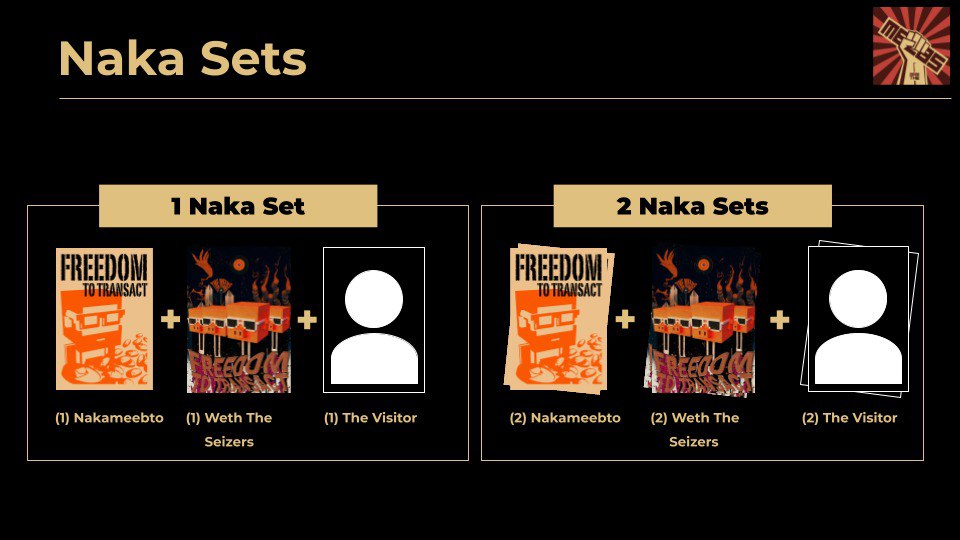 Base Sets. The majority of our card releases will receive the Base Set designation. While we believe all of our cards feature great art and meeb-ability, Base Set cards will be somewhat more accessible to the broader STM community and will not provide guaranteed access to future mints on their own. However, for those that are able to collect the greatest numbers of unique Base Set cards, your odds of receiving access to future releases will increase significantly. At a minimum, each drop will feature a drawing amongst those that hold complete Base Sets to receive guaranteed access alongside Naka Set holders. While the amount of space will vary by drop, holding complete Base Sets is the best method to receive access after Naka Sets. Beyond those with complete Base Sets, we will allocate space on a drop-by-drop basis to those who hold the greatest number of unique Base Set cards. Initially, we expect a greater number of collectors to hold complete Base Sets, but as this accomplishment becomes more challenging as more cards are released, we do anticipate that those with near-complete Base Sets will see their odds of receiving guaranteed access increase over time.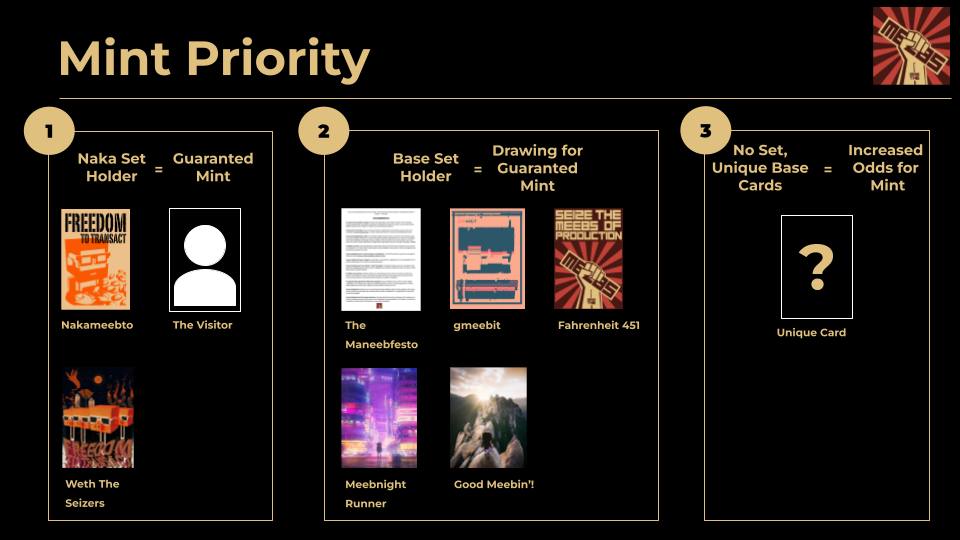 Burns. While our first release featured only 550 Nakameebtos, our second release saw nearly 3,500 Maneebfestos minted. Our intention in making The Maneebfesto a free mint was to let as many people as possible participate in our project, but we quickly recognized that the minting of this card created a supply imbalance with the rest of the collection that would prove particularly challenging early on. We sought to remedy that with the burn for Fahrenheit 451. Today, there are 2,000 Maneebfestos and 1,500 Fahrenheit 451s in circulation, which we would like to bring further in line with the rest of our cards—we will continue to conduct releases of varying edition sizes, but we believe that attempting to reduce the amount of Maneebfestos and Fahrenheit in circulation is in the best interest of STM given our emphasis on holding more unique base cards. We also think it's a great opportunity to have a little fun because it means more burns. And we already have something cooking here… the next Maneebfesto burn will be held on Thursday February 9th.
Frequency and Longevity. With Tuesday's release of The Visitor, we will have released eight cards in roughly three weeks. We believe that by more tightly controlling supply of individual card releases and by emphasizing both Naka Sets and Base Sets, we can continue at our current pace of generally offering two new STM cards per week. We will keep this pace through the end of February with drops each Tuesday and Thursday. Seizn' One of STM is currently planned to run through March, and with so much great art being worked on, we may elect to add an extra card release or two next month, but we do not have plans to regularly release three cards per week at this time. We will evaluate how best to approach scheduling for Seizn' Two at the conclusion of the current Seizn', but rest assured that any decisions will be made with the long-term sustainability of the project in mind.

We are very thankful to everyone who has reached out with constructive criticism and positive advice over the last couple of weeks. As Sergito tweeted yesterday morning, Seize The Meebs is the labor of love of the whole STM team. We look forward to putting out the best Meebit-focused art and memes and cannot wait to see everyone in NYC in April during the NFT week festivities.

Stay !meebin
Collect this post to permanently own it.
Subscribe to Seize The Meebs! and never miss a post.