Sensemaking a SpiritDAO community-created weekly column about applying our philosophy and practice to everyday life.
This weeks contributors: Ron Rivers
---
In the spirit of infinite material reality and the sequential universes that shape our being, I am thrilled to announce a new tool designed to guide our journey toward self-actualization. SpiritDAO has trained a large language model (LLM) on the philosophies and practices outlined in "Self-Actualization in the Age of Crisis." Today we are launching Sensemaker and Sensemaker Prime. The first on-chain spiritual community embracing new first principles and leveraging AI for community cohesion and purpose fulfillment.
Sensemaker is accessible to all at singletruth.org sensemaker and intends to satisfy curiosity, illuminate concepts, and answer questions about being within infinite material reality. This public-facing model will serve as a public good, guiding those seeking to understand better the single truth, relational universe, observable infinities, and the core values and systemic dignities we embrace in alignment with them. It will also serve as a tool for gauging public comprehension, identifying areas of confusion, and illuminating unaddressed needs. By leveraging public input, we hope to enhance our message, craft more resonant value propositions, and widen the circle of interest around our philosophy and practices.
Sensemaker Prime is a gated community resource exclusively available to our members. It is a pulse check, a collective compass that senses our community's direction and ideals. In addition to providing clarity and guidance, this model helps us better understand our community's needs and aspirations. We leverage input and timestamps to understand better and visualize our community's complexity. Sensemaker Prime will expand in parallel with our community. As new cosmological evidence surfaces, meaning/value structures emerge, and it will learn. Proactively support our co-evolution, furthering our alignment with the single truth and relational universe. We become more together.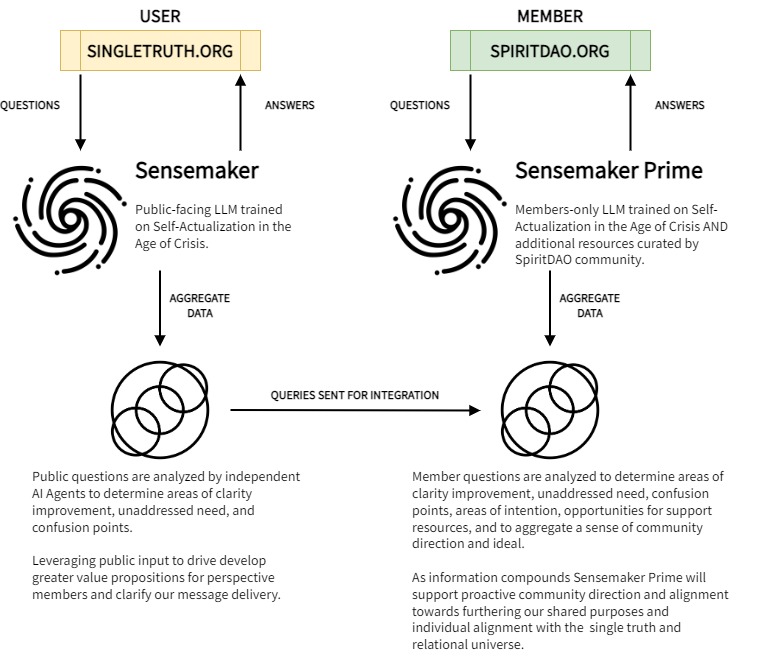 It is a new paradigm of experiencing spiritual alignment with the single truth and relational universe. One of a depth so immense we know not where it will take us. Cosmology and physics provide us with the grounding for reorientation. Now we position ourselves to create an experience like never before. Collaborative divinity design supporting actionized outcomes.
We pull a future of radical imagination into the present. One that recognizes the latent divinity within each. Embodied infinity, experiencing itself from the perspective of an uplifted ape.
---
Weekly Happenings
🎨 If you haven't already - check our discord and twitter for some concept sketches from our upcoming graphic novel.
🌌 We are opening up a founding cohort of nine members (seven spots available) to help design and develop the onboarding journey of our first 100 members. If this is of interest apply to SpiritDAO.
📣 Ron Rivers lectured at Eckerd College about Self-Actualization in the Age of Crisis: https: /youtu.be/9LiQAuUM19Y
---
Thank you for reading!
Please share this email with any friends you think might enjoy this newsletter. We are spreading the message one curious person at a time.
Connect with SpiritDAO
🐦 Twitter
🤝 Discord
💬 Telegram
▶️ YouTube
🌐 Website
📜 Docs
---
As we continue to grow, we want to make sure that our values and efforts align with our community needs. Join us every Friday at 4:00pm EST for our weekly Town Hall.