In 2014, I hit upon an idea that I thought was two rungs short of genius (it's the story of my life, falling short of genius).
In all seriousness, I thought I'd put out a call for submissions for writers in the speculative fiction genre to send me stories based on the legendary stories in the Bible––with one catch. The writers weren't to use biblical characters in their stories.
With wild abandon, I took submissions for the first multi-author anthology in the Biblical Legends Anthology Series, titled Garden of Eden.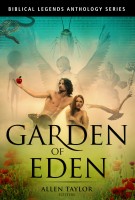 15 authors joined together to make the Garden of Eden unlike any paradise you've ever seen. I'm really proud of the results I got, but I felt like outdoing myself. So, I began working on the second anthology, Sulfurings: Tales from Sodom & Gomorrah.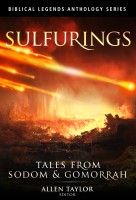 I got even more responses than I did on the first anthology, and the stories were better. I decided to publish one more. Both Garden of Eden and Sulfurings were published in 2014. The third book in the series, Deluge: Stories of Survival & Tragedy in the Great Flood, released in 2015.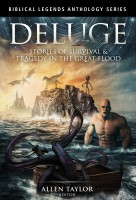 Over the years, I've promoted them modestly, but I don't believe they have lived up to their full potential. Now, several years later, I'd like to rekindle some interest in them. To do that, I'm republishing them. To help me do that, I'd like to ask for volunteers to help me with the launch. I am looking for avid readers of speculative fiction, science fiction, fantasy, horror, weird fiction, and mythology/supernatural fiction to volunteer for one of 3 different launch team tiers as defined below:
Book Launch Team Tier 1
Tier 1 book launch team members will buy the book on launch day (the e-books will all be available for 99 cents, and print books will be discounted too!). This is a very simple commitment.
Book Launch Team Tier 2
Tier 2 book launch team members will buy the book on launch day and leave a review where they purchase the book, or at Goodreads. It is currently available, and will continue to be available after launch, at Amazon, Barnes & Noble, Books A Million, and other bookstores where you can purchase print books and e-books. I'll release the audiobooks separately later in the year, and will also release NFTs of the books at Readl later.
Tier 3
Tier 3 book launch team members will commit to each of the following three tasks:
On launch day, buy a copy of the book (again, at a major discount);

Leave a review where the book was purchased;

And share the details of the book launch with their friends and social media networks.
If you can do this with only one book, that would be great. Ideally, I'm looking for avid readers who will help me launch all three books. They will be launched one at a time in succession with 3-4 weeks between them. The first book to relaunch will be Garden of Eden, which will launch in June. If interested, If interested, there are two ways to signal your interest.
Raise your hand method #1: Collect this post.
After you've collected the post, please fill out this 2-question questionnaire (no email or personal identification required, but I will need your wallet address so I can note your commitment level and deliver your free gift).
Everyone who collects this post will be airdropped a free NFT commemorating this relaunch shortly after the first book launch. Also, be sure to monitor communications because future communications regarding this launch will be made behind token-gated posts here on Paragraph.
Raise your hand method #2: If you do not have a digital wallet, or you prefer, please fill out this 2-question questionnaire to express your interest.
Thank you in advance for joining my book launch team. Now that you're on my list, I will be in touch soon with more details.
Allen Taylor
Editor and Publisher
Garden Gnome Publications
#book launch
#bible
#biblical legends anthology series
#garden of eden
#fiction
#speculative fiction
#multi-author anthology
#sulfurings
#deluge
#stories
#stories and tales of survival
#the great flood
#tales
#tales from sodom & gomorrah
#book launch team
#garden gnome publications
#web3