Theresa and I visited Brunswick, Georgia during the pandemic, or shortly thereafter. This video tour has almost 2,000 views and is our most popular YouTube video to date. You'll get a beautiful look at the old city hall in Brunswick, a historically relevant Picasso painting (lol), Jekyll Square, Macon Square, Fountain Square, Brunswick Squares, Liberty ships and the Liberty ships monument, Brunswick Park, Ritz Theater (we love historic theaters), the Brunswick Courthouse, and much more.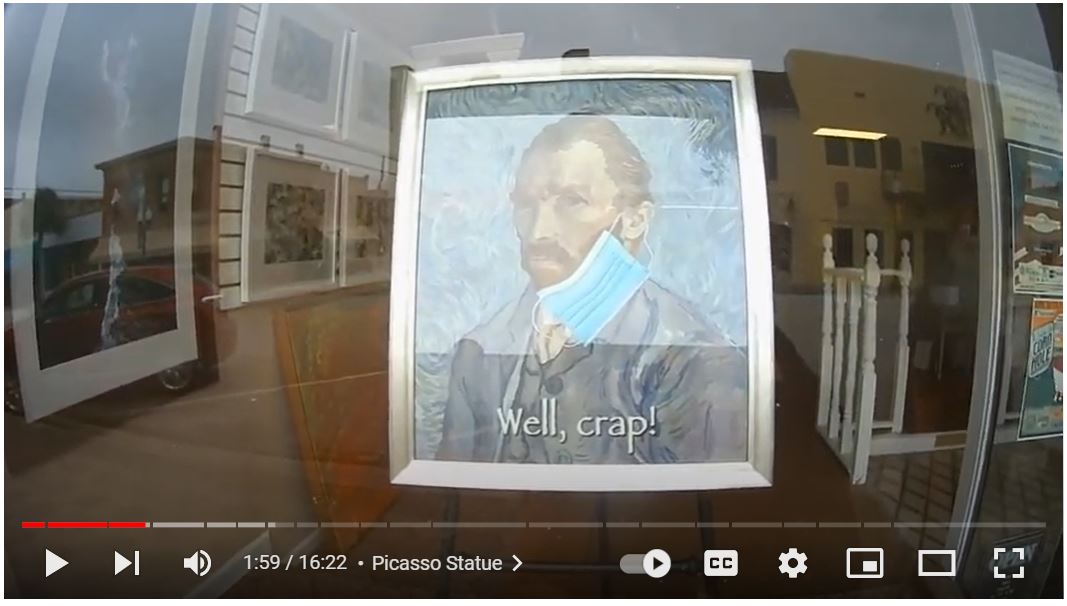 Brunswick is a city of squares. That's why several town squares are featured, but you'll also get an overview of the history of those squares and how the town was built.
I tried searching for the Picasso painting from which the one featured in the video is derived. I believe it's a Picasso, but I'm not sure. If you know what the painting is called, let me know in the comments below.
And now, without further ado, let's tour Brunswick, Georgia.
Getting Too Many Emails?
I realize some of you may be overwhelmed at the number of emails you're receiving from me. The reason for that is a little coding glitch in the Paragraph platform. I apologize if you're getting emails about topics in which you're not interested. For some reason, Paragraph is adding people to certain communities willy-nilly and you're getting notifications of posts in those communities even though you didn't sign up for them. Here's how you can manage your communities so that you receive only the emails you want from me.
At the bottom of this email, click on the link labeled "Manage Preferences."

If you're subscribed to multiple newsletters on Paragraph, look for the one titled "Taylored Content." Click on the flywheel-looking symbol to the left of the Unsubscribe button.

You'll see a list of communities with a blue or gray bar next to each one. Click the bar to turn it off (gray) or on (blue for each of the communities. This way, you can subscribe to the communities you want to be subscribed to and unsubscribe from the others. For instance, if you want to receive only travel-related information from me, click the bar next to Travelogue to turn it blue and the bar next to all the other communities to turn them gray.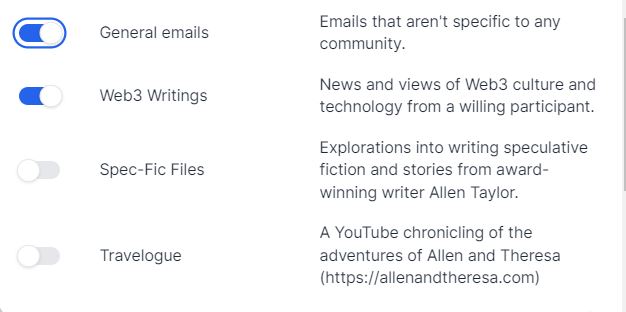 Paragraph is a new Substack alternative newsletter management platform that allows creators like me to create content for multiple communities seamlessly with a combination of Web2 and Web3 tools. Unfortunately, since it is in beta there are a few bugs. Being a beta tester, I have the privilege of testing the platform to help them work out the bugs. I really appreciate your patience as we go through this process, but I hope you love my content enough to stick around.
Show Me Some Love!
If you like this post, show me some love. There are three ways to show me that you enjoyed reading this issue of Travelogue.
Share this post with your friends
Subscribe to the channel
Collect this post (only 3 mints available)
Check Out These Recent Posts of Mine
Introduction to Diamonds and Pearls: The History of the Top 10 Cryptocurrencies. All of these posts are collectible on Paragraph with just a few MATIC. Want to know more about Web3 and how it works? Follow Web3 Writings.
3 Types of Entrepreneur Who Will Profit from Web3.
What Does Proverbs 13:11 Say About Hard Work?
#travel
#allen and theresa
#brunswick, georgia
#georgia
#vanlife
#artists
#culture
#history
#web3
#diamonds and pearls
#proverbs
#youtube