Ethereum NFT market hits $316 million in the first week of April.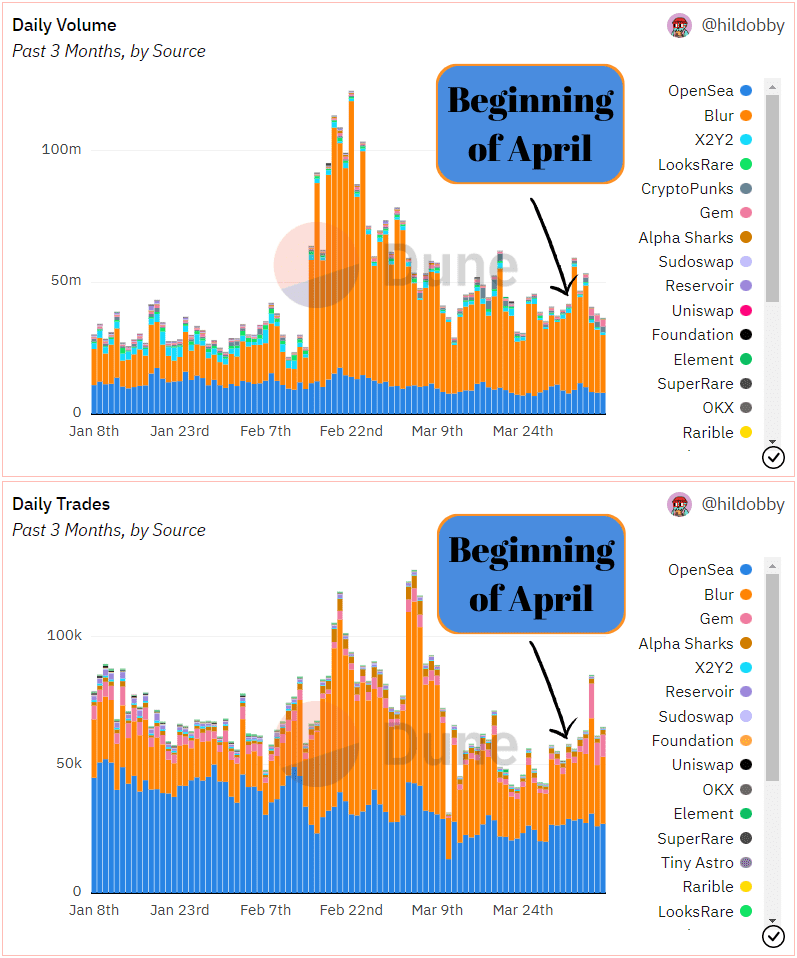 The Bank of England plans to launch a central bank digital currency (CBDC) with a team of 30. Meanwhile, Texas legislators consider a gold-backed stablecoin. The gold-backed stablecoin is interesting. Rather than introduce a fiat-backed CBDC that can be manipulated by the Federal Reserve (which no U.S. state could do), Texas wants to create a stablecoin backed by gold. In effect, if this succeeds, the Texas economy could return to the gold standard, though it's unlikely to catch on across the board—at least for a few years—unless the U.S. economy crashes or enters a recession.
What's the real cost of bitcoin mining? A VERY INTERESTING READ.
---
Please Answer a Few Questions to Help Me Out
When I began writing Cryptocracy, Substack was the only option available. Now, Substack has Web3 competition. If you haven't heard, Paragraph is the Web3 variation of Substack and includes some really cool features including the ability to token-gate some content, embedded NFTs, and newsletter customization. If you wouldn't mind, would take a short poll (no email address collection) and let me know your thoughts on potentially migrating from Substack to Paragraph?
Thank you for your feedback!
---
Web3 Chronicles
Former Facebook Metaverse chief criticizes ex-employer. There are plenty of reasons to criticize Facebook. I'm sure John Carmack knows more about them than we do.
How Paxful fell apart.
Looksrare cut protocol fees 75 percent in version 2 launch.
Electis is launching a Web3 voting platform on Tezos.
Sushi Dex exploit costs $3.3 million.
3 ways DAO treasuries will hit $100 billion balances.
The Fast and Furious franchise is racing into Web3.
7 reasons to stake your crypto. Of course, if the Securities and Exchange Commission succeeds in making all staking products securities, we'll see a huge decline in crypto staking. I'm hoping that doesn't happen.
DeeLance aims to shake up recruitment with Web3 platform.
6 ways utility NFTs will drive mass adoption.
Baby Doge hits a new level of fame with outdoor advertising. It isn't enough to be cute anymore.
If you want to see which Web2 companies are making a Web3 play, check the domain names they're buying.
The Rolling Stones are launching an NFT collection, but they're not calling it an NFT collection. Ralph Lauren is gifting fashion NFTs in its Web3 push.
Web3 professionals could earn million-dollar salaries.
How to receive metaverse payments in 2023.
What is cloud mining?
Honk Kong says it's time to invest in Web3.
Some Japanese companies expect more business from the metaverse. The question is, what are they calling 'the metaverse'?
Nigeria is ripe for Web3 adoption.
Snark and commentary are in italics. Inclusion of an item doesn't mean I agree or endorse the ideas presented. Of course, it also doesn't mean I don't.
Cryptocracy is a decentralized newsletter published several times a week. I curate the latest news and crypto analysis from some of the brightest minds in crypto, and sometimes offer a little insightful and snarky commentary. Always fresh, always interesting, and always crypto. Original articles on Fridays.
First published at Cryptocracy. Not to be construed as financial advice. Do your own research.
Collect this post to permanently own it.
Subscribe to Author Allen Taylor and never miss a post.
#ethereum
#nft
#cbdc
#stablecoin
#bitcoin mining
#web3
#substack
#paragraph
#facebook
#metaverse
#paxful
#looksrare
#electis
#tezos
#sushi dex
#dao
#crypto
#staking
#deelance
#utility nfts
#baby doge
#cloud mining