Collect this post and earn 500 Taylor Tokens.
Readers of my book Web3 Social: How Creators Are Changing the World Wide Web (And You Can Too!) and my newsletter are aware of the fact that I like to encourage people new to crypto as well as the crypto-curious to use Publish0x as a jumping in point. My reasons are simple:
Publish0x is easy to join, requiring only an email address. Since almost everyone has an email address these days, no one is excluded.

The crypto-curious and crypto newbie can learn about crypto and Web3 topics as they earn their first cryptocurrencies.

Because you can earn crypto rather than buy it, there's no upfront investment. It's free to join.

On Publish0x, you can earn crypto just by reading. The tipping mechanism means that authors and readers share in rewards distribution. As a reader, you just click the tip button on articles you like and earn a small piece of the reward for that article.

Since Publish0x was launched on the Ethereum network, one of the cryptocurrencies earned on the platform is Ethereum. That means you don't have to play with some obscure cryptocurrency you're trying to figure out what to do with.
Of course, there are some downsides to Publish0x too. For instance, on that last point, because the crypto rewards are generated randomly, Ethereum is not the only cryptocurrency users can tip with. In fact, users don't choose the cryptocurrency they earn. The platform generates those randomly from among two or three chosen cryptocurrencies at any given time. For the past year or so, Ampleforth (AMPL) and Spot (SPOT) have been in the rotation, meaning you still have to figure out what to do with these cryptocurrencies if you don't know anything about them.
The second downside, which might also be an upside, is that Publish0x is centralized.
Thirdly, because Publish0x has spent its entire life on the Ethereum blockchain, users that cash out their earnings must pay enormous gas fees to do so.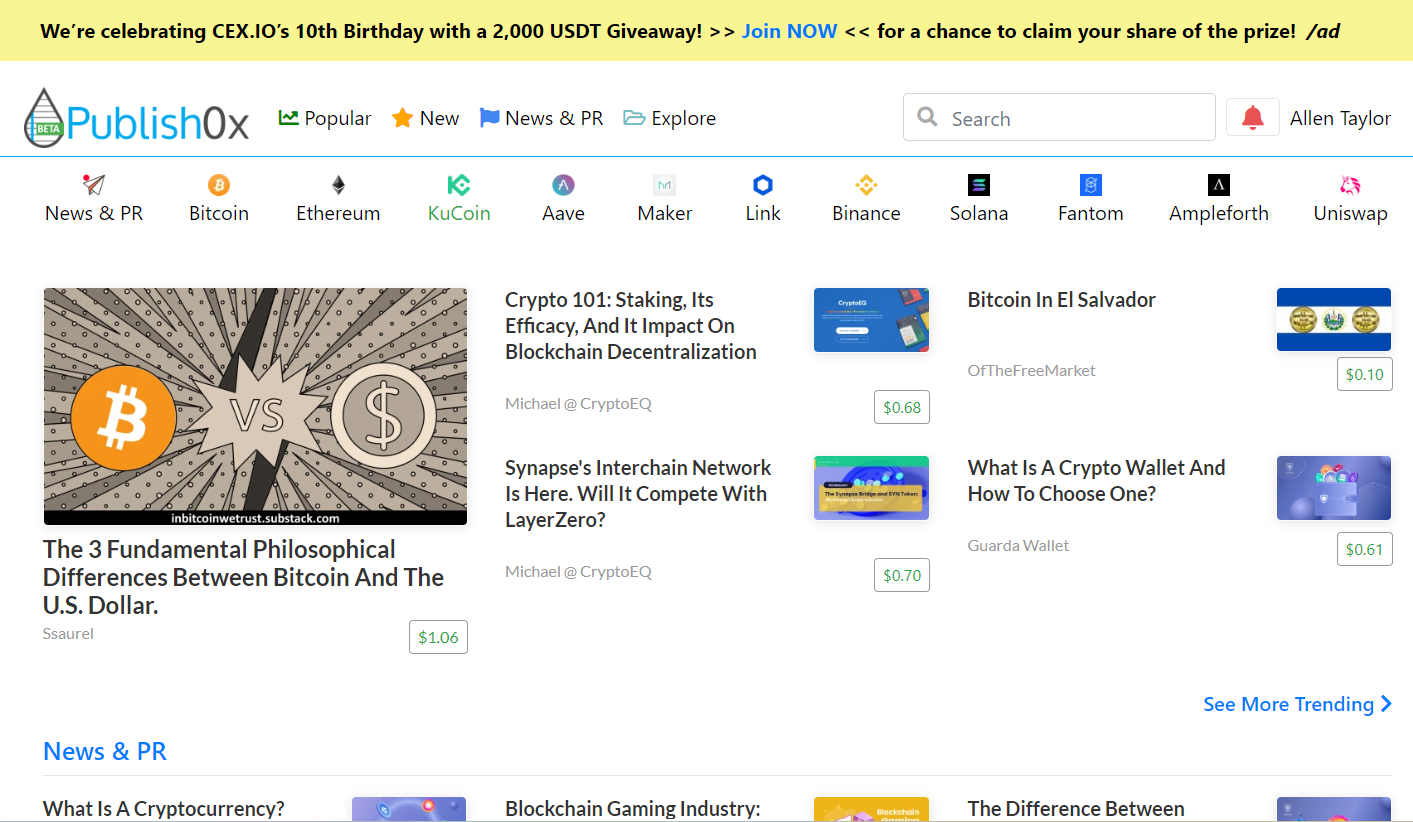 How Publish0x is Destroying Its Downsides
Recently, Publish0x announced it was making a move to do away with two of these three downsides. They are moving to Optimism.
So, what is Optimism?
Optimism is a Layer-2 network for the Ethereum blockchain. Essentially, it means that users can make faster transactions with lower gas fees, the network fees that users pay to make transactions on the blockchain.
This is a great move for Publish0x and its users because it means that readers and writers on the platform has a greater incentive to be actively engaged. Many users might be inhibited to use the platform because of the prohibitive nature of Ethereum gas fees. Publish0x is making its withdrawal fee a flat $0.5 for all tokens. That's certainly affordable, and it doesn't matter how much of any token you are withdrawing from the platform, that flat fee withdrawal fee will make your earnings affordable to cash out.
Of course, I always recommend that users cash out their earnings at least once a month, or as often as is feasible. They are safer in your personal wallet than on any platform.
Reduction of gas fees, however, is not the only downside being destroyed by this move. Publish0x is also retiring AMPL and SPOT as its secondary and tertiary tipping tokens. Between November 7 and November 14, all rewards will be paid out in Ethereum. Starting November 14, tips could also be generated for $OP, Optimism's governance token, and USDC. Any AMPL or SPOT held on platform at that time will be converted to OP tokens. That takes care of the downside of relying on obscure tokens you don't know what to do with.
Because OP is a governance token, holding OP means users will be able to participate in the governance of the Optimism blockchain. That's awesome! You can earn the tokens rather than buy them.
USDC is a leading stablecoin and the sixth largest cryptocurrency by market cap. USDC is the most used stablecoin behind USDT. Personally, I like USDC better due to the baggage of USDT, which I won't go into here. By earning USDC, users can feel as if they are earning true value. Not interested in trading cryptocurrencies? Just cash out your USDC at any cash and you can easily turn it into cash. Because it is a stablecoin, its value is usually $1.00 USD give or take a penny. Its value does not fluctuate wildly like other cryptocurrencies like Bitcoin and Ethereum do.
In short, writers and readers on Publish0x can earn two of the top 10 cryptocurrencies as well as the governance token of the blockchain network on which Publish0x will be operating.
Despite its centralization, Publish0x was already one of my recommended platforms for anyone interested in cryptocurrencies or just curious. This move to Optimism increases its value in my eyes. I'll recommend it even more now.
Curious about Publish0x? Listen to @unklebonehead and me discuss Publish0x's move to Optimism on the Defluenced podcast.
Connect With Me On Web3
Feel free to connect with me on the following Web3 publishing platforms.
Collect this post and earn 500 Taylor Tokens.
This post contains affiliate links. If you join Publish0x using a link in this post, I'll earn some residual rewards for every tip you earn on the platform at no cost or expense to you.
Collect this post to permanently own it.
Subscribe to Author Allen Taylor and never miss a post.
#web3
#web3 social
#web3 social media
#web3 earnings
#publish0x
#tipping
#rewards
#crypto
#cryptocurrencies
#ethereum
#optimism
#blockchain
#ampl
#spot
#usdc
#stablecoins
#gas fees
#op
#governance