Good morning my fellow Web3 nerds,
Yesterday, I finally quit thinking about it and created my own social token. It was much easier than I thought it would be, and I didn't use a platform like Roll. Instead, I used a token creation protocol and, in just a few clicks of a button, I had 1 million Taylors in my wallet. As you can see, the ticker symbol is $TAYL.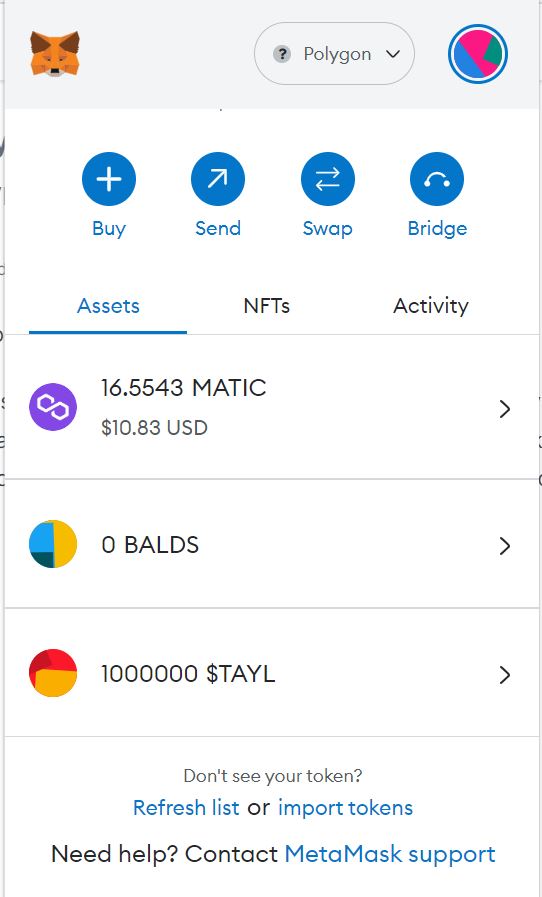 Soon, I'll create a draft of my manifesto and begin distributing tokens to fans who agree to help me out with some things. Stay tuned! More information to follow.
What's Going On in Web3 Today?
XRP bounced after release of the Hinman documents. The world has been waiting for the release of the Hinman correspondence for a long time. Now that they've been unsealed, revealing the former SEC director's opinion that ETH could not be a security, XRP holders are elated and betting on the future. This morning, XRP is still over 50 cents. Ripple doesn't care if it isn't decentralized enough. Ripple's business model isn't based on decentralization. It was never intended to be. XRP solves a real-world problem that doesn't center on decentralization, and that's okay. Beyond that, Ripple's legal strategy in its case against the SEC is brilliant. The Hinman docs prove that the SEC was and is still confused about the nature of cryptocurrencies and how securities laws apply to them. That confusion should make any court reticent about ruling in the commission's favor.
Following the lawsuits against Binance and Coinbase last week, U.S. House Republicans introduce a bill to restructure the SEC. This is going to fly like a lead balloon. Maybe ... MAYBE ... this measure might have a snowball's chance to pass under a Republican president, but only if the GOP also had control over both the House and the Senate. Congress members should focus on meaningful bi-partisan legislation that carves a reasonable path to crypto adoption while respecting the right to monetary choice for everyone. Still, I like this idea. Meanwhile, Solana Foundation takes umbrage with SOL being called a security. They're not the only ones. See what @unklebonehead and I have to say about the SEC.
eToro to delist four tokens. These are ALGO, DASH, MANA, and MATIC. Supposedly, this is directly related to the SEC's attack on Coinbase and Binance. Strangely, the exchange isn't delisting XRP.
It should not surprise that Tether is the most Googled stablecoin in 2023. It's not surprising, but it is disappointing. What is surprising is that TRIBE is No. 2. What the hell is TRIBE? Where did it come from?
A DAO is a person, no matter how small. It's looking, more and more, like DAOs are going to be treated like fictitious persons. I see no reason why they shouldn't be.
Apple threatens to de-platform Web3 social app over bitcoin tipping. It's time for app makers to send Apple and Google Play to the backyard of history. Quit playing their game. Make them play yours. Here's the plan: All Web3 app builders should put their differences aside, remove their apps from the Web2 app stores, and partner on building a Web3 app and dapp alternative. Put your money where your mouth is and quit playing their game!
Subsocial app Grill.chat implements Ethereum Virtual Machine allowing users to send and receive crypto on the Polygon blockchain and use Ethereum identities. One small step for mankind.
Guy Fieri and Sammy Hagar partner on NFT loyalty program for a tequila brand. I wonder if Guy Fieri can drive 55. Does Sammy Hagar hang out in diners, drive-ins, and dives?
A not-quite-so-deep-dive into Web3 growth hacking. There are some really cool ideas here.
Dapper Labs invests in GameOn.
Solcial introduces a social-to-earn mining program.
Cult classic Rocky Horror Picture Show is dropping an NFT collection. It's about time! I can't wait to pick up my Sweet Transvestite. The first to roll out will be the TimeWarp NFT.
Torum's mobile app is live. Okay, so maybe I'll spend more time there now? Hmmmm ....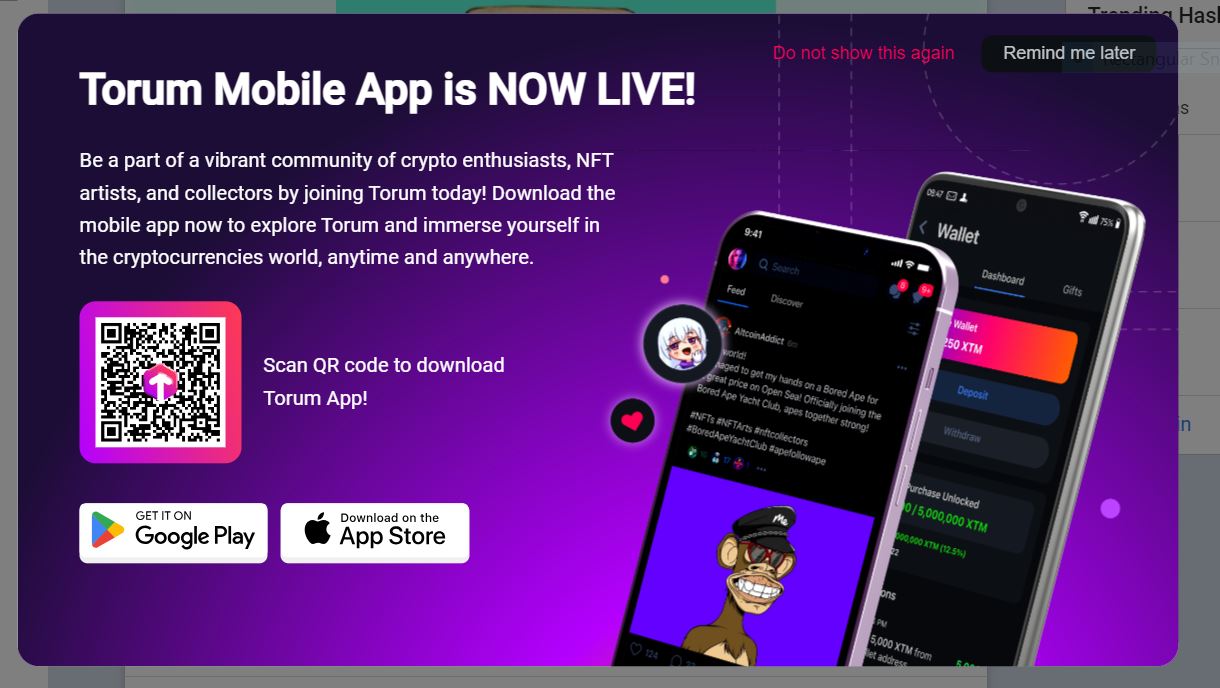 Web3 can reshape society and catalyze innovation. What's cool about this article is Forbes is saying the same thing I say in my book Web3 Social: How Creators Are Changing the World Wide Web (And You Can Too!). Specifically, they agree with me on Web3 social media. Get my book as an NFT. Only 2 left!
Puma launches a metaverse. The future of marketing could be brands having their own metaverse, which they could then monetize by offering product placement opportunities to non-competitive brands.
Who's On First, But What's On Hive?
@pjansen announces the Actifit Top 500 Leaderboard. Guess who's on it, at No. 151?
@fokusnow tells you how Hive is unique.
@peniel2010 wants to introduce you to Blurt.
Curtain Call
I'm considering using my journalism cred to offer premium content consisting of news and analysis of the SEC's lawsuits against Coinbase and Binance. This would involve original reporting, including interviews with experts and professionals in the know, as well as analysis from my POV about the impact these cases will have on crypto and Web3 going forward.
Why me?
Good question. Glad you asked.
I'm a former newspaper editor and award-winning journalist. Three of my most distinguished accolades have been from the Dallas Bar Association, who awarded me for excellence in legal reporting for three different reporting series in three different years:
Title IX issues involving high school sports

Environmental law

Eminent domain issues
My critical analysis will focus on the law, which means I will not always side with crypto firms or allow my bias toward crypto use cases to cloud my judgment regarding valid arguments from the SEC. That said, my intent is to bring value with every single post.
If this would interest you, please reply to this newsletter, or comment below, and let me know whether you'd be willing to pay $5/month, in either crypto or fiat money, to join. Alternatively, you can find me on Discord as "allentaylor" or "cryptocracy." Respond to me there.
Just for your input, whether you say "yea" or "nay," I'll send some Taylor tokens your way. Be sure to include your wallet address in your response.
Show Me Some Love!
If you like this post, show me some love. There are three ways to show me that you enjoyed reading this issue of Web3 Writings.
Share this post with your friends
Subscribe to the channel
Collect this post (only 3 mints available)
#web3
#web3 social
#taylors
#social token
#$tayl
#polygon
#xrp
#eth
#hinman documents
#sec
#coinbase
#binance
#ripple
#solana
#sol
#etoro
#tokens
#algo
#dash
#mana
#matic
#tether
#stablecoins
#tribe
#dao
#apple
#google play
#dapps
#web3 apps
#subsocial
#grill.chat
#ethereum virtual machine
#solcial
#crypto mining
#nft
#nft loyalty program
#dapper labs
#gameon
#torum
#web3 social media
#metaverse
#hive
#actifit
#blurt
#decentralization