gm creators!
Happy WWDC day 📱. If you haven't had time to check tech twitter today, here's the tl;dr.
For those of you that didn't get to watch Apple's annual Worldwide Developer's Conference, let me sum it up for you in 30 seconds:
New 15" MacBook - looks sleek

Audio messages & Voicemails are automatically transcribed to know if the messages are urgent or not

You can make quick video messages for missed FT calls

And ofc...VisionPro - Apple's VR headset releasing early 2024 for $3500 with a new R1 chip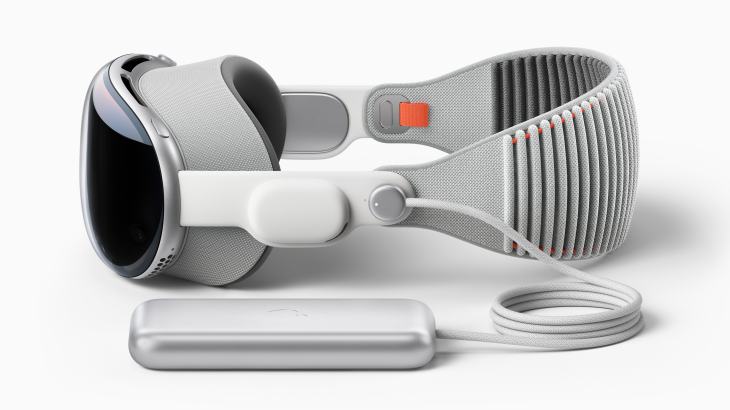 ---
30 Day Writing Challenge Update
In my newsletter post from last Thursday, I told all of you that I'm starting a 30 day writing challenge for the month of June. Glad to say that so far I've been keeping up with it!
I got in 4 posts since then and today is day 5️⃣ of my 30 day writing challenge.
I'll be honest, Saturday's post was really hard to get in. I was at a friend's wedding and got back at 2:30 am and started furiously typing away till 4 in the morning. But a challenge is a challenge and I didn't want to give up on day three.
Here are the posts and a quick description auto generated by Paragraph's AI bot:
Friday
"Picture a subreddit with a shared bank account": Celebrating 2 years of feeling Nounish
Check out the latest post by Yash, reflecting on NounsDAO's 2-year journey and its impressive achievements, all thanks to its passionate community. The blog covers iconic moments like Superbowl commercials, philanthropic gestures, and much more
Saturday
"Picture yourself coding in Beijing": Internet 3.0: Future Development of the Internet Industry
Day 3 of Yash's 30-day writing challenge: In their latest blog post, they discuss China's "Internet 3.0: Future Development of the Internet Industry" whitepaper and the country's focus on emerging tech like AI, VR/AR, and blockchain.
Sunday
"Picture a frat house using Prop House": A new way for communities to provide utility
"A sense of belonging" explores the importance of communities, utility in web3 space, and Prop House's role in fostering community development.
I hope these sound interesting!
If you're new to The Bigger Picture (TBP), welcome! I write about web3 products & strategy. Subscribe below so you don't miss any future TBP posts 🥂
Onto today's post 🚀
---
Gensler Strikes Again
Aside from Apple's Vision Pro announcement, another news article was also floating around earlier this morning. The SEC is suing Binance and its CEO CZ Zhao. Gensler's team filed 13 charges against the world's largest cryptocurrency exchange.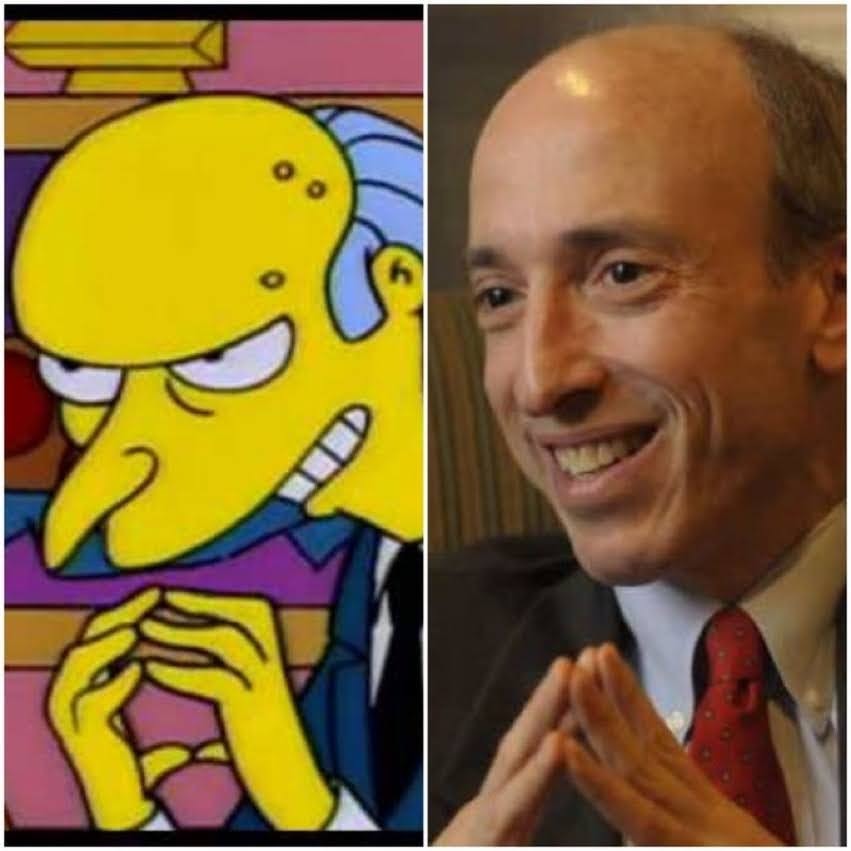 Here's a summary of what the SEC is claiming Binance is guilty of. For context, Binance and US Binance are two different entities. Binance US is operated by Bam Trading Services based out of SF. They adhere to U.S. regulations and offer a very limited selection of the cryptocurrencies on the main platform.
Misrepresentation

CZ allowed high net worth individuals in the U.S. to trade on the main Binance platform

The core Binance team secretly controlled Binance-US even though they claim both entities operated 100% separately

Asset Mismanagement

CZ mixed customer assets and diverted them how he wished

Moved funds to an entity owned by CZ called Sigma Chain, based out of Switzerland

Unregistered Operations

Binance and BAM Trading were operating as unregistered national securities exchanges, broker-dealers, and clearing agencies

SEC also claims they were involved in the unregistered offer and sale of Binance's own crypto assets.
---
Binance Suits Up
Unlike the FTX fiasco last November, which was a solvency issue, Binance is in a legal battle. This could draw out for years. After the lawsuit was filed, investors remained calm and activity seemed normal if anything.
From what I've been seeing so far, other than the expected mainstream media bashing, the overall sentiment has been way better than what I expected. Of course, it's only day one but considering events from last year, 24 hours feels like a year when there's a company in a hot seat (i.e. Luna, FTX).
Later this afternoon, Binance responded to SEC's complaint. And to give the team credit, it was a strong and confident response. Here's the rundown of what the Binance team had to say:
Binance claims it's tried working very hard with the SEC and meet their demands in every way possible. The team intends to robustly defend their platform.

The team claims that SEC's actions "undermine America's role as a global hub for financial innovation and leadership". They believe that the SEC is simply trying to generate headlines.

Binance reassures users that the SEC has limited reach as Binance is not a U.S. based exchange.
---
A Unified Crypto...?
For those of you that have been in crypto for a while, I'm sure you've seen or even taken part of the ongoing tribal wars. Bitcoin vs Altcoins. L2 maxis vs Solana. Ethereum vs Shitcoins. The list goes on and on. Point being, even in an industry as nascent as crypto (remember Bitcoin was launched ~15 years ago), there is a remarkable amount of rivalry.
However, the SEC charges today did something many thought was close to impossible...Gensler unified crypto. Folks from all sorts of communities including Bitcoin, Ethereum, Cardano, Tron, etc. were furious with the U.S. government and gave bullish signs of coming together to take a stronger stance against authorities.
Charles Hoskinson, founder of Cardano, made it clear that he thinks this is "next in a series of steps to implement chokepoint 2.0 in the United States. The end goal is a agenda based CBDC partnered with a handful of massive banks and end-to-end control over every aspect of your financial life". He goes on to say that this is a perfect opportunity for the crypto industry to set aside its fragmented nature and come together.
---
Crypto Asset Securities
It's important to note that the tweet from Charles and many others in the crypto industry does have personal motives. One of the main screenshots from the SEC complaint that has been circulating around today is the one below.
The last sentence is crucial. It claims that cryptocurrencies such as Solana, Cardano, Polygon, Algorand, etc. are all considered securities. Notice that Bitcoin and Ethereum are not on the list.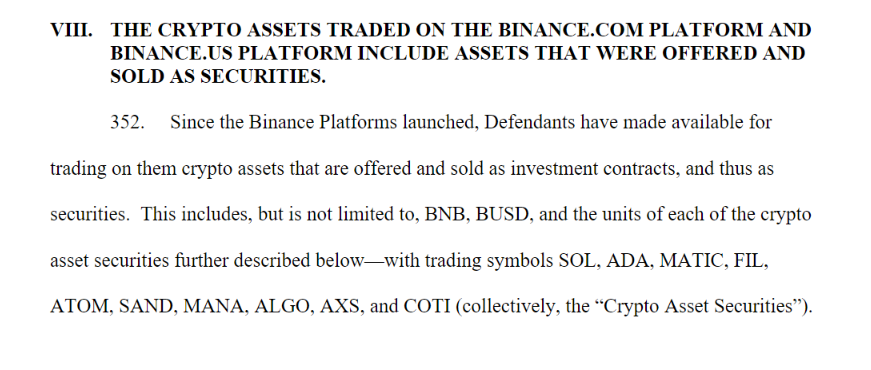 What does that imply? Well let's get into the nitty gritty of securities vs. commodities.
Securities & The SEC
A security is a fungible, financial instrument that equates to some sort of monetary value. If you've ever bought and sold a stock, held a call option (right to the underlying asset), or even bought a bond, then you've interacted with a security. There are two kinds of securities: equity (i.e. stocks) and debt (i.e. bonds).
To buy securities, most people set up brokerage accounts such as Fidelity or E-Trade. Investors can conduct research from public documents such as 10k reports that companies are legally required to file.
Securities are controlled by the securities and exchange commission (SEC). The SEC was established in 1929 after a huge stock market crash to prevent excessive speculation, provide security to investors, and maintain fair markets.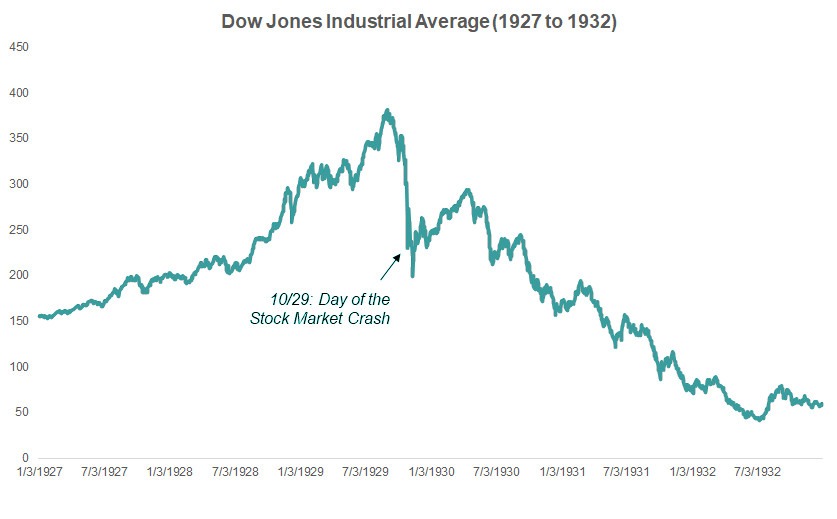 Commodities & CFTC
Commodities are basic goods that are interchangeable with other goods of the same type. The most common commodities are crude oil, gold, natural gas, etc.
Commodities are split into two types:
Hard commodities - Typically natural resources that must be mined or extracted, such as gold, oil, and rubber.

Soft commodities - Agricultural products or commodities that have been grown, like wheat, or livestock like cattle.
Commodities trading is done on a commodities exchange such as Chicago Mercantile Exchange (CME). These goods are traded on the futures market, and the futures contracts are used as a way for producers and marketers to manage risk.
All commodity trading is controlled by the Commodity Futures Trading Commission (CFTC). Their main purpose is to protect users from fraud in the futures and swaps market.
Compared to the SEC, the CFTC is way more hands off and only steps in if there is clear market manipulation.
At a high level, it is essential that cryptocurrencies are classified as commodities. If not, the industry will always be held back and remain an easy target of the U.S. government. It may take years for tokens to go through registration processes with the SEC. Just think about how long it takes for late stage private companies to have their IPO and go public. There is an intense amount of oversight by the SEC on securities. This also hinders the core values of crypto: an open system and decentralization.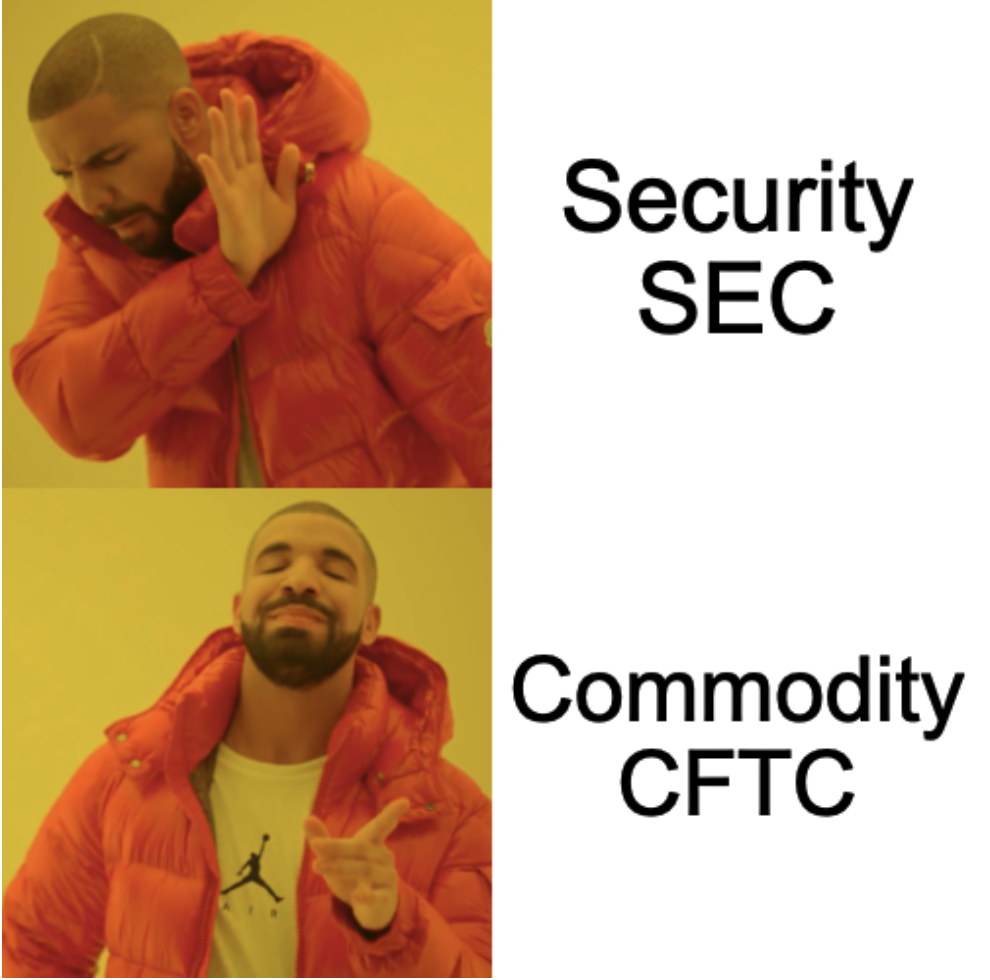 ---
In tomorrow's post, I'll go back a decade and cover the history of what's been happening in crypto regulation. There are different case studies such as Bitcoin and Ripple (XRP) that can shed some light on what's ahead. I'll also summarize what steps folks such as Brian Armstrong and Ryan Selkis are taking to defend the crypto industry from the endless attacks by the American government.
Subscribe to make sure you don't miss the post!