Hey creators!
Hope all of you are doing well and having a fun 4/20 🍃 👀
Welcome to the 10 new subscribers that joined in the last week :)
HYPE Trailer!
Before I get started, can I get a quick drumroll?? Yes, I know you're reading this in the comfort of your home but just hit your table or snap your fingers for the effect anyways 🥁
PRESENTING THE HYPE TRAILER FOR THE BIGGER PICTURE!
Okay I'll shut up now and let you watch, see you in a minute 🎬
Hope you enjoyed it!! I had a blast making the video and was really proud of the final product.
It was such a unique challenge for me, I've never done any kind of video production work before. Just that part at the beginning where I said "Hi I'm Yash...." took me like 37 tries lol. Ngl, my respect for TikTokers and Youtubers went up a ton this past week. It's really hard to not feel cringe while talking in front of a camera.
I totally underestimated the work that goes into making even something as simple as a 1 minute trailer. Let's just take music as an example. What's the song? What volume level should it be? Do you want it throughout the video or only in some parts? When does it fade in and fade out? Does it match the tone of the rest of the video? Does it augment the vibe you're trying to create? And that's just music...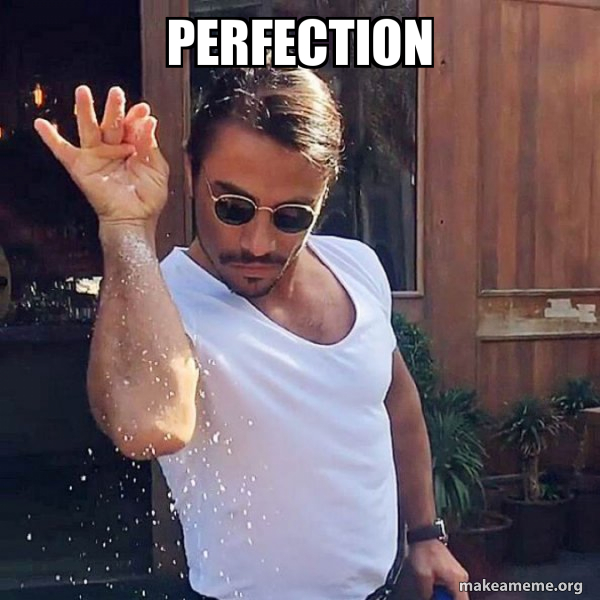 For me, the hardest part was going through the episodes I've recorded and picking out the perfect snippets. The first version of the video was about 2.5 minutes long....way too long for a hype video. Figuring out which parts I wanted to cut and how I wanted to order the final snippets was difficult but also super engaging. It's no different than trying to write a research paper, twitter thread, podcast episode, etc. You're basically trying to create a well crafted story that gets your message and vibe across. The key to the process really just comes down to high intentionality and constant iteration.
Dunkin > Krispy Kreme
Last Friday, I hosted a launch party for The Bigger Picture brand at NFT NYC. It was super fun and was such a cool experience for me to go through the process of organizing my own event.
I've been going to a ton of conferences the past few years, but this was the first time I got my hands dirty and learned what it meant to be a host. Two words....NOT EASY! Just like the launch video, I realized that there are so many things that go into the process. Booking a venue, locking in caterers, inviting guests, figuring out the vibe of the event, etc.
I thought it would be fun to share some of the details of the process just in case anyone is curious.
Venue - found a place in East Village on giggster.com. I browsed a ton for a few days. The final one I picked was sent to me by my friend Bobby 🙏 I got super lucky it was still open

Event Invites - made a fun invite on Partiful. Literally went through my Telegram and Twitter dms and just spammed people I thought would be cool to see IRL. Also used NFT NYC roll call threads as another starting point. My goal was to hit 101 people going...I was able to get 105!!!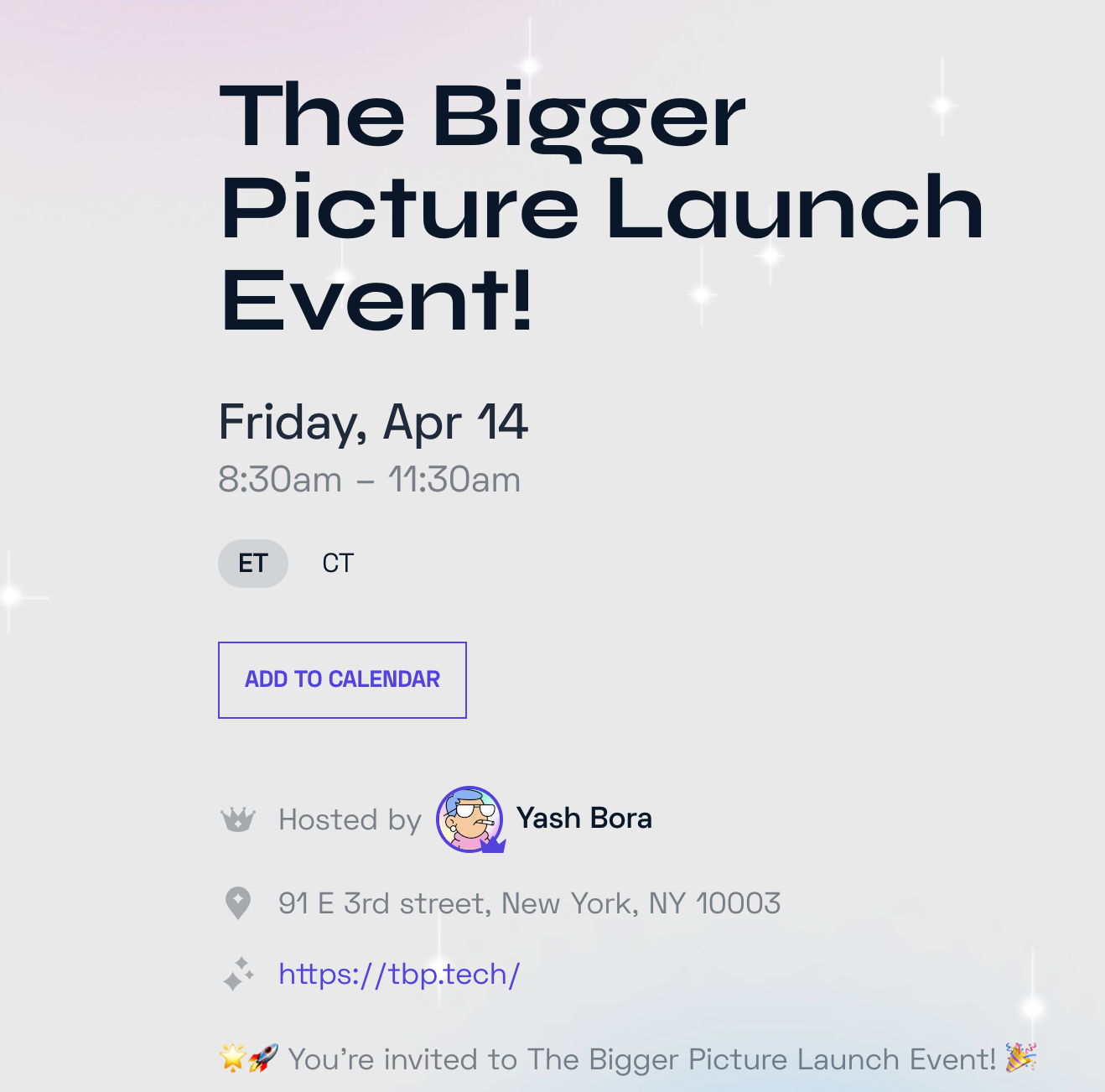 Okay so ☕ time. For the event, I ordered donuts & coffee from Krispy Kreme and bagels & croissants from Dunkin. The event was Friday and I locked the orders in the previous Monday and called twice throughout the week just to make sure there was no issues.
Okay, so all is well right? Friday morning as I'm ubering to the venue I'm happy that everything is on track. You know that feeling you get when things are almost too good and then you get sus....Well yea, that was me. And then, as I'm 5 minutes from East Village, I look at my phone and see this text!

HOW??? After fighting with Gabby on customer service for 5 minutes, I give up on Krispy Kreme. They told me they didn't have enough ingredients to make the donuts...
I can't put into words as to how frustrated and stressed I was from 8 am - 8:30 am. But luckily, those breathing exercises I've been doing finally came in clutch haha.
I end up calling Dunkin and ask if they can do anything and after a few tries they call back saying they'll get some coffee and donuts to me but it would be halfway through the event. Then I run to the nearest Starbucks and get two boxes of coffee just to get things started.
The show must go on!
Anyways, after that fiasco settled down, I focused on shaking it off and not letting it get to my head. Which btw is tough! Overall, the event still went really well :)
Around ~35 people showed up which was about a third of the folks who said yes but I was happy with the turnout regardless. It was a good mix of people - some who I've known for years and others who I met for the first time. The coolest part was seeing my different worlds mix and being able to connect people in my network! People had coffee, enjoyed some bagels, and met cool people.
I also gave a mini speech to everyone there about me and my vision for The Bigger Picture.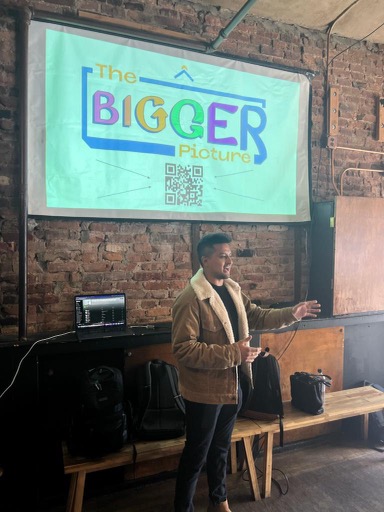 Late Post, but A+ Whoop Recovery
I know I was supposed to launch the first episode today, but this week things worked out a bit differently than I expected. After returning home from my 2-month "U.S. tour", I needed some time to recover. My whoop was also nagging me that I needed to get some sleep. Since February, I had gone from SF to Denver to Chicago to Miami to NYC and now finally back in Texas.
This week was great though :) Already feeling way more recharged and ready to start the next phase of The Bigger Picture.
Launch ✅. Now...ready, set, write!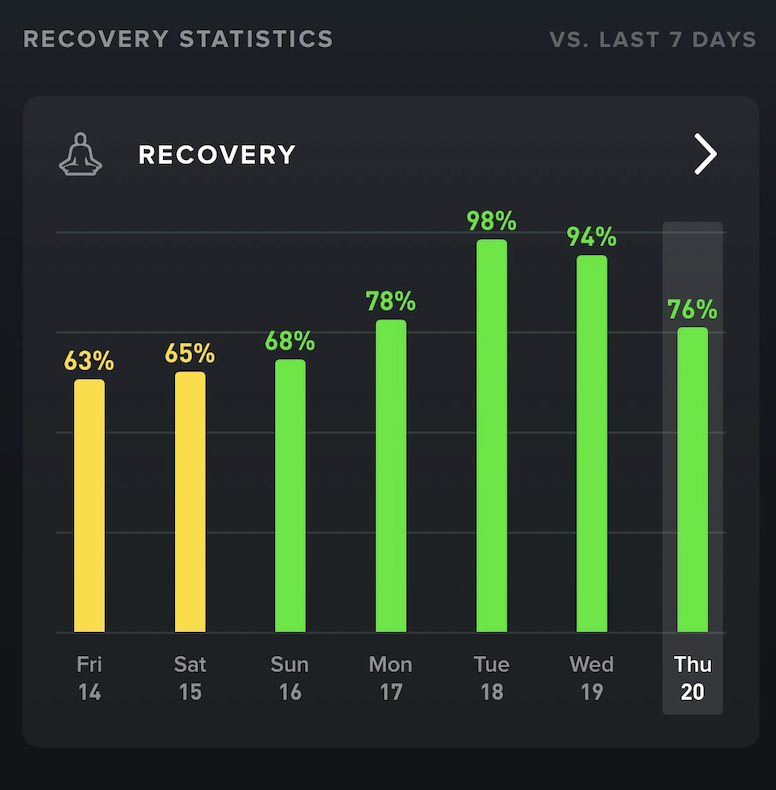 Excited to get my first episode out next week and I appreciate the patience!
Hope everyone has a great rest of the week!