🌎Doodles is here to color our worlds. It is here to inspire us all to reconnect with our inner-child. To remind us we can do anything with the power of our imagination.
Official News
🌈DoodlePutt
T-minus 21 days until tee off. Registration opened on November 8th at 9 AM PST and closes November 11th at 9am PST. 48 hour window.

Sign up here
In order to register you must be signed up on the Tokenproof app. Below is the 'how to set up tokenproof" article.
DoodlePuttFeatures we can see from the newly released flyer:

Putter pick-up

Coffee Doods stand

Food

Bar

Talking lit head (SXSW)

Giant Werm

Multiple Wormholes

Entrance through the mascot's mouth (SXSW)

Plenty of Color (Behr paint round 2?)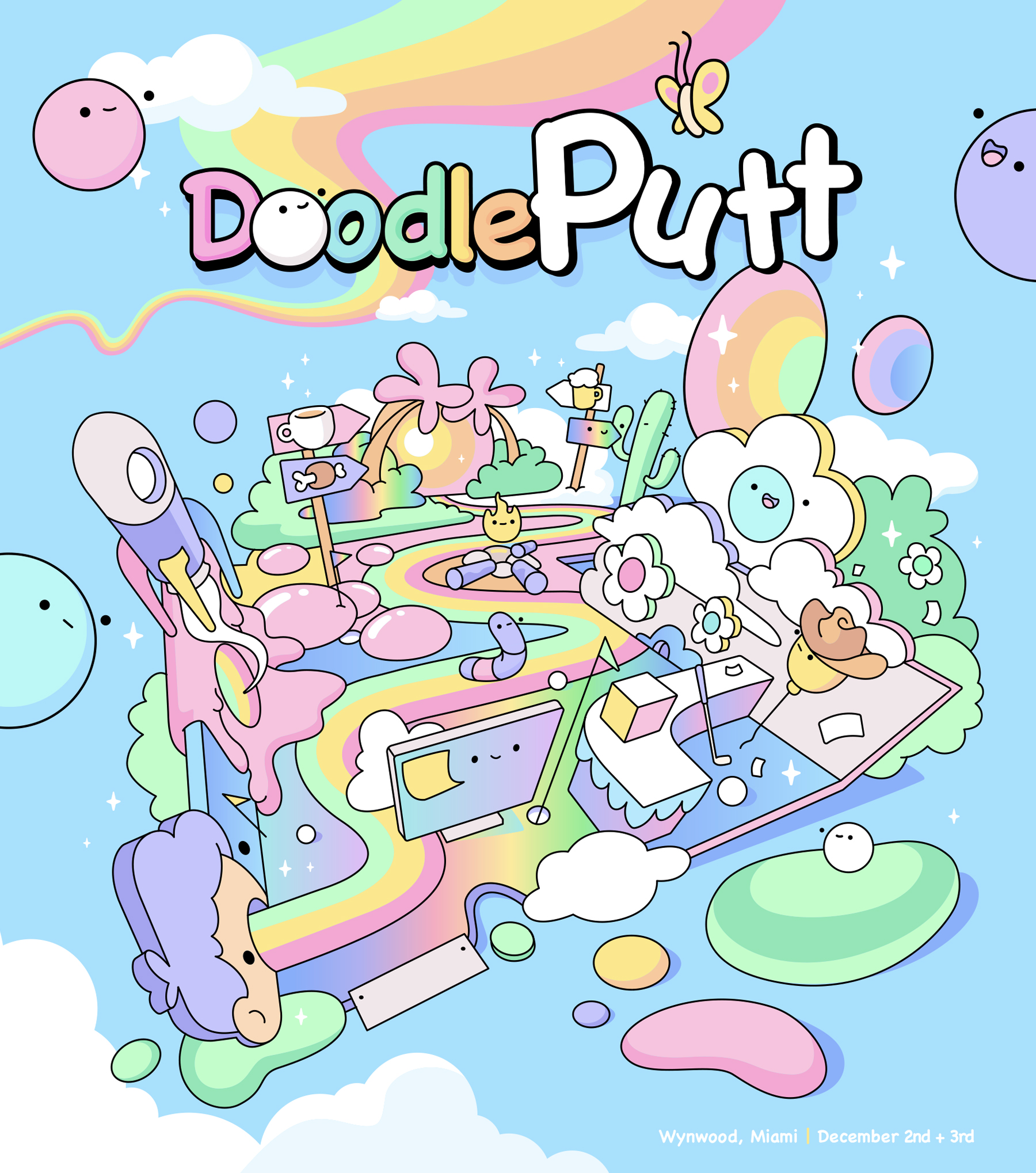 Doodleputt will be 9 holes of "a mini-golf experience like none other."

Each hole represents a different world: Basement, Dirty World, Doodle World, Space, Tropics, Desert, Portal Cave, Bubble Gum, Rainbow World.

If you sink a hole-in-one on the 9th, you can win a Doodles NFT!

As holders you get: access to priority tee times, free food and drink at the clubhouse lounge, access to a VIP holders lounge, and the customization station!

Here's a take from CEO Julian Holguin:
DoodlePutt golf balls alpha leak from Doodles Head of Extended Experience, Dr. Bun.
Team Action + Speculation
👀Brandon Rosenblatt
We have very nice embroidered patches for bomber/ letterman jackets. 😂 If you look closely on the order form you can get a sneak peek of the finished product. LFMERCH!
Doodles gym shorts with a 6.9' inseam! (unofficial measurement)
👀Bapling
Dropped a nice canon of the Werm for a posture check! If you're reading this, make sure you pass the checkpoint and check yo posture ma dood!
👀Katelin Holloway + Julian Holguin
Two doods walk into a bar... We cannot wait until the recordings of this chat goes live, we are itching to dive in and provide everyone with the 411.
👀Katelin Holloway + Alex Ohanian
776 released a brief snippet from last week's interview on CNBC's Crypto World talking about what they saw that was special about Doodles and Alexis reiterating how Katelin was the team member that lead sealing the Doodles fundraising deal! Full interview can be found in last week's TGIDigest.
👀Pharrell
Article by Decrypt provides some summary on Katelin and Julian's talk at websummit Lisbon this past week. "He is not just an endorser of the company-- he's a day-to-day influence on the brand and very involved in a lot of the biggest decisions that we're making."
👀Julian Holguin
New article from the Block pertaining to his talks about Doodles at Lisbon's websummit. Holguin quickly mentioned the title should read: "Doodles CEO says brand is 'ready to level up,' aims for Disney-level brand recognition." Instead of 'grow up', as Doodles are meant to allow us to channel our inner child. Good read!
Doodles CEO is slated to talk at Metaverse Miami in a panel called "Leaps of Faith" on November 29th at 2:45pm EST.

👀Alfie Motion

Chatted with the doods from RCSPOD talking about his career in animation and working at Doodles. Animated podcast episode is now live!
👀Evan Keast
In response to questions of whether FTX Ventures' investment into Doodles initial funding round may put Doodles into a financial blunder, Founder Tulip provided insight that the demise of FTX does not have ANY impact on Doodles operations. Their check cleared months ago. Needless to say, all is well in Doodleville.
Tulip also gave a big shoutout to the tokenproof team for helping create a hassle-free solution to authenticating ownership of Doodles for DoodlePutt sign up and effectively managing to schedule tee times on the fly.
👀Burnt Toast
Bullish on good art! This tweet turned into a thread of happy thoughts, compliments, and praise. Bullish on positivity on the timeline. And per usual, we are BULLISH ON BT.
Community Spaces/Threads + Perspectives
📢Pokestash
Post NFT London reflection thread on being a Doodler, the Doodles team, and improvements they think the team and community can make for a better tomorrow. Puts an emphasis on Doodlebank funding for small scale community-led IRL events.
📢Varoun
Safe to say Popsci is going all Confucius on us. Watered down to its essence: don't be the influenced be the influencoor!
📢Kduck
Celebrating 1 year of her NFQueens podcast, huge congratulations dood! 😇
📢Christine Hall
Hosted chats at NFT London along with Quinn, Austin Hurwitz, and Chris Maddern.
📢Phomo
Dropped a thread on artist @NFT_Sushi and her progress in the space.
📢JimmyT.eth
Opportunity to be featured in Right Click, Save Podcast's upcoming interview with Doodles's animation director Alfie Motion. Comment your space doodle ID on this post.
📢Tree + NFTboi
A 🧵 on how to help yourself when experiencing burnout. Put your mental health first!
Tree dropped a second thread in support of those struggling with their mental health in regards to massive market moves we saw this week. If you or anyone you know needs to see this, its an important read and a good share!
📢Frankiebuys + Kat
Host It's a Bug's Life Ep.1 space.
📢Degentraland
Is betting Horizen Labs' entire balance sheet on a game of DoodlePutt vs Tulip. Choose your fighter! We've got the receipts. 🧾
📢Guda.eth
Daily summary of crypto/ web3 new updates.
📢JeremyNation.eth
A piece on Elon Musk as the Commander-in-chief of the bird app.
📢JKB
Discuss FTX, Athleticism (girlies who putt putt), and 0% royalties!
📢Tom
Doodles large stake in web 2 avenues (IRL events and merchandise) bodes well for their longevity despite volatile crypto markets.
📢Mitchell
5 tips to grow a brand account on any social network.
📢Philrayhho
The 3 elements that need to be in place for blockchain to be successful. "The future of blockchain will be invisible."
Trait Sub-community News
🧩Rainbow Smokers Club
Announce their collab with Friends in High Places NFT, launched a giveaway to send a Doodle holder to EDC Orlando!
🧩UK Doodles
The UK doods had their meet up during NFT London at a darts bar. Below are some photos of the UK Doodles gang. 🇬🇧
🧩Lofi Doods
Dropped a new animation of a few doods dancing by the campfire with a 30 second clip of some new tunes. Super vibey, we just need s'mores and 9 hour 59 minutes and 30 more seconds of the playlist to be released! 🎶
LoFi Doods is officially on Spotify!
Doodlebank Proposals
🐷Rarible's Custom Marketplace for Doodles
Leen, Project Manger at Rarible, met up with Doodles CEO Julian Holguin at websummit in Lisbon this past week for a coffee chat to test the water on the team's interest in forming a partnership for a bespoke Doodles marketplace..
We spoke with Ryan and Leen, ICYMI check out the snippet below.
🐷Support the meetups for the "Doodle UK" community group
Doodler Tokyo Sex Whale, creator of the Doodles UK discord and organizer of the first UK Doodles meet up at Doodle bar in London has initiated a proposal forum asking for funds to continue to grow their region-based satellite community.

The ask: 15 ETH

Not too many details on how the funds will be spent, and why particularly they chose to ask for 15 ETH. In spirit it's bulletproof, we are beginning to see a recurring theme of proposals to fund community events. With some feedback and collaboration with other community leaders we believe that we are on the cusp of streamlined disbursement of funds for hosting community-led Doodles events.
Lore + Artwork
🎨orangeskies.eth
Sharing 4 derivatives of their dood by: @Longscruff, @Mnewbis, @Cryptopia75, and @lilshashimi.
🎨Kduck
Mama duck must be so proud, Kduck has been immortalized in the Doodles discord via a PJETCH gif. Type: !kduck and you'll see.
🎨Palladium
This lettuce head has brought an entirely new meaning to term Space Doodles. wen mullet doodles post its?
🎨Journey2Doodle
Sketches of the infamous GOO-dle have been penned. The digital drawing version is now loading... GOOd Morning.
Whipped up our new logo here for TGID taking inspiration from the uber flexible nature of Burnt Toast's canon Doodles. The beginning of our rebrand has commenced.
Did an absolutely magnificent job on our new TGID banner which depicts Chef Tony and Doodlifts at our desk under the flowery canopy. Hopefully this will be canon one day. J2D even plopped an NRN sticker on the laptop to represent our partnership with the Non-Refungible Network. Details are jaw dropping.
J2D also completed one of the Noodles' Chase the Rainbow Bounties for new website graphics. They made an epic battle scene depicting the Noodles Founders: Justin, Ethan, and Fidel versus 2 of the 3 Doodles Founders: Evan and Jordan duking it out in their space ships!
Made kduck in the similar uber flexible style to our new TGID logo.

Animated version of Kduck absolutely smashes! Since when does J2D animate? No clue, but we are here for it!
Etan
If you are going to Art Basel and need to get some stickers of your pfp made, make sure to hit up Etan, The Sticker Dood.
🎨Reyez Music
Real doods wear pink! Full body dood posted up doin some tagging in a fresh fit, with the DIY Doodles flower merch. Creative dood, real creative.
Made a derivative of himself with the JKB spaces cover, bae says it's a major slay. 🥵
🎨funmachine.eth
Is whipping up a new derivative called Dopified Doods as part of the promo for their upcoming project. In order to get dopified drop your doodle in the comments!
🎨Artfactor
Imagine an ant farm full of Doodly pastel paint mixed with a psychedelic x-ray machine. You know the drill, comment your Doodle number to get trippy.
🎨Bianco
Joy, splendor, color, an unboxing experience for the books! Mascot time.
🎨Mikididthis
Toronades.eth won the first Miki ticket auction and had his spumoni puffer, note- face, king Doodle animated. We get to see Toro's actual face reveal and needless to say his skincare routine is impeccable. We love the crown sheen touch Miki!
Jonny aka Christian DYORS is the second winner of a Miki ticket and their animation is super duper cool. It incorporates a neon outline of the skull face, the lights turning out, and even some winks. 💀
🎨GalacticRepairman.eth
Who said OG doodles can't repair stuff and chew gum at the same time? Homura has switched his ens and his pfp to an interstellar derivative of his blue cap clean boy.
🎨Dj Dabs
Had his Doodles x Noodles Chase the Rainbow merch care package land. Oodles of fun!
🎨Darlington
Launched his Ballon dood to space, it looks so happy. Looks like he got a good grip on the handling already. 🎈🚀
🎨Doodlien
In true Incog fashion, we have another trait based lineup for our viewing pleasure. Today's iteration is a flower-chain. We don't always get to see may flower doods on our timelines. Is it safe to say that the flower is a slept on rare head? I mean cmon...
🎨ARB8i
Whipped up a gif of Kduck and Tulip: Halos vs Devils, which side do you choose?
🎨Nesanel
Has dubbed the first day of this work week as Monochrome Monday. Featuring Disclosure, Potato dood, a cleanboi lit head, and Pranksy. Not a bad way to start the week whatsoever.
🎨Softhands.eth
There was a time that Art Gobblers was above the Doodles FP, that time has came and went. LFDOOD!
🎨Adam Hustle
Posted a new GM graphic as the token wizzy, he did not divulge the who the artist is. The scene includes Mr. Hustle in the kitchen sipping some magic bean juice and Nate Alex taking a rest on the granite countertops.
🎨Doodlien
DoodlePutt derivative as the golfing mascot and Metazord's face as the 9th hole. ⛳️
🎨Tayboobie
Doodler Tayboobie has released the Spotify pre-save link for their new single 'Oh 💩.'
🎨minbo
The infamous free hoodie has been created. Where you lucky enough to sign up for this list? If not, there is an option to sign up on a waitlist.
🎨Loic
Made an artwork of NFT London featuring some of their friends NFTs as characters.
🎨Miki
Miki ticket Auction #3 is live!
Products + Companies
🔨MetaStreet
Provides a flowchart of how Para took out liquidity from NFTFi platform against 80 of their Doodles to sweep 21 Art Gobblers on mint day.
🔨Pass the Rainbow
Magic Mullet's Pass the Rainbow on-chain game is now available for mint. Check out gameplay and minting link below. This NFT incorporates on-chain music and gaming in to one! Pass the Rainbow while listening to Pass the Rainbow. 🌈
Heres the full thread on Magic Mullets journey as a musical Doodle and how your support will help his future endeavors in the world of music and NFTs.
🔨Noodles
Update on their Bounty Program progress, they have has 6 game development bounties complete and there are another 8 in progress. Good job noods. 🍜
🔨Bandit (Doodle2691)
Dropped a new Alphabandits trailer. The Alphabandits are Alphabets! The pfps are graffiti letters!
Auctioned a piece called 'Alphaneon' with Lost Artist Collective, the piece sold for .52 ETH!
Right Click, Save Podcast
Interviewed Doodles Animation Director Alfie Motion, the new animated video is live on Youtube! Epic insight, lovely conversation.
Thanks for reading this weeks newsletter, hopefully it brought some color to your world. We'll see you next week!🌈