Staying on top of e-commerce trends has become a business norm nowadays. The COVID-19 outbreak forced all brick-and-mortar stores to stay shut and consumers remain locked at home. This boosted e-commerce and people went online to buy nearly everything they needed. The restrictions were removed in maximum countries last year and consumers returned to the physical stores but global e-commerce sales have an extremely positive growth outlook. Most consumers are digital-first now and they prefer to check the consumables online. This is a paradigm shift but the biggest challenge of e-commerce is that it doesn't provide a sensory experience to the consumers. In a brick-and-mortar environment, you can try on wearables, touch and feel. How do you experience that in e-commerce? Such things are not exactly possible in online shopping but Augmented Reality (AR) can provide an immersive product experience to consumers while they enjoy the comfort of their homes. artlabs is a new company that is scaling 3D with AI and enabling Hyper-Realistic Augmented Reality and Virtual Try-On Experiences.
The advertisers took notice of AR technology long ago. The first commercial AR application created waves in 2008. Walt Disney showed cartoon characters on a large screen in Times Square interacting with people on the street in 2011. Coca-Cola's Arctic Home campaign simulated ice melting right beside the visitors in a shopping mall in 2013. Numerous brands adopted AR in pursuit of higher customer engagement after that. AR as a technology is a trend but the integration of the technology with the e-commerce sector is still not explored heavily. Yes, some businesses are using AR to sell their products. Adidas added AR functionality to its iOS app in 2019 to help shoppers to decide on a purchase without ever entering a store. L'Oréal's Modiface is also a great example of AR within retail. These AR applications allow consumers to try on products through an electronic device. It is all about allowing consumers to engage in pre-buying behaviour. Think about putting makeup on your face or trying a pair of sports shoes virtually using your smartphone. Augmented reality augments your existing world and helps you to perceive the digital components realistically through the integration of immersive sensations. This is valuable as the digital world blends into a person's real-world perception. It is not a simple display of data but comes as a mixed reality experience.
With artlabs studio, 2D product images can be converted into 3D models that are AR and virtual try-on ready. Any business can use it to convert its existing 2D image library and product catalogues. The process works smoothly as it just requires uploading the 2D image. The corresponding 3D image gets auto-generated. Text-to-3D is another feature of artlabs studio. You can use texts or prompts to generate your desired 3D model. The unique generative AI of artlabs handles everything with ease. No coding or technical knowledge is required in any step. The generated 3D model can be modified if you are unsatisfied with the quality. Once you are happy with your 3D model, you can integrate it with your website or mobile app by adding the generated QR code. Interoperability is a very important parameter in 3D modelling software. Different virtual worlds have different file sizes, formats, and polygon counts. artlabs works perfectly here as it offers different presets to fine-tune digital assets.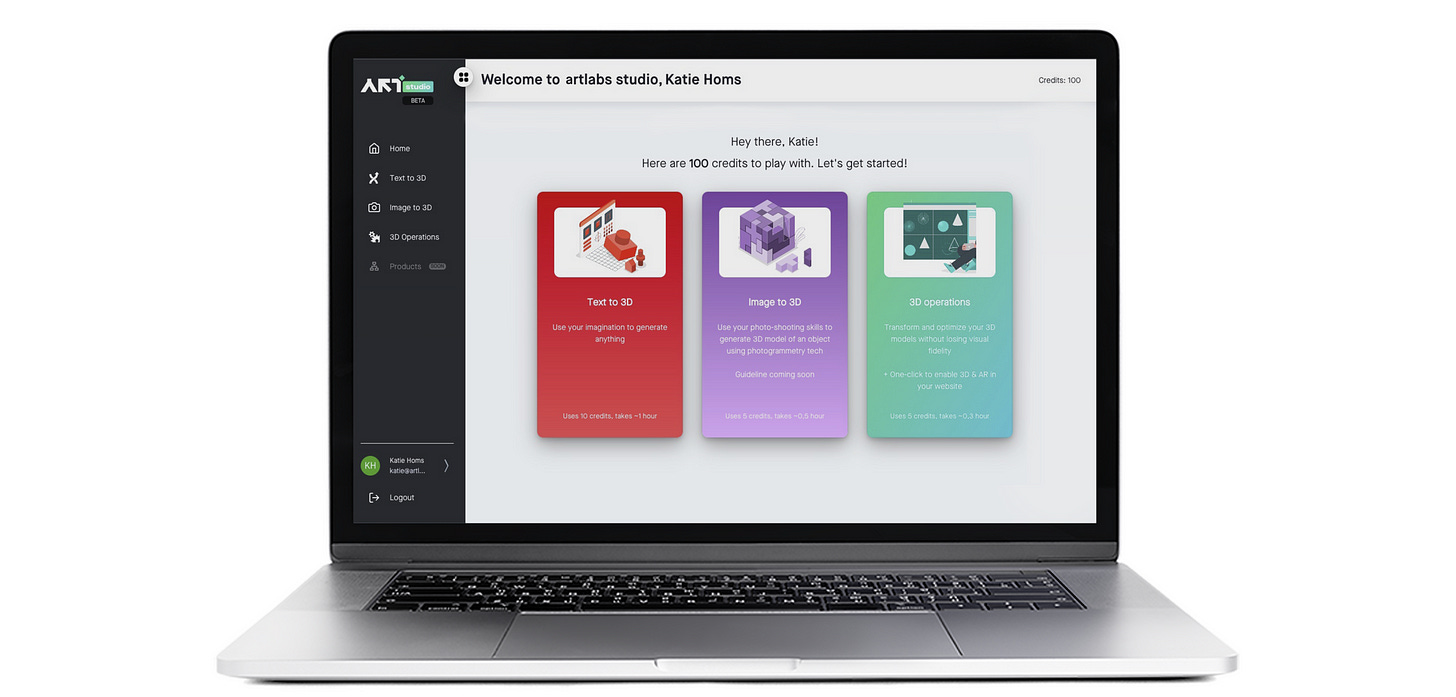 Integration of AR technology can enhance the consumer experience manifold in a brand's value chain. Virtual testing is the most widely used application of AR in retail. Product return is a big problem of e-commerce and wearables generally face very high return rates as the customers can't judge them properly. The virtual try-on (VTO) feature of artlabs turns customers' smartphones or tablets literally into a virtual fitting room. Here the device camera is used to capture the user's body part photo and displays the virtual item on it. The user can see how the item looks from different angles. artlabs can provide the optimum real-time 3D experience as it can perfectly balance the realism of the image provided to the user and the smoothness of the VTO system. There is no wonder that artlabs clients experienced up to a 71% increase in conversion rates and a 66% decrease in product returns with their virtual try-on solution. The strength of the technology speaks. You can experience the VTO of artlabs here.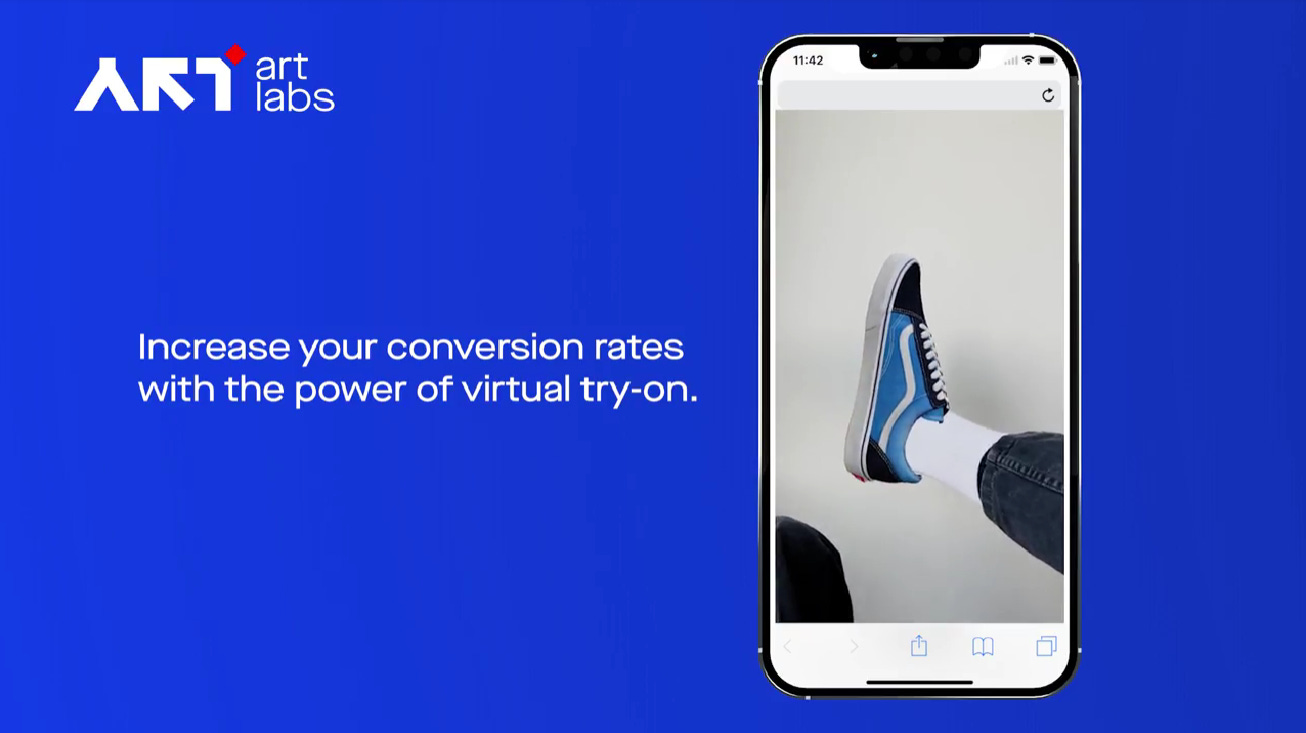 Product visualization is another AR application and artlabs has that service. This AR feature allows the personalised product to be viewed in your space. Businesses like retail, interior design, automobile, furniture, and consumer durables can reap tremendous benefits from product visualization. It also takes the shopping experience to the next level and allows the consumer to obtain the perfect product fit. You can experience product visualisation of artlabs here. While we talk about 3D and AR, we can't avoid Metaverse which is projected to be the next evolution of social connection. As artlab's 3D models are platform agnostic, those can fit decentralized platforms also. Any NFT project can leverage artlabs to create a 3D collection of NFTs. Normally it is a cumbersome and time-consuming process but the innovative state-of-the-art AI technology of artlabs takes the NFT attributes using the metadata in the files and creates models automatically. The NFTs can get a new lease of life with help of AR and can be integrated with any metaverse.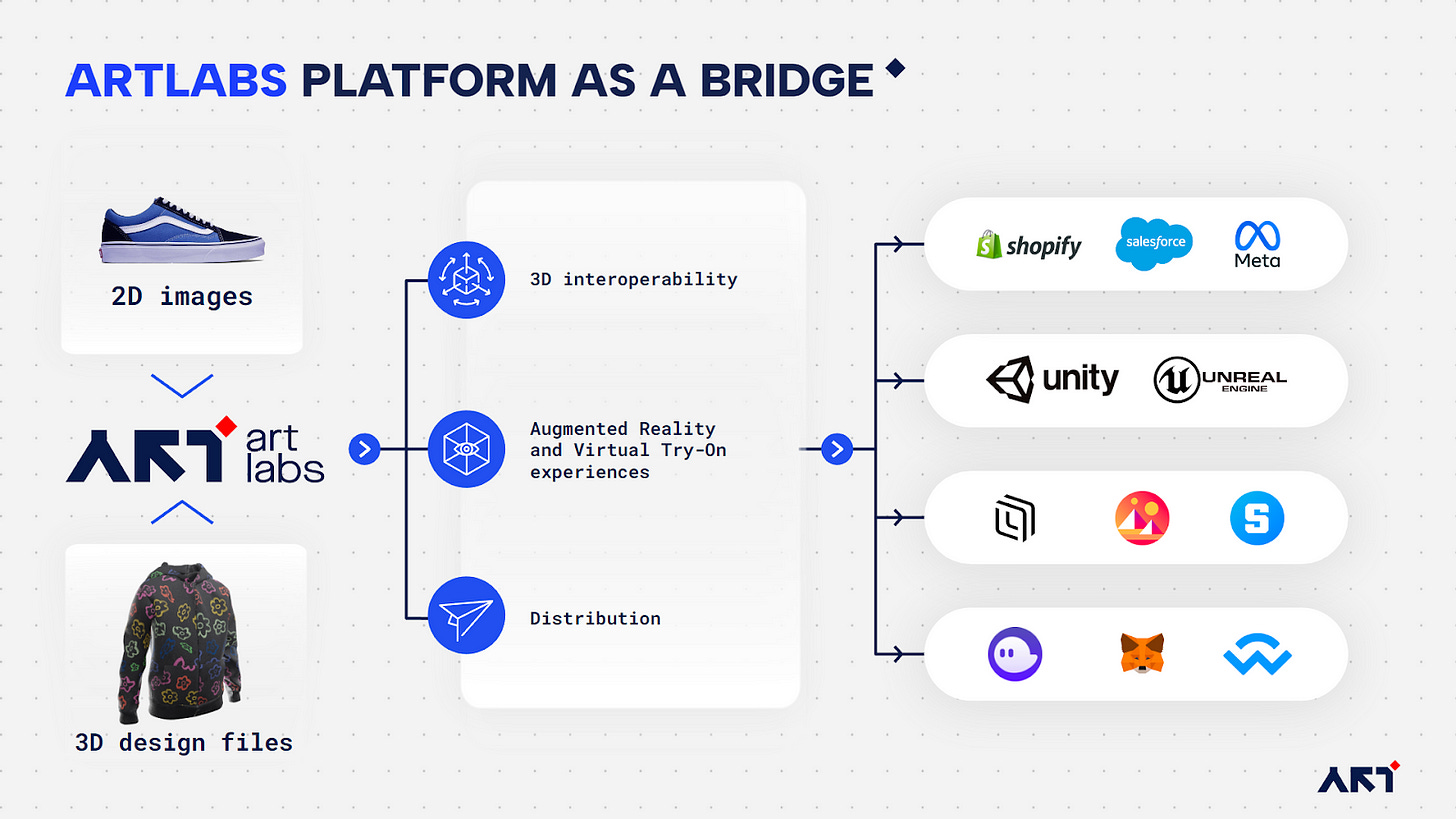 The use of 3D models and AR can translate into the acquisition of new consumers and retention of the existing consumer base by providing a unique value-adding experience. Every brand needs a differentiating factor to stand out against the competition in the market and artlabs can help businesses to create sales processes with more personalization. The tested hyper-real applications of artlabs can place the consumers in the proximity of the brands to build unmatched loyalty. The company has already partnered with leading XR, Metaverse and Web3 companies like Nvidia and Polygon. There is a fundamental disconnect between the three-dimensional physical world and the rich data, trapped in two-dimensional informants, that helps us in decision-making. artlab promises to close this gap by bridging the physical and digital worlds with its path-breaking technology. Keep a close watch on artlabs for pleasant surprises in the coming months.
Follow artlabs on Twitter, LinkedIn, and Medium. Enterprises can ask for a demo here.
---
This article was first published here.
Follow Me 
👉 Twitter @paragism_
#3d
#augmented reality
#ecommerce