The rise of Web3 has revolutionised the gaming industry with innovative game features that were not possible earlier. We have never seen any model where the players enjoy such control over games. The appeal of these games increases manifold as they offer to create the world and own it. 'Play to Earn' gaming and its economies are not only dominating the metaverse but also impacting the physical world now. Whereas 'Play to Earn' games have been the most significant growth driver of blockchain gaming, some new entities have started to focus on an advanced concept – 'Fun to Play, Play and Earn'. Delysium is one such project that comes with an AI-powered open world with a diverse Free-to-Own universe. The first round of its private sale of over $4 million was led by Galaxy Interactive, Republic Crypto and Alameda Research. The team worked dedicatedly for years to develop the world's first playable AAA MMO web3 game and launched it in October 2022. The background of Delysium is set in 2045 when human beings discover a marvellous land named 'Delysium' in the virtual world. Then a battle gets started between the real and virtual world. Unlike other Turn-based Strategy or Trading Card Web3 games, Delysium focuses on supreme AAA open-world MMORPG experiences. The project has generated amazing community attention recently due to the upcoming launch of a special functionality and token sale of DMA.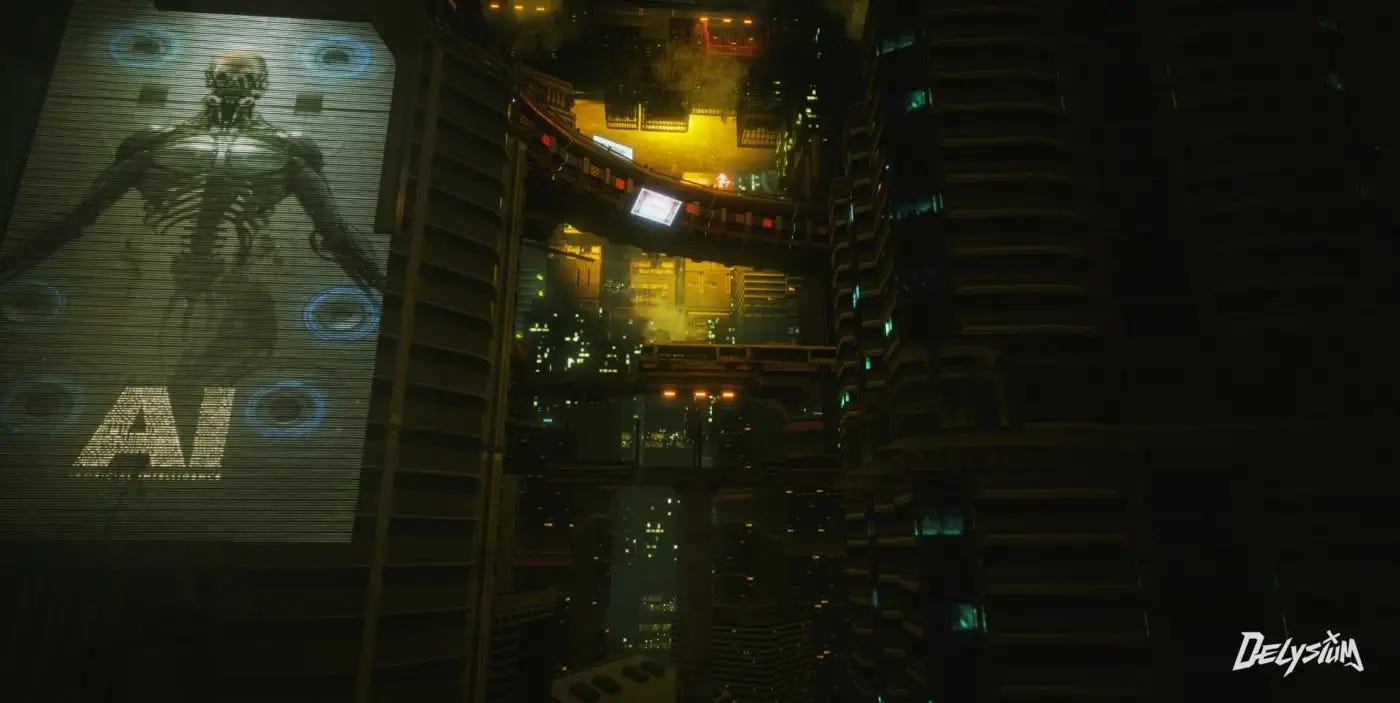 Delysium Multiverse Ecosystem & Delysium Multiverse Operator (DMO)
We have seen so many video games in Web2 that offered engaging experiences to the players but the maximum of them failed to meet players' demands for more gameplay. Players need more content but developers really do not get enough motivation to create content for a long time. The promoter team also does not get sustainable incentives for serving the customer base in a protracted term. In Web3, game publishing is a dynamic process as the ecosystem participants can get various on-chain and off-chain incentives. It provides far better alignment for all stakeholders. Based on Environmental, Social, and Governance (ESG) values, Delysium has created an incentive system that benefits players, developers, and operators to ensure the prosperity of the whole Decentralized Game Publishing structure.
Delysium has been designed to have multiple universes and all amalgamate to generate Delysium Multiverse. Each universe is run by one Delysium Multiverse Operator (DMO), creating a highly diverse game experience and unique On-chain Incentive Layer (OIL) for players. Every universe has customised distribution rules to distribute on-chain incentives. The on-chain incentives can be customised NFTs, fungible tokens, stablecoins etc. This is really exciting from the operator's point of view as they get the liberty to design their own universes flexibly. DMOs have no need to deploy and maintain game servers. The Delysium team maintains and deploys the unified game server and creates better network effects in collaboration with all DMOs. Is it easy to be DMO? Yes, any independent developer or player can be DMO by holding a free mint Delysium Multiverse License (DML). If you are eager to apply for DMO, you can do it right now by filling up this form.
Delysium Multiverse Accelerator (DMA)
DES is the native token of Delysium Multiverse. The users can stake DES to take part in the governance of Delysium. The stakers can select the universes of their choices and support them to become prosperous. While they stake, they get staking rewards and also operation revenue. So, it is a multi-utility reward-generating token. The total supply of DES is 3 billion and Treasury holds 55% of the tokens. Besides DES, there is another token in the ecosystem - Delysium Multiverse Accelerator (DMA). It is important to note that DMA is a non-transferrable token. 

The holders of DMA will get various rights and benefits in Delysium. These are the benefits to summarise:
Exclusive Validation Incentives: DMA holders will receive daily DES token incentives. The daily DES token incentive of DMA holders is fixed for the first year and it is reduced by half every two years.

Higher Voting Weights: DMA will help the stakers to obtain higher voting weights and it will act as enhanced access to support Delysium universes for making them propitious.

Enhanced Staking Rewards: DES stakers can support a particular universe and if they hold DMAs, they will get higher ecosystem incentives as staking rewards.

Additional Rewards: DMA holders are going to get random ecosystem airdrops from Delysium. They will also get priority access to different asset offerings in several universes.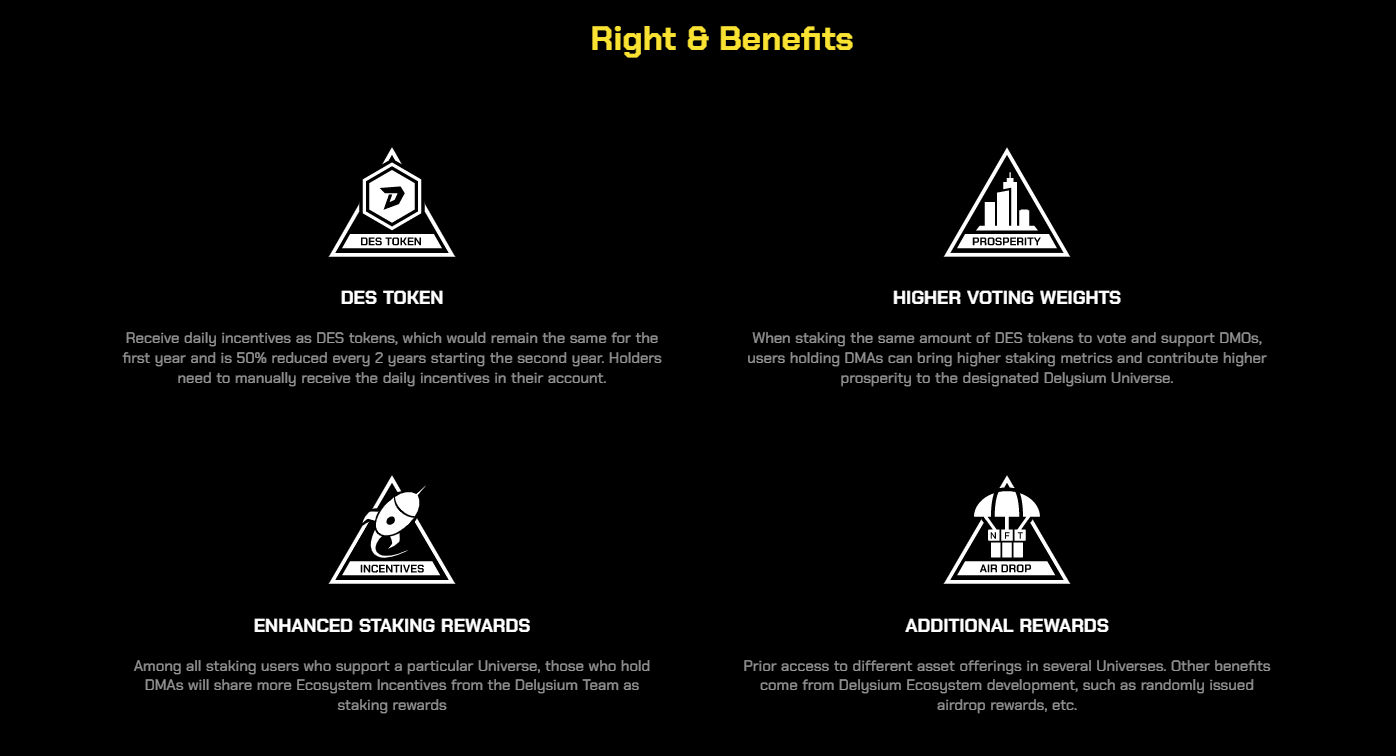 DMA Referral
Delysium has designed a referral system for DMA to involve the users in ecosystem development. DMA purchasers will receive a One-time Referral Reward within 24 hours after referring new users to purchase. A user providing multiple referrals will receive a higher 'One-time Rewards Referral factor' and more one-time rewards. This one-time referral factor will range from 10% to 15% depending upon the DMA sales. Besides one-time referral rewards, DMA holders are also eligible for 'Daily Referral Rewards'. This is really amazing as it helps the referrer to earn some tokens daily when the referred new user receives daily rewards. To be precise, owners of DMA are going to get lifetime benefits from the ecosystem and considering the growth potential of Delysium, the value proposition is enormous.
How to purchase DMA?
The total fixed supply of DMA is 50,000. The first 10,000 DMA tokens will be sold for USD 1000 each. For the rest tokens, the selling price will increase for every 100 DMA sales. You can purchase DMA from the Delysium website now. Here is the link to the marketplace where DMA is available. You will have to sign up here with your email first and then you can use any Web3 wallet like Metamask or Coinbase Wallet to connect. While checking out, you need to submit your referral code and you can purchase any amount of DMA with USDT on the Ethereum mainnet. The verification of the transaction may take some time. Once the verification happens, you can click on DMA Rewards to check your DMAs on the dashboard. You will also be able to see your own referral code on the dashboard once you complete the purchase.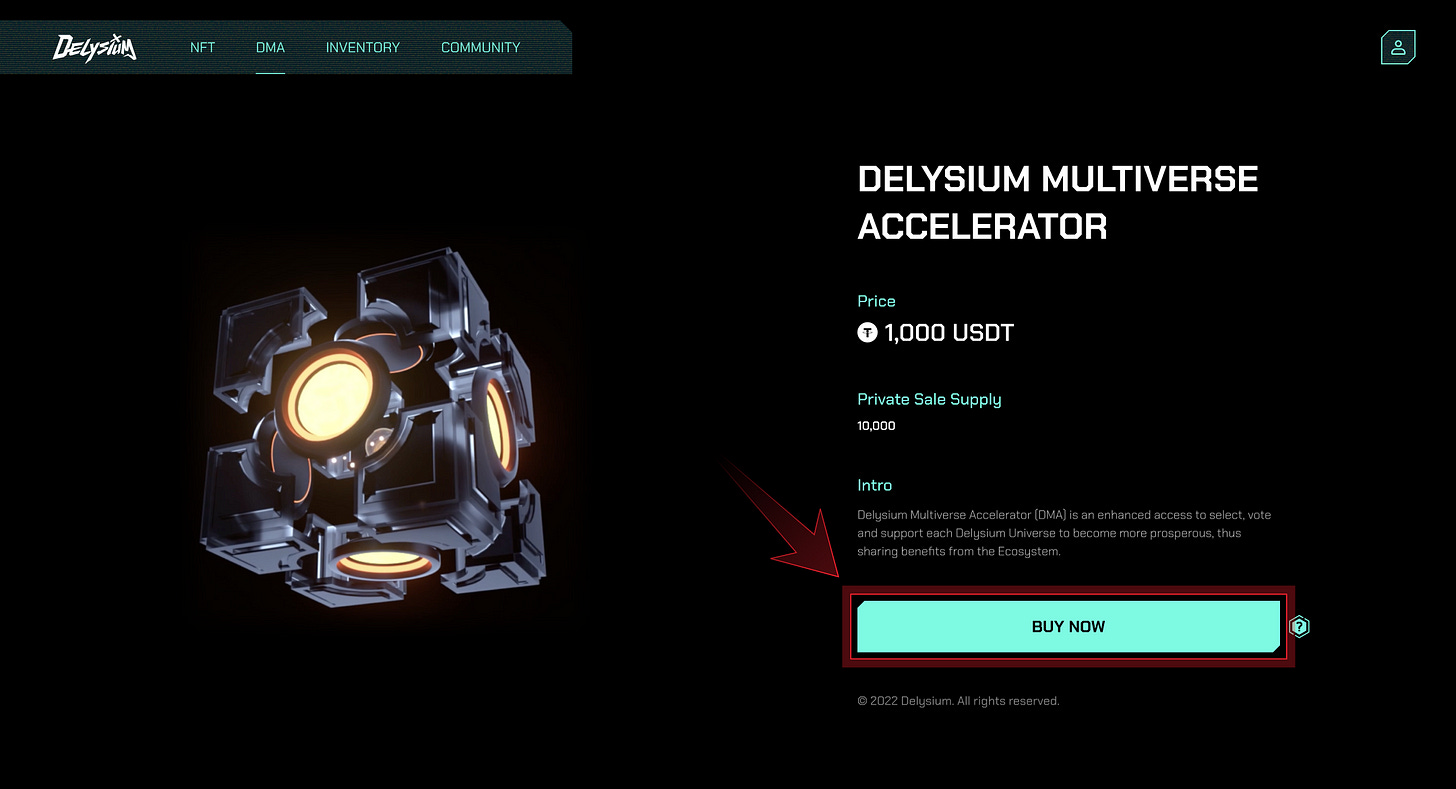 Decentralized gaming is rapidly rising in the gaming industry but without a self-sovereign financial system, it can not flourish. Web3 games have started to become better in terms of user experience and gameplay but we need a better framework for distributing the game incentives. Delysium comes with a unique value proposition as it can connect game content with different incentives. The DMO system of Delysium offers the fair distribution of on-chain incentives while the DMA system offers an efficient governance mechanism. The DMO-DMA combo also facilitates having a different set of rules in the same gameplay and reinforces the Decentralized Game Publishing structure. In this fast-moving Web3 gaming space, only the innovators will succeed and this project has the ingredients to make new stories. The 'Game-as-a-Service' (GAAS) concept of Delysium can provide a paradigm shift in Web3 gaming that will create a thriving ecosystem of developers, operators and investors. It is no surprise that Crypto Twitter is going crazy with the DMA sale.
Follow Delysium on Twitter to get regular updates and join their vibrant Discord.
---
This article was first published here.
Follow Me 
👉 Twitter @paragism_
Collect this post to permanently own it.
Subscribe to The Coinbuzz and never miss a post.
#delysium
#blockchaingaming
#blockchain