Welcome to thecoreloop's Weekly Recap, where we will cover the five must-know headlines and all fundraising news for the week. Make sure you subscribe so you don't miss next week's recap.
This week I want to highlight two reports that reveal where kids and adults spend time online. We'll see some behaviors that may indicate where the general trend is heading. Epic Games released a new clipping app that lets you share Fortnite moments. I think incorporating these social elements natively is critical. Lastly, we'll wrap with a look at the State of Mobile from Data.ai and a report from my friends over at Delphi Digital on the trends & analysis of gaming for 2023.
Also this week we have over $90M+ in fundraising across both web2 and web3. There's $50M in funding for a holographic project and a large $15M raise for a web3 game.
---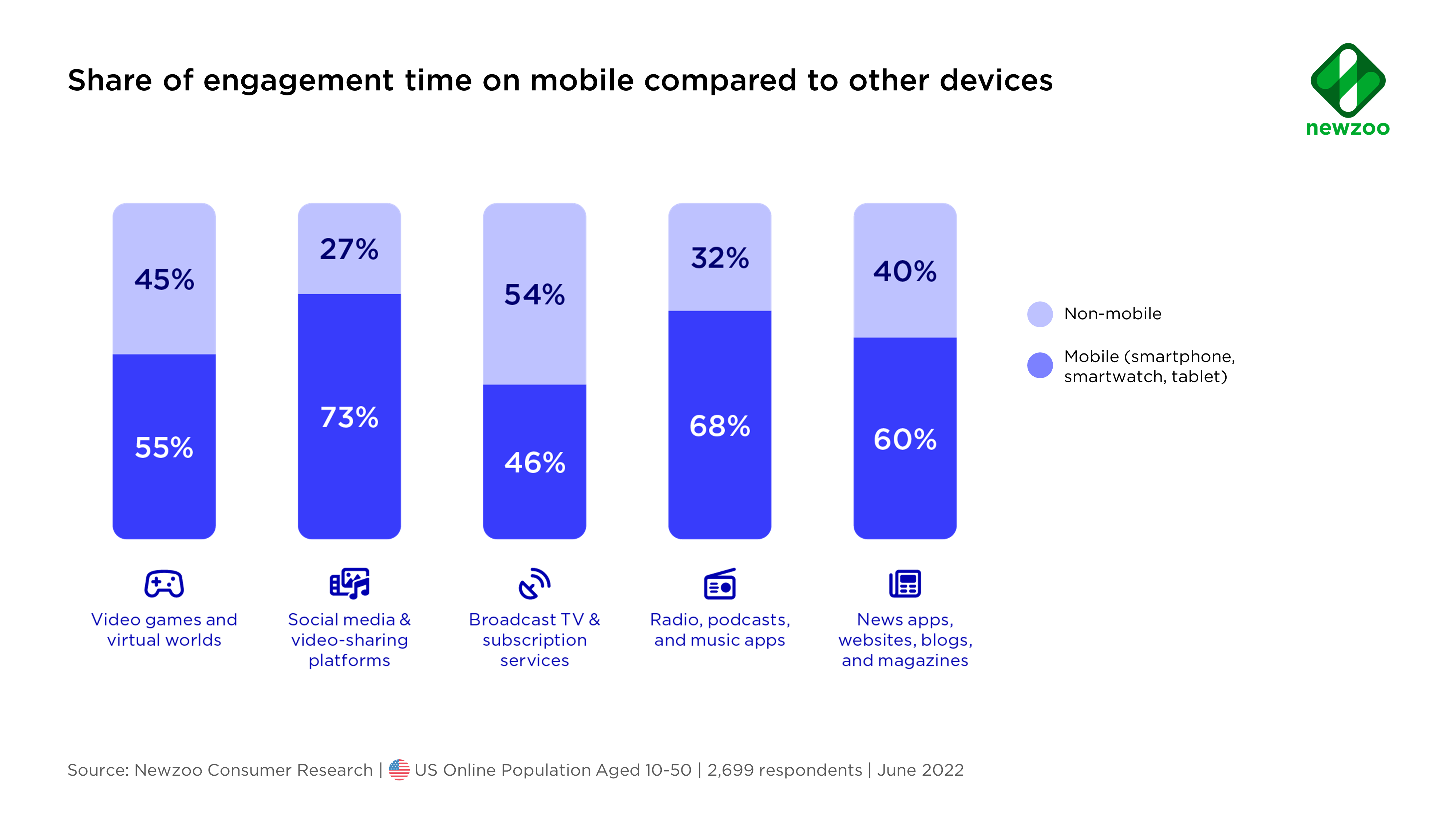 A look at Newzoo: Gen Z's gaming habits foreshadow the metaverse | VentureBeat (LINK)
The report sampled consumers in the US aged 10-50, which they claim represents 180M people. Top highlights from the report:
Mobile is where consumers consume IP, 4.3 hours per day versus 3 hours for PC, TV, etc.

13-hours per week on social media platforms

12-hours on video game platforms

69% of Gen Z actively create digital content. 59% for Millennials, 46% for GenX,
Users consolidate their consumption of content within one app -- or at least they try to. This behavior leads us to believe that users would concentrate into their own respective corners of the "metaverse".
---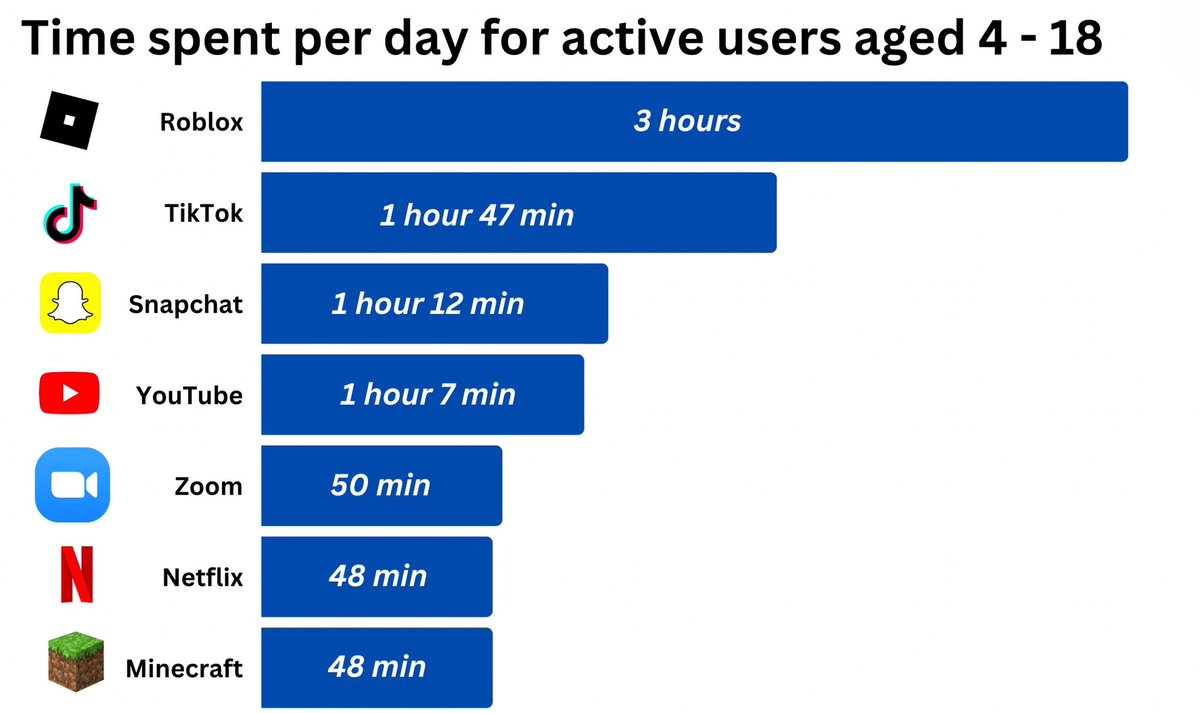 A look at where kids are spending their time online (LINK)
Qustodio conducted a report into how users aged 4-18 engage with online platforms from a sample data of 400,000 families around the world from USA to Australia. Hands down, Roblox took the crown. Note that the top competitors for user's eyeballs aren't other gaming platform but rather other social media apps then content apps. Additionally, 60% of kids played Roblox. with the closest competitor being Clash Royale at 24%. When kids aren't playing Roblox, the top content platform where they spent their time was YouTube, with 67 minutes per day. So far we figured out that Roblox is the top gaming platform, YouTube is the top content platform, now what app do these kids use to communicate? Whatsapp and Discord, 37% and 32%, respectively.
---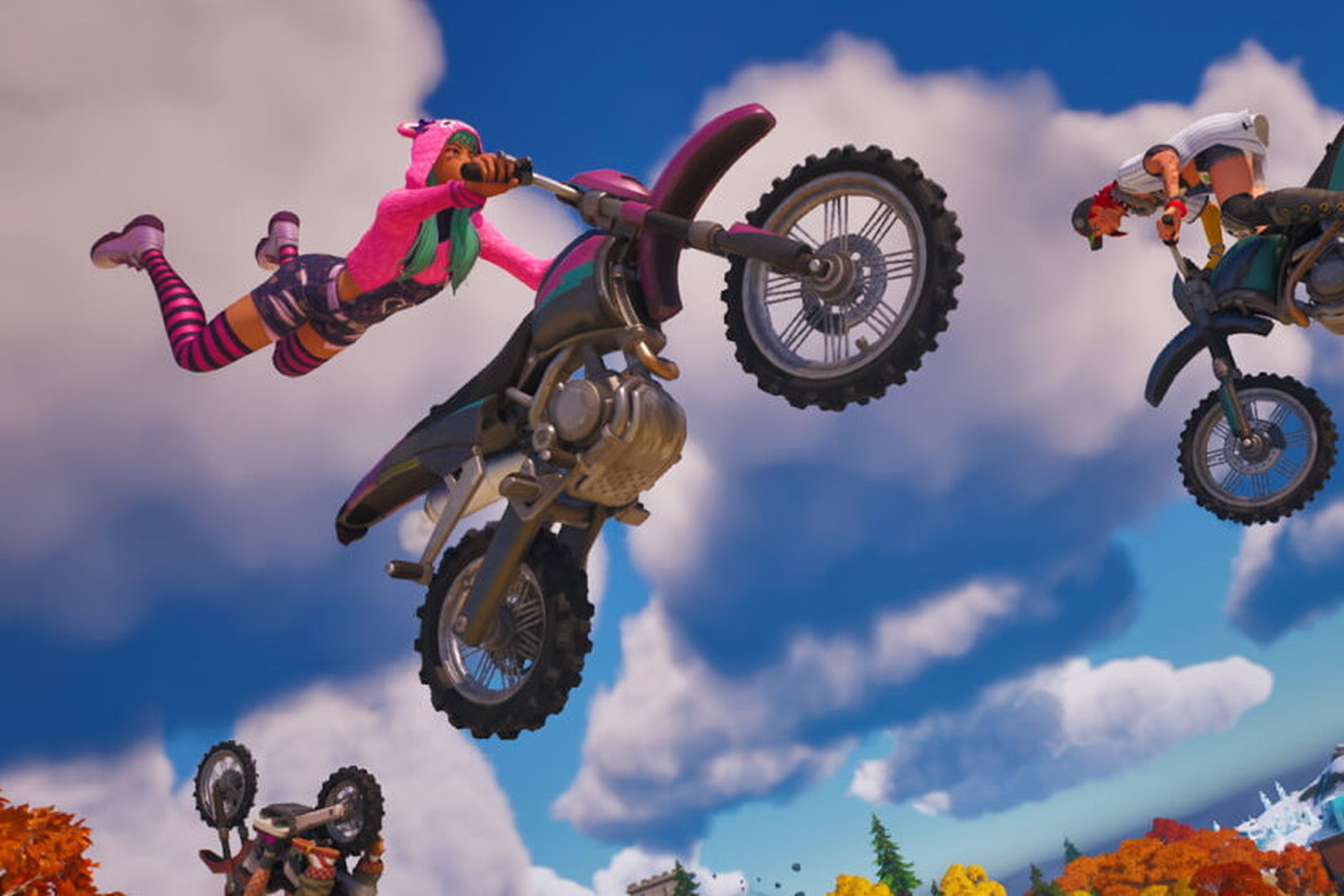 A look at Epic's new clips app, Postparty, helps you easily share your Fortnite moments - The Verge (LINK)
An integrated and native social feature to share your best moments is a powerful tool to socially activate your users. One of the most viral and engaging social feature is to share monumentous moments of your gameplay. This serves a dual purpose for the player as it allows them to brag (or relive) their best plays as well as enabling their friends and fans to vicariously experience the same excitement. Game designers should definitely incorporate some form of viral social loop into their gameplay and shareable, short, excitement-packed replays is a great feature to integrate. In Fornite's case, Epic created an app that allows users to clip moments in-game then connect their Epic Games account to the Postparty app on their mobile devices for easy sharing. One key element to note here is that Epic deliberately chose the mobile device as the distribution source. This is an intentional choice as Fortnite players in the past would record or take photos of their game screen of Fortnite on their phones to then share it with their friends.
---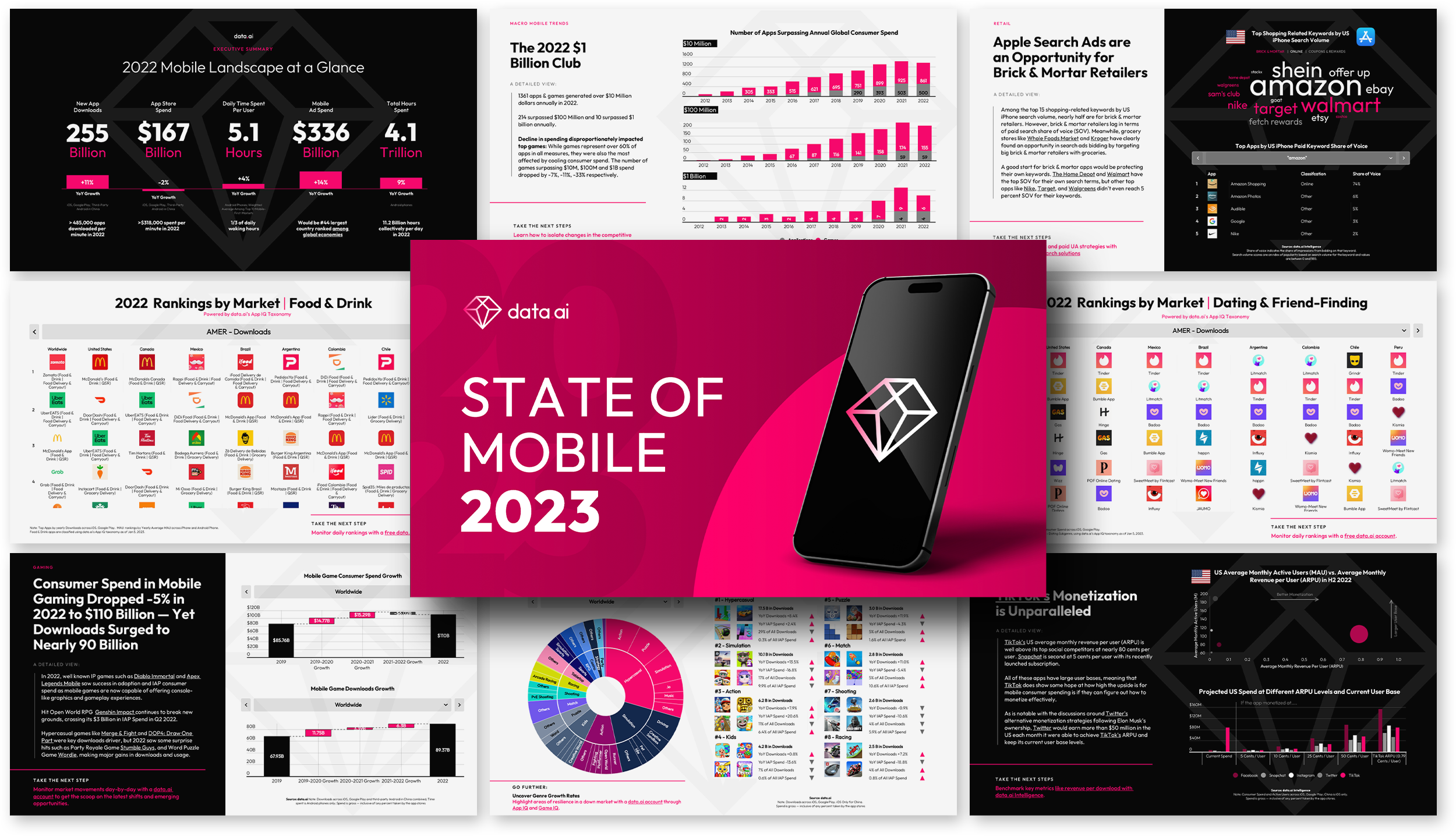 A look at Data.ai reveal the state of mobile 2023 | Pocket Gamer.biz | PGbiz (LINK)
There's a focus on time spent in Data.ai's report as a key metric to track engagement on our mobile devices as mobile advertisement is a large driver for the industry. Though our mobile engagement has been increasing year-over-year, the experts over at Data.ai predict that we're going to level off at spending 25 to 33% of our waking hours on our mobile devices. But to get onto the smartphones in the first place is through the download numbers. In 2022 there was an 11% increase YoY. After getting the on users' phones, monetization is the next step. Here we see that consumer spending habits dropped 3% to $167B, with games taking the grunt of the decline. Another area of monetization is through mobile ads and an increase of 7.5% is expected for 2023, indicating a $326B in ad spend. Again here, gaming ad spend dropped while the other categories of app remained strong.
1419 apps & games hit $10M in 2022, 224 passed $100M, and 10 passed $1B

Consumer mobile gaming spend dropped 5% to $110B in 2022.
---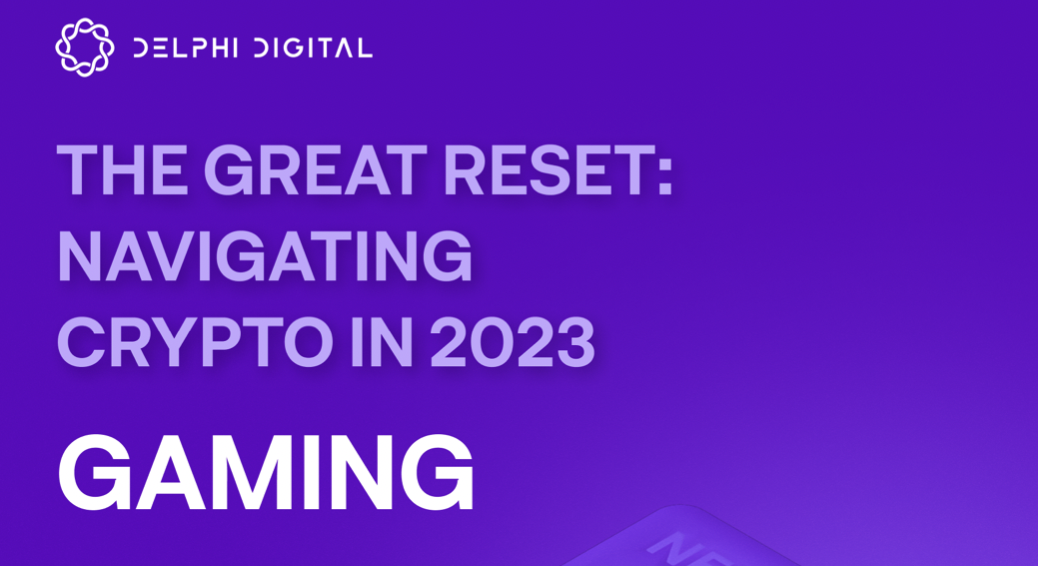 A look at Delphi Digital's trends & reports for gaming in 2023 (LINK)
In this report, Piers and Joseph covers some key themes, notable events, and emerging models to look out for in 2023. From our first foray into web3 gaming in 2021, we learned that play-to-earn doesn't quite work as well as there's a misalignment of expectation between "players" of web3 games and the studio's development speed. They believe that 2023 may not be the breakout year we need for web3 gaming to hit mainstream but there are quite a few promising titles dropping their alphas such as Sipher, EmberSword, and Illuvium. Therefore, they remain hopeful as the $7B of funding over the last 24 months will lead to some games that are out-of-this-world awesome.
---

A look at Boss Alien founder unveils Hardball Games following successful seed funding | Pocket Gamer.biz | PGbiz (LINK)
A look at Mino Games raises $15M to create Dimensionals Web3 game | VentureBeat (LINK)
A look at Snapser raises $2.6m in seed funding round | GamesIndustry.biz (LINK)
A look at Mawari raises $6.5M to speed 3D content delivery for the metaverse | VentureBeat (LINK)
A look at Light Field Lab raises $50M to manufacture its SolidLight holographic displays | VentureBeat (LINK)
A look at Latent Technology raises $2.1M to blend AI and game animations | VentureBeat (LINK)
A look at Xterio invests $2.5M in multiplayer RPG studio Overworld | VentureBeat (LINK)
A look at Matr1x raising $10M (LINK)
A look at TridentDAO crowd raising $3M (LINK)
---
Subscribe to never miss a Weekly Spotlight! If you want the news daily and directly delivered to you, join our telegram channel: https://t.me/thecoreloop
Subscribe to thecoreloop and never miss a post.