"At the end of the day, you're not going to be measured by how much money you made, but by how many lives you touched."

— Andre Norman
The Guardian Tier of the Guardian Academy is reserved for individuals making significant contributions to both TGA and the world outside of TGA.
To become Guardian, one must acquire a Golden Medallion, submit a capstone project, and have that capstone project approved, by Guardians, as a significant contribution to the body of knowledge.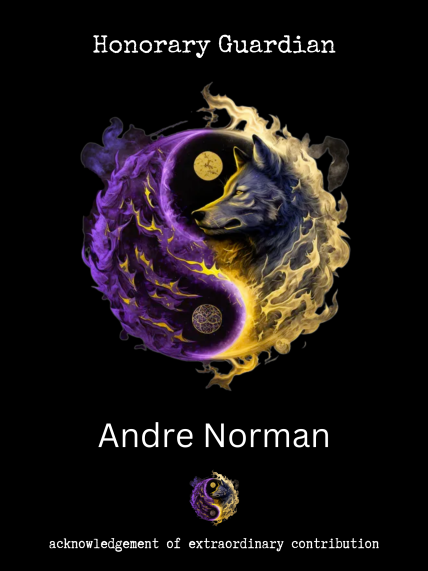 Honorary Guardian: Andre Norman
An honorary Guardian is an individual that does not have a golden medallion but has continued to show up and contribute to The Guardian Academy without asking for anything in return. Andre Norman, "The Ambassador of Hope", has always answered the call - literally and figuratively.
TGA is about impact. When a family, a prison, or even an entire city is experiencing distress, they call Andre. We feel incredibly fortunate to have Andre as a friend of TGA. See his Guardian session below:
Andre's Story (from his website)
Known to many as "The Ambassador Of Hope," Andre's experience and expertise is what empower him to help people turn their situation around. Andre travels around the world to serve as a mentor and listening ear for so many in need.
He has made an impact working in the countries of Bahamas, Guatemala, Honduras, Liberia, Sweden, and Trinidad. Inclusion has been at the core of his solution-based efforts.
From Prisoner to Professor
From illiteracy to gang activity, Andre's childhood prepared him for nothing less than a life of crime and violence. This behavior eventually led Andre to be sentenced to over 100 years in prison.
As a natural-born leader, he quickly rose to the top of the prison gang system where he managed gang activities from within the confines of a maximum-security prison. During his two-year stay in solitary confinement, Andre had an "epiphany" and he made the decision to turn his life around.
He had a simple dream to attend Harvard University and become successful.
Over the next eight years, Andre worked twenty hours per day towards making this dream a reality. First, he taught himself how to read, then to understand the law and without hesitation, participated in anger management groups. After winning his appeal and having been armed with a GED and a dream, Andre walked out of prison in 1999, after serving fourteen years.
Watch Andre's session with Guardians above.
Learn more about Andre:
https://andrenorman.com/
Live to Learn, Give to Earn
Guardian Academy