Welcome to Issue 4 of The Guardian. I'll be your host Wolf Pup #4782. I'm a student of The Guardian Academy (TGA) ready to bring you all the latest news from the ecosystem.
There will be 3 sections:
#Wolfish

Live To Learn, Give To Earn

Events
Be sure to subscribe and share with your friends: Wolves, humans, apes, pixelated men and women….everyone is welcome!
Let's dive in.
*Any links that are embedded from Twitter click on the timestamp to be brought to the tweet.
---
#WOLFISH
TGA Theme Of The Week
Find your own path, you are free to explore TGA at your own pace which is what the syllabus was created for.
Syllabus Gets A Makeover
Speaking of syllabus... The guys from Inside the Den just made it so much easier to find and consume TGA content besides using The Success Finder.
The Guardian Hall Of Fame
Forever apart of TGA.
---
Live To Learn, Give To Earn
Base Case And Build- Guardian Spotlight
Check out how a Guardian is integrating TGA principles and helping to build stronger children for the future.
Can You Engineer Your Own Luck? Capstone Project By Malek
The Investor Frame
Brain Sludge And Self Respect
Macro Belief
Remember wisdom comes from multiple perspectives share your 6WU to help yourself with the reflection of your learning.
Events
Wolf Pup 0 Does A Thing
You probably won't want to miss out on this one.
A submission from Doc the Wolf- Doctor Lupin von Strife. You can check out his story from the link below.
Dr. Jeff QnA
Wolf Pack Leaders, Alpha Wolves, and Guardians got to bring their questions to Dr. Jeff. You'll want to definitely check out this 6WU thread to see what others were able to take away from the convo.
If you want to learn more about Dr. Jeff you can do so below:
https://guardianacademy.io/human-versus-champion-mind-dr-jeff-spencer/
6WU- Variable Reward
Live to Learn, Give to Earn. Those that participate in their own reflections will win in many ways.
Congrats to all that participated but TGA's wheel of randomness landed on Monica Shell!
Inside The Den- Assemble Your Pack
Check out this space by the guys from Inside the Den. If you want an want an easy way to keep up with Wolf Den news give them a subscribe!
Andre Norman Video And Audio Clips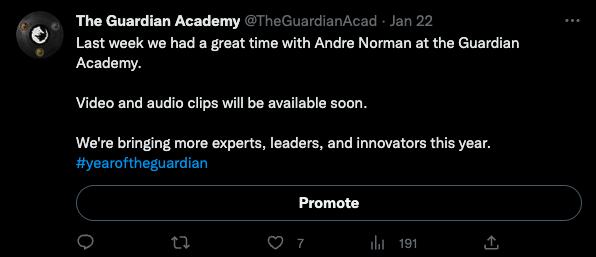 Coming soon, this was a fire live call to be apart of, those that were there it'll probably benefit you to go back in and listen to open some more loops as well.
Next Wolf Den Event
Who's gonna be there?
Max Supply Bronze Guardian NFTs
When they run out they run out.
---
Remember…
You are your own guide. You are your own guard.
Live to learn. Give to earn. If you enjoyed reading and getting these updates be sure to subscribe.
Until next time! Stay #WOLFISH TGA