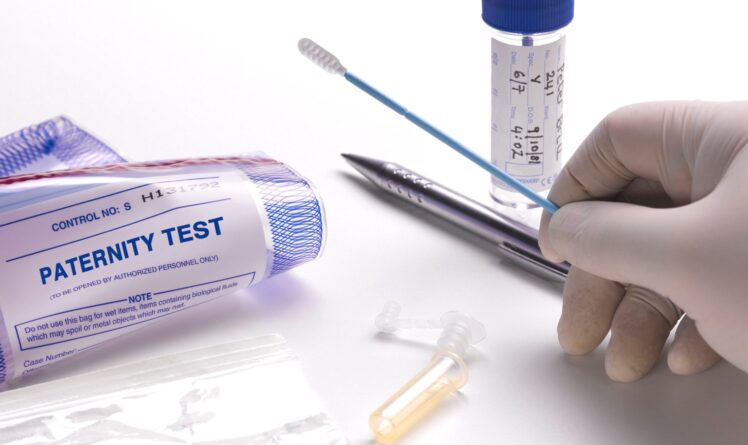 Letter From The Editor
Dear crossed i's and dotted t's,
Despite the cold weather, there's quite a bit shakin' in crypto land, and February is heating up. For starters ETH may be too ultrasound for its own good as an ethereum brush fire has generated concerns of self-annihilation, President Nayib Bukele minted the El Salvadorian constitution as an ordinal NFT, Gensler is still on the "Just say no to crypto, bro" campaign trail, and metamask has introduced family-plan seed-phrase sharing. Just like Netflix.
When it comes to family responsibility bitcoin maxis won't man up for a paternity test, but there is a guy at your local town hall that thinks "NFT's fix this", and the nation's Brad's and Connor's agree that Solana is the future of blockchain. Not to mention, which is an ironic way to preface something being mentioned, we got a Top 10 Crypto Influencers of 2023 list for you too.
Oh, and Ryan from BanklessHQ got rugged again, there is another episode of UTR available for your listening pleasure, and the February issue of The Rug NFT is forthcoming in the next week or so.
Heres to seven minute abs. Seven.
But First, WTF is The Rug Newsletter?
The Rug is Web3's mostly credible news source. We take money, seriously.
If NFTs are the future of ownership, The Rug is the future of satire.  Think The Onion, but we actually understand (and like) crypto. Our Newsletter publication includes:
The mostly relevant articles

The hardest hitting headlines

Behind-the-scenes podcasts

Newspaper-style NFTs, and...

Much, much less
The Rug's Newsletter is where you can catch them all in one spot, str8 to your inbox.
Do rug a friend.
---
The Rug Articles
El Salvador To Mint Its Constitution as Ordinal NFT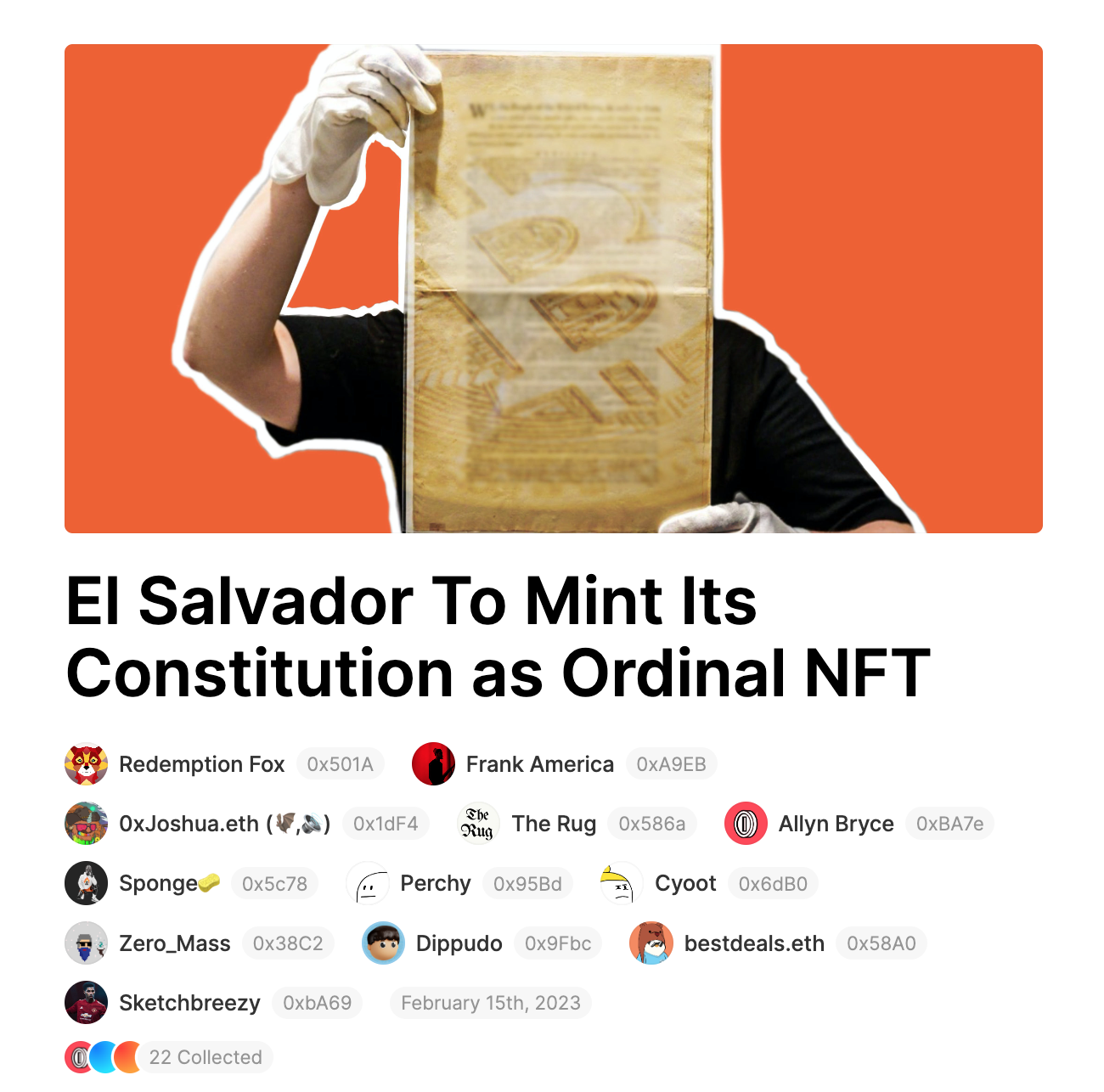 El Salvador has lazer-eyed its constitutional right to ordinal NFTs. In this article by Redemption Fox, we look at the maximalist in-fighting that came of it, and other opinions around the twitter-sphere. Zooming out, it's rather fascinating to think that a constitution could be minted on bitcoin, with a specific block number, and permanent place in the time-chain.
"Bitcoin culture already sucks," Mark Cuban said. "We could honestly use a little more of the El Salvadorans' joie de vivre."
Collect this nationalistic treasure an NFT on optimism.
Gensler Says NFTs are a Gateway Token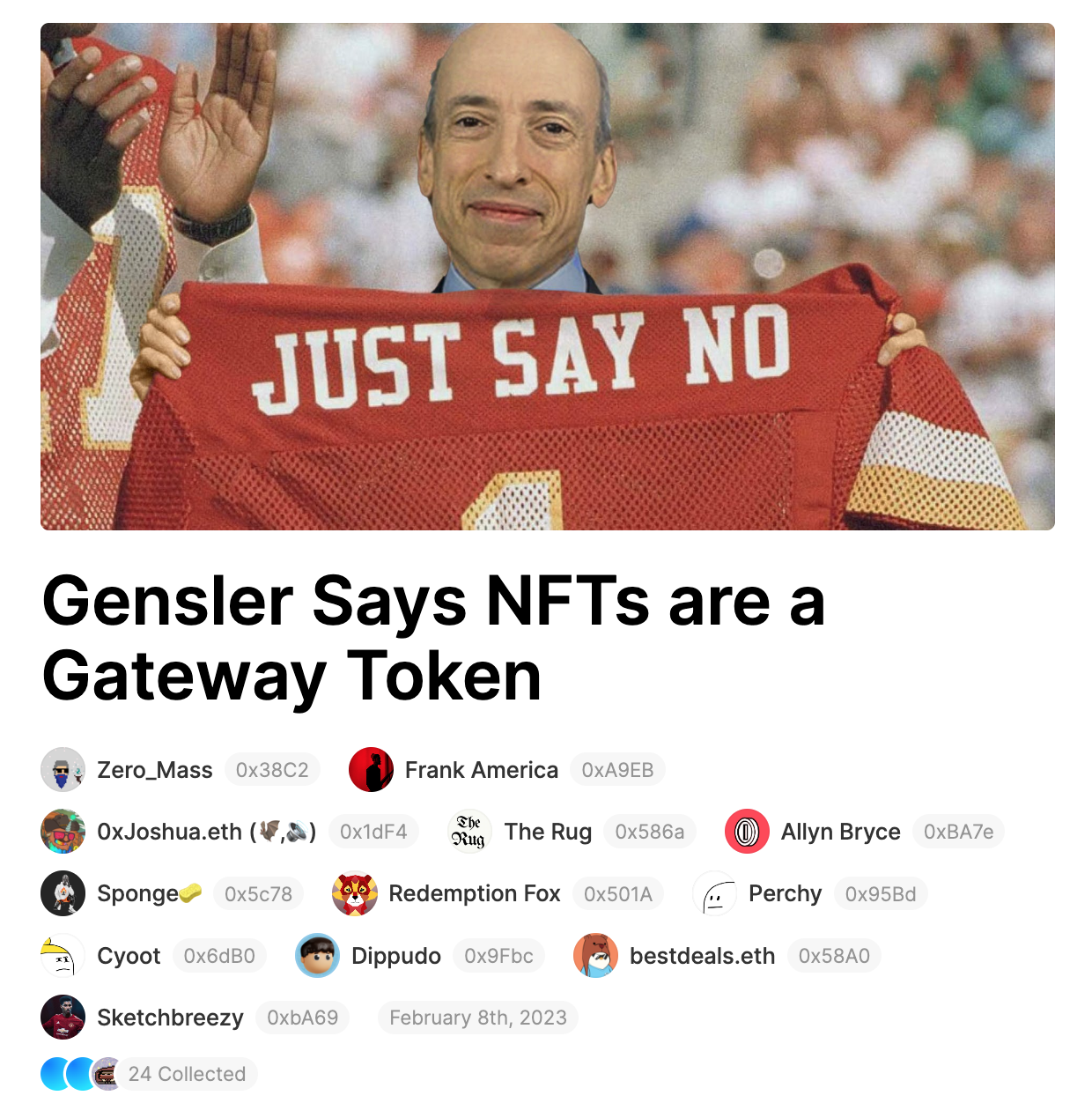 Gensler will not stop on his, "Just say no to NFTs tour." Despite the fact that frequently youthful audiences are having an opposite reaction to his condemning of the non-fungible token, saying things like, "Gensler wouldn't want me to buy this", the tour has continued unabated. In this article by Zero Mass, we look get a front row seat on the campaign tour.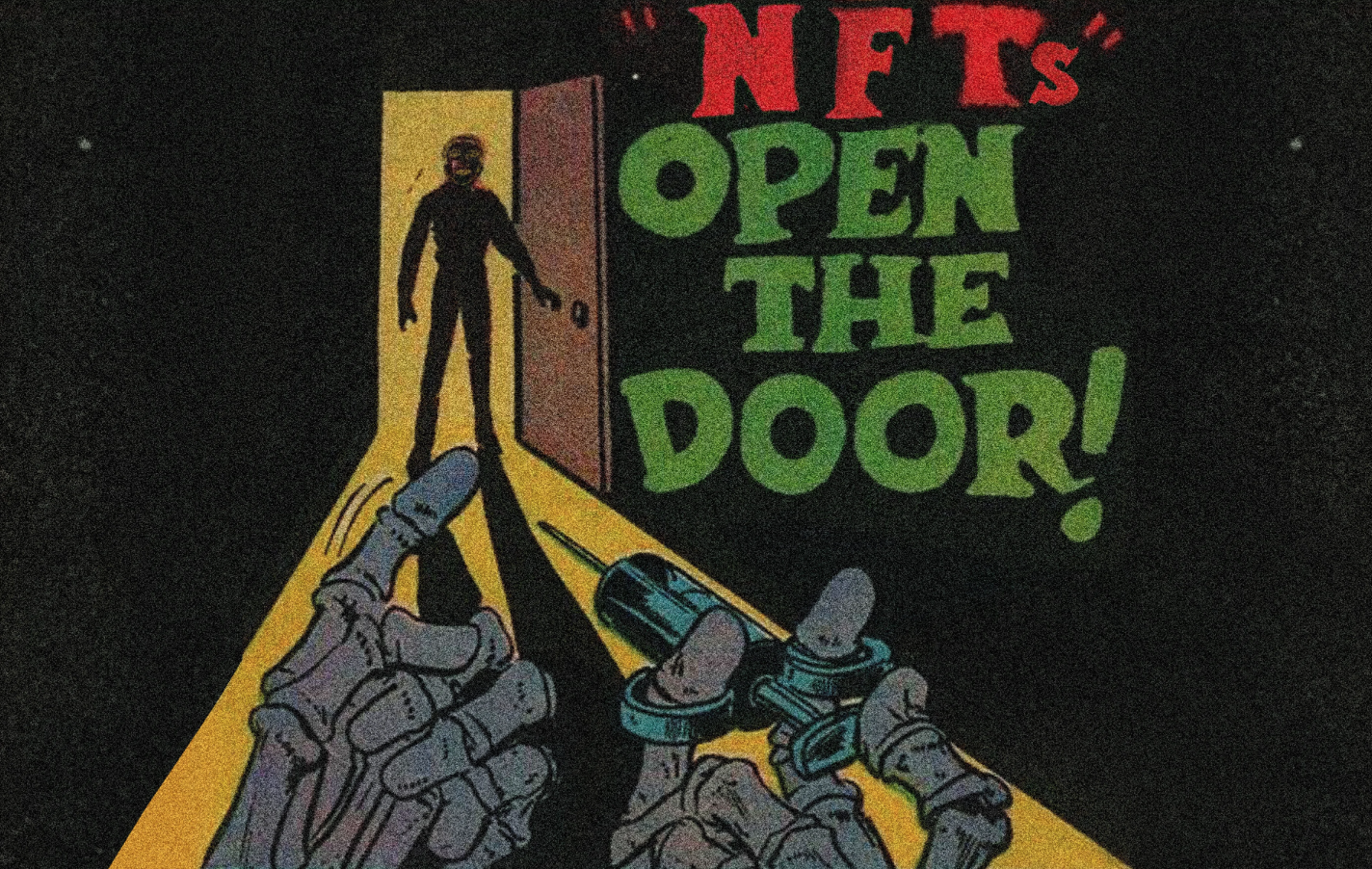 The talk at Washington was one stop on a campaign called "Just Say No to Crypto, Bro", which Gensler designed to warn younger generations about cryptocurrency. The "asset, security, currency, or other", according to Gensler, "is a threat to the youth of this country, who often begin with an NFT or two, then move on to worse things like investing in Cardano."
Collect this Nancy Regan inspired article as an NFT on optimism.
---
The Rug's Crypto Influencers of 2023
1. James M. Rockefeller III
James is clocking in at number one.
2. Ethan Totenky
My main man Ethan got los dos.
3. Jane Cambria
The coding whiz snagged numero three.
4. Raj Yadev
Raj dropped in at four.
5. Here's_Anonny
We don't know who it is, but's it's number five.
6. FL4K
Flak got six.
7. Frank O'Sullivan
Sully got seven.
8. Susan Eddington
Susan is number eight.
9. Craig Wright
Crag's number nine.
10. Hon. Mention: Michael Saylor, Vitalik Buterin, Larry David, and BitBoy
Saylor, Buterin, David, and Bitboy, better luck next year.
---
The Rug Headlines
FAMILY — Bitcoin Maxis Refuse Responsibility for NFTs, Avoid Paternity Test
Bitcoin maxis need to dad up, and accept that they created this. There is no intelligent reason to complain that transaction fees and interest spiking in the bitcoin blockchain is somehow "not good for the currency".
BREAKING — UFO Shot Down in Metaverse
High-altitude hot air balloons in the metaverse are shaking people out of their VR goggles. Is it a bird, is it a plane, is it a hoax? Shoot first and ask questions later seems to be the military policy in the sandbox.
TECHNOLOGY — MetaMask Introduces Family Plan, Up to Eight Users Sharing Same Seedphrase
This is such an innovative feature, you can now share an account with your brother, your sister, their family and friends! Just like Netflix.
BREAKING — ETH Burn is in Danger of Eliminating all Ethereum in Existence
Who would have thought that the whole house could burn itself down, ether and all. It's just that darn ultra sound. [Bat emoji]
MARKETS — Crypto Degen One NFT From Breaking Even
This degen is so friggin close he can taste it.
LOCAL — "Just Make it an NFT" Guy Pushes Sacramento Town Hall Attendees to Breaking Point
This guy has the best opinion about every problem at the town hall meeting in Sacramento.
COMRADERY — Nation's Brads, Connors Agree Solana is the Future of Blockchain
Brad and Connors, agree at last.
---
The Rug NFT January 2023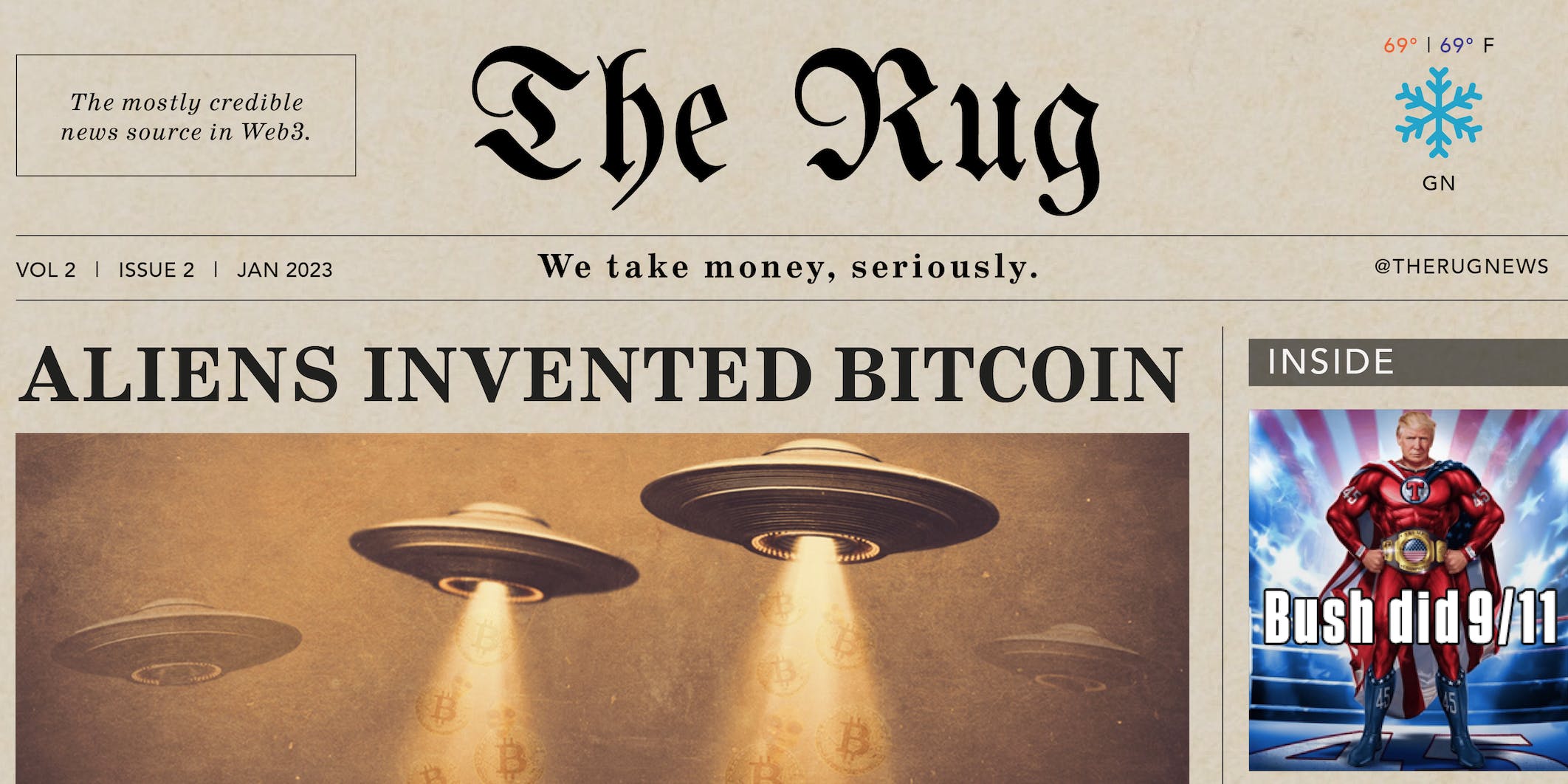 Thank you to everyone who minted the January 2023 NFT. If you would still like to collect one they are available on the secondary market via OpenSea for .069 ETH.
---
Under The Rug Podcast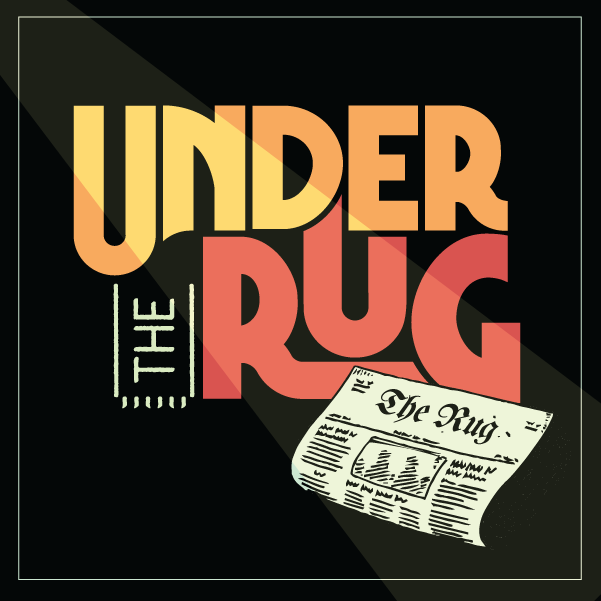 ---
Under The Rug is a crypto-comedy podcast based on the hardest hitting headlines in Web3. In each episode a rotating cast of the comedians at The Rug get together to chop peanuts, craft jokes, and discuss things semi-crypto comedy related.
Our ninth episode, "What's Kraken?", is now available. In this ninth episode of Under The Rug subjects mentioned included Kraken, Definitive Doom NFT, Snoop Dogg, Larry David legal troubles, Elizabeth Warren's wallet, that Shaq movie, meat suits, Twitter DMs, the Winklevoss band, and much much less…
---
Calls to Action
Collect The Rug that rugged RSA, again

Send a link to crypto friend to subscribe

Join our discord and come hang out in the lounge
---
Bonus Content:
Listen to Ryan getting rugged, again, on BanklessHQ's Weekly Rollup:
---
Sponsor: Hit us up on Twitter.
Value for Value: If you don't not like any of our NFTs, articles, headlines, podcasts, or newsletters and want to support shoot some ether to TheRug.eth.
---
The Rug is a media property spun up out of BanklessDAO.
Collect this post to permanently own it.
Subscribe to The Rug and never miss a post.