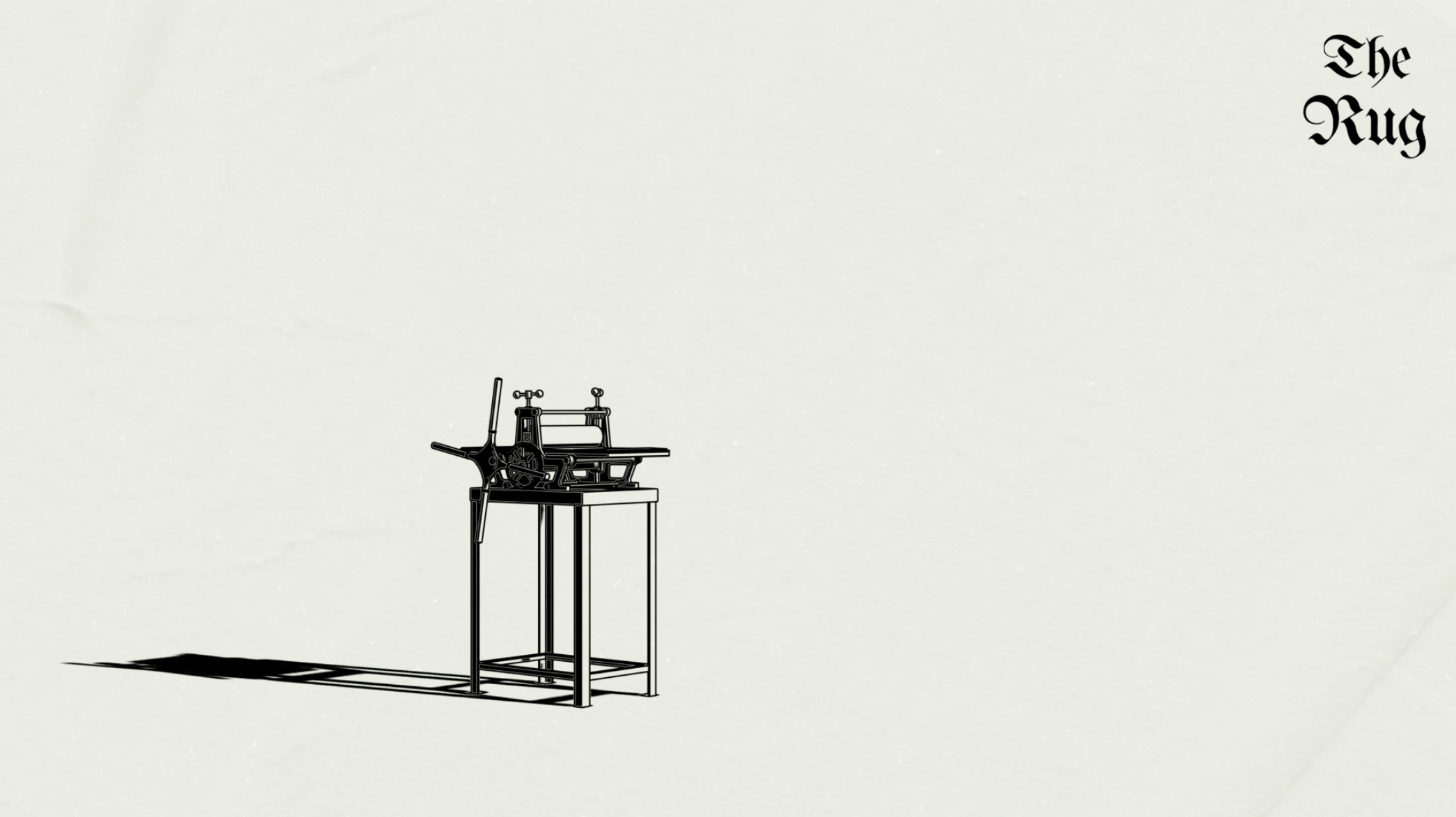 Letter From The Editor
Dear eye squares,
Well January 1st hit and we can't wait for 2024. But a few weeks later and we may be in for a bit of a surprise despite the first-cycler who knew bitcoin was a scam all along. Speaking of surprises, turns out PoW miners were discovered in the Rockies hungry and looking for WiFi, a GOP Congressman nominated Satoshi Nakamoto as Speaker of the House, and we have a Top 10 New Years resolutions list for your perusal.
In other news, 78% of Americans think The Fed is a buffet chain, Shaq finally started advertising with crypto, Genesis changed their name to Termination, and Logan Paul is still not worth mentioning.
The Rug is kicking off the new year in full form. 295 people have subscribed to our Mirror page. We've reached 188 collected NFTs on Optimism, Twitter is nearing 4K subs, and we shipped Episode 8 of Under The Rug, which we're 72% sure wasn't created by ChatGPT.
Not to mention The Rug Vol. II Issue #2 - our newspaper-style NFT - is fully pressed and ready for release this week.
Saddle up.
But First, WTF is The Rug Newsletter?
The Rug is Web3's mostly credible news source. We take money, seriously.
The Rug is web3's mostly-trusted news source. If NFTs are the future of ownership, we're the future of satire.  Think The Onion, but we actually understand (and like) crypto. Our Newsletter publication includes:
The mostly relevant articles

The hardest hitting headlines

Behind-the-scenes podcasts

Newspaper-style NFTs, and...

Much, much less
The Rug's Newsletter is where you can catch them all in one spot, str8 to your inbox.
Do rug a friend.
---
The Rug Mirror Articles
GOP Congressman Votes For Satoshi as Next Speaker Of The House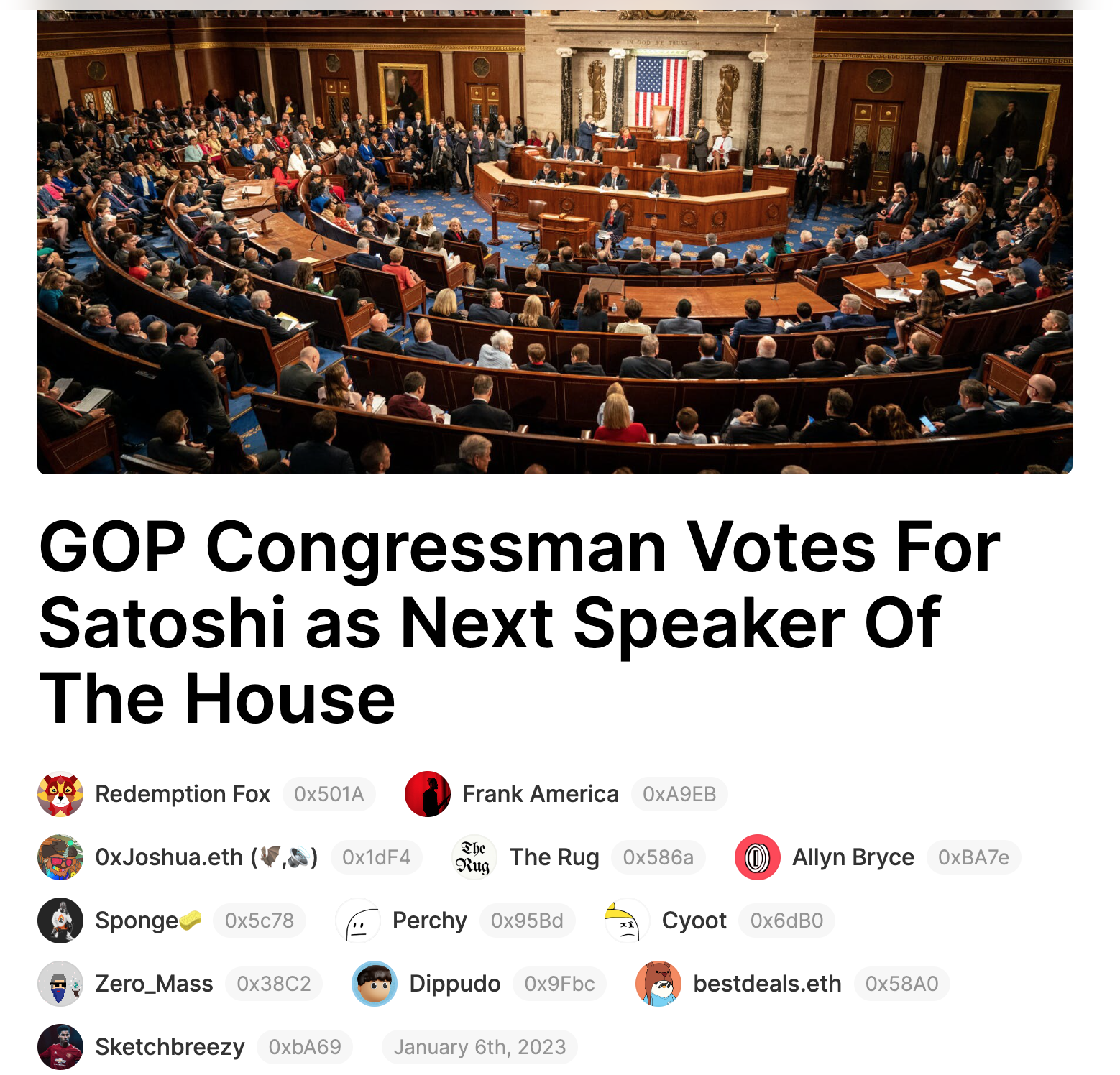 May I present the Speaker of the House, Satoshi Nakamoto. In this article by Redemption Fox, it turns out not everyone on both sides of the aisle is short-sighted, chasing short term approval rates and reelection cycles.
Democratic Congressmen collectively rolled their eyes at the vote before turning to each other and asking "Who is that?" and "Is that a QAnon thing?".
Collect this evolutionary appointment as an NFT on optimism.
BREAKING — 2023: The Year It Will Stay Mostly Where It Is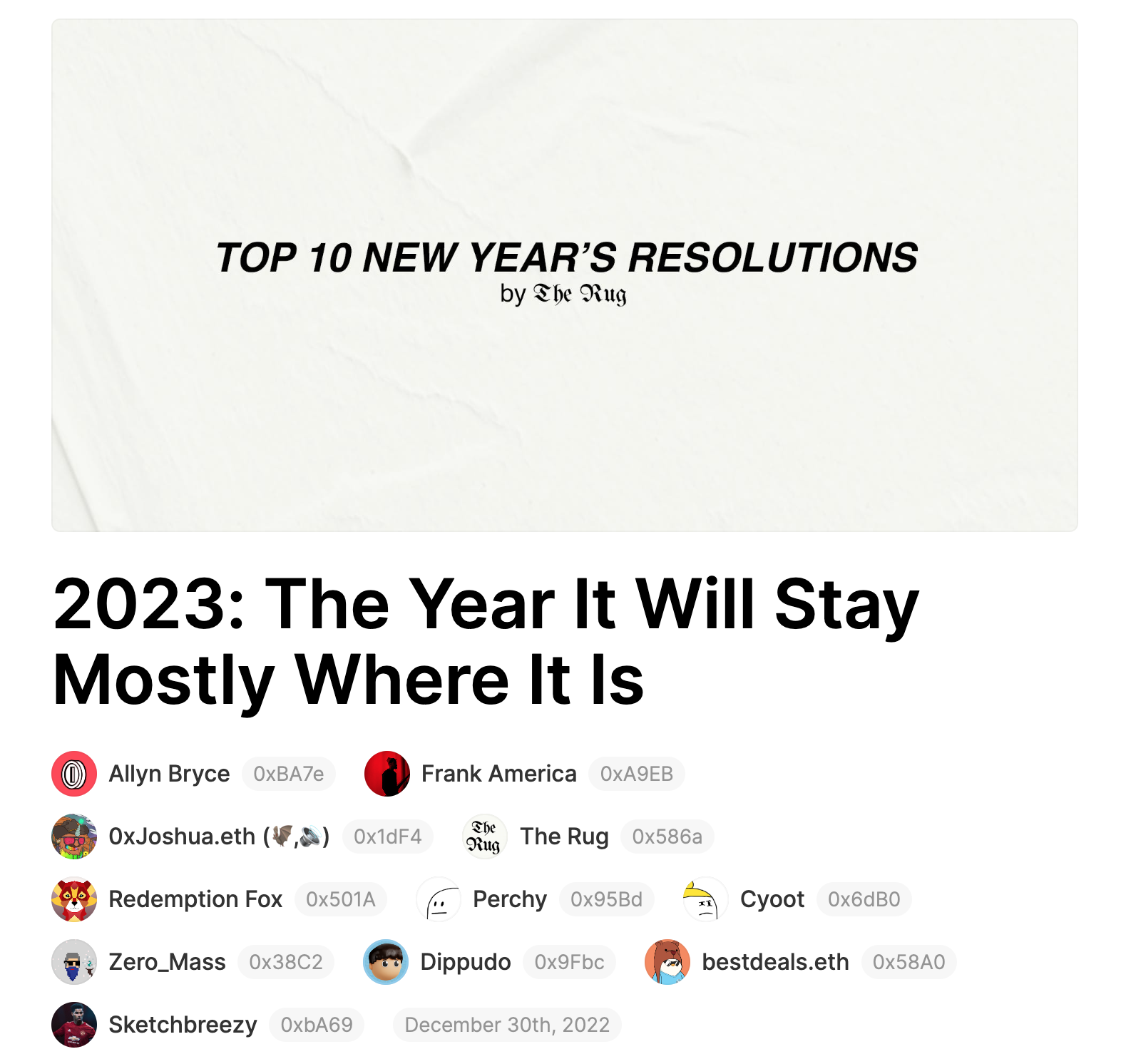 What better way to usher in a possible paint-dry year than a Top 10 list of innocuous resolutions? In this article by Liquidiot, we get a sense of just how far we haven't come.
8. Find out what "DAO" really stands for 7. DM Ethan Totenky
Collect this inspiring ho-hum top ten list as an NFT on optimism.
BREAKING — PoW Miners Discovered in Lost Mine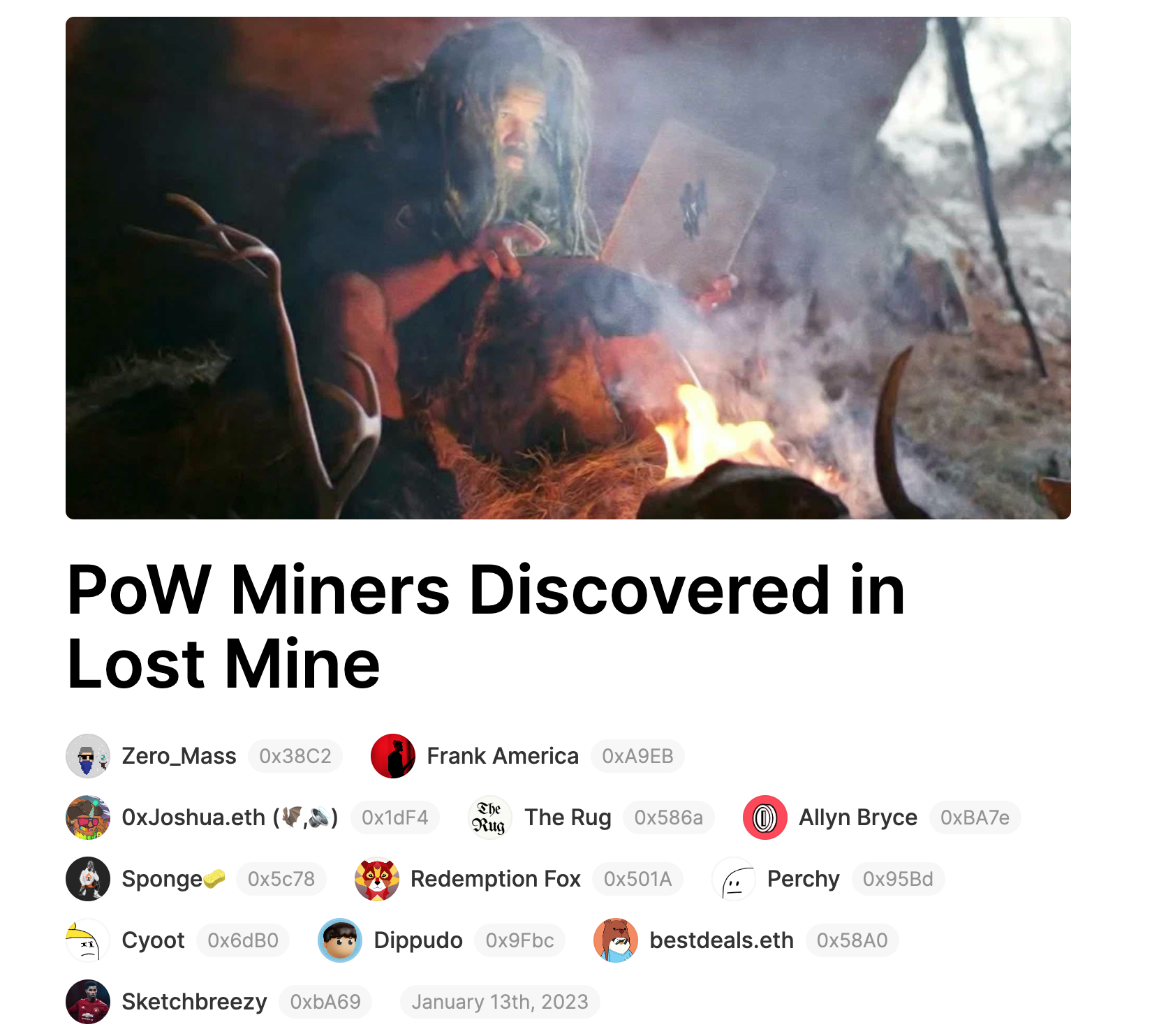 Deep in the mountains of Colorado there is a tribe of miners that has not given up on the PoW blockchain for Ethereum. In this article by Zero Mass, we discover anybody still tethered to the PoW blockchain must be living underground.
They were carrying around laptops and what looked to be large CPUs, first asking their rescuers about WiFi access instead of water or food.
Collect this lost tribe as an NFT on optimism.
---
The Rug Twitter Headlines
MARKETS — Crypto Investors Looking Forward to Profitable 2024
This year crypto investor's are super enthusiastic about 2024.
FEATURE — First-Cycler Knew Bitcoin Was a Scam All Along
Wise and sagely first-cycler smirks to himself having known bitcoin was a scam all along. Run along tourist. We'll keep the brochures handy for you on the next bull run.
POLL — 78% of Americans Think "The Fed" is a Buffet Chain
It's neither "federal" nor does it have any "reserves", but oh-my endless potato salad.
NFT — Logan Paul Upgrades to Adobe Stock Premium for New Project
Anything this dude does is cringe. That's a constant. Remember ethereum max?
ADVERTISING — Shaq Somehow Avoided Promoting Crypto Until Today
Give it up to Shaquille O'Neil, possibly the most heavily endorsed athlete of all time, - just google Shaq Ads - for staying out of crypto this long. The doge-brain has taken over the big man's skull, he's all in.
BUSINESS — Genesis Changes Name to "Termination"
After a feat of poor branding the almost insolvent Genesis laid off 30% of its staff and is probably going Chapter 11. That's not a novel, those are I-Don't-Owe-Yous.
TECH — Social Security Administration's NFT Project Not Going Well
Apparently the digital collectible market across generations is slightly cooler than expected.
MILITARY — NORAD Volunteers Confirm Russian SAMs Shot at Santa Claus Purportedly in Retaliation for $45M Ukraine Aid Package
Santa Clause almost got caught in the cross-hairs of geopolitical warfare.
---
Under The Rug Podcast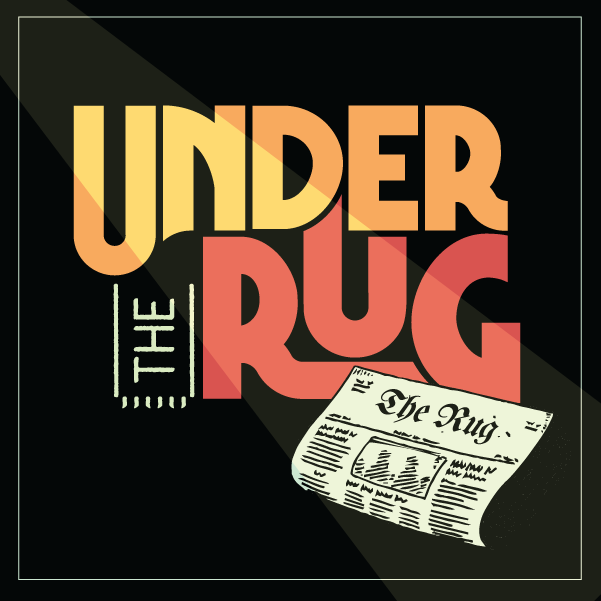 ---
Under The Rug is a crypto-comedy podcast based on the hardest hitting headlines in Web3. In each episode a rotating cast of the comedians at The Rug get together to chop peanuts, craft jokes, and discuss things semi-crypto comedy related.
Our eigth episode, "Watermarked", is now available. This eighth episode included Donald Trump NFT watermarks, H2O, high school football, Rugstradamus, parents not understanding, SBF's get out of jail free card, failed holiday crypto jokes, and much much less…
---
COMING SOON — The Rug Vol II. Issue 2 NFT
After 189 wallet addresses collected this NFT The Rug Vol. II Issue 1 we set our sights on the next edition. It will be available on mirror next week for a limited time only at .02 ETH. If you participated in the free mint you will get a notification in your email in January of 2023.
---
Calls to Action
---
Bonus Content:
In case you missed it, listen to Frank America's appearance on the Quorum podcast. He goes through the process of creating a decentralized writers room and gives some background and context for comedy in crypto.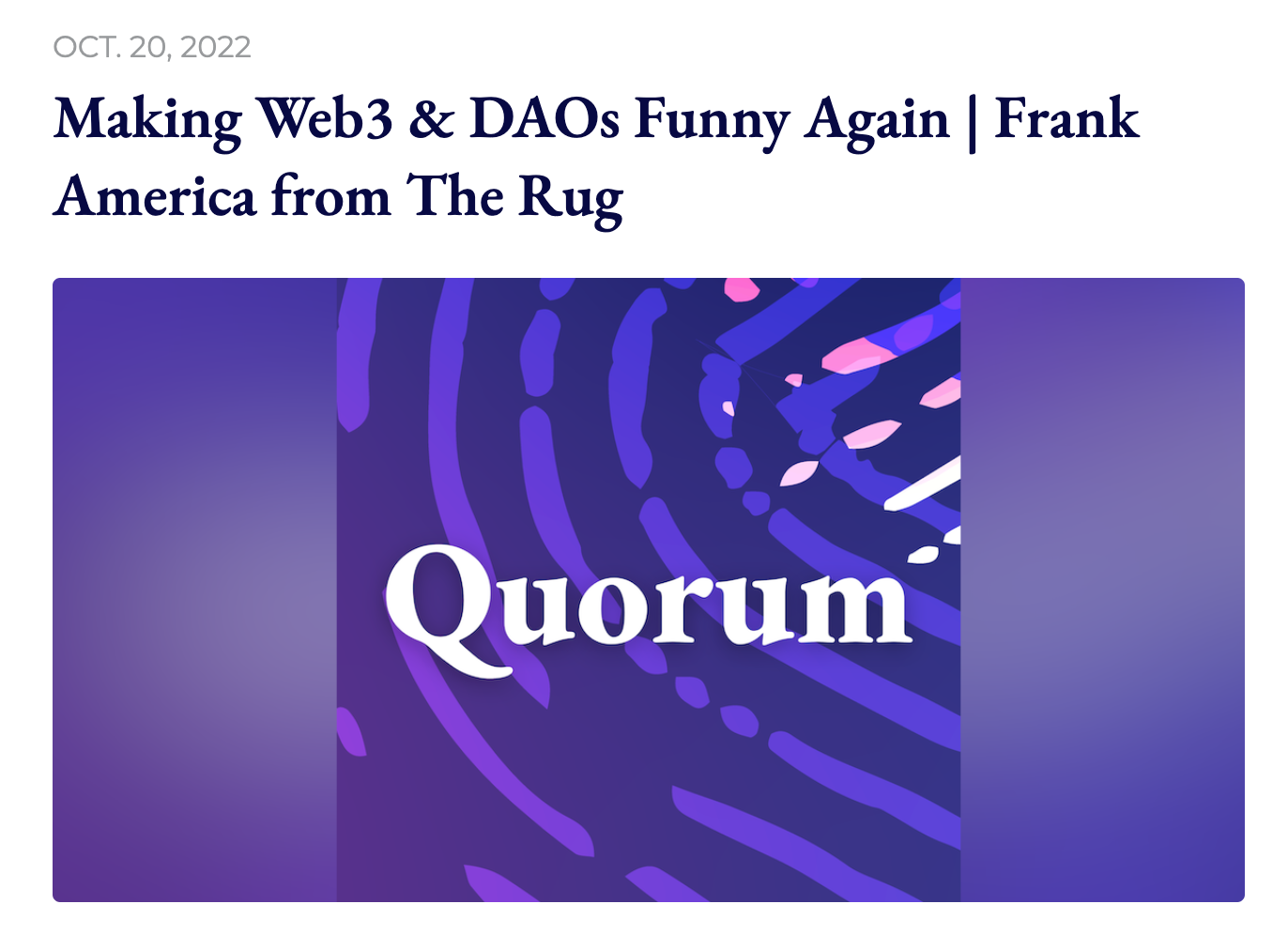 ---
Sponsor: Hit us up on Twitter.
Value for Value: If you enjoy our NFTs, articles, headlines, podcasts, or newsletters share what that is worth to you in ETH to TheRugNews.eth
---
The Rug is a media property spun up out of BanklessDAO.
Collect this post to permanently own it.
Subscribe to The Rug and never miss a post.