Letter From The Editor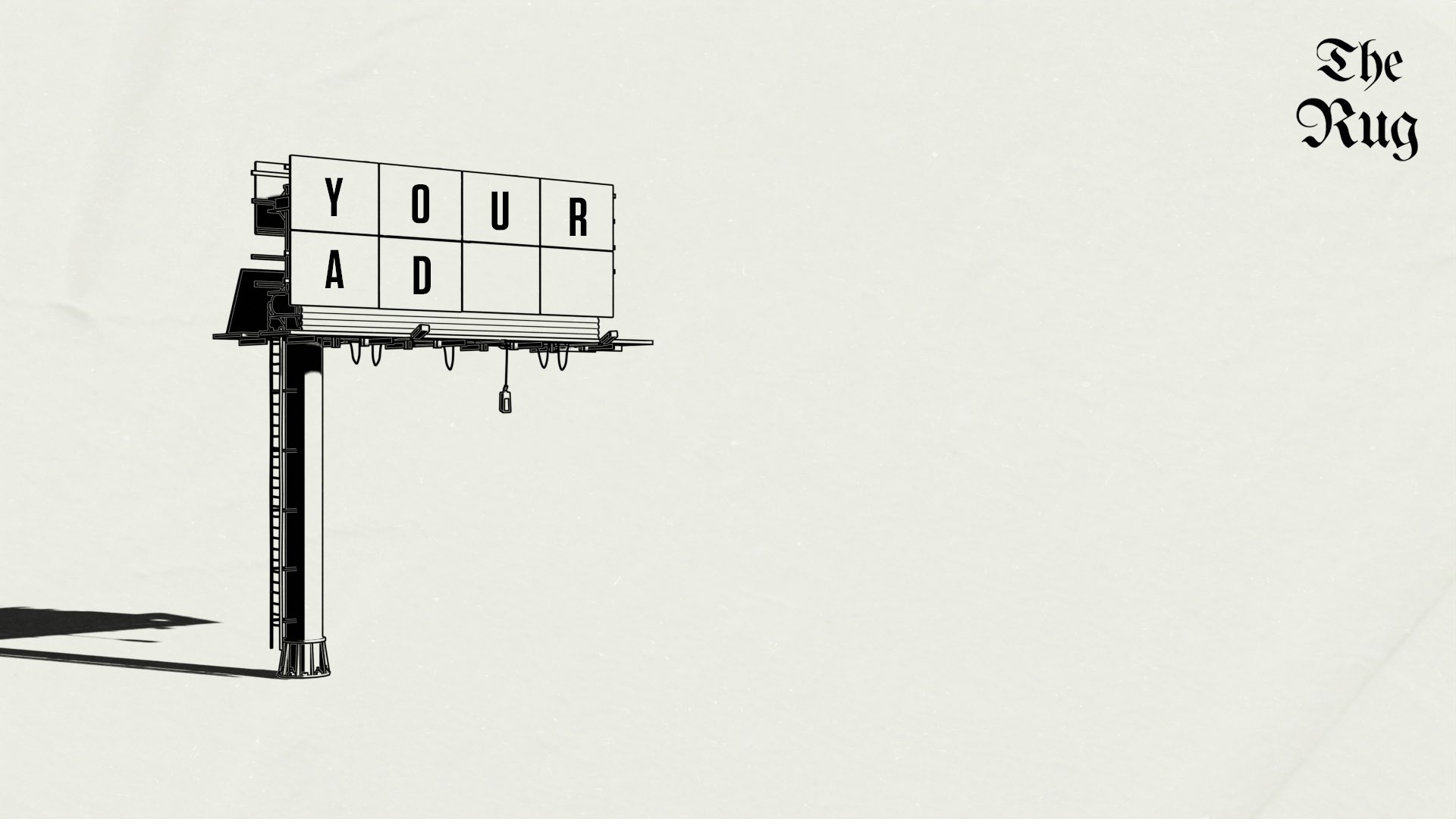 Dear spherical-viewing apparatuses,
In the last few weeks we've seen some wild turns in crypto: SBF played a "Get out of Jail Free" card, flummoxing authorities, Bitcoin Maximalists formed a 501(c)3 tax-haven, DogeCoin slid into second place as the next biggest PoW blockchain, and fiat billionaires finally exposed crypto! At least it can't get any worse than this.
Plus 10 things you could have said at Thanksgiving to gaslight your family into forgetting you told them to buy ethereum at all-time highs.
The Rug is in tip-top shape, vacuumed, dusted, polished and ready for an elegant living room floor. Perhaps the floor is in, meanwhile we airdropped Lil Ruggy to all The Rug Vol. I collectors, knocked out a couple articles on Mirror, and shipped Vol II Issue 1 of our throwback newspaper-style NFT. You can mint it for free on mirror for a limited time.
These ain't no slashes folks. Buckle up.
---
But First, WTF is The Rug Newsletter?
The Rug is Web3's mostly credible news source. We take money, seriously.
The Rug is web3's mostly-trusted news source. If NFTs are the future of ownership, we're the future of satire.  Think The Onion, but we actually understand (and like) crypto. Our Newsletter publication includes:
The mostly relevant articles

The hardest hitting headlines

Behind-the-scenes podcasts

Throwback newspaper-style NFTs, and...

Much, much less
All of the above we produce on a regular basis. The Rug's Newsletter is where you can catch them all in one spot, str8 to your inbox.
Do rug a friend.
---
Articles
BREAKING — Dogecoin Slides Into Second Place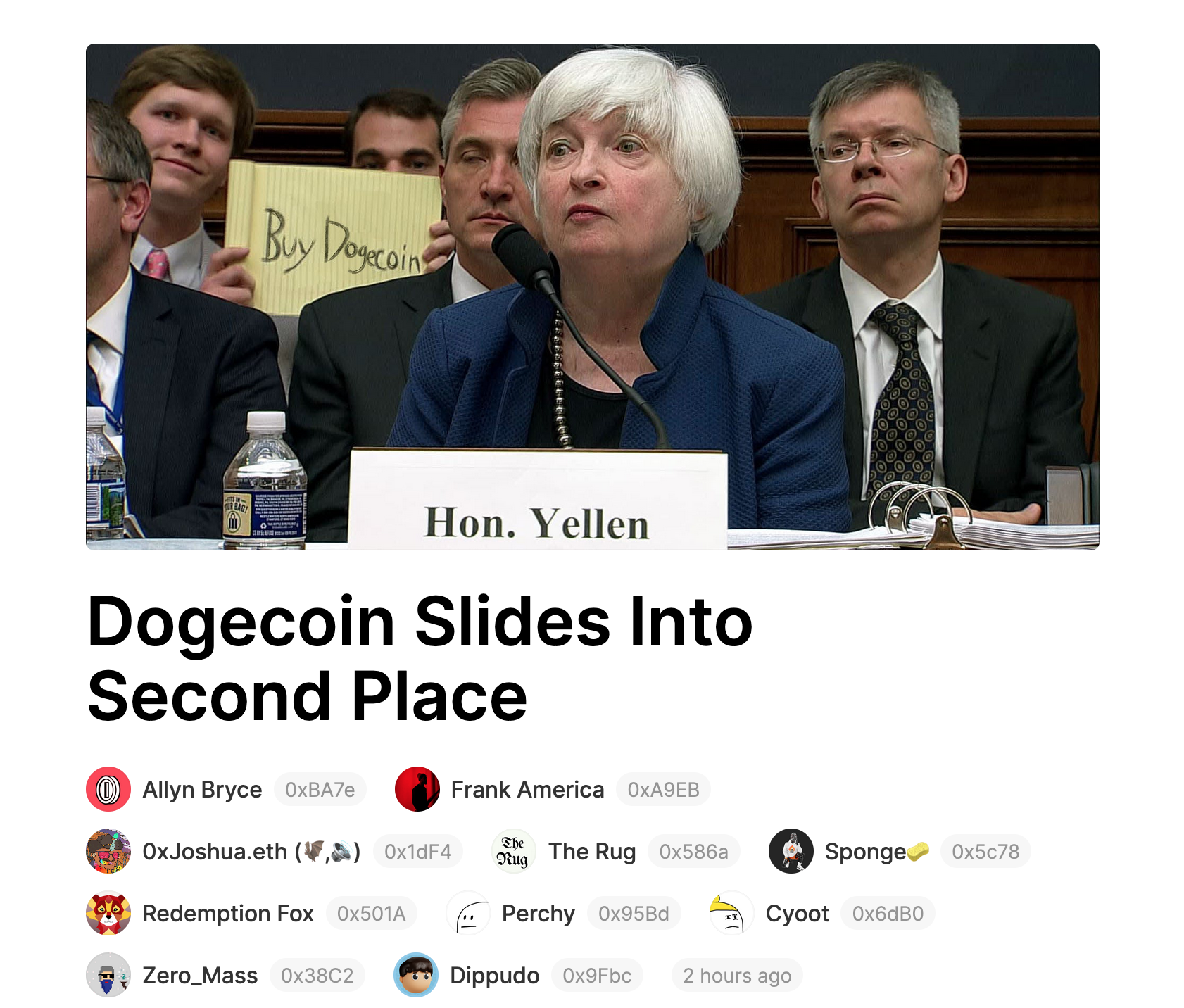 Honestly, nobody really can believe this. Elon purchased twitter effectively buying the microphone of the commons, and his spirit animal, Doge, slide into 2nd place on the charts.
In this article by Liquidiot we try to understand the mentality of the doge-brain.
Backward cap crypto bros and meme slingers alike rejoice as Dogecoin secures its place as the right hand of the PoW throne.
Read the full article here, and collect it on Optimism.
TURKEY DAY — Top 10 Ways To Gaslight Your Family Into Forgetting What You Said About Crypto Last Thanksgiving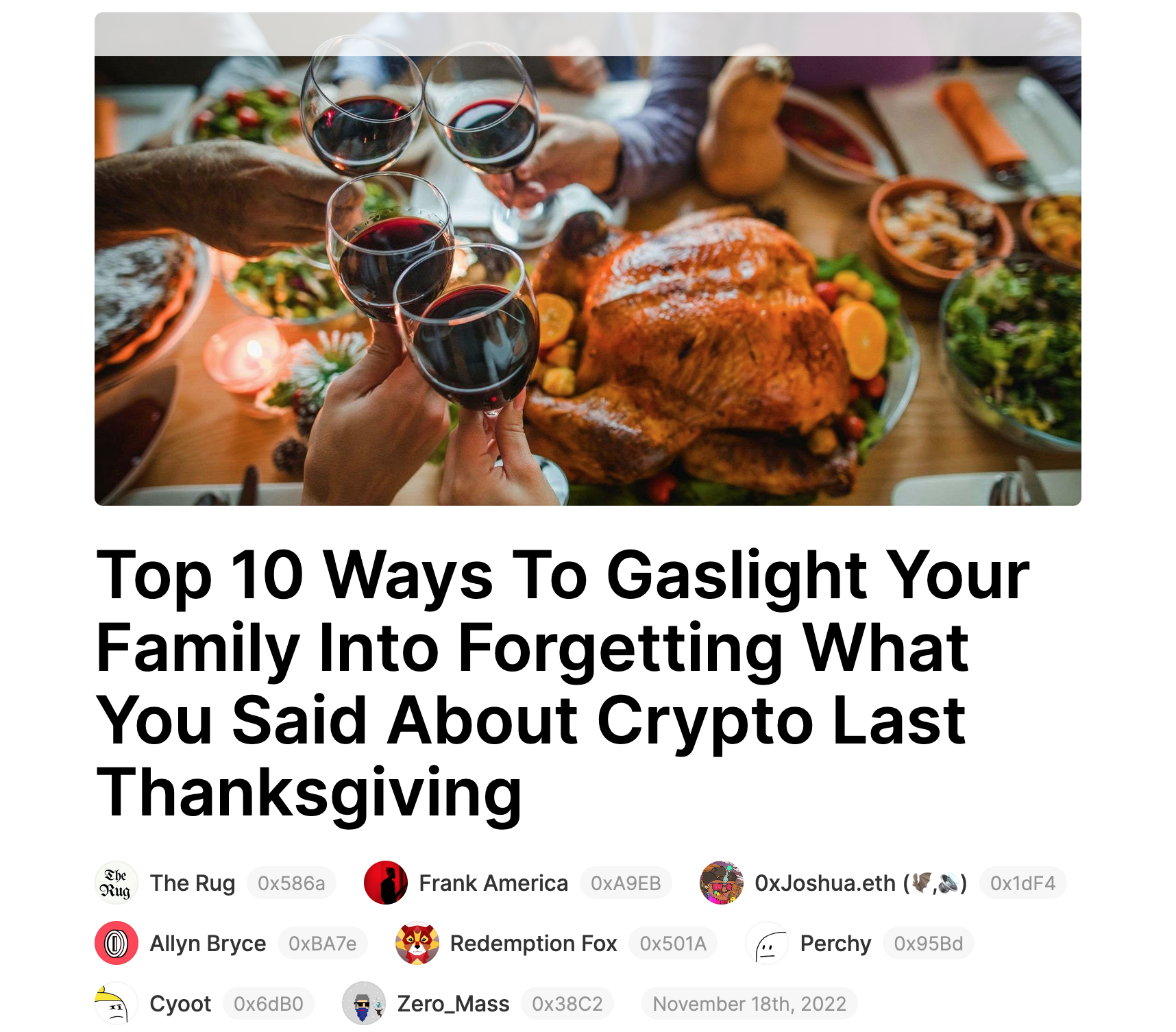 Apart from blaming it all on your evil twin - which Gemini could do if they were insolvent - you may need some practical advice for how to handle yourself around the dinner table during the holidays.
The Rug got together to hatch 10 tips for gaslighting your fam, fam.
5. Be socially conscious, "I read online that this will be the last year for real turkey."
Read the full article here, and collect it on Optimism.
BREAKING — Fiat Billionaire Finally Exposes Crypto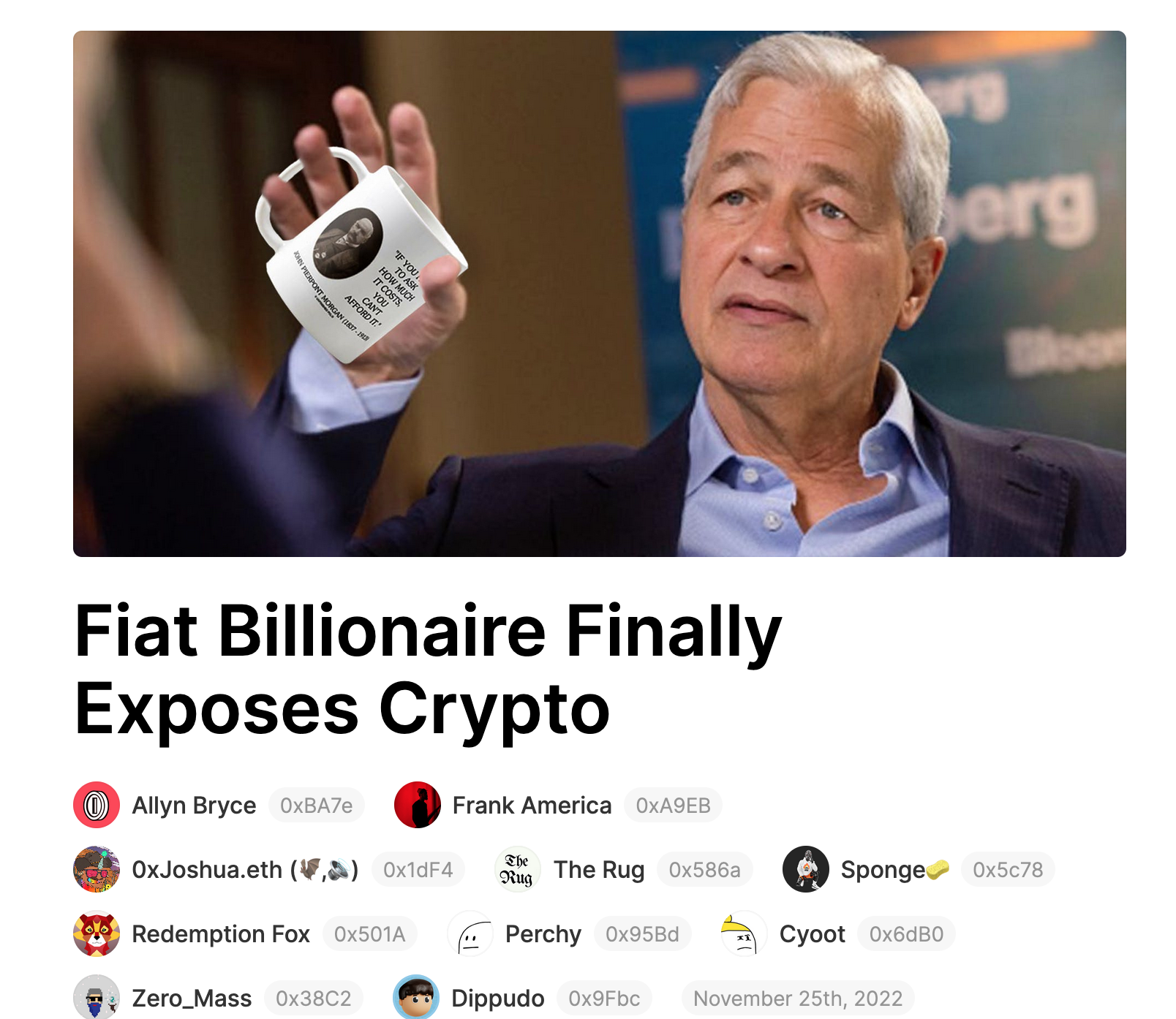 It's about time we all go crawling back to the central banks and the likes of Jamie Dimon will accept us with open arms. It's like the prodigal son, in reverse.
In this article by Liquidiot we look at the primary question in all transactions, "What's in it for me?"
As a gesture of good faith, Dimon offered those leaving crypto fancy Chase coffee mugs and a low introductory rate credit card, starting at 5%.
Read the full article here, and collect it Optimism.
---
Headlines
BREAKING — Authorities Flummoxed After SBF Plays "Get Out of Jail Free" Card
We're all jaw-droppingly amazed at SBF's quick-draw of the Get Out of Jail Free Card. Admittedly, quite a key play. After potentially defrauding his customers of $4B worth of deposits, secretly transferred to his alter-ego Alameda Research, he had the audacity to go on Good Morning America and apologize. Apology not accepted Sam. Unfortunately, you have this very nifty looking business card which we can do nothing about.
CULTURE — Wrapped Bitcoin Identifies as Bitcoin
WBTC has always had a thing for BTC. They talk, they hang out, they even look a bit like one another.
FEDERAL — Ross Ulbricht Worries New Cellmate May Tarnish Reputation
Ross is a bit annoyed his new celly may tarnish his reputation, and with good reason. This reminds us of another headline, FreeRossDAO Bakes Cake with Private Keys Inside. #FreeRoss
FAITH — Bitcoin Maximalism Officially Qualifies As An Organized Religion Exempt From Taxes
Well far be it from anyone to tell a devout religious group they can't shelter under a tax haven created by the US Government. Bitcoin Maximalists are apparently, no exception. The prospect of not paying taxes on all the bitcoin they use to exchange value with one another was too good to pass up.
---
Under The Rug Podcast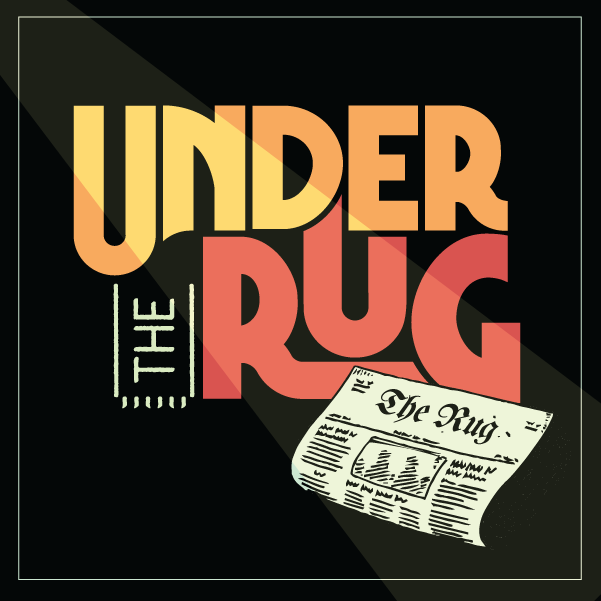 ---
Under The Rug is a crypto-comedy podcast based on the hardest hitting headlines in Web3. In each episode a rotating cast of the comedians at The Rug get together to chop peanuts, craft jokes, and discuss things semi-crypto comedy related. Here's an impersonation of Michael Saylor.
Our seventh episode is forthcoming in our next epistle, until then episode six, entitled, "Redacted" is still available, just like before.
---
OPEN MINT — The Rug Vol II. Issue 1 NFT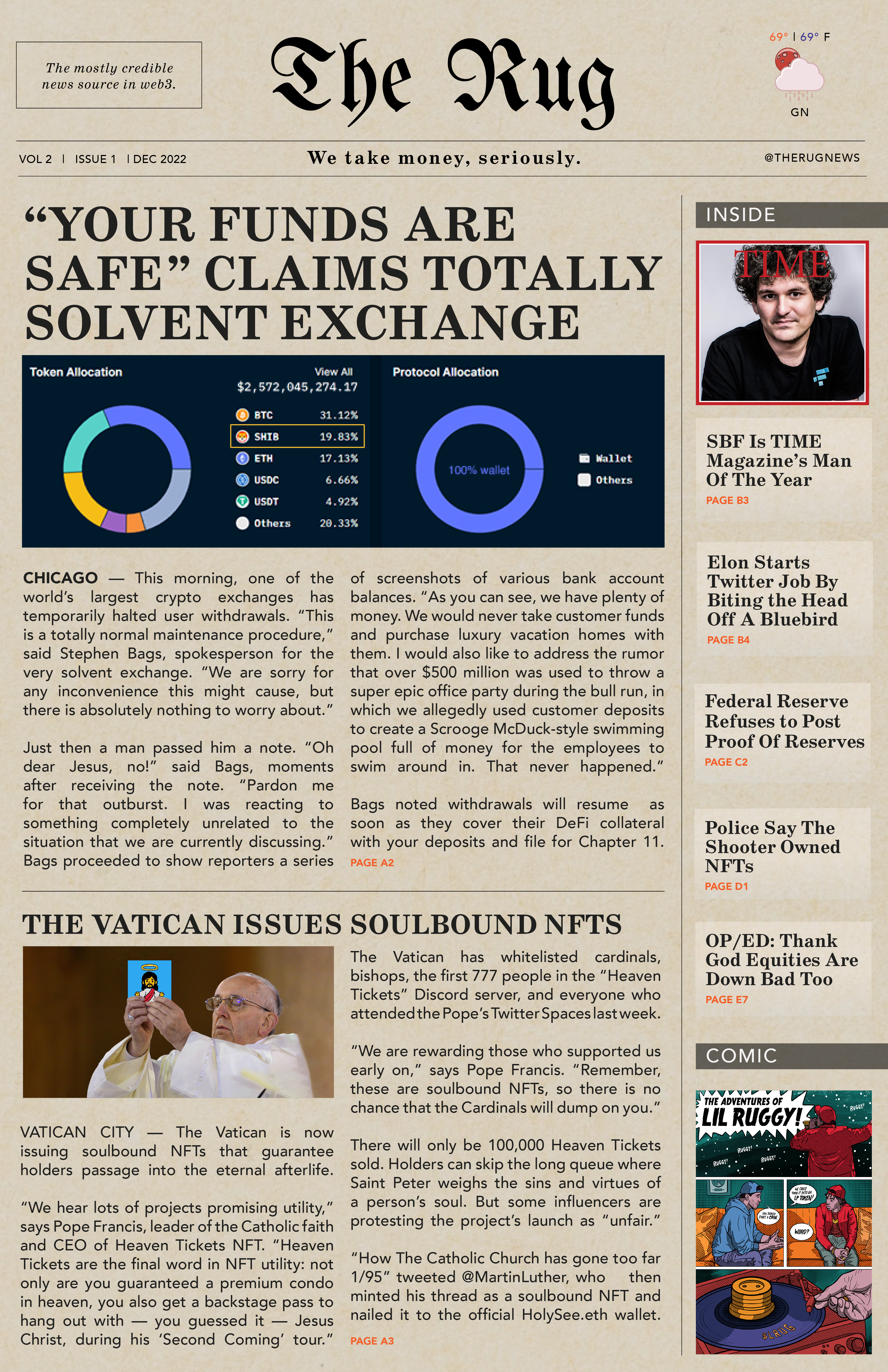 The Open Mint
Thanks to our partners at Mirror, we're proud to offer a limited-time open mint of our December 2022 NFT, minting from now through December 21st. It's pretty cool because we did our original collection on mirror so they offered us beta access to their 1155 mainnet contract which embeds smoothly into the article. The feature is supposed to roll out through front-end UX in the near future.
This is the first issue of Vol. II and is a veritable landmark of sorts, one worth hodling in your wallet. Think of this mint as signing up to support satirical comedy in crypto. We aim to bring you the highest quality content on a regular basis, and have a small cohort of writers "shucking a lot of oysters" to unearth a few pearls for you on twitter every week. The Rug NFT is our flagship product, how we became known in the space, and where we see the artifacts of our efforts preserving the most collectible value.
Vol 1 Background
The Rug's throwback newspaper-style NFT began in Nov of 2021, in the height of the Bull market. We shipped six issues straight back then, then we paused, reoriented our approach and goals, and are now starting up Vol. II. Some of our favorite headlines from Vol 1. include: US Regulators Drop Lawsuit After Celsius Changes Name to Fahrenheit, Senator Warren Opposes Uniswap, Convenes Panel to Determine Why, 64% of Adults Think Web3 is a Spiderman Sequel, and Solana Doubles Down on Decentralization, Buys 2nd Hard Drive. Not to mention our eerily accurate prediction that Bitcoin Found in Shoebox Outperforms 3AC — a month before they went under.
---
Calls to Action
---
Bonus Content:
The Adventures of Lil Ruggy! written by Frank America and illustrated by Cosmic Clancy has been airdropped to all OG Vol. I NFT Collectors, with over 200 deployed across 150 unique wallet addresses. Lil Ruggy explores the life of a rap phenom Lil Ruggy, and his journey through fortune and fame. Learn about the making of the comic, or check out the collection on OpenSea.
Note: All Lil Ruggy holders have been granted discord lounge access.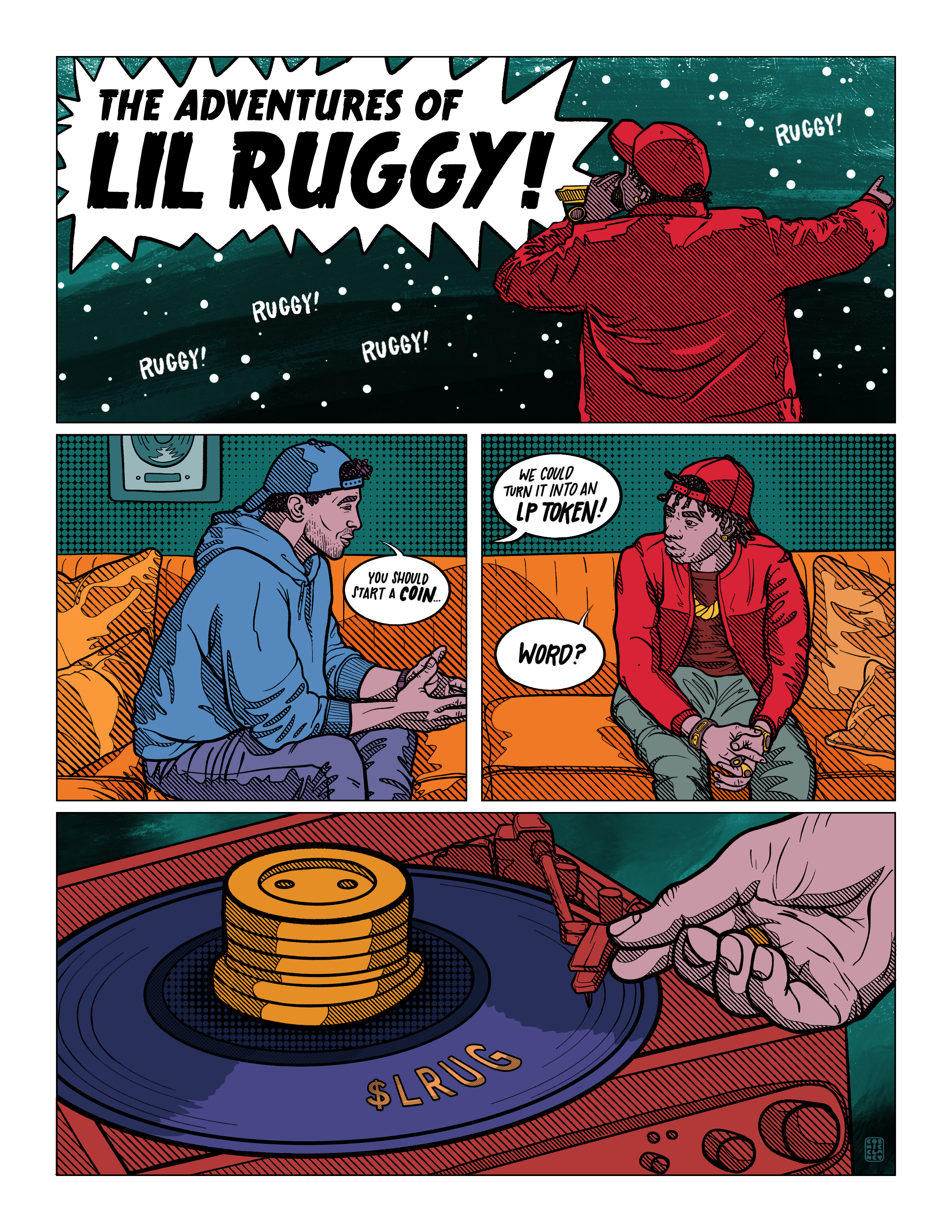 ---
Sponsor: Check out our sponsorship deck, and hit us up on twitter.
Value for Value: If you enjoy our NFTs, articles, headlines, podcasts, or newsletters make one action and send what that is worth in ETH to TheRugNews.eth. We thank you in advance.