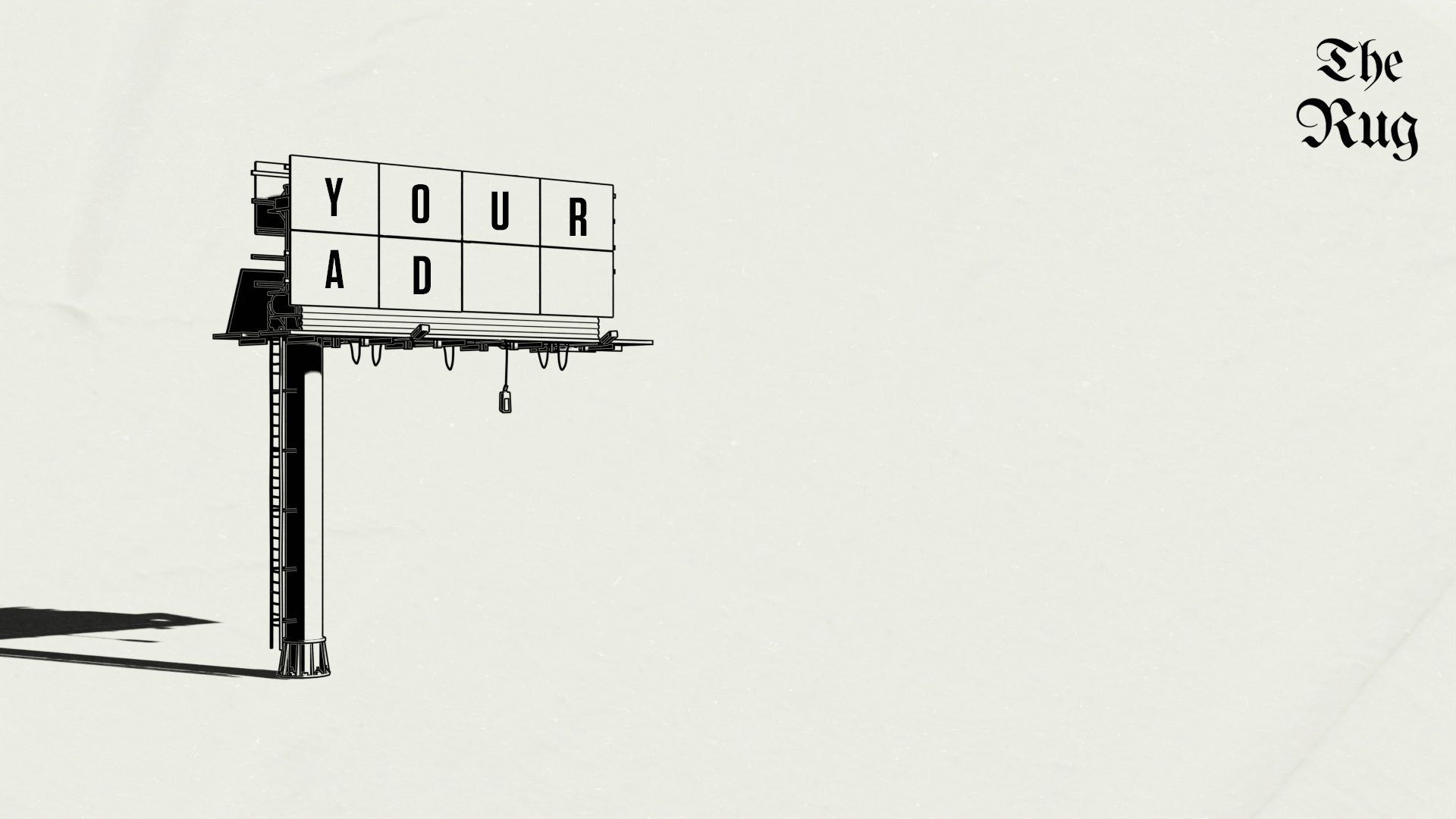 Letter From The Editor
Dear Eyeballs. Comedy is a contact sport. We hope you're wearing them.
When we see a bear we just act like Lionardo Di'Caprio and wear it. Despite the market lull, and the fact that Your Two Bank is Now Worth Less Than Your 2 Cents, there is a lot going on recently, for example, Solana introduced a new feature called Maintenance Mode, the SEC Launched a Yuga Labs Probe After Nancy Pelosi Established a Short Position, and CZ created a new vibe around the term multi-sig.
The Rug recently applied for Season 6 funding from BanklessDAO so do check out our forum post and be ready to tell us we didn't do what we said we would. As mentioned in our last epistle, we've deployed our fifth Under The Rug podcast, with another on the books for next week, and we continue to ship on Mirror every Friday. We've had 63 NFTs collected on optimism. Gettem'.
Also, big plans for the rest of the 2022. We're rebooting our classical OG NFTs. Not familiar? You can read them all for free here. Alright let's do this.
Hut, hut, hike.
---
But First, WTF is The Rug Newsletter?
The Rug is Web3's mostly credible news source. We take money, seriously.
The Rug places a satirical lens on crypto-culture. Think "The Onion" for Web3. Our Newsletter publication includes:
The funniest articles

The best jokes/tweets

Behind the scenes podcasts

Throwback newspaper-style NFTs

Much, much less
All of the above we aim to produce on a regular basis, and The Rug's Newsletter is where you can catch them all in one spot, shipped str8 to your inbox.
Do rug a friend.
---
The Rug Weekly Article Recap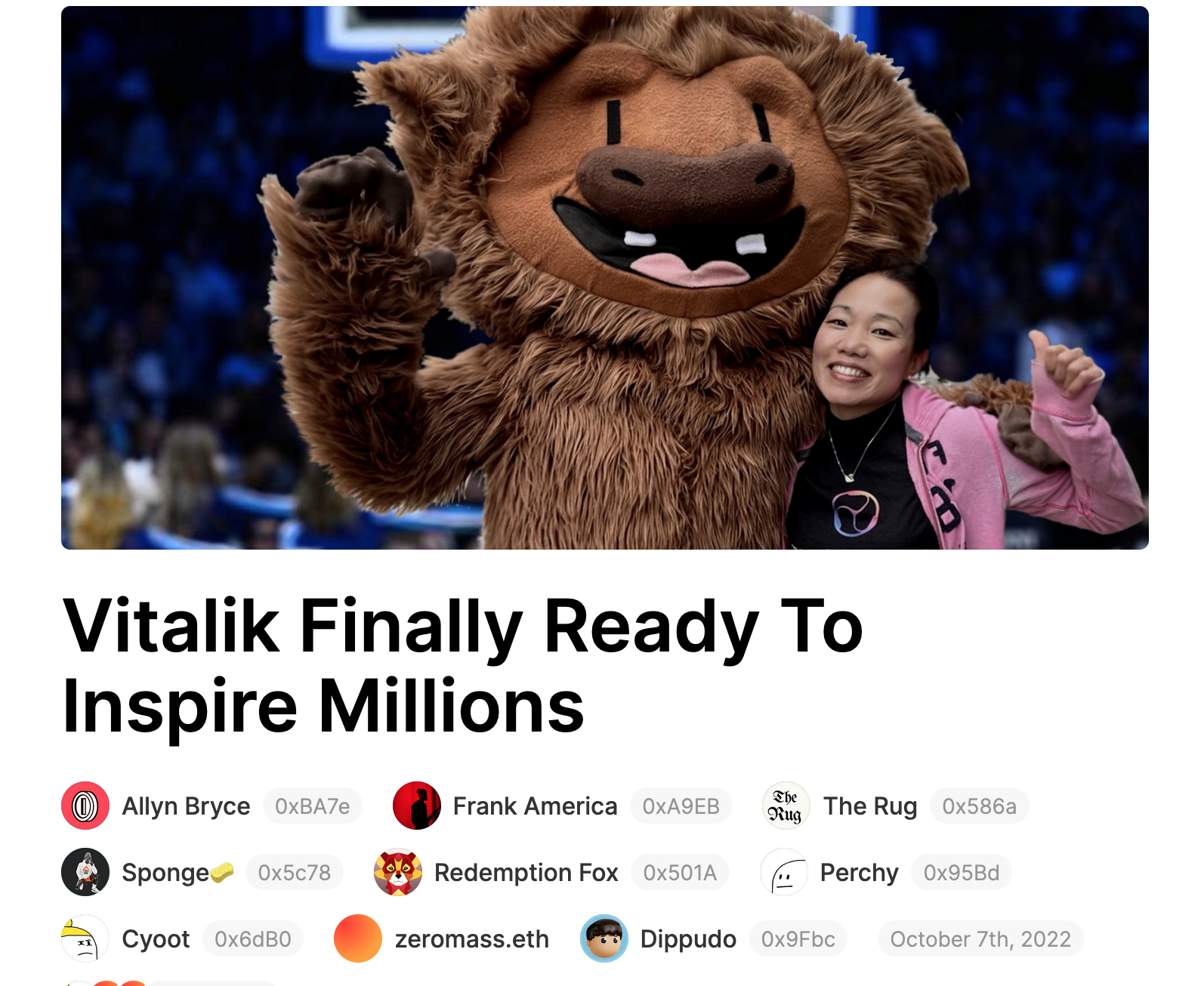 SPORTS — Buterin Suits Up To Realize a Lifelong Dream
Everybody knew that Vitalik had a proclivity for costumes, and not just on Halloween. He was regularly found in full costumed attire at many a web3 conference. In this article, it seems he just couldn't take it any longer, Liquidiot has the story.
From Shiba Inu pajama pants and sombreros to dinosaur costumes and a full on Buffircorn suit, If you haven't been following the trend of Buterin's public appearances, the writing has been on the wall for quite some time.
SECURITY — Support For Restoring Your Digital Wallet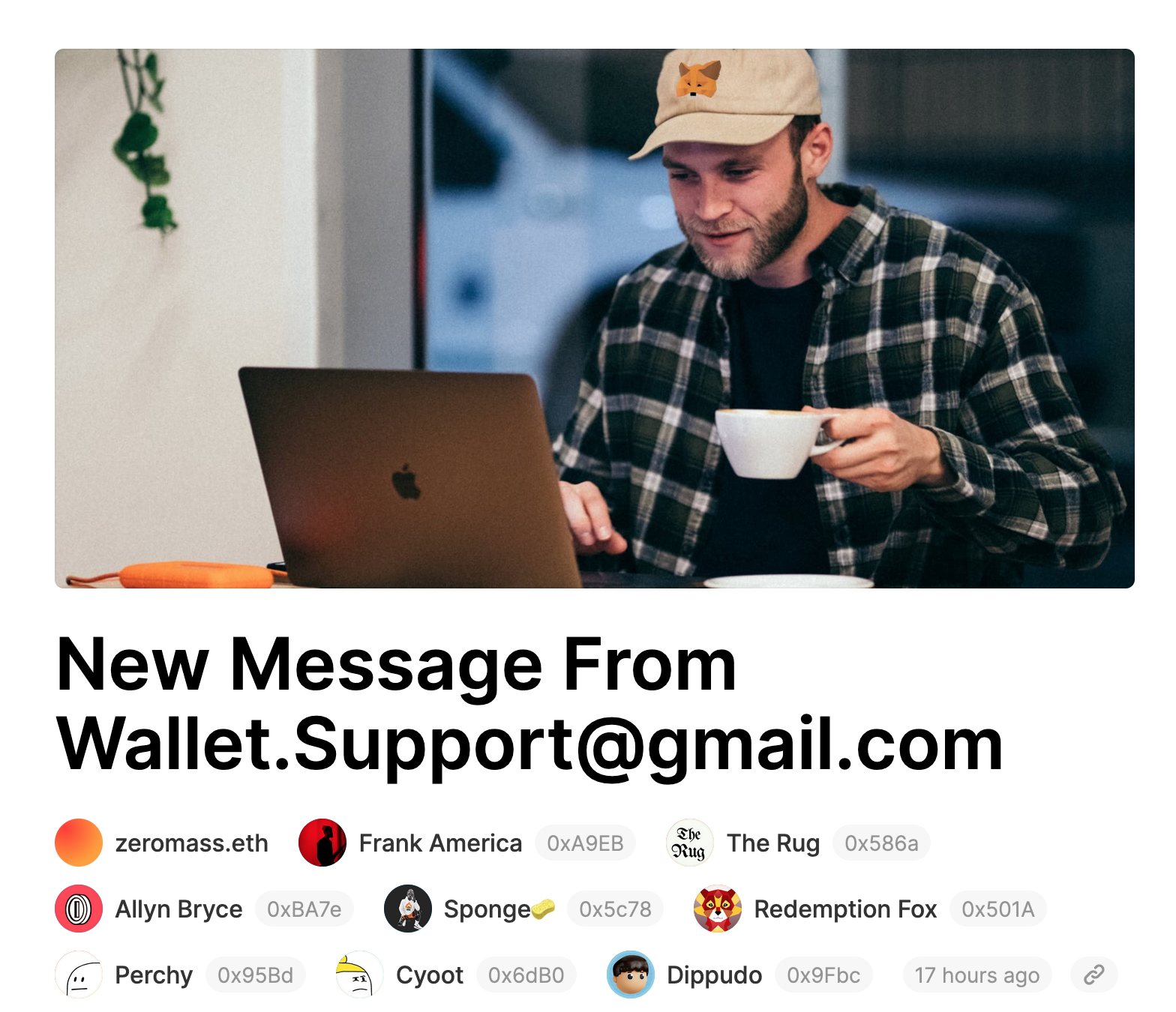 It's not every day you get a custom message from wallet.support@gmail.com! I mean this is a big deal, so please to pay attention for moneys. Zero Mass explains the honor in this article, which is almost to good to be true.
Well, I need words because technical support requires to see how much crypto you have, test transfer, etc. I also give feedback on good seed phrases for security. I'm sure you want to be secure like smart people?
---
Headlines Recap
MARKETS — Ethereans Celebrate $XEN Ponzi Dumpster Fire For its Deflationary Attributes
Perhaps the best thing about owning the base layer is you just don't care what gets the activity going. Elon tweets? Great. Another .jpg buying war? Awesome. New $hit coin dumpster fire? Yez please.
MARKETS — SEC Launches Yuga Labs Probe After Nancy Pelosi Establishes Short Position
I mean the timing is just impeccable. For all her griping about crypto gotta hand it to Pelosi for establishing her short position before going after Yuga Labs. That's just good congressional oversight.
MARKETS - In wake of hack, CZ convenes urgent meeting of all 21 Binance Smart Chain validators by setting up 20 mirrors in a circle
I mean when comes to validation, CZ has twenty replicas of himself to make the exact same movements he does. That's real power. After a recent hack, there was an urgent meeting that all versions of himself had to attend in order to get anything done.
MARKETS — Your 2 BANK Now Worth Less Than Your 2 Cents
Well, this one isn't the jolliest of facts, but with $BANK valued at less then a penny, your 2 bank is now less valuable than your 2 cents. Some facts aren't easy.
ART — Independent Appraisal From Christie's Auction House Confirms NFT of Bear Smoking Weed Truly Is Worth 420.69 ETH
Not to be outdone by Sothebys and their active NFT engagement, an independent appraisal from Christie's Auction showed this was actually worth 420.69 ETH. I mean this guy knows how to spot em'.
TECH — Solana Invents New Blockchain Feature "Maintenance Mode"
With the recent Solana outages we weren't surprised to see the web3-ish company start throwing around aphorisms like "it's not a bug it's a feature", of which their new Maintenance Mode, most definitely is a feature.
---
Under The Rug Podcast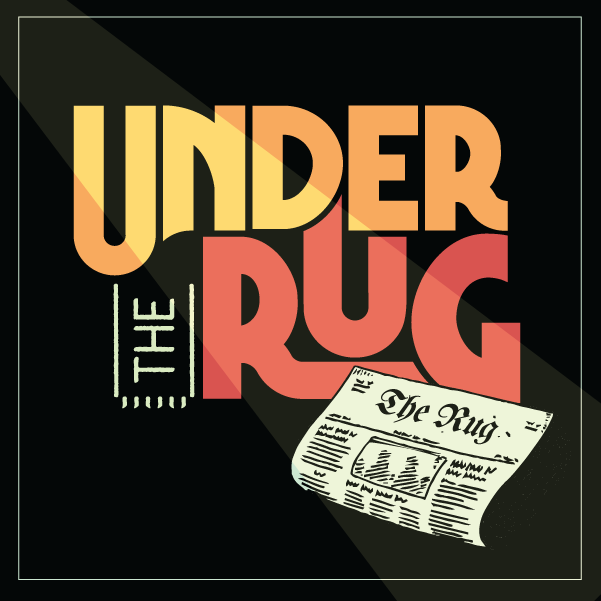 Under The Rug is a crypto-comedy podcast based on the hardest hitting headlines in Web3. In each episode a rotating cast of the comedians at The Rug get together to chop peanuts, craft jokes, and discuss things semi-crypto comedy related.
Our fifth episode, entitled, "Abort, Abort!" is now available. In this fifth episode of Under The Rug subjects mentioned included technical difficulties, merge parties, rogue miners, PoW ETH, Dework, Mirror minting on Optimism, The Rug newsletter, Rarible, Zora, Lens.xyz and Stani, recent tweets, quadratic funding, crypto dinosaurs, The Gur and much much less…
---
The Rug Original NFTs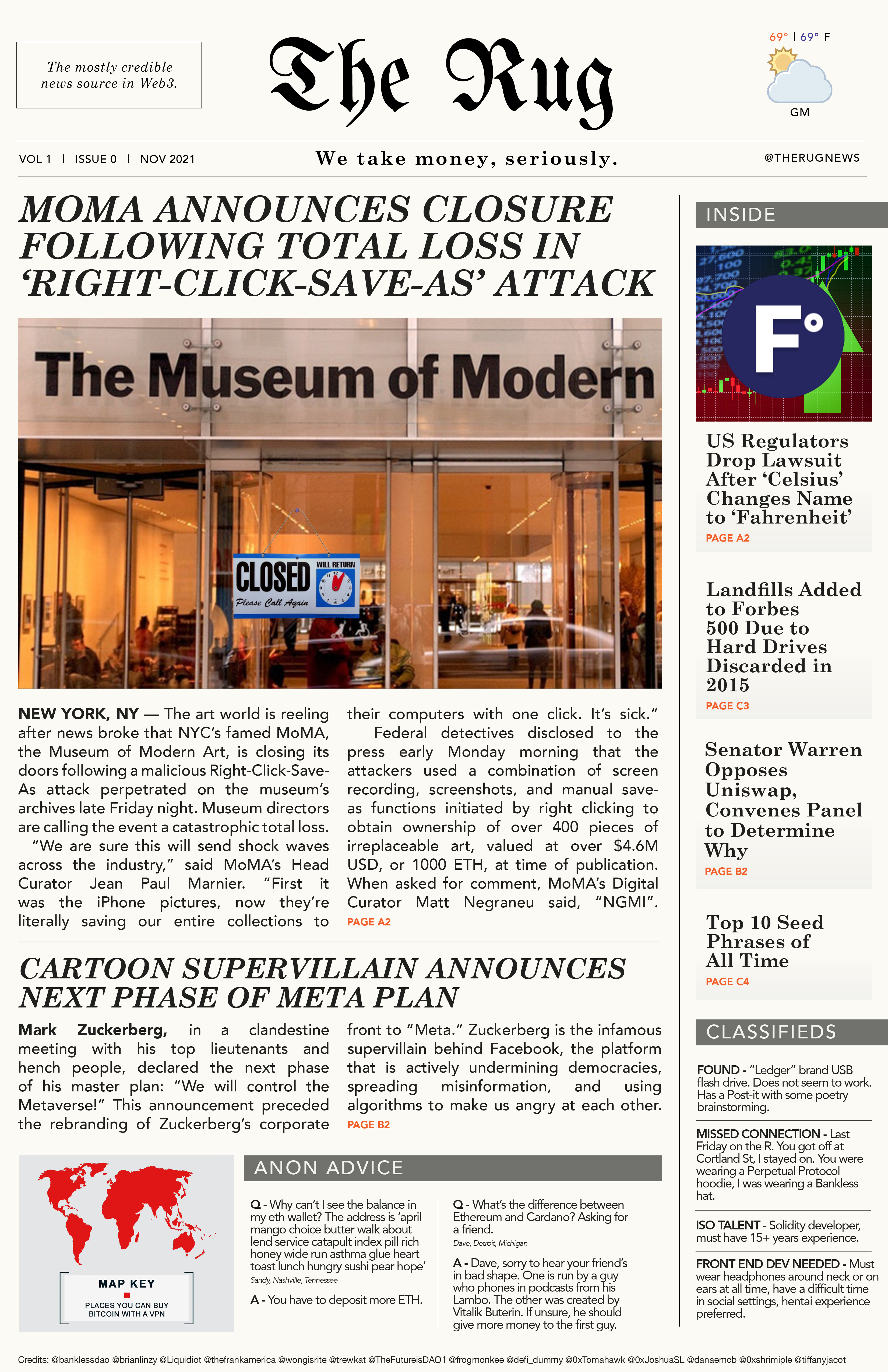 Between Nov of 2021 & March of 2022 The Rug shipped six classically inspired news NFT's. Half of them are still available. This one featured above was the first one we ever made. Was annoying we called it #0, because then we were like, "now we're on the second issue, issue number one". At any rate, do snag one and join our discord. Rumor has it a Vol. II edition will be forthcoming over the next several months.
Calls to Action
Follow The Rug on Twitter

Subscribe to us on Mirror

Follow us on Telegram

Rug someone and forward this newsletter!
Bonus Content: *RUG MAG* by The Rug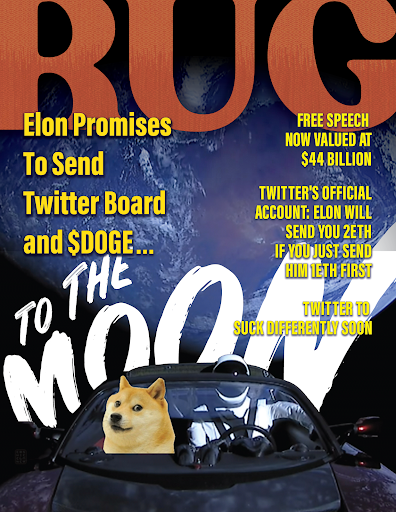 Value for Value: If you enjoy our tweets, podcasts, NFTs, or this newsletter, please send whatever you feel to TheRugNews.eth