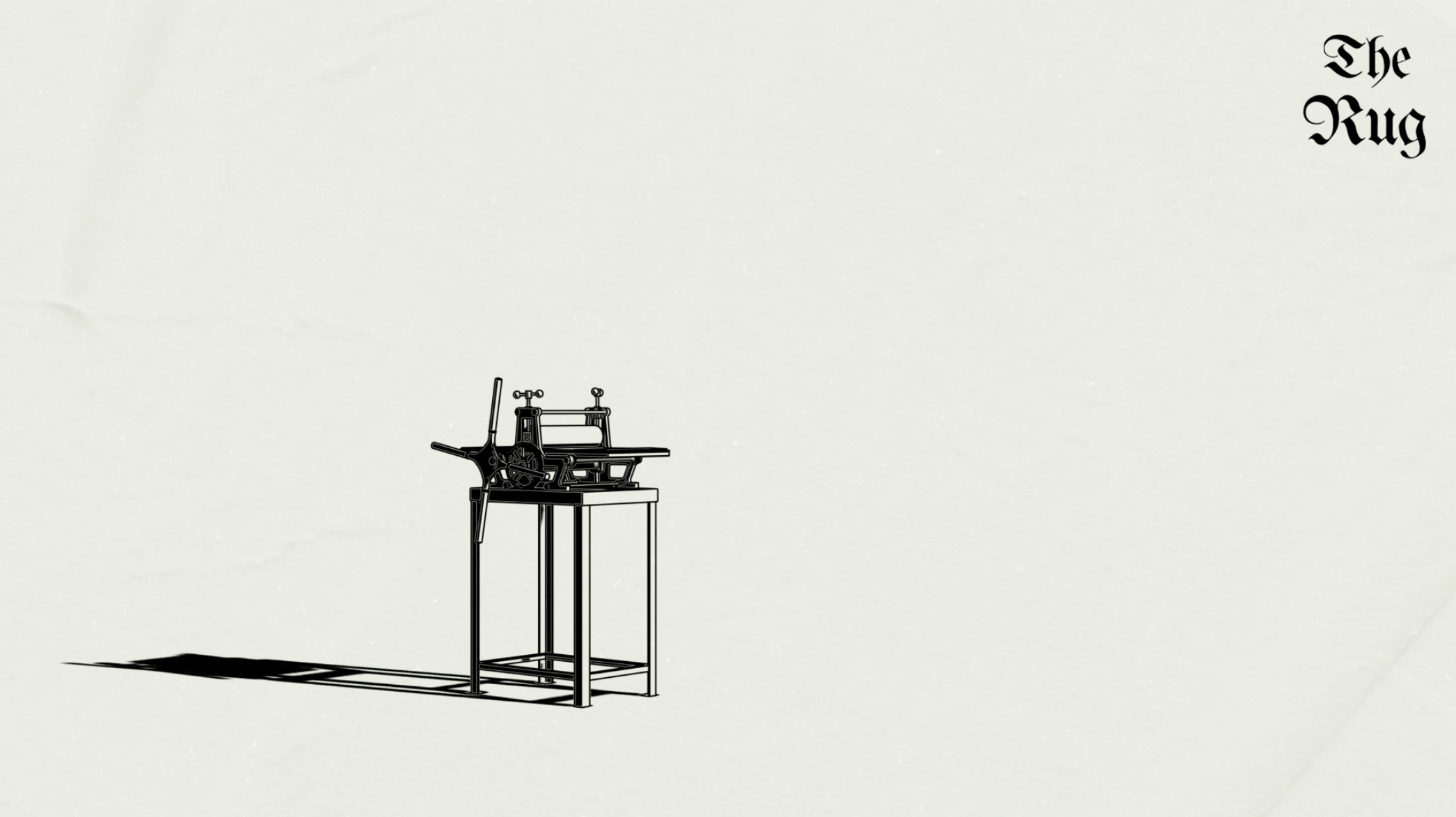 Letter From The Editor
Dear reality interpreting devices,
This December has been a cold bearish crypto winter but The Rug is here to pour out market libations over uncharted ice. SBF was finally arrested for a late bribe payment, CT voted him most likely to receive a "Bernie Madoff" with your money type of prison sentence, and offered an insightful thread into his recent extradition, plus Trump onboarded thousands of boomers to "Web3", an anonymous source says it's "really really really the best", and Rugstradamus strikes again!
Not to mention The Vatican issued soulbound NFTs, Polygon rebranded to Polyhedron, Pence dropped his own unsuccessful mint, and it turns out mom was right all along.
The Rug had one helluva year and finishes 2022 in fit-to-print shape. Since our last communiqué we've reached 293 subscribers and minted three more articles on Mirror, shipped Episode 7 of Under The Rug (definitely in the top 8), and welcomed many new members to our discord. Hodling a Lil Ruggy NFT entitles you to access.
Our partnership with mirror.xyz enabled us to beta test a new feature for The Rug Vol. II Issue 1 NFT for which we are grateful.
Lock n' load.
But First, WTF is The Rug Newsletter?
The Rug is Web3's mostly credible news source. We take money, seriously.
The Rug is web3's mostly-trusted news source. If NFTs are the future of ownership, we're the future of satire.  Think The Onion, but we actually understand (and like) crypto. Our Newsletter publication includes:
The mostly relevant articles

The hardest hitting headlines

Behind-the-scenes podcasts

Throwback newspaper-style NFTs, and...

Much, much less
The Rug's Newsletter is where you can catch them all in one spot, str8 to your inbox.
Do rug a friend.
---
The Rug Mirror Articles
BREAKING — Polygon to Change Name to Polyhedron After Buying Entirely New Dimension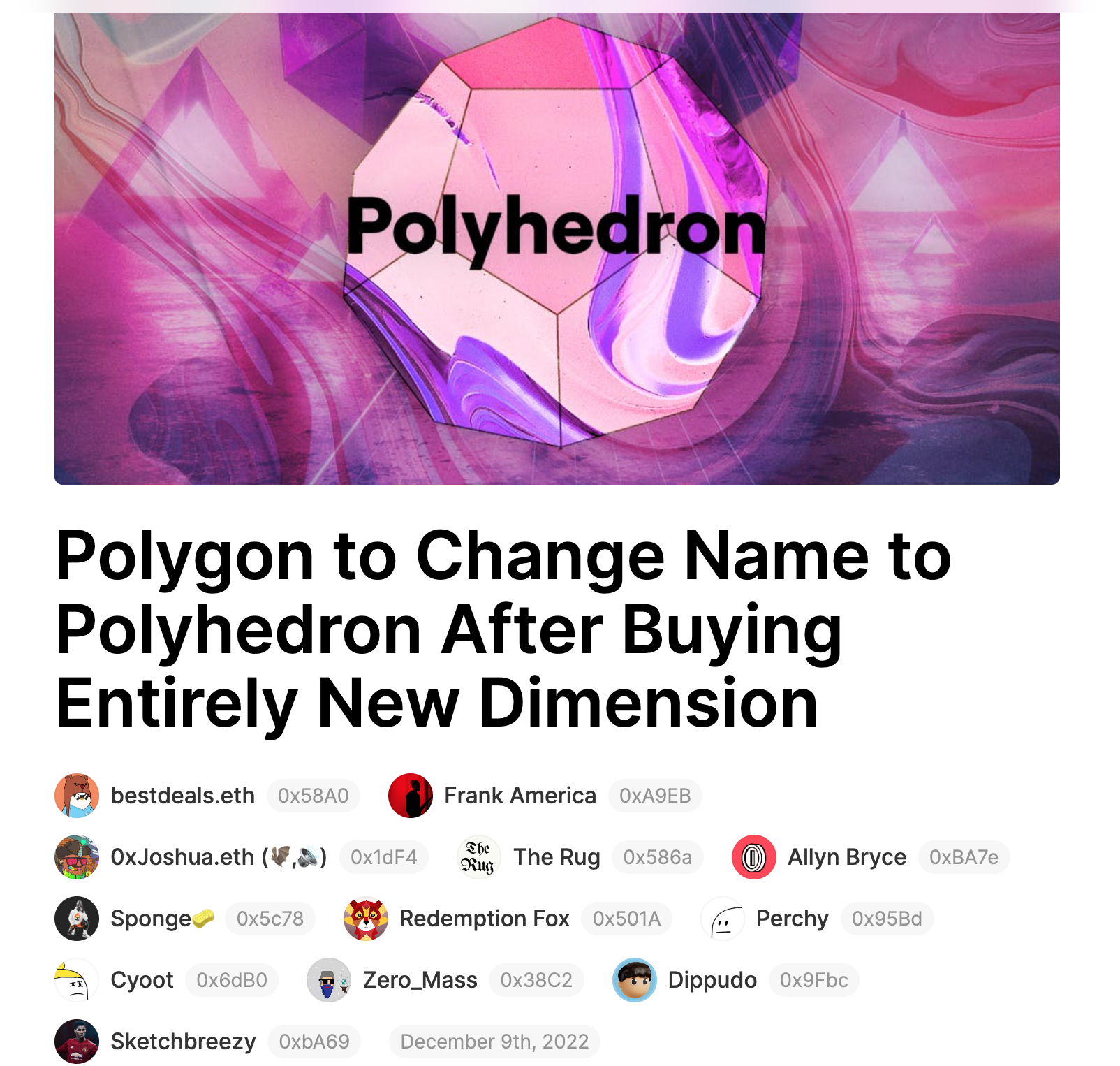 Polygon has adjusted its branding in light of new developments. Not sure if there is any other way to view this other than an above time event. In this article by Redemption Fox, we look at the thinking from within the company.
We've come to realize that we've been a bit closed minded in limiting our acquisitions and partnerships to this plane of existence" said Co-Founder Jaynti Kanani in a statement. "We feel many of our competitors are stuck in the past continuing to focus on the metaverse, when the future really is the multiverse.
Collect this interdimensional perspective as NFT on optimism.
BREAKING — Turns Out Mom Was Right All Along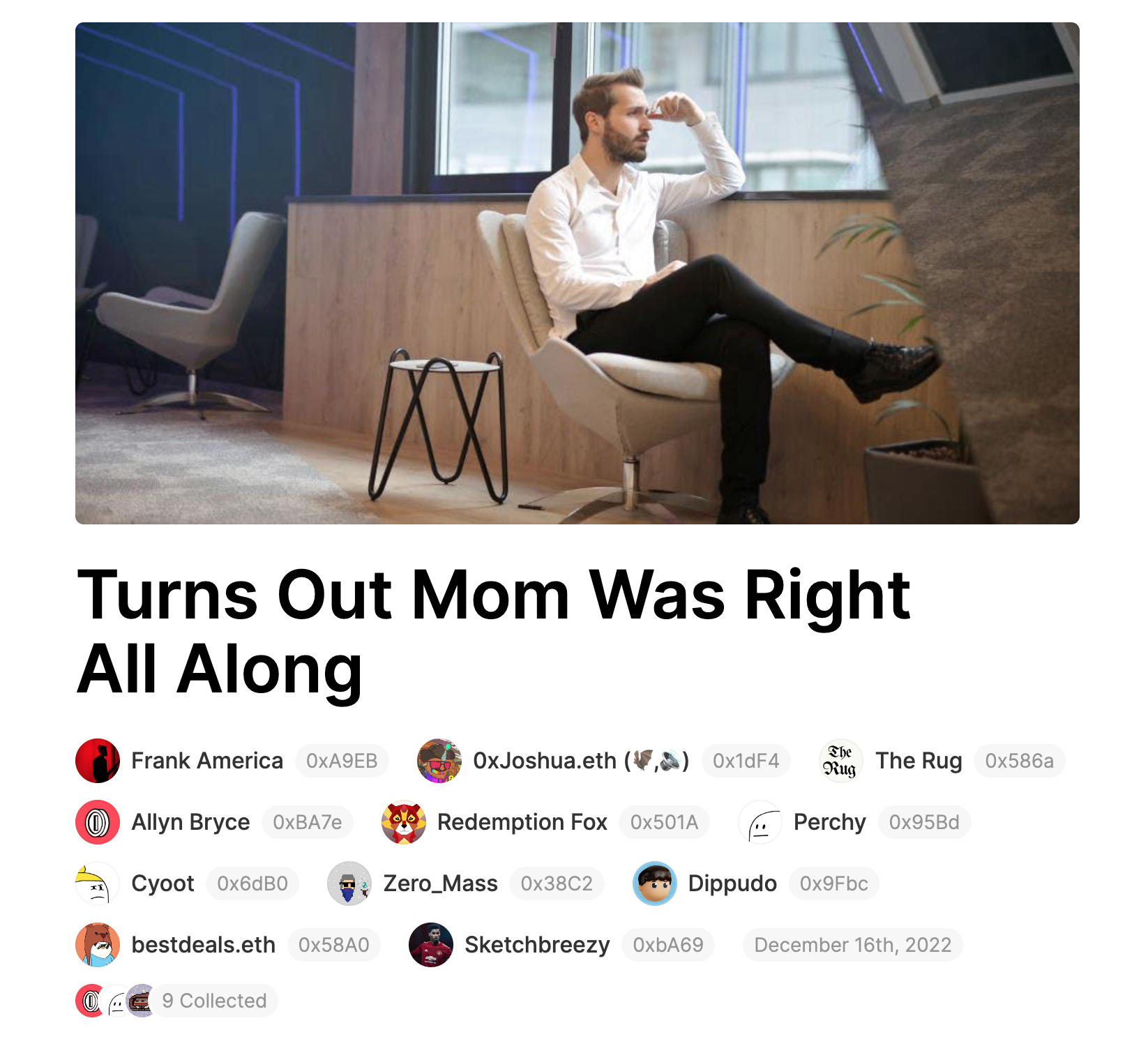 After prolonged deliberation and great internal brooding, young David had to admit to himself that Mom was right all along. In this article by Frank America, we discover that, as is the case with most of these things, that was always true.
In this moment of regret, David realized that if he had listened to his mother and sold a third of his holdings, his net worth would be double its current amount. "Think of all the crypto I could buy with that, now," David noted.
Collect this personal self-reflection as NFT on optimism.
BREAKING — Mike Pence's NFT Project Goes Unminted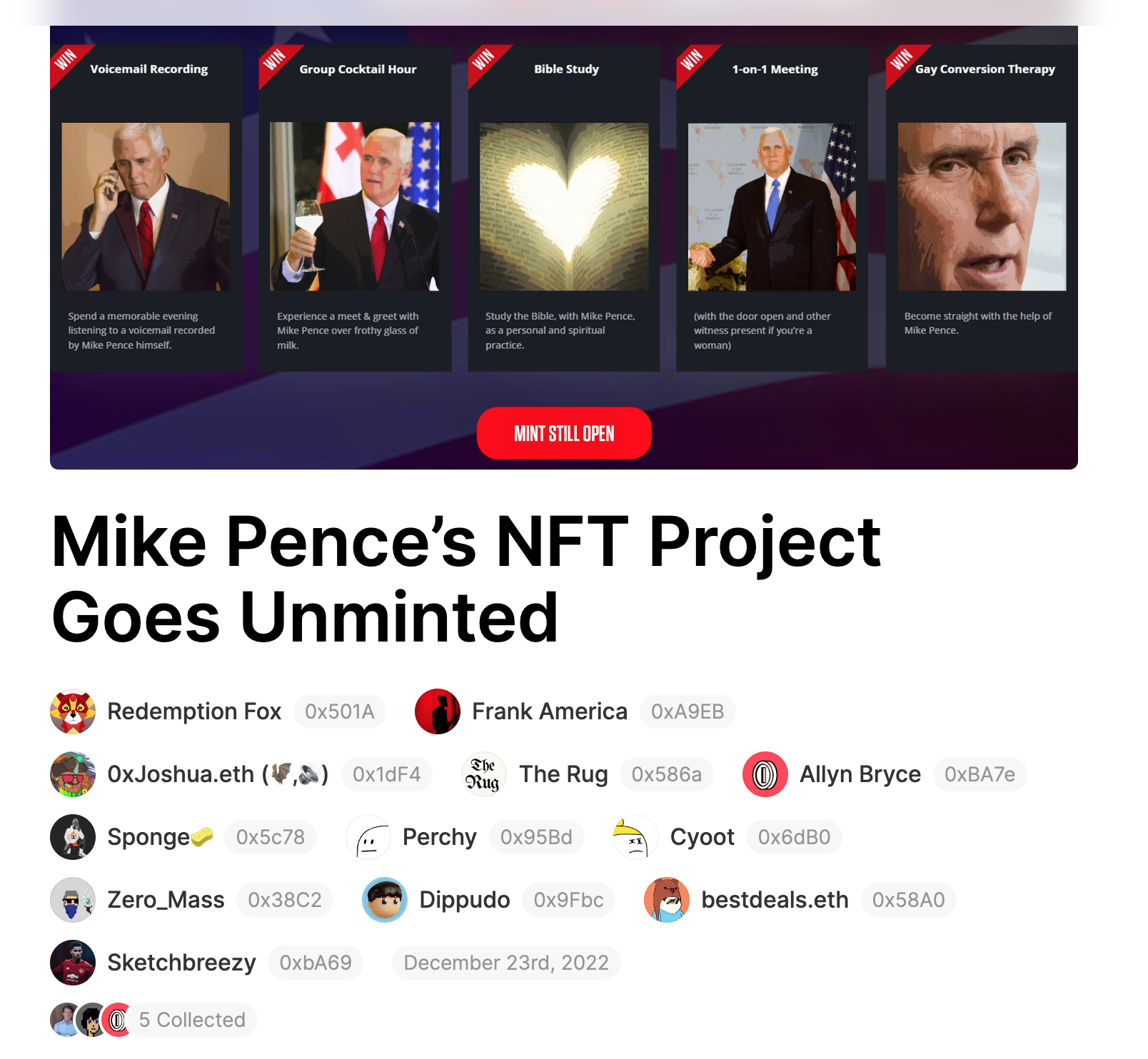 Mike Pence attempted to follow hot on the coat tails of the successful NFT project by 45th POTUS Donald J. Trump. Unfortunately, in this article by Redemption Fox, we discover that his wife was not as good at water colors as he'd hoped.
The highlight of the Pence NFT collection was supposed to be a subset of "rares": custom hand-drawn watercolors by aspiring artist and former Second Lady, Karen Pence. These special editions feature her husband in a number of inspiring poses and wardrobes ranging from Man in Blue Tie with Hand on Hip to Man in Red Tie with Two Thumbs Up.
Collect this unsuccessful mint as an NFT on optimism.
---
The Rug Twitter Headlines
BREAKING — SBF Arrested For Late Bribe Payment
Cash on the barrelhead Bankman-Fried, and no days off for good behavior.
OPINION — Crypto Twitter Reacts to Sam Bankman-Fried Arrest, Potential U.S. Extradition
CT came out of the wood work to react to SBF's recent arrest. Notable opinions included his mother and brother.
POLL — What kind of prison sentence will SBF get?
Well The Rug ran a poll on CT to see what kind of prison sentence SBF will land. The votes are in.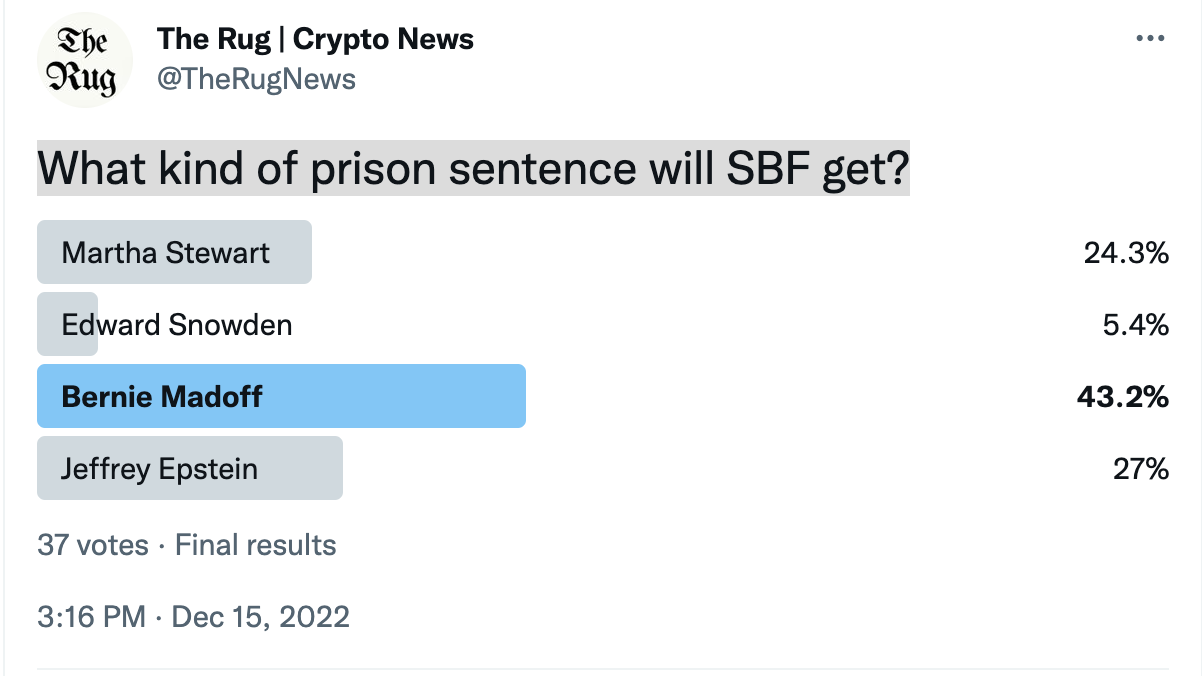 CULTURE — Trump Onboards Thousands of Boomers to Web3
Of the 14,000 people who minted a Trump NFT, which sold out in approximately 12 hours, it is safe to assume a fair amount of them entered an email and a credit card and had no idea they were creating a custodial crypto wallet. Love him or hate him "45" has done "something" for onboarding the world to cryptocurrency.
ART — "Trump NFTs greatest thing anyone has ever seen, and make America stronger than China, and are really really really the best," Says Anonymous Source
The Trump NFT collection has been reported by anonymous sources to be "really really really the best." When the number was traced the area code turned up somewhere near Mar-a-lago in Palm Beach, Fl.
CULTURE — Web3 is Dreaming of a White Christmas, Meeting Diversity Goals Next Year
Web3 has delayed its diversity goals for yet another year, and still remains mostly white kids living in their parents basement.
HEALTH — Fed Says Money Tightening Will Improve Gym Bod
Fiscal tightening has actually been improving the Federal Reserves "gym bod". At least something good is coming out of this hilariously poor fiscal management of America's deficit.
CINEMA — SBF Movie 'Sex, Fraud, and Customer Funds' Directed by Steven Soderbergh Slated for Q2 2024
The former Palme d'Or winner at Cannes has turned his sights to the recent SBF controversy. Soderbergh noted, "The SBF story lends itself to the intersection of greed, hubris, and the concept of a free lunch. It is a cornucopia of the current American psyche."
OPINION — All I Want For Christmas Is A Green Candle
While this wish may not have come true there is always hope for next year.
---
Under The Rug Podcast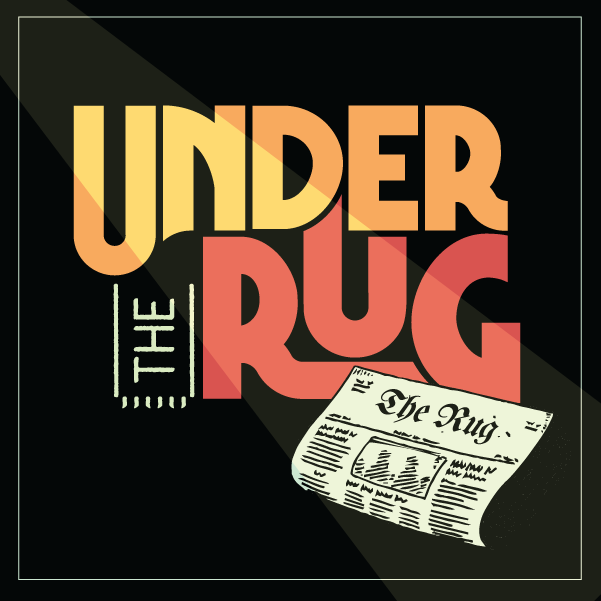 ---
Under The Rug is a crypto-comedy podcast based on the hardest hitting headlines in Web3. In each episode a rotating cast of the comedians at The Rug get together to chop peanuts, craft jokes, and discuss things semi-crypto comedy related.
Our seventh episode, "Shucking Oysters", is now available. This seventh episode included a Rugstradamus moment, where Perchy predicted the Trump NFT, note our episode went online on 12/9/2022 and Trump announced his NFT on 12/15/2022.
---
MINT CLOSED — The Rug Vol II. Issue 1 NFT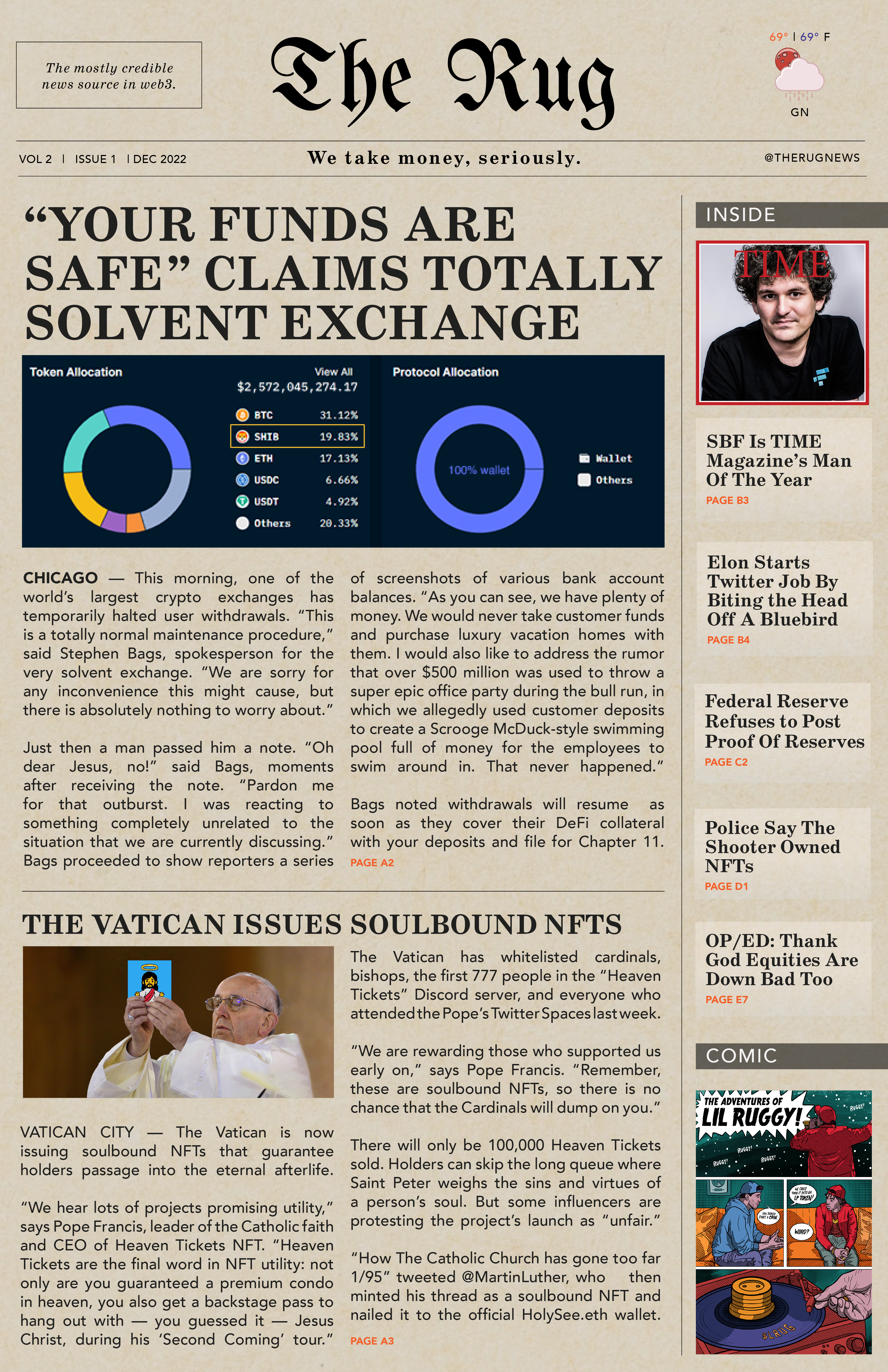 The Open Mint is Now Closed
Thank you to everyone who minted a copy of The Rug Vol. II Issue 1. 189 wallet addresses collected this NFT. Look for The Rug Vol II Issue 2 sometime in January of 2023.
---
Calls to Action
---
Bonus Content:
Frank's Michael Saylor Impersonation is doing numbers on YT.
---
Sponsor: Check out our sponsorship deck, and hit us up on twitter.
Value for Value: If you enjoy our NFTs, articles, headlines, podcasts, or newsletters send what that is worth to you in ETH or DAI to TheRugNews.eth
The Rug is a media property spun up out of BanklessDAO.