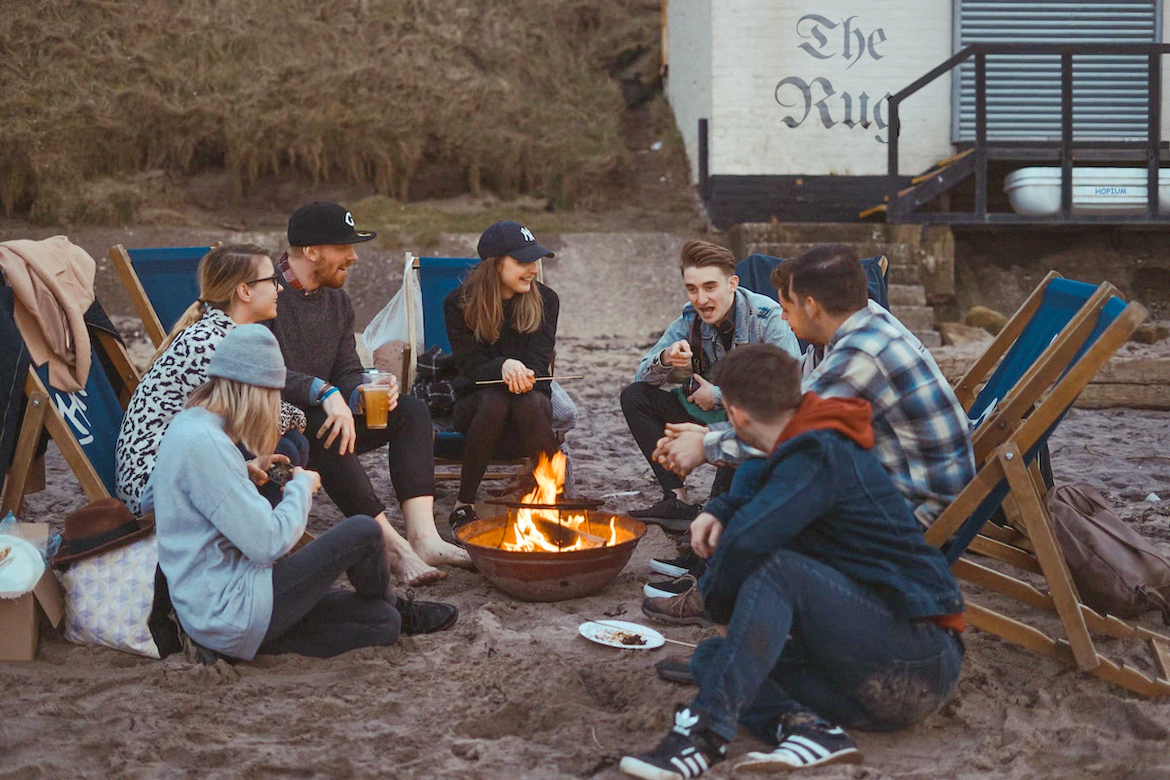 Another Letter From The Editor
Dear Eyeballs,
I am pleased to present The Rug's Second Newsletter. We are still shipping this epistle once-a-month(ish), but may do a biweekly if subs keep racking up and our content warrants it…. Biweekly means twice-a-month and twice-a-week. So that's odd. Anyway, it's free laughs for you, so nbd, I hope. Also, do hit us up on Twitter, and RT our material, show you care, it takes a village bruv.
So much is going on in crypto, for example, have you heard This Ethereum Investor Still Believes The Merge Will Reduce Gas Fees? Or that Michael Saylor's Opinion on Being Sued By The Government is, "Bitcoin fixes this."
If you're all about Web3 like us you probably knew that stuff… But we ask ourselves occasionally, what does that even mean? Apparently, Web3 Is The Future As Long As You're on a Desktop.
We ship our Newsletter on Paragraph because it's hot-wallet integrated, and kind of like the new Substack; we publish our articles on Mirror because it shows on chain that we wrote them, which is cooler than Medium, and we catalogue all our efforts over at 'The Rug Office' on DeWork, which enables each of our contributors to submit their efforts and deploy a single mass payout. If you want to get paid Satoshis to listen to our Under The Rug podcast, check us out on Fountain. Lastly, we verify all our NFT holders via Guild.xyz, which grants people discord access to The Rug Lounge. If you want in to our Discord, buy one of these, or this, and then click here to join.
With all that Web3 virtue signalling out of the way, let's get into the gold.
---
But First, WTF is The Rug Newsletter?
The Rug is Web3's mostly credible news source. We take money, seriously.
The Rug places a satirical lens on crypto-culture. Think "The Onion" for Web3. Our Newsletter publication includes:
The funniest articles

The best jokes/tweets

Behind the scenes podcasts

Throwback newspaper-style NFTs

Much, much less
All of the above we aim to produce on a regular basis, and The Rug's Newsletter is where you can catch them all in one spot, shipped str8 to your inbox.
Do rug a friend.
---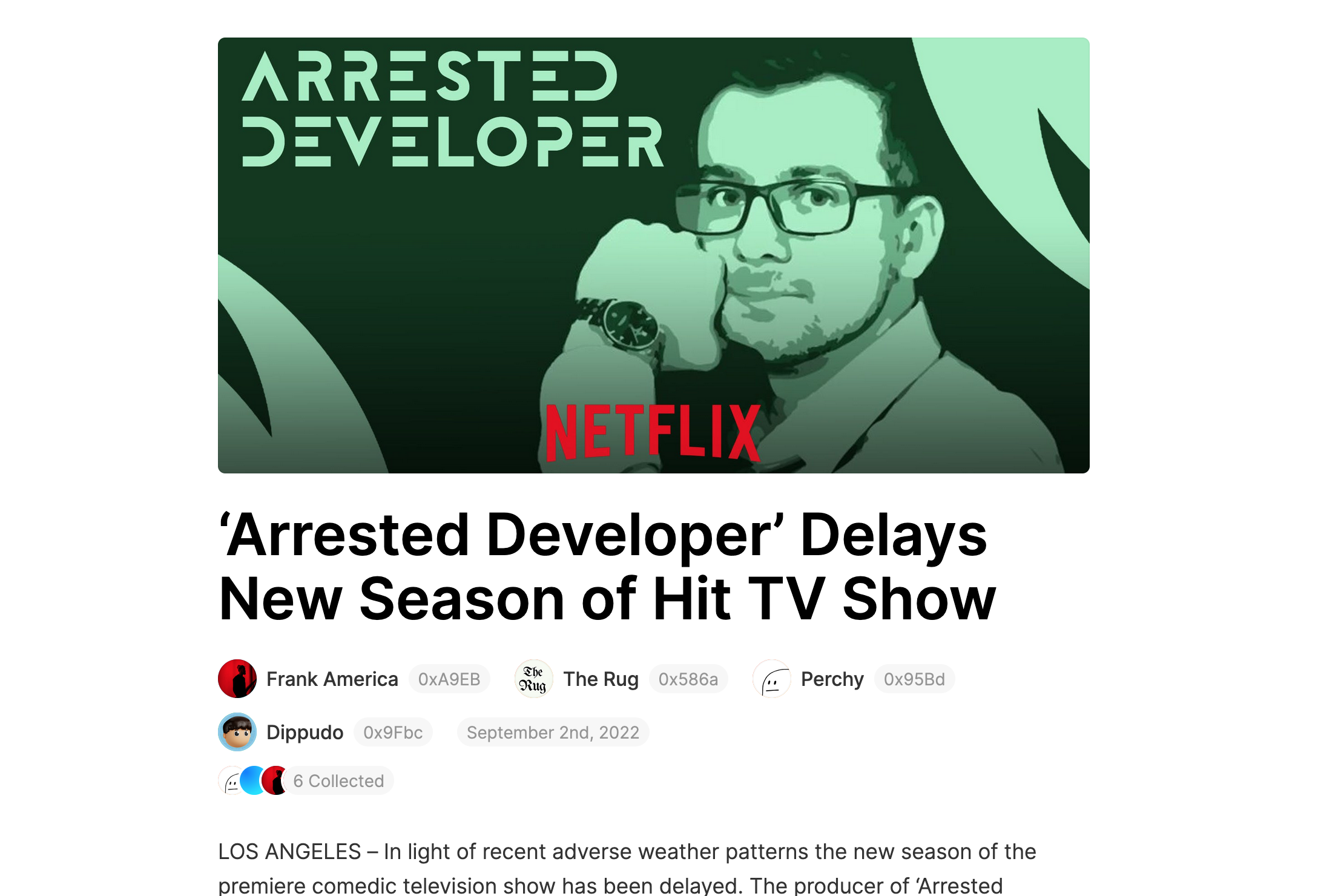 Article Recap
ENTERTAINMENT — 'Arrested Developer' Delays New Season of Hit TV Show
Did you know that a tornado hit Los Angeles? In this article, Frank America gets into the details of this force majeur, and contends its litigious nature could go all the way to the supreme court. Sounds like Coinbase is down. The Rug got there first. Believe dat'. Collect it on Optimism for three bucks. They're like baseball cards, gettem'. What is Optimism? Just add it to Metamask here, and [send](https://app.hop.exchange/![](https://storage.googleapis.com/papyrus_images/a17ef35dc1921cda57d505c9b496268a)
/send?sourceNetwork=ethereum&destNetwork=optimism&token=USDC) like .1 ether there dude. Learn something.
THE MERGE — This Ethereum Investor Will Vaguely Explain The Merge To You
Okay so we all know The Merge went down today, and not crashed but like occurred. However, have you heard this sagely advice from a completely unqualified investor? He's been around since this recent bull market. What else do you need to know? Perchy nails this satirical take on half-baked explanations of what The Merge is, and what it means. Collect it too, we just showed you how to do that.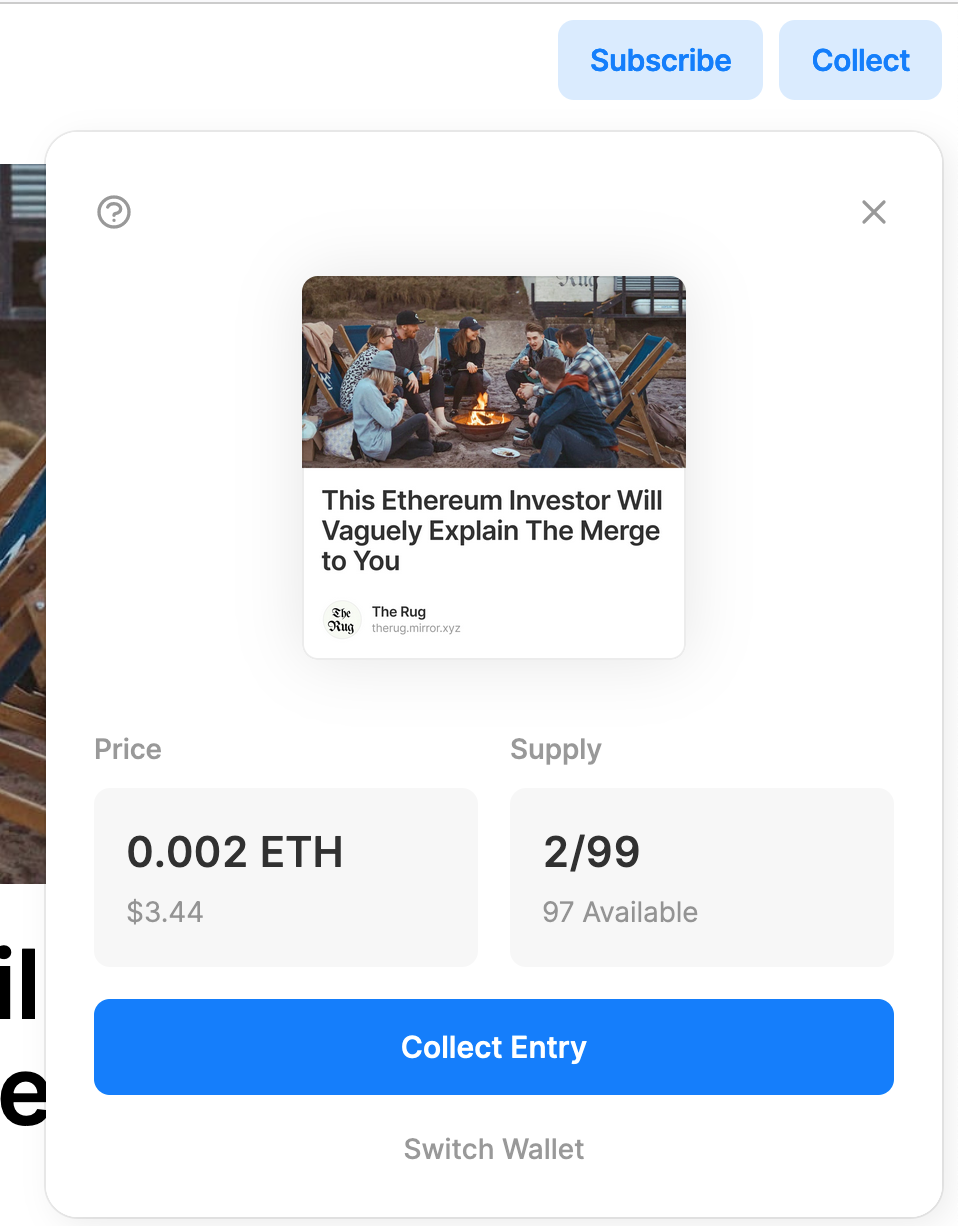 ---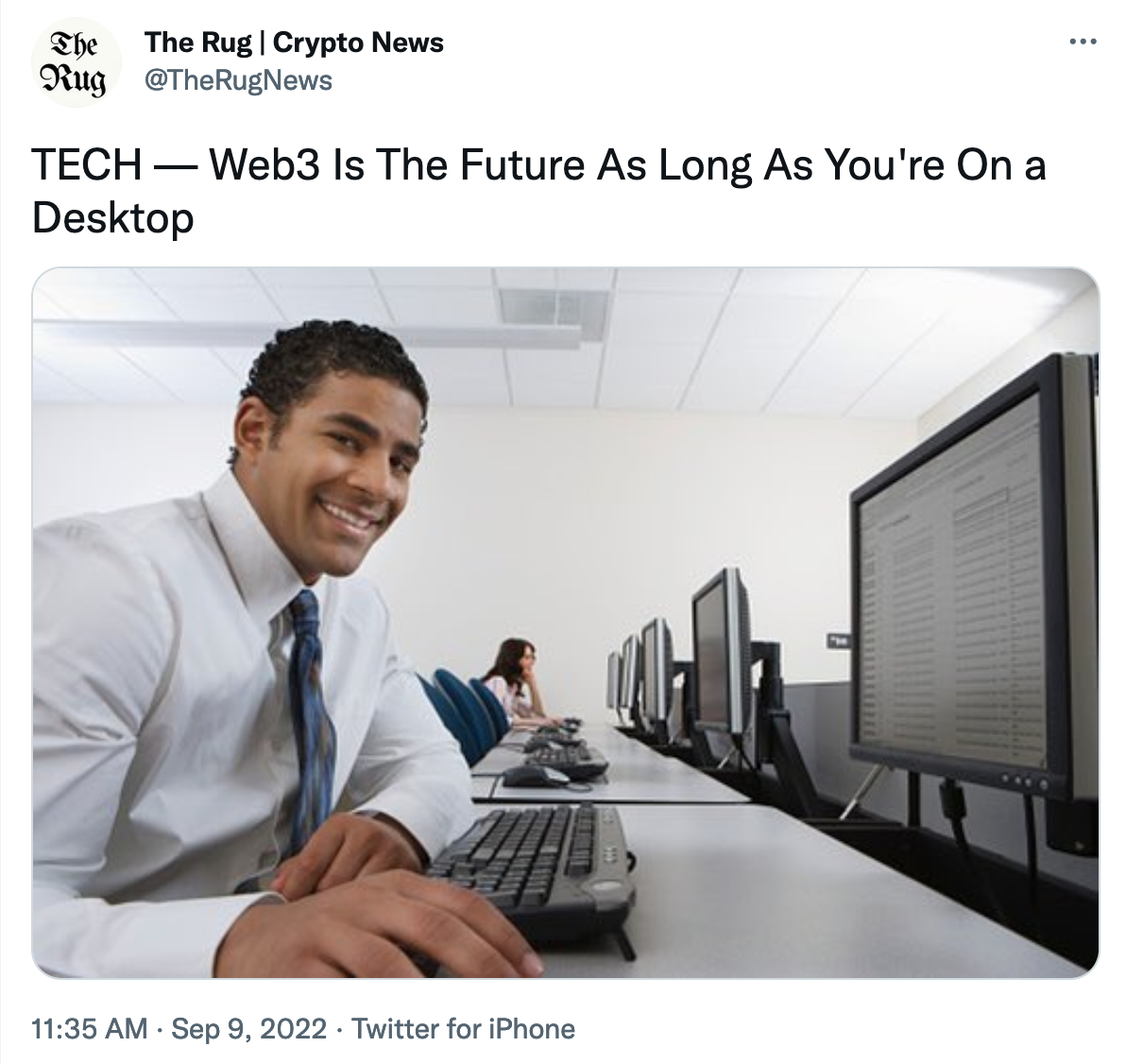 Headlines Recap
TECH — Web3 Is The Future As Long As You're On A Desktop
We're all about Web3, as mentioned up top. But we can't help but notice that most of this stuff is super clunky on mobile, and only works on desktop. With the majority of the internet going palm-only, we had to poke a little fun at the "futuristic" nature of Web3.
REPORT — 4/7 Multisig Signers Don't Know They Are on the Multisig
You're probably on a multisig and don't even know it. Getting the last Rug payment out to our crew inspired this joke in a late night conversation. It was like "the majority of multisigs are stupid, they take forever", which led to this joke, which means we're so glad that it happened. Of course, consensus-based multisigs are the shiznit, just not when one dudes in Costa Rica with a bad internet connection and the other is sleeping in Australia. But whatevs works, works, eventually, and for the record, we use Gnosis Safe.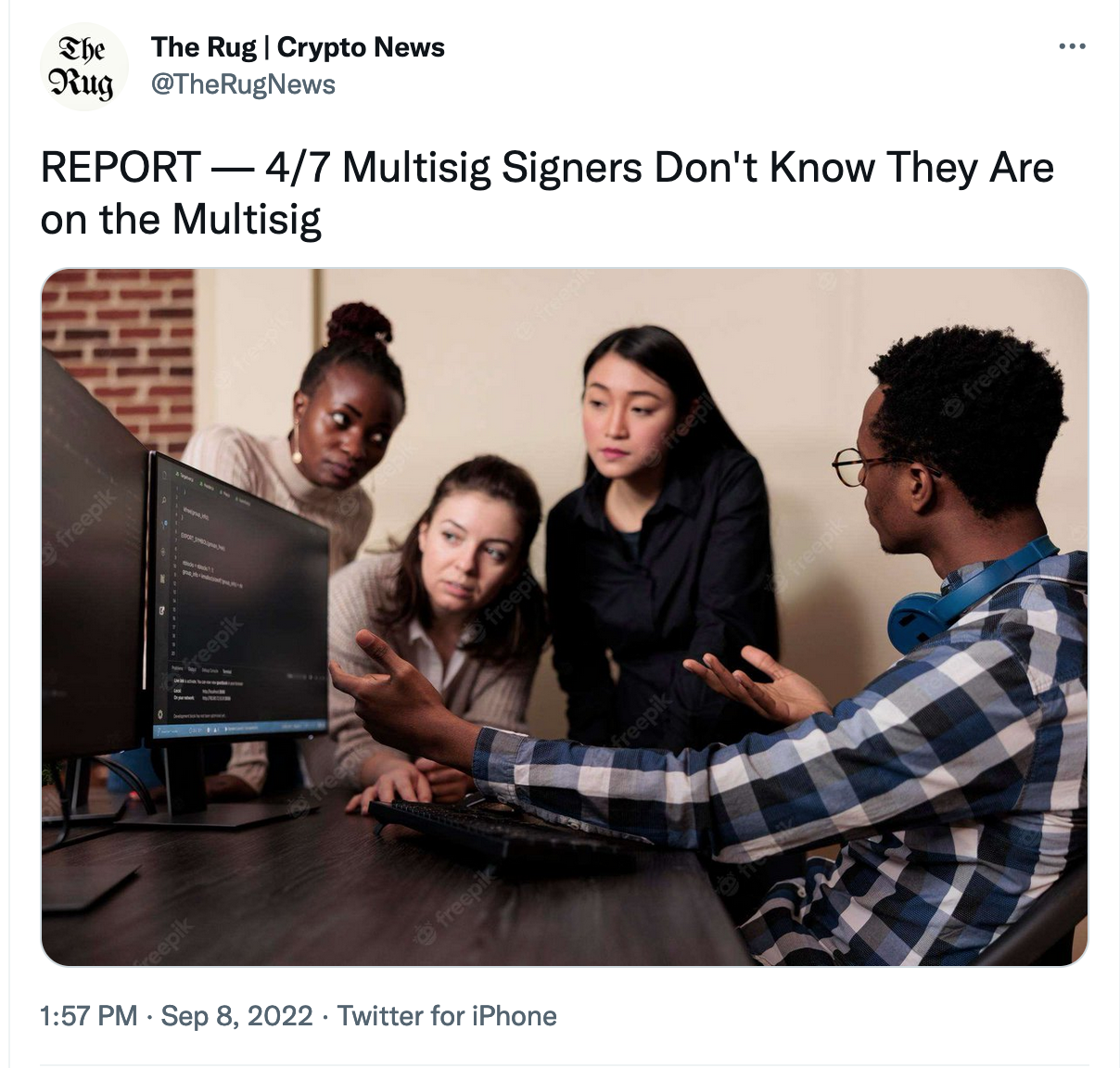 WELLNESS — Depressed Crypto User Encouraged to Migrate to Optimism
Bear markets are tough, and can lead to emotional downturns. That's why we recommend Optimism. 4/5 Doctors have never even heard of it. Dentists too! Seriously though, if you're feeling blue, that sucks, and we're sorry. Every one goes through ups and downs, try and zoom out. Or don't. Your call.
---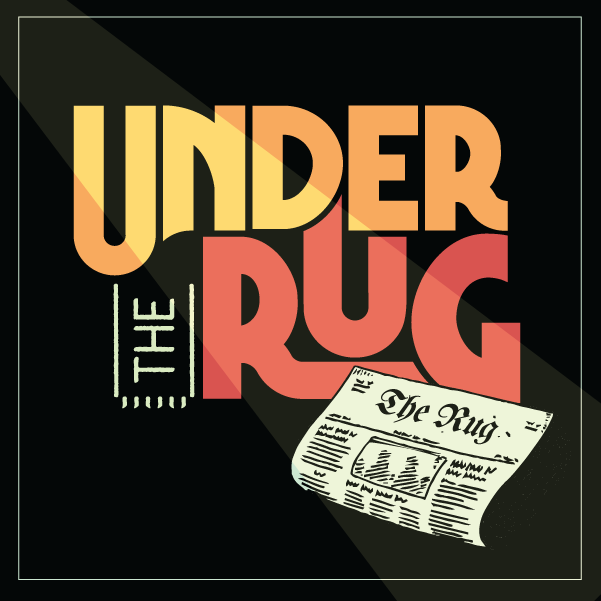 Under The Rug
Under The Rug is a crypto-comedy podcast based on the hardest hitting headlines in Web3. In each episode a rotating cast of the comedians at The Rug get together to chop peanuts, craft jokes, and discuss things semi-crypto comedy related.
Our fifth episode, is forthcoming, in the mean time check out our 2nd episode, "1. 2. 3. 4. 5."
---
The Rug Original NFTs
Between Nov of 2021 & March of 2022 The Rug shipped six classically inspired news NFT's. Half of them are still available. Get one and join our discord.
Calls to Action
Follow The Rug on Twitter

Subscribe to us on Mirror

Follow us on Telegram and share our stuff there plz

Rug someone and forward this newsletter!
Bonus Content: Ape, What's The Problem?, by Liquidiot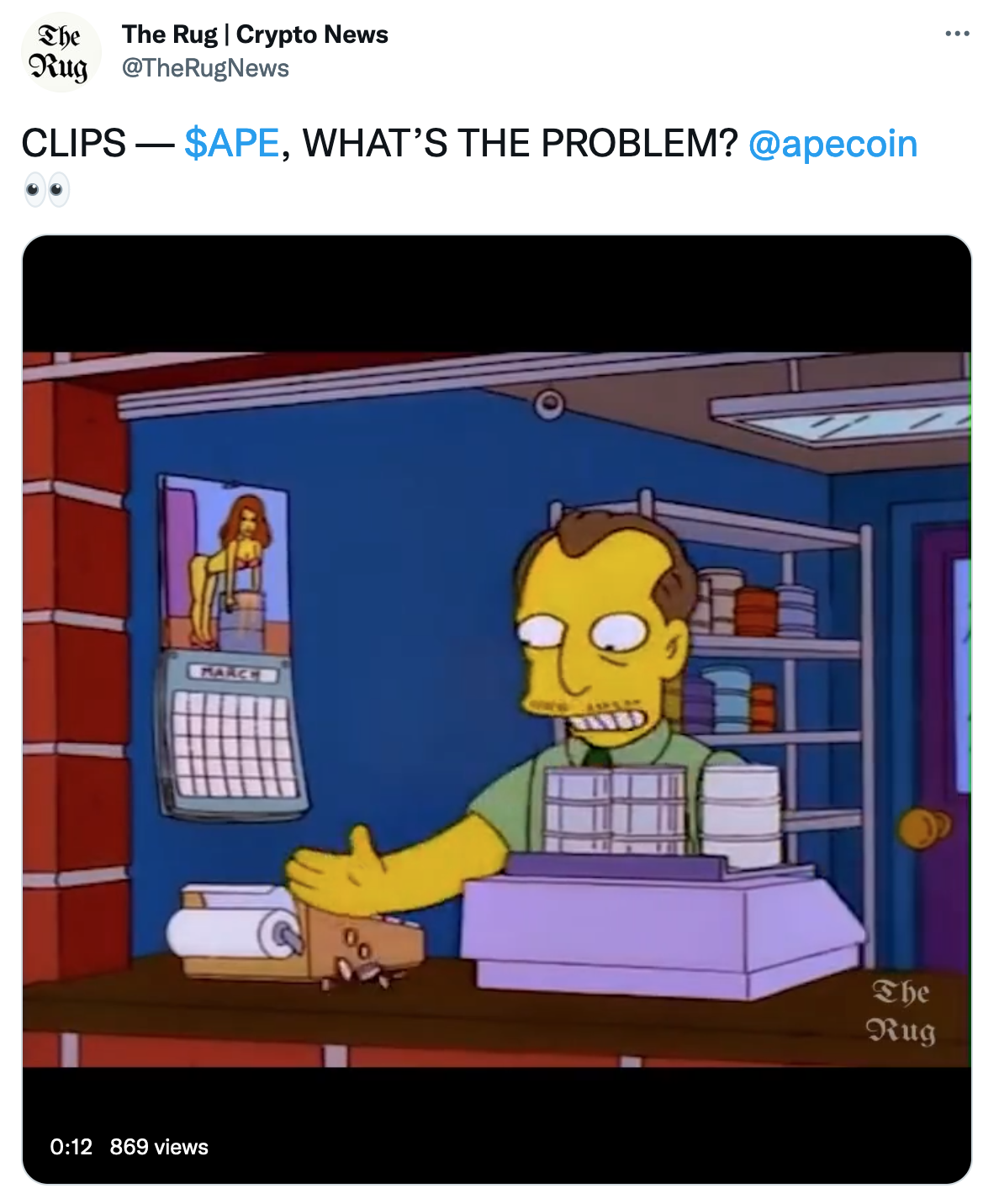 Value for Value: If you enjoy this newsletter, our articles, tweets, NFTs and podcasts, and want to see us continue to make them then please send whatever you think it's worth to TheRugNews.eth