Hello Squiblets and Squibble Fans! 🌈💛
Welcome to a Squibtastic edition of The Squibble Sunday Funday Digest! We're here to sprinkle your Sunday with the most amazing fun, stories, and activities that Squibblesville has to offer! 🌟
Whether you're lounging in your PJs or out on a mini-adventure, we've got something that'll tickle your fancy and make your day extra special. So grab your colouring pencils, summon your sense of wonder, and let's dive into a world of imagination and joy! 🌈🎨
Let the Sunday Funday begin!
Squibble Of The Week - DAVE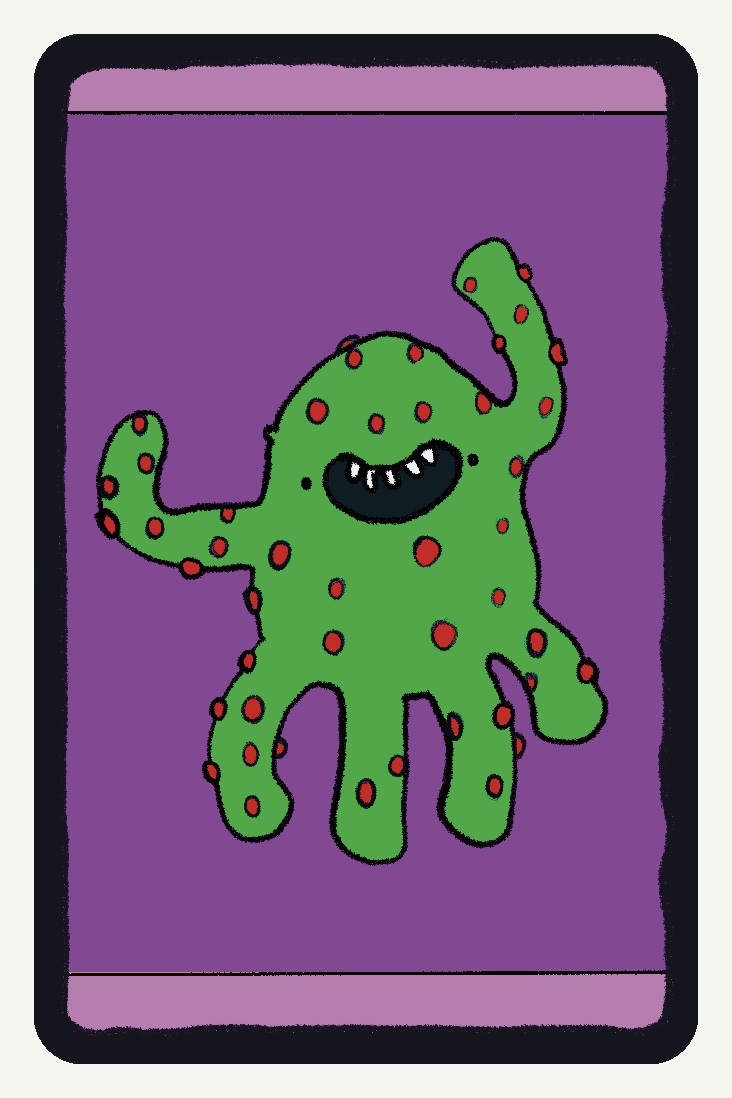 If you've ever heard about Dave, he has a heart at the end of every tentacle and solves everyone's problems in Squibblesville. It's not easy being Dave though because he never makes time for himself.
REFLECTION QUESTION
Do you make time for yourself? What could be one nice thing you could do for yourself today?
DAVE FACTS
1) His favourite food is submarine-shaped pasta
2) Loves to help others
3) He once went to a museum and was so fascinated by one of the displays, everyone forgot about him and he got locked in overnight!
---
Printable Colouring Page
Get your colouring pens and get ready to do some Squibbling!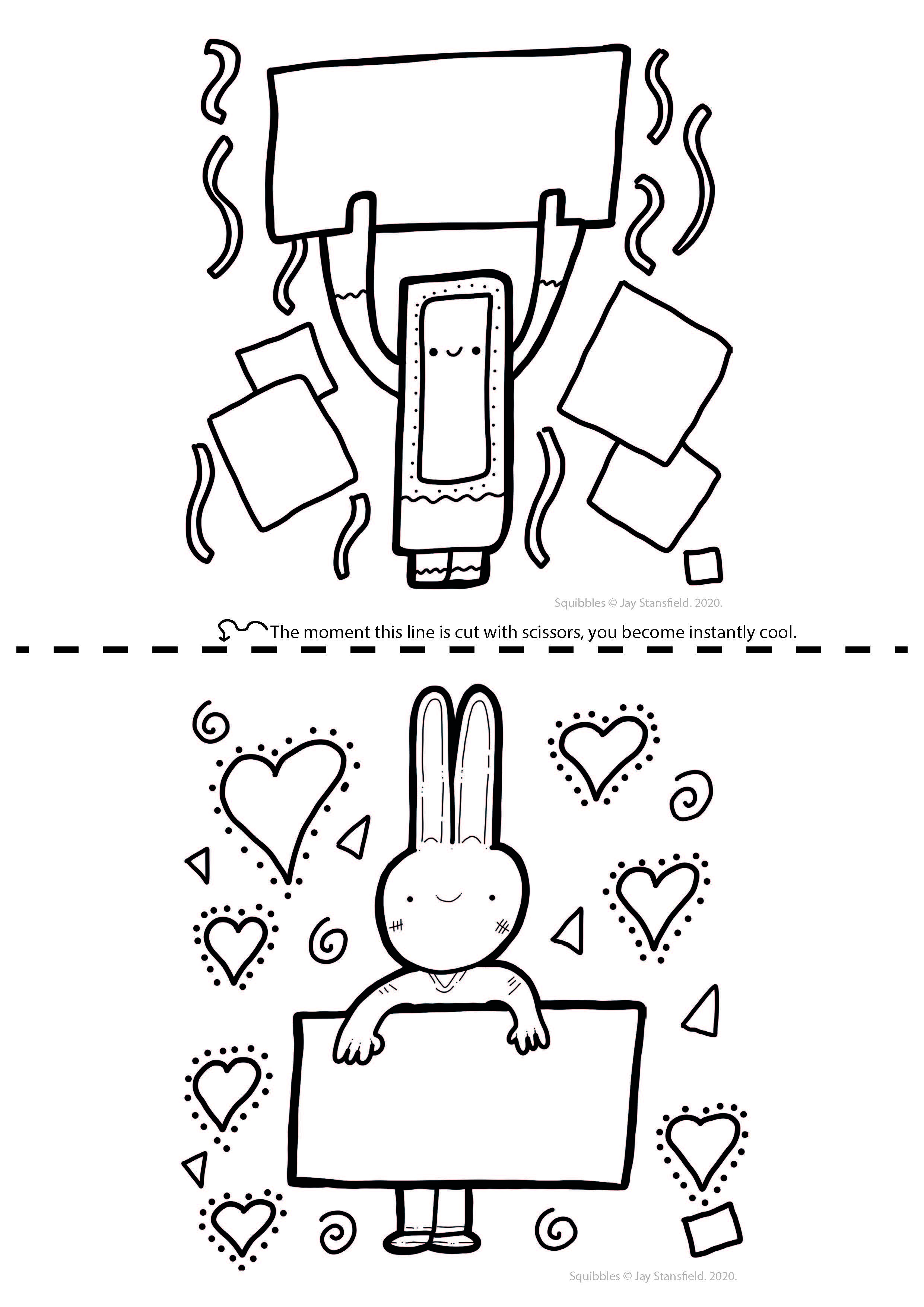 We love seeing your creations! Make sure to tag us on social media with @thesquibbles or use #TheSquibbles so we can share your amazing work.
---
Puzzle Corner
Can you deliver cakes to everyone in Squibblesville, as quickly as you can?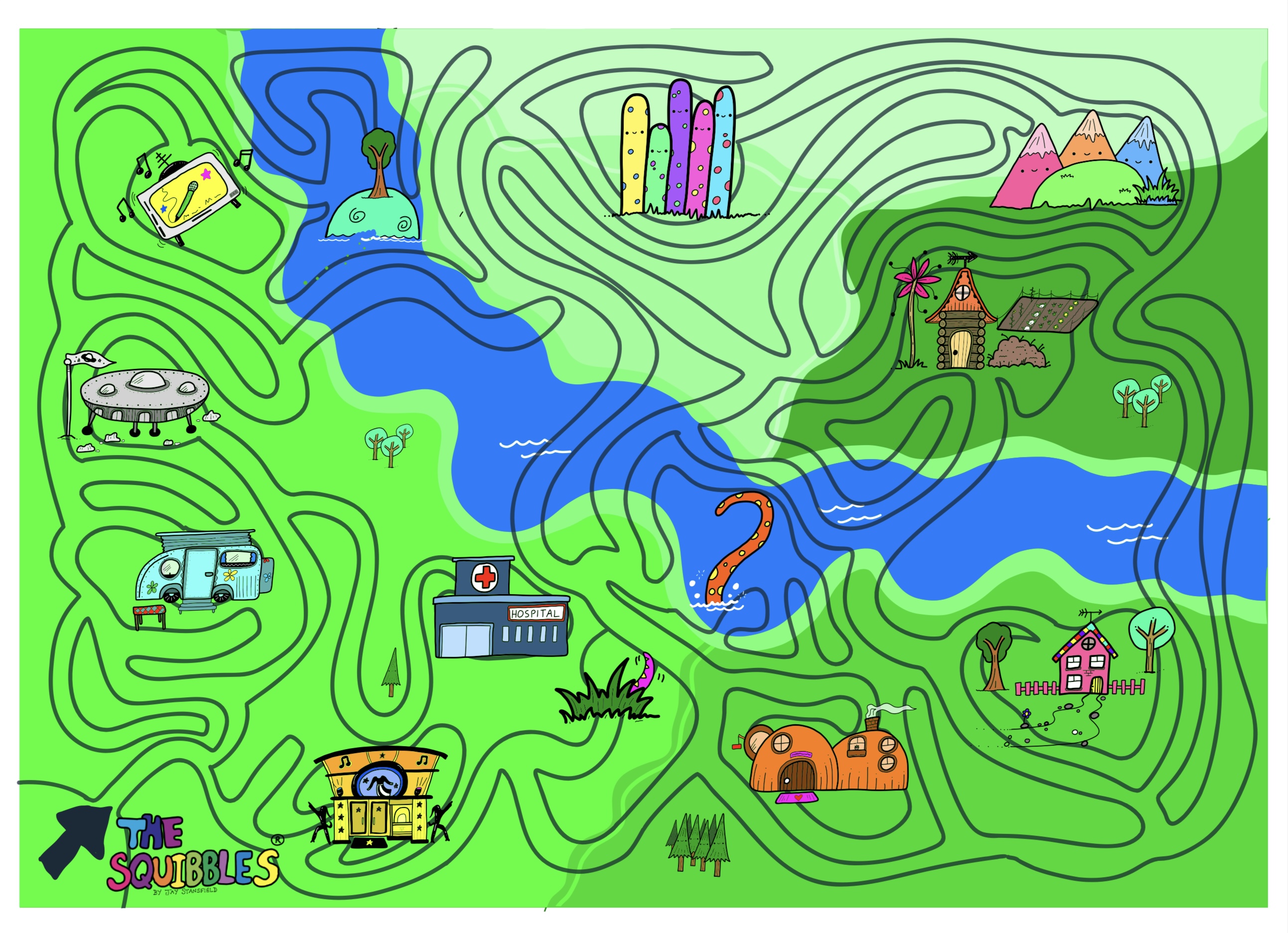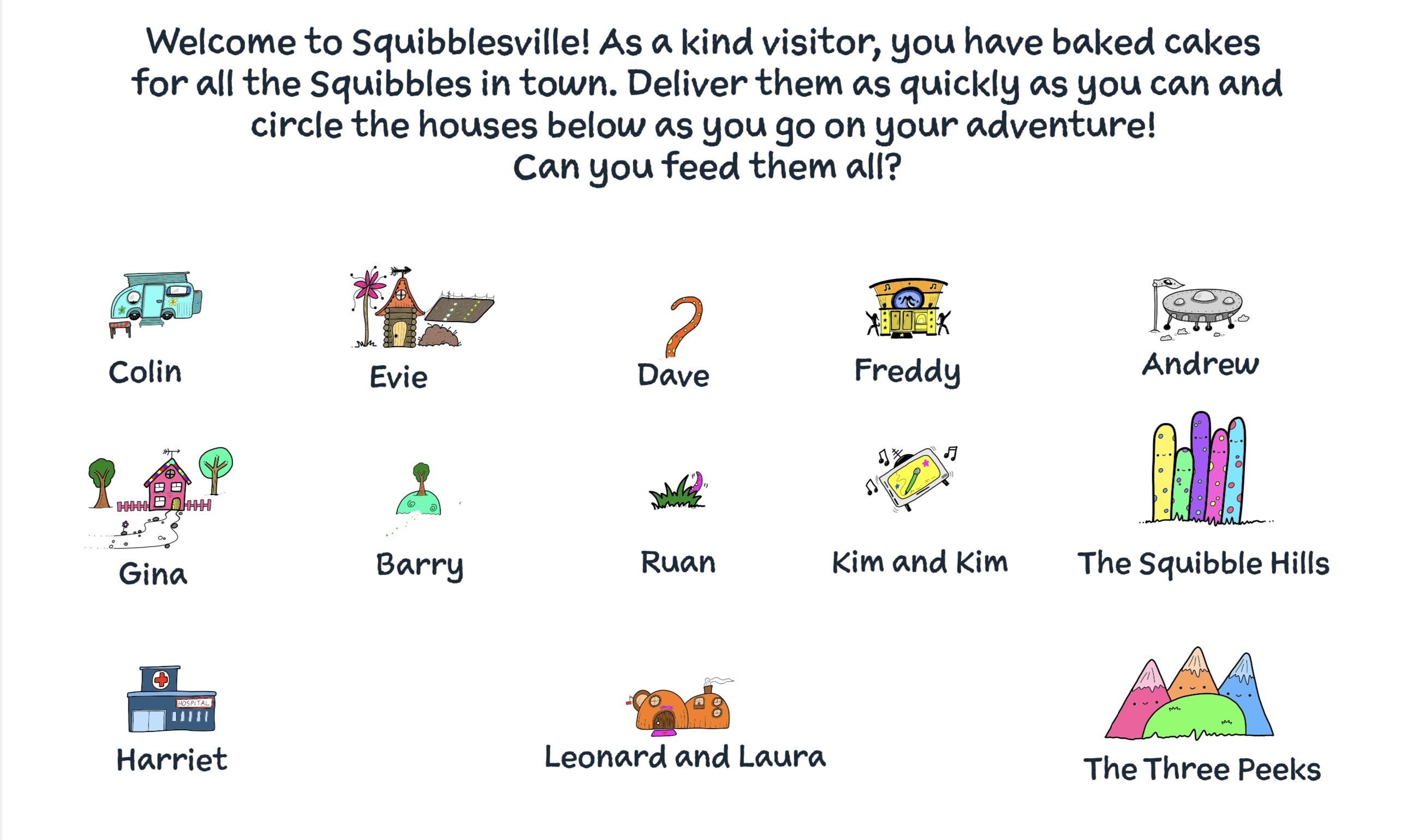 ---
Bake Your Day Squibblicious: The Ultimate Squibble Rainbow Cake Recipe!
Oh, you're in for a treat! Here's a Squibtastic cake recipe that's as simple as it is scrumptious! Get ready to whip up some magic in the kitchen! 🌈💛
Squibble Rainbow Cake 🌈
Ingredients:
- 225g butter, softened
- 225g caster sugar
- 4 large eggs
- 225g self-raising flour
- Food colouring (Red, orange, yellow, green, blue, purple)
For the Icing:
- 100g butter, softened
- 200g icing sugar
- A dash of vanilla extract
Instructions:
1. Preheat the Oven: Set your oven to 180°C (160°C fan or Gas Mark 4). Grease and line two 20cm round cake tins.
2. Mix the Basics: In a large bowl, cream the butter and sugar together until it's fluffy and pale. Beat in the eggs, one at a time. Fold in the flour gently.
3. Colour Me Happy: Divide the batter into 6 different bowls. Add a different food colouring to each one and mix until vibrant.
4. Layer It On: Take one cake tin and start with a spoonful of one colour in the centre. Then, spoon a different colour on top, aiming for the middle. Continue this process until all colours are layered.
5. Second Verse: Repeat with the second cake tin.
6. Bake Away: Pop the tins in the oven for about 25-30 minutes or until a skewer comes out clean. Cool on a wire rack.
7. Icing on the Cake: To make the icing, whip the butter, icing sugar, and vanilla extract together until smooth.
8. Assembly Time: Once the cakes are cool, spread some icing on the top of one layer, then gently place the second layer on top. Ice the entire cake with the remaining frosting.
9. Squibblicious Decor: Add some rainbow sprinkles, or even little Squibble figures if you have them!
And voila! You've got yourself a Squibtastic Rainbow Cake that's as delightful to look at as it is to eat!
Ready, set, bake! Have a Squibblicious time in the kitchen! 🌈💛
---
Upcoming Events
29th August @ 10am GMT (Twitter Spaces)
SQUIBLETS X FRENZ: CELEBRATING YOUNG ARTISTS - Anastasia
31st August @ 10am GMT (Twitter Spaces)
SQUIBLETS X FRENZ: CELEBRATING YOUNG ARTISTS - Anastasia
---
Squibbles Hugs Hall Of Fame
We have a special new member in our gallery - our new friend Randi Zuckerberg!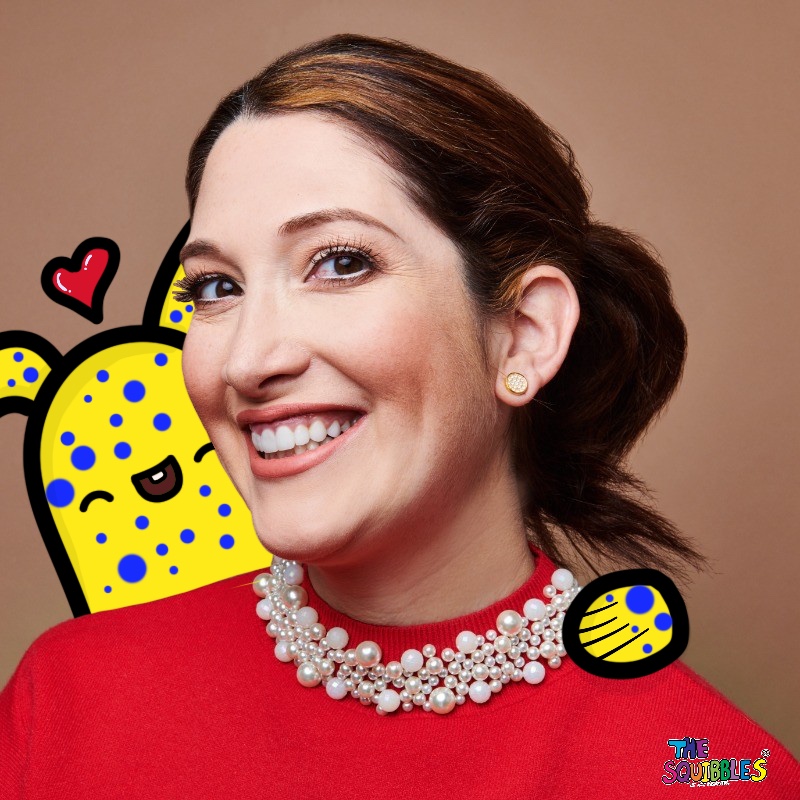 Randi Jayne Zuckerberg[1] (born February 28, 1982) is an American businesswoman. She is the former director of market development and spokesperson for Facebook, and a sister of the company's co-founder and CEO Mark Zuckerberg.[2] Prior to working at Facebook, she was a panelist on Forbes on Fox. As of May 2014, she is founder and CEO of Zuckerberg Media, editor-in-chief (EIC) of Dot Complicated, a digital lifestyle website,[3] and creator of Dot., an animated television show about a young girl (the eponymous Dot) who uses technology to enhance both her educational experiences and recreational activities.[4]
Would you like a Squibbles Hug and to join the Hall Of Fame? Click the button below to find out how!
---
That's all for now!
Oh, it's time to wrap up this Squibble-packed edition of fun and frolics! We hope you've had as much fun reading as we've had curating these Squibtastic activities and stories for you! 🌈💛
Don't forget to try out our Rainbow Cake recipe. We can't wait to hear how your colourful creations turn out! 🎂
But before we go, here's a Squibble-sized nugget of wisdom to take with you: "A Squibble a day keeps the frowns away!" 😊
See you in the next edition of The Squibble Sunday Funday Digest! Until then, keep spreading kindness, smiles, and a sprinkle of imagination wherever you go!
Rainbows and love,
The Squibble Team 🌈💛