This edition is sponsored by Purple, a DAO whose goal is to proliferate and expand the Farcaster protocol and ecosystem. Interested in sponsoring a future edition? Send us a reply to this email!
Farcaster News and Links
App updates
@pal posted the launch cast for Hashcast.xyz, a topic-based Farcaster feed. "I'm interested in a few topics, likes Arsenal, F1, zk, Ethereum, etc and built an easy way to catch up on casts with those keywords," @pal explained, adding that the service was built atop the "amazing work that @greg did on Searchcaster and farcaster-indexer." For an example of Hashcast, check out the #kiwi feed. "hashcast is very cool!," said @v, a.k.a. Farcaster cofounder Varun Srinivasan, about the service.
@dwr, a.k.a. Farcaster cofounder Dan Romero, asked Farcaster for feedback on the Warpcast web client: "If you're not regularly using the Warpcast web client, why not?" TWIF dumped the replies into GPT-4 and asked for a summary: "Many respondents prefer mobile devices for social media, while others were unaware of the web client or prefer desktop apps. Key reasons for not using the Warpcast web client include preference for mobile or desktop apps, habit, lack of awareness, and missing features such as direct messages and notifications."
Romero also polled the protocol this week about what users find annoying when using Warpcast. TWIF again tasked GPT-4 with summarizing the responses. Here's what it came up with: "There are various issues with Warpcast, including difficulty pasting images on iOS, lack of keyboard shortcuts on desktop, and difficulty searching for other users by username on the iOS app. There are also issues with notifications, including ghost notifications, difficulty marking notifications as unread, and difficulties with deep linking on Android. Other issues include difficulties with DMs, NFTs, and image display, as well as inconsistencies in the user interface on desktop."
@reyes, a.k.a. Alex Reyes, shared that his BoringCaster v1 experience has ended. Reyes noted that he had trouble finding the 'just-boring-enough' middle ground, with his first version so boring as to push him into Twitter or Warpcast, which prompted him to create an iOS Shortcut that intercepted any attempt to open Twitter or Warpcast, a clever solution that caused him to not use social media at all for a bit "because BoringCaster was too boring." Reyes said that one of his takeaways was replies and likes are needed to make social media interesting – which he admits might seem obvious, but said that it was interesting to see this first-hand through a practical experiment.
@betashop, a.k.a. Jason Goldberg, founder of Farcaster client Jam as well as web3 query engine Airstack, announced that Airstack.xyz now supports queries to get Farcaster profiles from Ethereum addresses/ENS names, and vice versa. "With this, we're enabling devs to not only build better Farcaster experiences, we're also enabling non Farcaster devs to integrate into the FV ecosystem," said Goldberg. Head over to the Airstack beta Telegram group for access. In our previous edition, This Week in Farcaster previewed an AI-powered natural language query generator that Airstack also has in the works.
Launchaster.xyz has launched Launch NFTS. @jayme, a.k.a. Jayme Hoffman, founder of Launchcaster, described the mechanic as "upvote to mint" and said that the caster who makes a given launch cast will also own the corresponding NFT collection. Hoffman said the feature is powered by Zora. Hoffman added that this was a "Farcaster-born feature," and linked to a screenshot essay with his thinking about the feature while it was in its earliest stages. If you'd like to give Launch NFTs a try, head over to Launchaster to mint the Launch NFT for Launch NFTS. (How's that for meta?)
Romero flagged a minor update for the Warpcast web client – 'Find Users' and 'Settings' pages are now available. "Better search coming soon!," Romero said. Also added this week - the ability to send invites from the web client. For the web client feature enhancements, Srinivasan gave props to Merkle engineers @gt, a.k.a. Goksu Toprak, and @nickcherry, a.k.a. Nick Cherry. "Feature parity incoming!," Srinivasan said.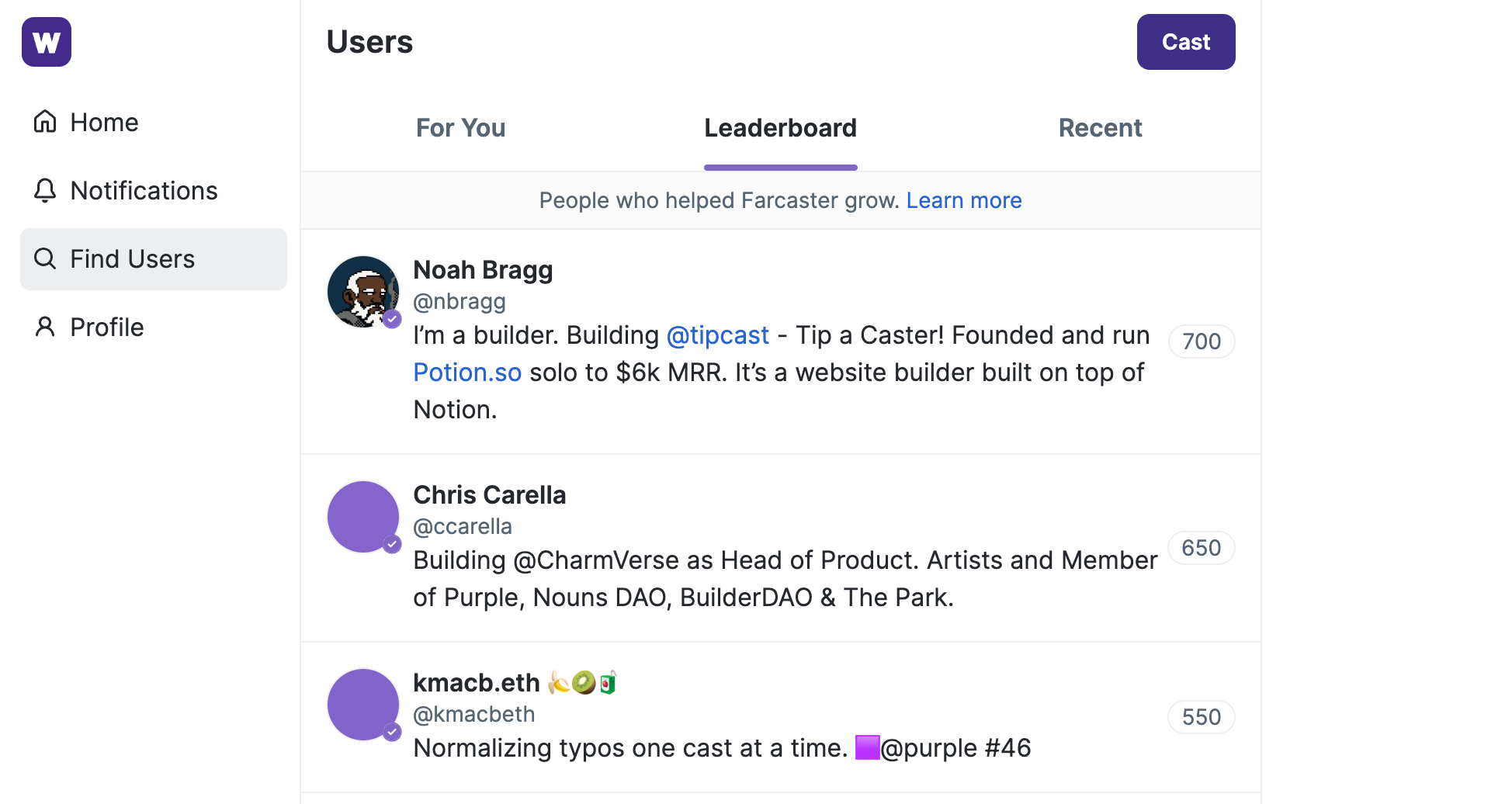 @cameron, a.k.a. Cameron Armstrong, upgraded his Farcaster bot/service SayMore.tv this week to show a list of any in-process requests for a specific user. For example, you can see the list of active requests for Armstrong here. SayMore was designed to make it easy to prompt Farcaster users to expand on their ideas. For more on Armstrong's plans for the service, check out last week's edition.
Alphacaster.xyz's banana has gone ripe! The DAO-aware Farcaster client launched its Sign In With Farcaster integration this week, adding support for casts/likes/recasts on web and mobile. DAO members can also get push notifications for governance updates. @billzh, a.k.a. Bill Zheng, founder of the service, said that he's recruiting beta testers for an iOS TestFlight version of the app. Zheng noted that priority is currently being given to Purple members. You can contact Zheng through Telegram to get a TestFlight invite. In a separate thread, @uncledavo, a.k.a. Uncle Davo, described the DAO experience on Alphacaster as "smooth to vote" and a "great idea to combine governance with socials." Davo said the experience was more sticky/fun and would result in more active participation across DAOs.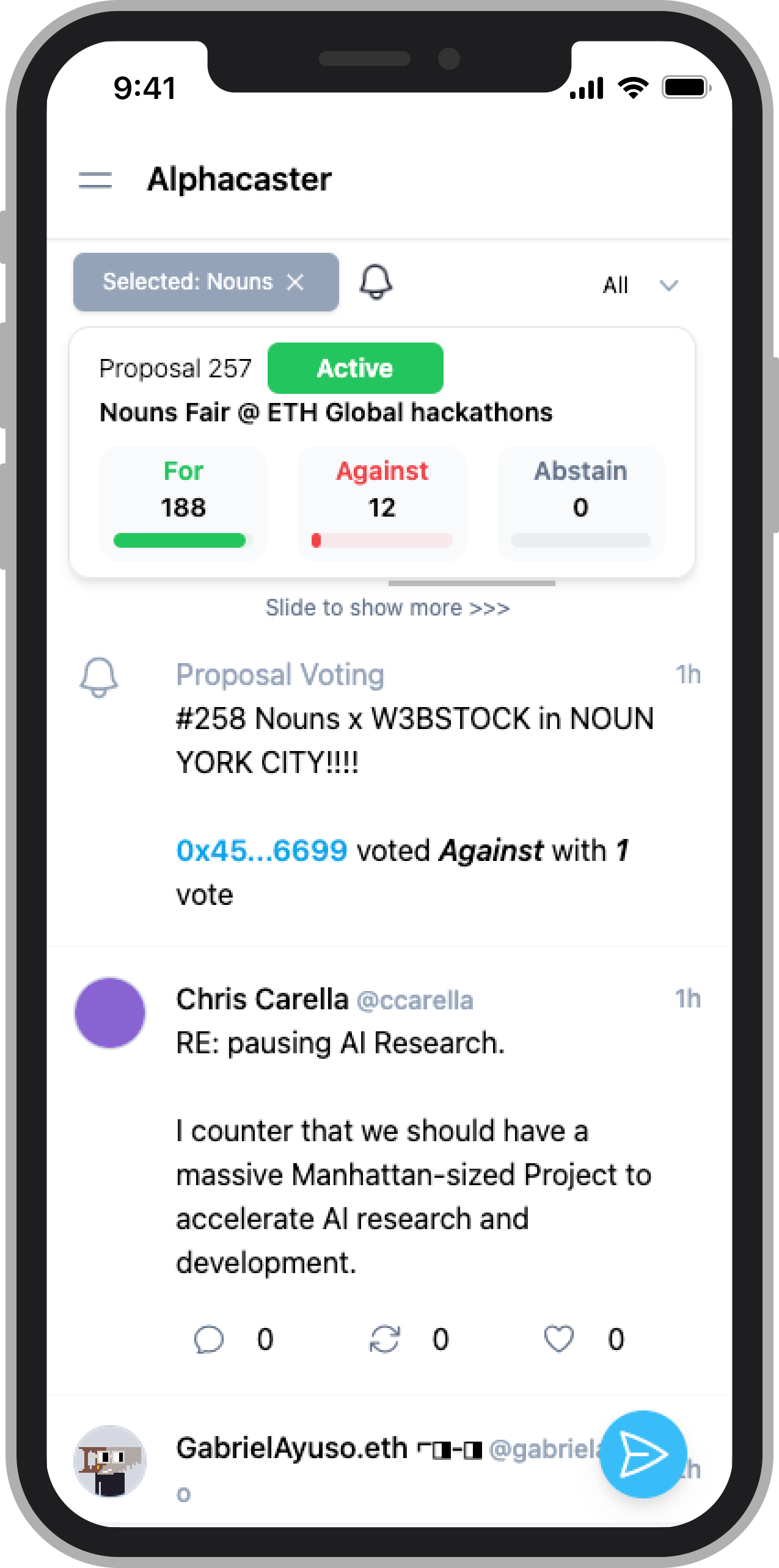 Dev notes
The hub testnet is live! Srinivasan casted kudos to @df, @gavi, and @cassie for being first to join the network. "Testnet is a playground for developers to try out new changes, and sets us up to launch the real thing very soon after!," said Srinivasan.
In a post on the bird app, Romero said that there are currently 10 hubs running on the testnet. "It's been a year+ engineering effort to upgrade Farcaster from v1 to v2 with over 30 open source contributors," he said.
The first cast published through a mainnet hub has also made it onto the protocol. Is this our version of, "Mr. Watson, come here"? You be the judge of that. The cast, sent by Alphacaster.xyz builder @16, said in full: "This is a meesage will be sent directly to the hub." (@16 noted that he was so excited, he made a teensy typo in the meesage.) Srinivasan noted that there are still some bugs with the mainnet deployment (an embed on the cast didn't show up), but celebrated the "huge milestone for the network."
@greg, a.k.a. Greg Skriloff, has a PR in progress for his farcaster-indexer project to read from a hub instead of the Warpcast API. "Open source indexer reading smoothly from a testnet hub 🥳," said Skriloff in a cast this week.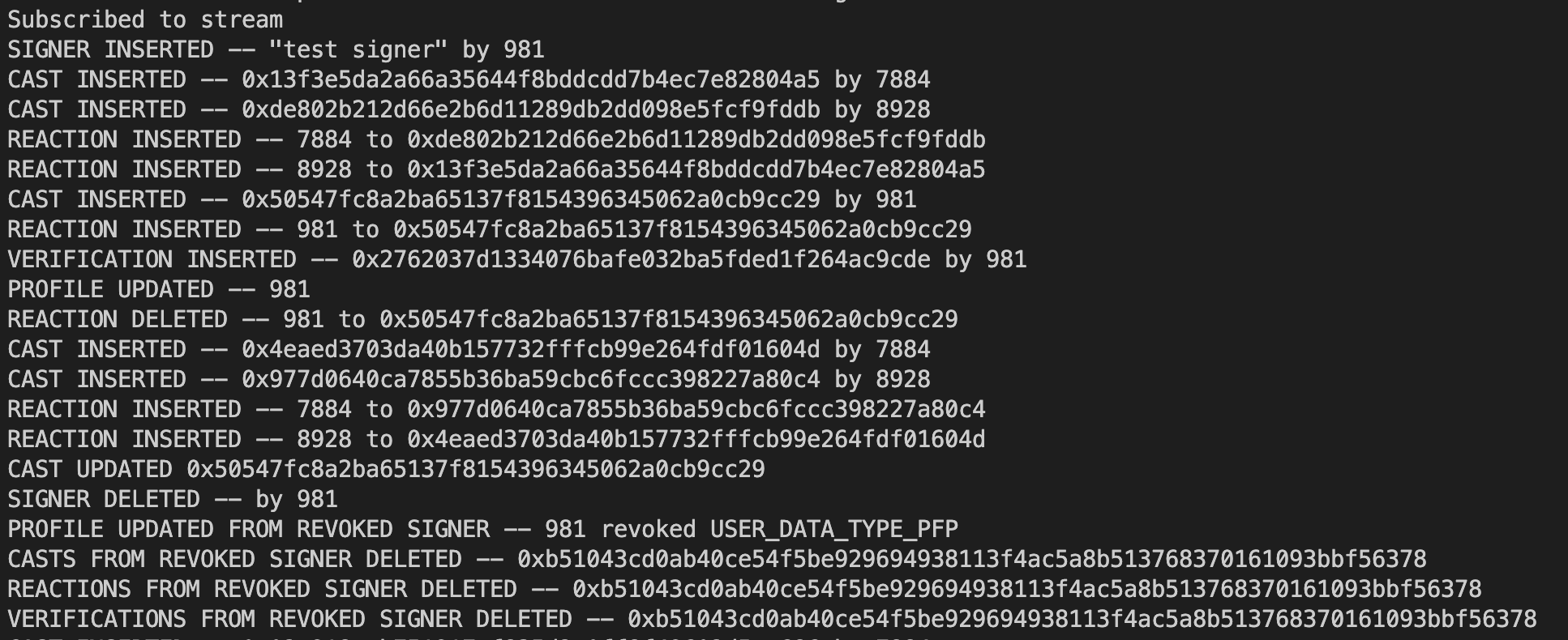 If you're looking for a way to forever remember the launch of hubs, @df, a.k.a. David Furlong, founder of Discove, has just the thing – "a commemorative NFT to celebrate the launch of the Farcaster hubs testnet." The NFT is free to mint on Zora.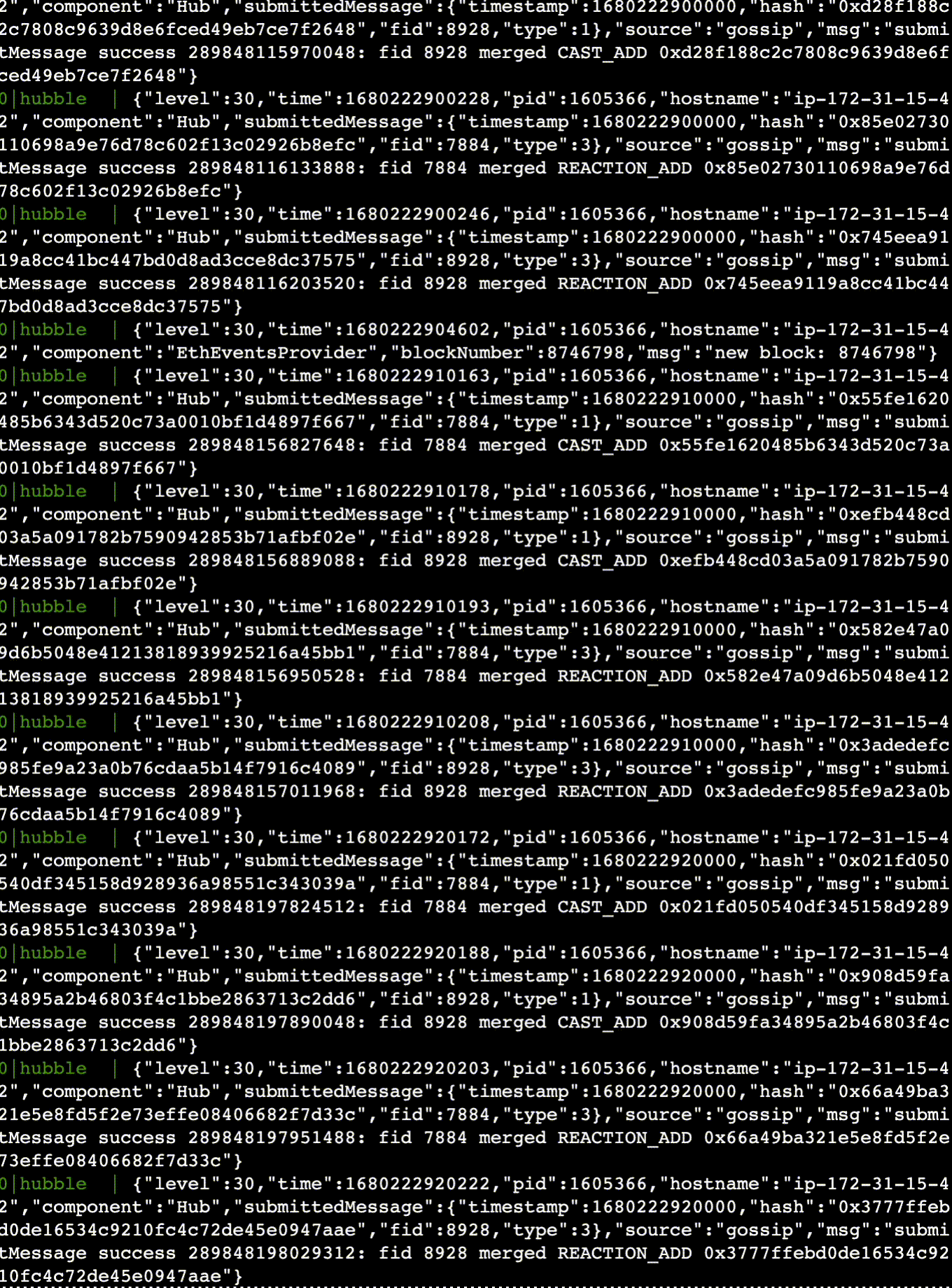 Farcaster's delegated signers implementation got a shoutout in an Ethereum Magicians post by @agostbiro, a.k.a. Agost Biro, in which Biro outlined different strategies for dapp isolation. Farcaster was mentioned in the off-chain sessions keys section alongside Ceramic, SIWE, Lit Protocol, and others. (HT @dwr)
@n, a.k.a. Nico, shared that he's working on a machine learning model which will output an "address score" for Ethereum users similar to how credit scores work, with low scores in the 300-500 range, mid scores in the 500-650 range, and high scores above that up to 850. The model will eventually be open sourced, and Nico said that the scoring system depends on "dozens of factors, notably num_transactions_score, transaction_frequency, total_value." Some example scores for Farcaster users include: @n 530, @alexpaden 568, @cassie 685, @jc 698, @dwr 663, and @dcposch 753.
The team at Merkle Manufactory identified "a subtle issue with ts-proto and hubble," said Srinivasan this week. The issue could lead to hashes being generated differently on hubs vs. other services because of a quirk in how ts-proto serializes bytes. The Merkle team is leaning towards the "fast path" for clients to patch this behavior right now, with a long-term fix planned for maybe 1-3 months after Hubs are fully launched. Read the full Github issue here.
Did you know: You could tag the entire starting lineup for a basketball team in a cast on the Farcaster protocol, but if you wanted to do the same for a football squad (either the US version or everyone else's version), you'd have to pick favorites. Furlong noted this trivia about the protocol limitation for no more than five tagged users in each cast after @billzh, a.k.a. Bill Zheng, wondered about the lack of a link to his profile on a post-ETHDenver appreciation cast from @borodutch.
Farcaster's most recent dev call was held March 30. You can find the agenda here, or watch the recording on YouTube. As you might expect, a lot of the call was spent providing updates on the testnet and mainnet launch of Farcaster's Hub architecture. Srinivasan said that he expects the most painful current bugs with hubs will be addressed within two weeks, and previewed what comes after the stabilization of mainnet. There were also a couple ways to help out hub development flagged on the call: Running a hub testnet and writing up guides on hub setup for different cloud providers.
Ideas worth sharing
Srinivasan reminded Farcasters - If you build something cool for/on the protocol, make sure to add it to a16z's awesome-farcaster repo. The repo – which has 250 stars right now – features nearly two dozen Farcaster clients, plus tools, bots, and developer resources. Contributors include Eddy Lazzarin, Noah Bragg, Mason Hall, David Furlong, and others.
Romero and Srinivasan hosted another Farcaster Broadcast session on Clubhouse before Thursday night's Farcaster meetup in Venice, CA. TWIF spotted a whole bunch of Farcaster users in the room, including builders @billzh and @dylsteck who were welcomed on-stage to ask questions of the Merkle Manufactory cofounders. Romero said that a big focus of his time right now is user growth, including exploring college blockchain clubs and DAOs as promising user acquisition channels at the moment. Srinivasan echoed this sentiment, and added that the web client could play a big role in this growth strategy, as there are user segments who might need a fully-featured web client since they are on a desktop computer most of the day. The duo touched on several more topics and the full conversation is worth a listen.
Romero flagged the potential for an audio-oriented Farcaster client, which he thinks would do well. Romero noted that the top three casts last week were about listening to stuff (and no, none of the casts were about Fred Again).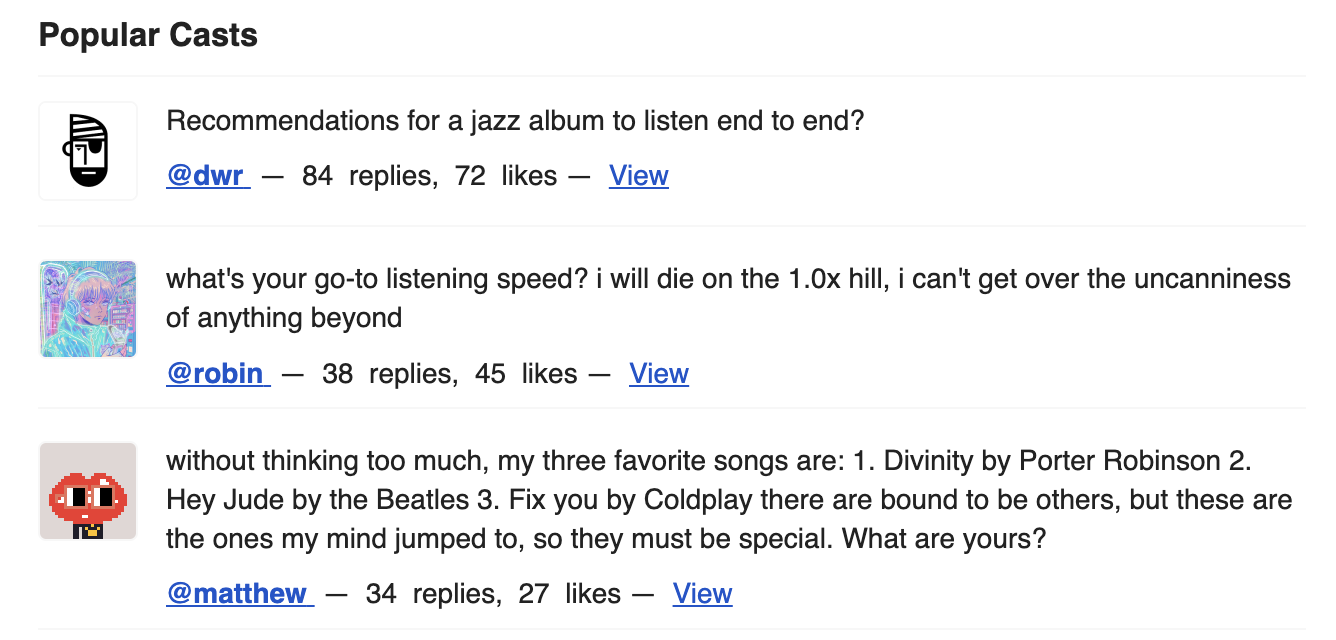 Furlong casted about a new UX pattern for Farcaster clients – "just in time casts." Furlong explained it like this: "Clients like Discove will show a bunch of content as casts even if they're not - if you reply to them or engage with them, Discove makes them into a cast in the moment, and then adds your reply/like/recast." Furlong said the benefit was keeping the social graph clutter free, while also simplifying external content integration. Goldberg said that he loved the thinking and was working on something similar. "The key IMO is to not flood the feed, rather make it explicitly user initiated," said Goldberg.
@teleyinex, a.k.a. Daniel Lombraña, wrote a post on Paragraph articulating the differences between Lens Protocol and Farcaster. Although Lombraña doesn't provide a simple answer to "which one is better," as he touted in a cast, the post is chockfull of interesting details and comparisons and well worth a read.
@jcs, a.k.a. joshcs.eth, has started a Telegram group for Farcaster users in the DC area. You can join the half-dozen other capitol area casters here.
Could Farcaster benefit from a regular open demo day? @notdevin, a.k.a. Devin Elliot, posed the question this week. "Could also be previously released but learn the new new sorta thing, show me how to use your power features," Elliot said. "Virtual would make the most sense for easier attendance."
FarCon has a date! The burgeoning Boston-based Farcaster confab will take place June 10-11, according to a cast from the official account for the unofficial conference. Organizer @cameron, a.k.a. Cameron Armstrong, noted that the conference has a spot already identified, too.
With possible TikTok regulation dominating the news cycle, Romero made an observation that permissionless social would probably not fly in China. "A friendly reminder that a protocol like Farcaster is not possible in a country / world controlled by the CCP," said Romero, adding that, "The US / West are not perfect before the false moral equivalence takes."
Romero made an appearance at Andreessen Horowitz's Crypto Startup School to talk about his learnings while growing the Farcaster protocol. Furlong, who is currently in the accelerator program with Discove, shared a photo from the private tutorial for a16z-backed founders on growing a protocol. Also in attendance was @adeets-22, a.k.a. Aditi, founder of Capsule, who summarized the lessons learned as: "build, sleep, eat, exercise, talk to users 📚"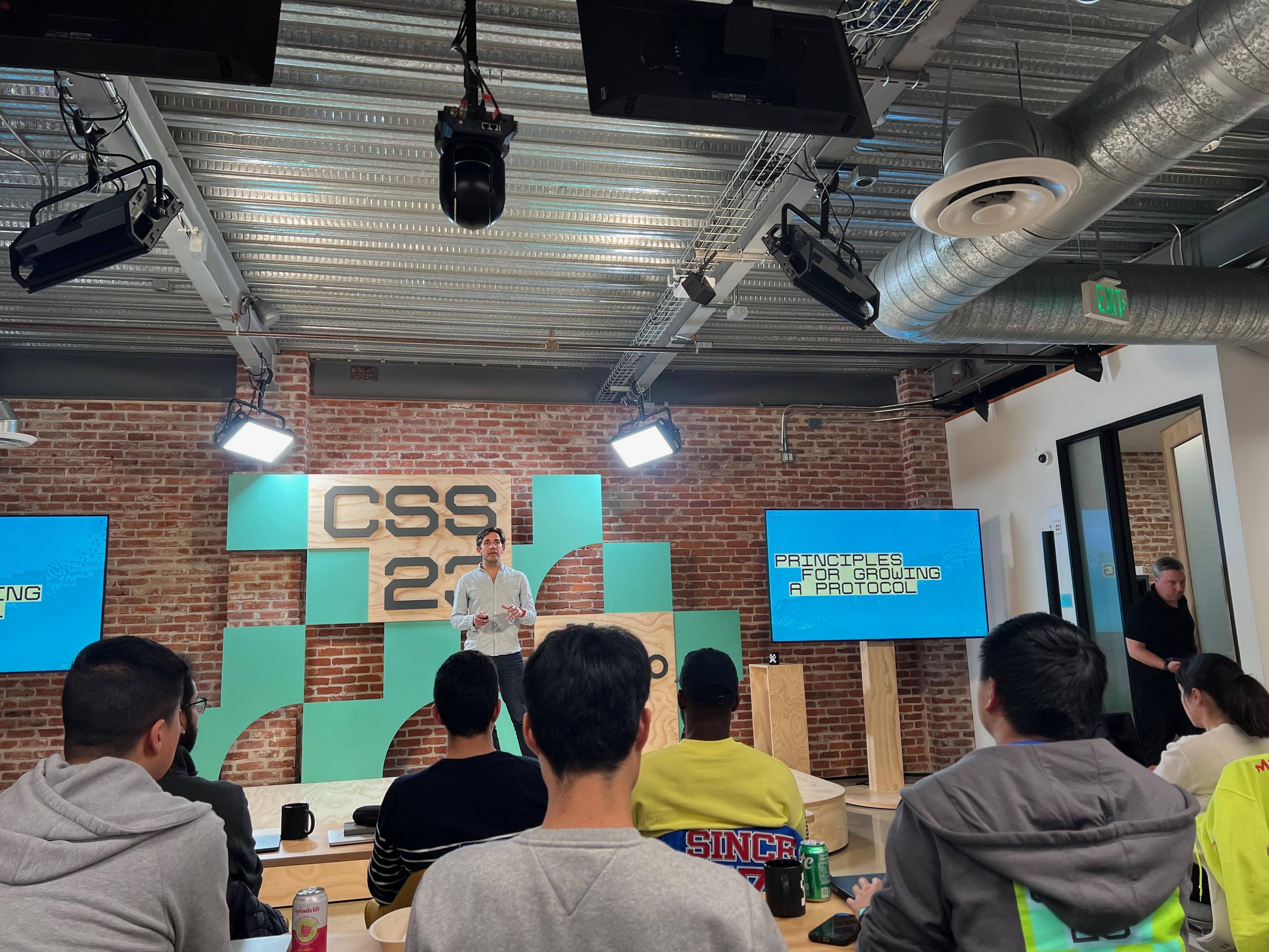 Now that user-driven invites are live, have you ever wondered whether there's some secret approval queue/veto mechanism for the Merkle Manufactory team? There's not, Romero confirmed this week, responding to a question from @kmacbeth, a.k.a. kmacb.eth. Romero said that the invite process takes place instantly.
Farcaster By the Numbers
Powered by Farcaster.network. Change calculations based on last week. Note: Change calculations have been omitted for total casts and average casts per day due to a data blip that affected the figures in last week's edition.)
Weekly Active Casters: 1.6K (same as last week)

Monthly Active Casters: 3.2K (same as last week)

Total Casts: 558K

Total Users: 12k (+1k)

Average Casts per Day: 2,429

New Users per Week: 265 (-37)
Sponsored by Purple

Purple is a DAO whose goal is to proliferate and expand the Farcaster protocol and ecosystem. The DAO operates on Nouns.Build, Discord, and Charmverse.
This Week in Purple
Last weekend, PRPL 16 Developer in Residence - Pilot program with Juicebox rage quit option and PRPL 17 Prop House Round 2 were both passed. PRPL 16 was the DAO's most voted upon proposal to date, with 30 'For' votes and 13 'Against' votes. @alexpaden, a.k.a. Alex Paden, has created a page on Charmverse for the community to follow his work as Purple's first-ever experiment with a full-time developer. Paden was officially funded through a Juicebox on Friday, with disbursals to Paden to occur on a biweekly basis over the next three months. As for the Prop House round, a one-week advertising period is coming up next, before the round opens up for two weeks of submissions followed by one week of voting for winners. 5 ETH has been committed to the Prop House round, with 5 winners to receive 1 ETH each.
PRPL 18 Establish the rule of martial law and name 0xen.eth the undisputed dictator of Purple is currently active, with 2 'For' votes, 16 'Against' votes, and 3 'Abstain' votes as of Friday afternoon. Is it governance? Is it performance art? A combination of both? Welcome to the future of organizations. To read up on the reasons why or why not DAO members supported PRPL 18, head over to Alphacaster.
PRPL 19 Cosponsor NYC NFT Meetup is set to end Saturday. As of Friday afternoon, the proposal had 26 'For' votes and 1 'Against' vote. (The 'Against' vote was by PRPL 18 proposer @borodutch, who said, "tit for tat" as his reason for rejecting the proposal.) PRPL 19 would send 0.7 ETH to the organizers of an OrangeDAO/Purple meetup during NFT NYC.
Two new votes are on deck for this week: PRPL 20 Droposal 1 WeCast and PRPL 21 Fund Warpy Open source Farcaster datasets.
Lastly, in an update not directly related to Purple governance, the DAO now has its own dashboard! @ccarella called attention to it this week, while welcoming dashboard creator @pandajackson42 to Farcaster at the same time. As of writing this edition, Purple has had 126 total bidders, with 118 holders at present (meaning that more than 93% of addresses that went for a Purple token ended up getting one!).
Get to Know Purple
This week, meet Purple DAO member @cameron.
TWIF: Why did you want to join Purple?
Purple has been "on my list" of Farcaster To Do's for months (along with a ton of micro-apps, essays, and the now officially unofficial FarCon we're hosting in Boston on June 10), but going through the Spark Accelerator run by Zeitgeist made me take the time to finally win a dang auction. There I met @osama in person for the first time and we immediately hit it off talking about the potential for Purple to grow into really a first of its kind organization. Its ability to steward and invest in the ecosystem while not being beholden to the core Farcaster team could set a really powerful precedent for the future of not just the social internet, but the internet as a whole. I think the future of power dynamics in world-scale organizations is a quasi-balanced inventory of many (but crucially not all) stakeholder wants and needs – and Purple let's us play with this model not as navel-gazing talkers, but as practitioners.
TWIF: What excites you most about Farcaster?
The fact that @dwr and @v eventually lose a lot of control (by design). It takes real sacrifice to build something credibly neutral. That sacrifice is both explicit (they lose a lot of levers other founders can use to shape the direction of what they're building) and implicit (they probably feel like they're about to jump into a speeding car without a steering wheel). It's a huge vote of conviction on their end to even start down that road, but the proof points they're already hitting – with their ultra early API/alt client support, with hubs launching, with mainnet coming soon – it really drives home that they believe these are the rails the new internet is going to be built on (and I do too). The extensibility is palpable and every win for Farcaster is a win for everything building in this strange and wondrous early successional habitat 🫡
TWiF: Can you give us a few recommended follows on Farcaster?
You could close your eyes and follow at random and still have a 70% hit rate on good follows on Farcaster (seriously, if you follow less than 1,000 people, you're not getting the full Farcaster experience), but in particular my friends @jayme and @ace are awesome follows for startupy stuff; @j4ck, @nonlinear, and @july are great for vibes/memes; and for criminally underrated follows check out @jk, @timdaub, and @futureartist.
Upcoming Dates of Note
NFT NYC Farcaster Meetup
Saturday, April 15, at 5 p.m. EST - Betaworks
Have an event we should add to a future edition? Send us a reply to this email!
Job Listings
Contract Designer (@dwr)
Merkle Manufactory cofounder Dan Romero said that he's looking for a contract designer who's comfortable implementing designs in React/React Native and who has experience building information-dense UI. Interested? Send Romero a direct cast at @dwr.
Senior Engineers (Discove)
According to founder David Furlong, the ideal hire "already uses Farcaster, believes in it & wants to see it succeed 💜." The stack includes React Native, Next.js, and TypeScript. For more information, DM Furlong at davidfurlong.telegram for more info.
Have a job listing we should add to a future edition? Send us a reply to this email!
This newsletter is published with Paragraph.xyz. The format of this newsletter was inspired by Week in Ethereum News. With questions, comments, or other feedback, please send a reply to this email, or access the "farcaster-weekly" channel in Purple's Discord.