This edition is sponsored by Purple, a DAO whose goal is to proliferate and expand the Farcaster protocol and ecosystem. Interested in sponsoring a future edition? Send us a reply to this email!
Farcaster News and Links
App updates
Jam, the app formerly known as Purple, took a major step forward this week with the launch of Log In With Farcaster functionality on its iOS and Android clients. @betashop, a.k.a. founder Jason Goldberg, announced the advent of read-write capability in a launch cast Thursday. "Jam is now a fully functioning Farcaster app with both read and write capabilities, and tons of great stuff that's only on Jam," he said, referencing the Jam-only "longcast" feature which he fittingly used in the announcement cast. Goldberg also previewed what's coming next, including the ability to cast multiple photos, notifications, "web3 integrations galore," and more. "Please give Jam a try and let us know your feedback," said Goldberg. "The Jam team is moving super fast and purposeful to deliver a kick-ass web3 social experience that we hope you will love. We can't do it without your help." Read the full launch thread here.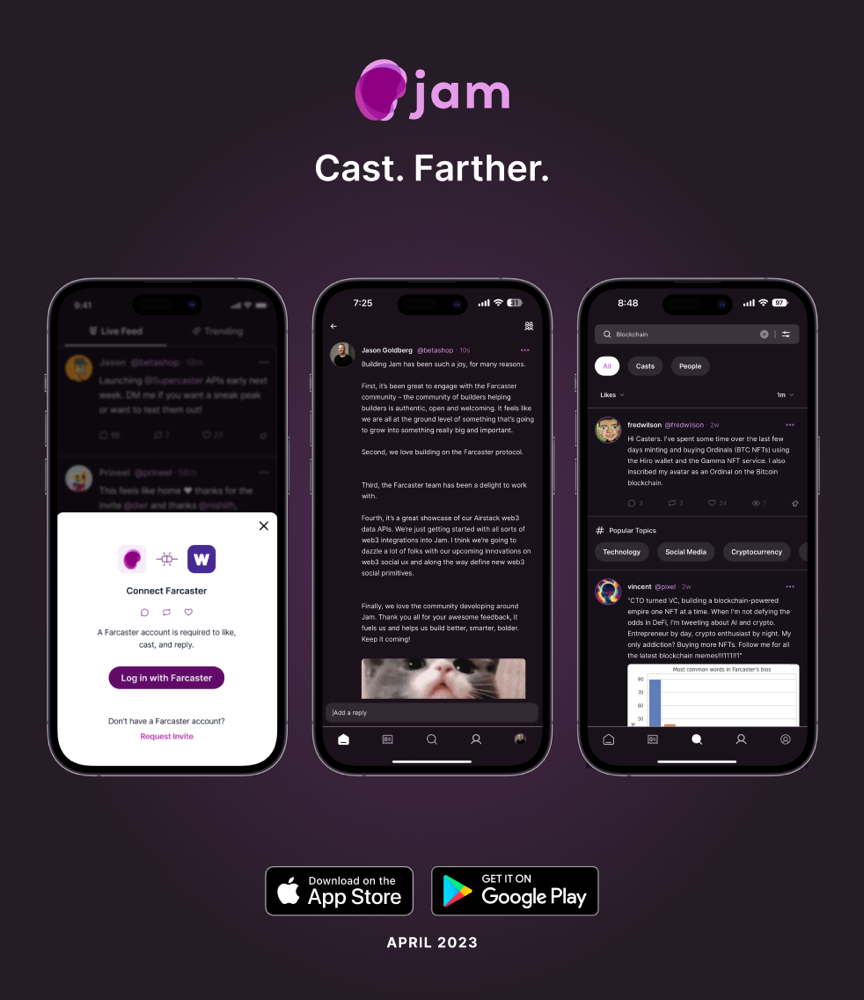 GIFs have made their way to Farcaster! Jam was first to mention GIF support in its Log In With Farcaster launch notes on Thursday, and then Merkle Manufactory followed up soon after with the launch of GIF support in its Warpcast clients.
@v, a.k.a. Varun Srinivasan, a.k.a. Farcaster cofounder Varun Srinivasan, casted about another set of ship-day updates on the Warpcast Changelog. Among the items tackled by Merkle this week: simplifying the language used in the connect app flow, prioritizing people you follow in auto-complete, adding a search users bar to every Warpcast.com page, and fixing a couple of bugs. @dwr, a.k.a. Farcaster cofounder Dan Romero, recognized the user search improvement with his own cast and said that, "relevancy of user search in all of the Warpcast apps — mobile, web and desktop — should be significantly improved!"
Unlonely has been funded. @briang, a.k.a. Brian Guan, founder of @unlonely, said that the Farcaster-integrated web3 tv app has gotten a lead investment from a "tier 1 crypto VC," but cautioned that "it's a terrible market to raise right now so only do it if you need to." Guan said founders looking for funding right now should make sure to manage expectations for bear market valuations. He also offered to help where he can for any other founders trying to raise.
Alphacaster.xyz, the DAO-aware Farcaster client, was a winner in the Developer track of Nouns Hack Week, which wrapped up Friday. In total, 1,500 votes were cast for 68 different submissions. Alphacaster received 121 of those votes and as a result will receive a 3 ETH prize. "Nouns x Farcaster ftw ⌐◨-◨," said @billzh, a.k.a. Alphacaster founder Bill Zheng.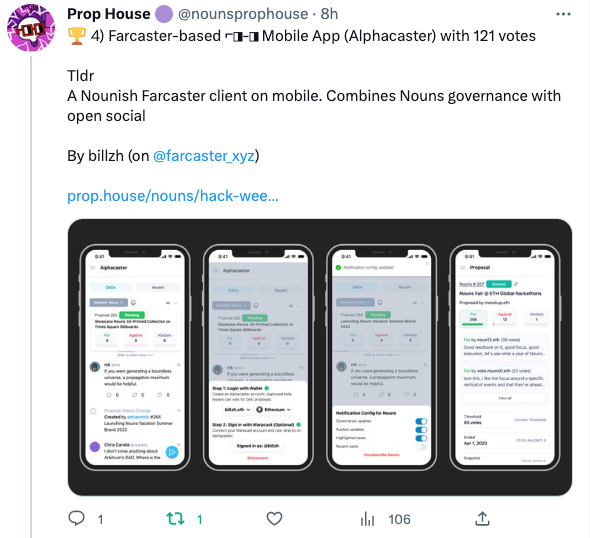 Srinivasan and Romero hosted another Clubhouse room on Thursday evening. Romero said that a few fun new features are in the works for Warpcast, and that embeds will be an area of experimentation over the next few months, e.g. providing a protocol-native way to associate non-link media with a cast, such as one of audio, video, an NFT, a longcast, or something else entirely. Srinivasan and Romero also discussed next steps for direct casts, with Romero noting that the Merkle team is cooking up something cool to handle end-to-end encrypted direct casts on the web. Some of the challenges with decentralization of direct casts were discussed, including the question of whether a single trusted server might be needed in the architecture and how to defend against the possibility of malicious or poorly coded clients. The cofounders also gave an update on Hubs; Srinivasan said that ironing out performance issues and making the developer experience as good as possible are his top two priorities at present. Srinivasan pointed to the examples folder in the Hubble repo as the best way to get started developing against Hubs. You can listen to the recording here.
Dev notes
@cameron, a.k.a. Cameron Armstrong, dropped an update on @FarCon, the unofficial Farcaster conference planned for June 10-11 in Boston. Armstrong said that he and @grin stopped by the event space and walked away impressed. "It's sick af 🫡," said Armstrong. "Plenty of side rooms and huge patio too."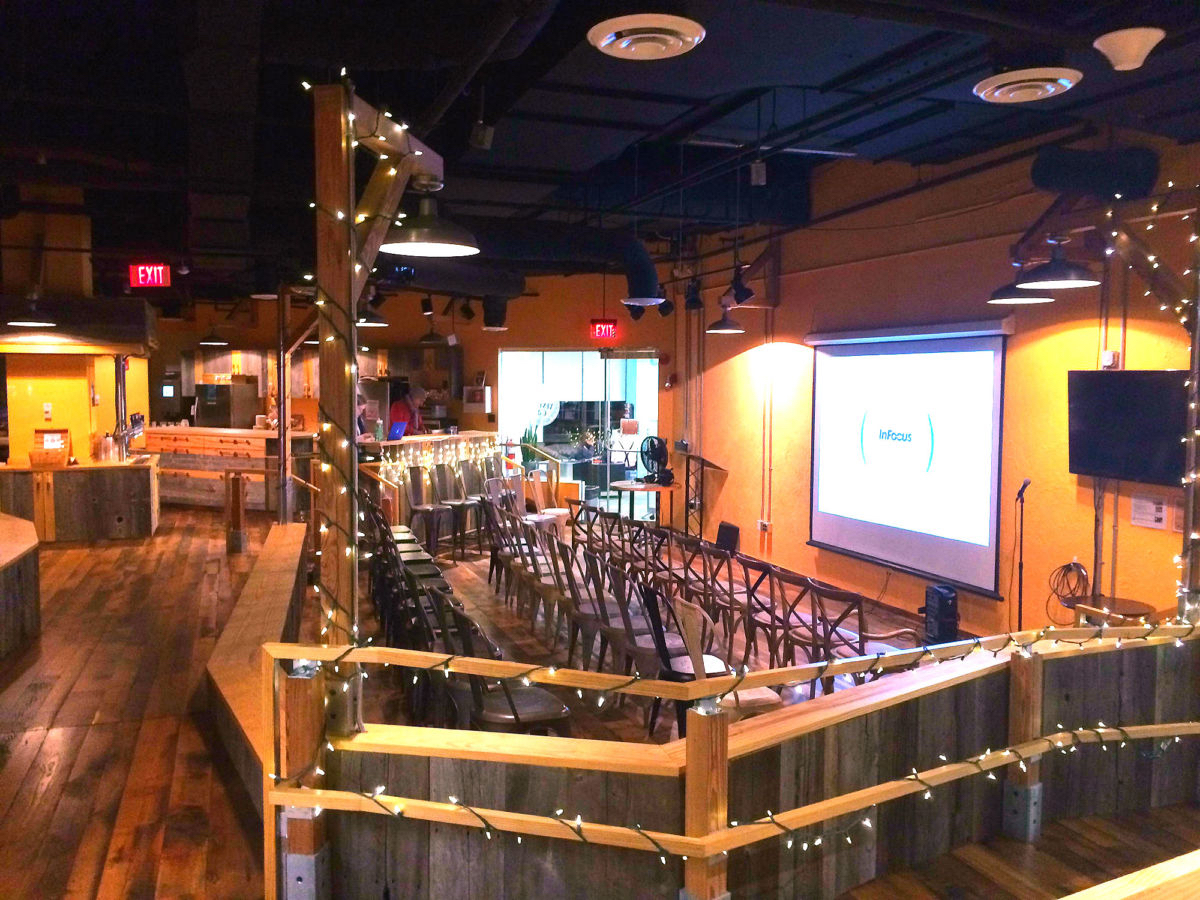 @pixel, a.k.a. Vincent Liao, has launched a Hub proxy which can be used to fetch data from a Farcaster Hub in whatever language you prefer through a REST interface. Liao advises in the repo description: "Please note that this is only a temporary solution and will be replaced by language-specific packages and modules to talk to Farcaster Hub."
Should builders stop referring to products built on top of Farcaster as "clients"? That's the perspective held by Goldberg. "Lawyers and accountants have clients," the Jam founder said. "Consumers use apps." Responses were mostly in agreement. @zachterrell, a.k.a. Zach Terrell, jumped in with an explanation of why both terms might have a place. "client = when you're explaining it to a technical person," said Terrell, and "app = when you're explaining it to a nontechnical person."
What would it mean for a social protocol to be Turing complete? That's the premise Srinivasan tackled in a recent technical doc, summarizing it in a cast as "some thoughts on evolving Farcaster into a protocol for all social networks, and not just Twitter-like ones." A few hallmark components identified: Flexible schemas, context separation, long-term storage, and private casting. "It's vital that these features can be grafted on progressively in a backward-compatible way," writes Srinivasan. "Farcaster already has a community of users, developers, and applications that must be brought along for the ride." Read the full technical exploration here.
What's the difference between Log In With Farcaster and importing your Farcaster seed key to authenticate yourself in a new client? How will this space evolve in the future? Those are the topics addressed in another technical post by Srinivasan this week about Farcaster Wallets. LIWF represents a "light mode" implementation, while signing in with a seed phrase would be a "wallet mode app." The advantages to a wallet mode app are that they can be used to approve other light apps (think OAuth) and offer complete ability to manage content. Srinivasan also notes that, eventually, Farcaster wallet mode apps could support regular wallet functionality too. Read the full post here.
@pfh, a.k.a. protocol developer Paul Fletcher-Hill, opened a Github issue to explore how Farcaster could be extended to support new types of embeds, parents, and reaction targets. Fletcher-Hill listed examples like YouTube videos, Ethereum NFTs and transactions, news articles and more. The issue is open for feedback and once an initial set of supported formats is determined, more could be added in the future.
Ideas worth sharing
@0xen's "Castaways Expanded" collection sold out. This collection featuring 250 Farcaster logo reinterpretations was a free mint for existing Castaways holders. "Congrats to every one who minted and don't forget, the original Castaways collection is still minting," said 0xen. As of Friday, more than 500 of the original Castaways collection logos were available; you can mint one here.
Romero has been experimenting with generative AI art as a way to fund Farcaster ecosystem development. His "Farcasting" collection features Midjourney art related to Farcaster, with proceeds directed towards Purple's treasury. As of Friday, the open edition had been minted more than 1,000 times, generating more than 0.8 ETH for ecosystem support. The prompt Romero used is featured as the token description:
intricate space scape wallpaper with synthwave purple night colors in the style of 1980s science fiction book cover art, a Farcaster arch portal from Hyperion, with silhouette group of people floating on a raft in a celestial river amongst the stars and darkness of space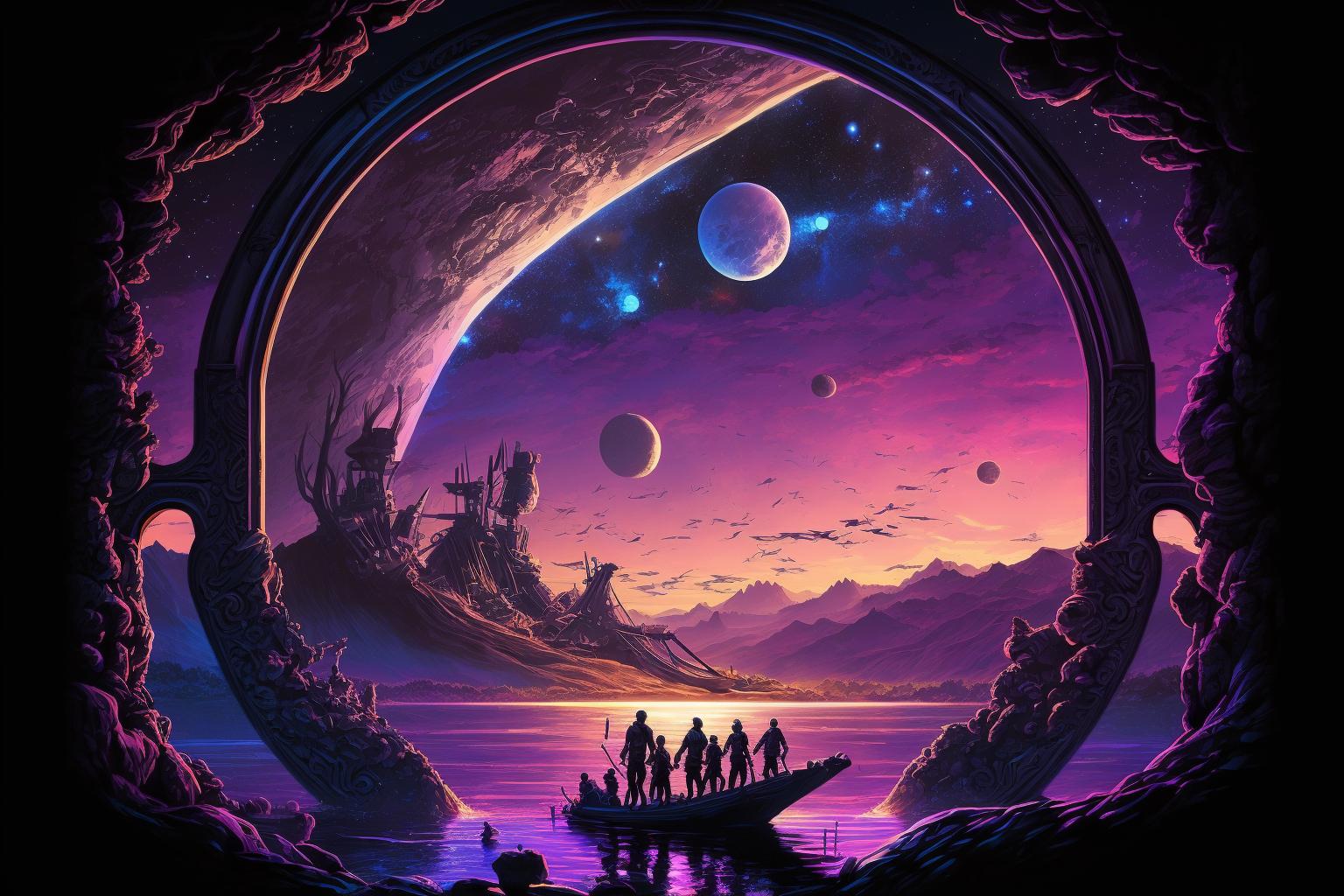 @matthew is starting up a Farcaster builder accountability call to be held every 1-2 weeks. "Each of us spends a few mins on feedback and sets a goal for the week," said Matthew. "If you don't accomplish it, the group helps motivate you to get back on track. Could save time for show and tell too!" Matthew said he's thinking the call could be held on Fridays using @unlonely. If you're interested, head over to the cast and drop a 👍.
@n, a.k.a. Nico.beb, started a conversation about how to best nudge new casters when they're onboarding to Farcaster. "I have invited a few casters and the feedback I have is mostly 'cool app, what do I do next?'," said Nico. "What's your answer? Explore the ecosystem apps? Read on protocol? Build a bot?" Romero's advise was simply to, "cast!" He added to that in a followup cast: "If you're a lurker, it's worse. But if you want to cast, you're likely to get more engagement / build an audience much faster." @degenroot, a.k.a. Robin A., advised new casters to start by interacting with existing casts, exploring different clients, following new people, and checking out Purple. Read the full thread here.
Romero shared an idea for using a library such as Perspective to create a data-dense, real-time visualization of events received by a Hub. @ccarella, a.k.a. Chris Carella, noted that anyone who builds this should definitely submit it to the Purple Prop House. @greg, a.k.a. Greg Skriloff, chimed in to say that a live event stream is planned for the next version of Farcaster.network.
Romero noted this week that, "There will be a bunch of opportunities for developer infra and tooling biz/projects for the Farcaster protocol over the next 12 months." That's a theme evident in Srinivasan's wishlist for Farcaster projects, which he published this week. Making the Farcaster cofounder's list at present are: Hosted Hubs, Hosted API's, Blockexplorer for Hubs, Golang Hub Library, and Python Hub Library.
Srinivasan also did an AMA on Sunday and answered a couple Farcaster-related questions. Read the full AMA for all his responses, but a couple highlights: usernames can't be changed during the beta, but that will be possible once Farcaster is on mainnet; Srinivasan expects the set of people working on the protocol five years from now will be very different than the set of people working on it today; and the two things he'd like to see Purple do more of are helping invite more users and funding developers.
Where are the Farcaster evangelists? @0xen opined this week: "It may not be the instinct of builders to proselytize but I'd challenge everyone active here to spread the word on Twitter, Lens etc. Expand beyond the insular bubble." The responses to the thread were mixed; a few casters expressed concern that "grifters" or "classic crypto shillers" might make their way in and ruin the vibe. Others said that unlocking invites was the key to faster growth. Goldberg said that he thought 0xen had it almost right. "Farcaster rn is a twitter clone in a local network," said the Jam founder. "I think there's a ceiling to that growing." Goldberg said that he thought permissionless apps would be the key to breaking through. Read the full thread here.
Does Farcaster need a little more spice in its discourse? Does @vbuterin, a.k.a. Vitalik Buterin, recognize April Fool's with a subtle form of trolling? These were among the questions raised by the Ethereum founder's April 1 cast seeking reactions to the idea that Farcaster might be too polite. "Like, people love to rail against the toxicity of twitter, but ultimately it's a PvP MMORPG and lots of people really enjoy the PvP - if not participating, then at least seeing some fireworks in the background," said Buterin. Read the full exchange here and decide for yourself how serious a suggestion it was.
@phil, a.k.a. Phil Mohun, published a blog post explaining why he's excited about Farcaster. Spoiler alert: It's the network! "I'm excited about Farcaster because of the people who are using the protocol," writes Mohun. "Right now there are about 3,500 monthly casters, many of whom are building adjacent crypto projects and protocols." Read the full post here.
Farcaster By the Numbers
Powered by Farcaster.network. Change calculations based on last week.
Weekly Active Casters: 1.6K (same as last week)

Monthly Active Casters: 3.1K (-100)

Total Casts: 574K (+16k)

Total Users: 12k (same as last week)

Average Casts per Day: 2,360 (-69)

New Users per Week: 292 (+27)
Sponsored by Purple

Purple is a DAO whose goal is to proliferate and expand the Farcaster protocol and ecosystem. The DAO operates on Nouns.Build, Discord, and Charmverse.
This Week in Purple
PRPL 18 Establish the rule of martial law and name 0xen.eth the undisputed dictator of Purple was defeated with 2 'For' votes, 16 'Against' votes, and 3 'Abstain' votes. @0xen noted in his abstention: "In case of an investigation by any federal entity or similar, I do not have any involvement with this group or with the people in it, I do not know how I am here, probably added by a third party, I do not support any actions by members of this group."
PRPL 19 Cosponsor NYC NFT Meetup passed with 26 'For' votes, 1 'Against' vote, and 4 'Abstain' votes. PRPL 19 saw 0.7 ETH sent to the organizers of an OrangeDAO/Purple meetup during NFT NYC.
PRPL 20 Droposal 1 WeCast was passed unanimously with 23 'For' votes. When executed, a piece of artwork by @ChrisCoCreated will be minted as a 7 day open edition available for 0.027 ETH. Proceeds from the mint will be split 50/50 between Purple and the artist, with @ChrisCoCreated also set to receive a Purple token via airdrop. The artwork is a composite representation of the Farcaster arch featuring the most recent 1,941 casters.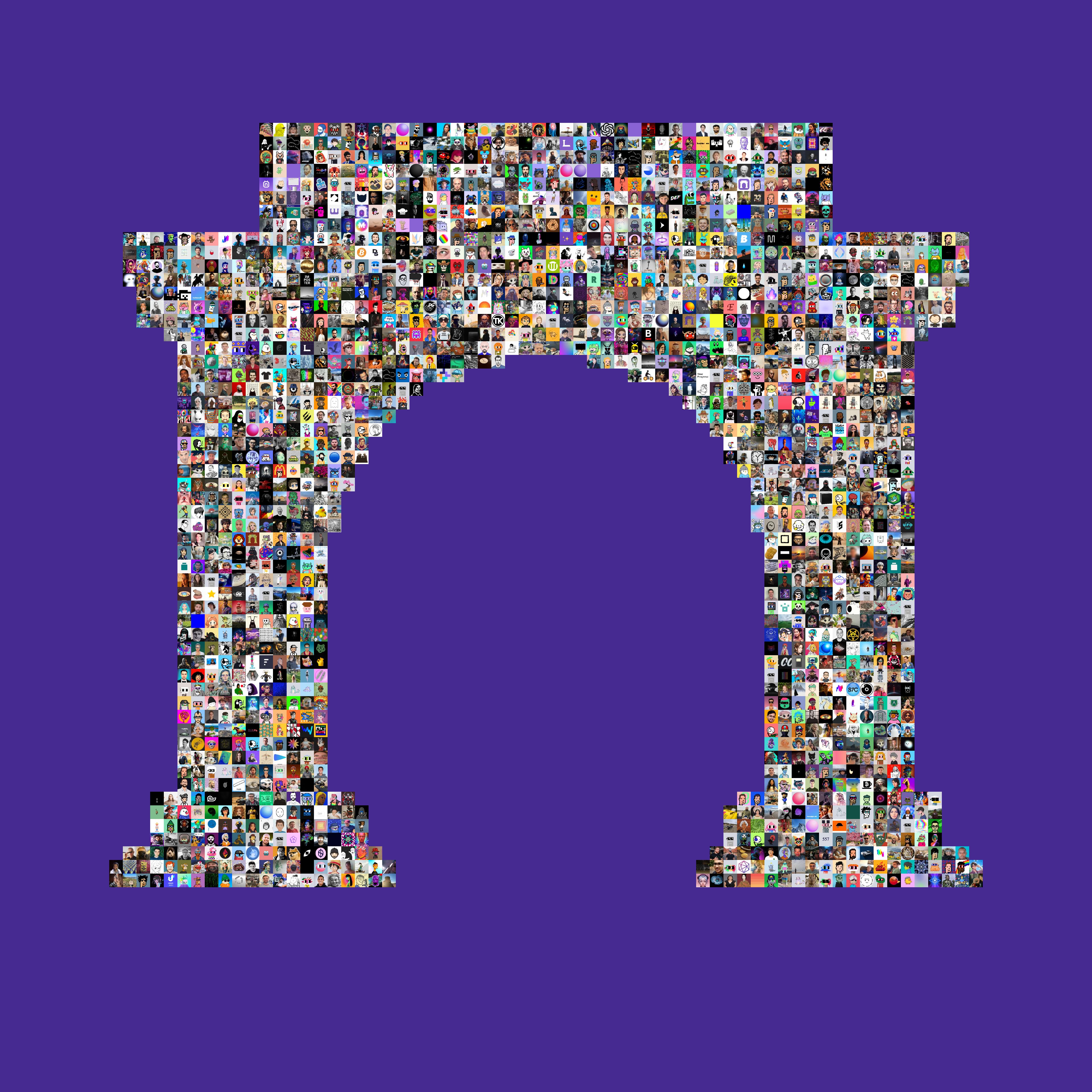 PRPL 21 Fund Warpy Open source Farcaster datasets was passed with 19 'For' votes and 1 'Against' vote. PRPL 21 directs 3 ETH to @pixel, a.k.a. Vincent Liao, to underwrite development of Warp, an open-source/cc0 Farcaster data exploration tool. Here's an example Python notebook showing what the project enables.
PRPL 22 Build tipping on Farcaster was defeated with 9 'For' votes and 13 'Against' votes. This proposal would have seen 5 ETH directed towards @nbragg, a.k.a. Noah Bragg, to build out a proof of concept for on-chain tipping via Farcaster. Although lots of enthusiasm was expressed for the prospects of composable payments on Farcaster, the proposal ultimately failed to gain enough traction due to the app portions of the project not being open source.
The DAO is currently working on several new proposal ideas, including one that would encourage ecosystem proliferation by rewarding high-quality Farcaster memes, another that would extend Purple's bounty program for completing Hubs issues, and a third that would encourage developers to run their own hub by providing a subsidy or rebate for server costs.
Get to Know Purple
This week, meet Purple DAO member @colin.
TWIF: Why did you want to join Purple?
I wanted to have a stake in Farcaster's growth. I strongly believe a protocol like Farcaster is needed in the world, so I wanted to get involved and help expand and proliferate the ecosystem in any way I can.
I'm also a very active Farcaster user, so being able to influence what gets built (and actively using the resulting apps!) also personally benefits me.
TWIF: What excites you most about Farcaster?
In the short-term, I'm excited about the ultra-high-quality network of users that's been amassed. I get substantial value out of the connections I've made on Farcaster – connecting with builders, users, potential investors, enjoying memes, and more.
In the longer-term, I'm excited about all the innovation that results from permissionless building. There's a lot of novel applications that can be built, and I think we're just scratching the surface of what's possible. From a professional standpoint, I'm excited to continue building out integrations between Paragraph and Farcaster to help creators get discovered.
TWiF: Can you give us a few recommended follows on Farcaster?
In no particular order:
For memes - @briang, @pugson, @fun, @samantha
For thoughtful commentary - @macbudkowski, @vgr
For art: @0xen
Upcoming Dates of Note
NFT NYC Farcaster Meetup
Saturday, April 15, at 5 p.m. EST - Betaworks
Have an event we should add to a future edition? Send us a reply to this email!
Job Listings
Contract Designer (@dwr)
Merkle Manufactory cofounder Dan Romero said that he's looking for a contract designer who's comfortable implementing designs in React/React Native and who has experience building information-dense UI. Interested? Send Romero a direct cast at @dwr.
Senior Engineers (Discove)
According to founder David Furlong, the ideal hire "already uses Farcaster, believes in it & wants to see it succeed 💜." The stack includes React Native, Next.js, and TypeScript. For more information, DM Furlong at davidfurlong.telegram for more info.
Have a job listing we should add to a future edition? Send us a reply to this email!
This newsletter is published with Paragraph.xyz. The format of this newsletter was inspired by Week in Ethereum News. With questions, comments, or other feedback, please send a reply to this email, or access the "farcaster-weekly" channel in Purple's Discord.