This edition is sponsored by Purple, a DAO whose goal is to proliferate and expand the Farcaster protocol and ecosystem. Interested in sponsoring a future edition? Send us a reply to this email!
Farcaster News and Links
Location, location, location
Merkle Manufactory launched a new feature in its Warpcast client – location. "The goal of the feature is to increase the number of in-person interactions across all of Farcaster," said @dwr, a.k.a. Farcaster cofounder Dan Romero, in a cast. "From DAU to IRL," he added. The launch was timed alongside ETHDenver, which runs Feb. 24 to March 5. Via screenshot notes, Romero said that folks who set their location to Denver "should see a steady stream of notifications in your app (no push notifications) from people you're following who set their location to Denver." Romero said that the team is also exploring location check-ins with a higher level of granularity – "think business/venue-specific granularity." Merkle is looking for usage and feedback of the feature to inform iteration, as well as plans for incorporating location into the Farcaster protocol itself. The feature has also been documented on Notion. @v, a.k.a. Varun Srinivasan, cofounder of Farcaster, gave a shoutout to @en, a.k.a. Ian Hinsdale, for the heavy lifting on the feature and to @gt, a.k.a. Goksu Toprak, for help getting it over the finish line.
Eventcaster.xyz is going to be testing a new feature at the Farcaster/ETHDenver meetup on Thursday. "If you'll be there, make sure to 👍 this cast or mark going on our site to be a part of it," said @matthew in a cast.
Builder updates
Srinivasan shared "a little diagram of the languages, frameworks, and tools we use to ship Warpcast and Farcaster."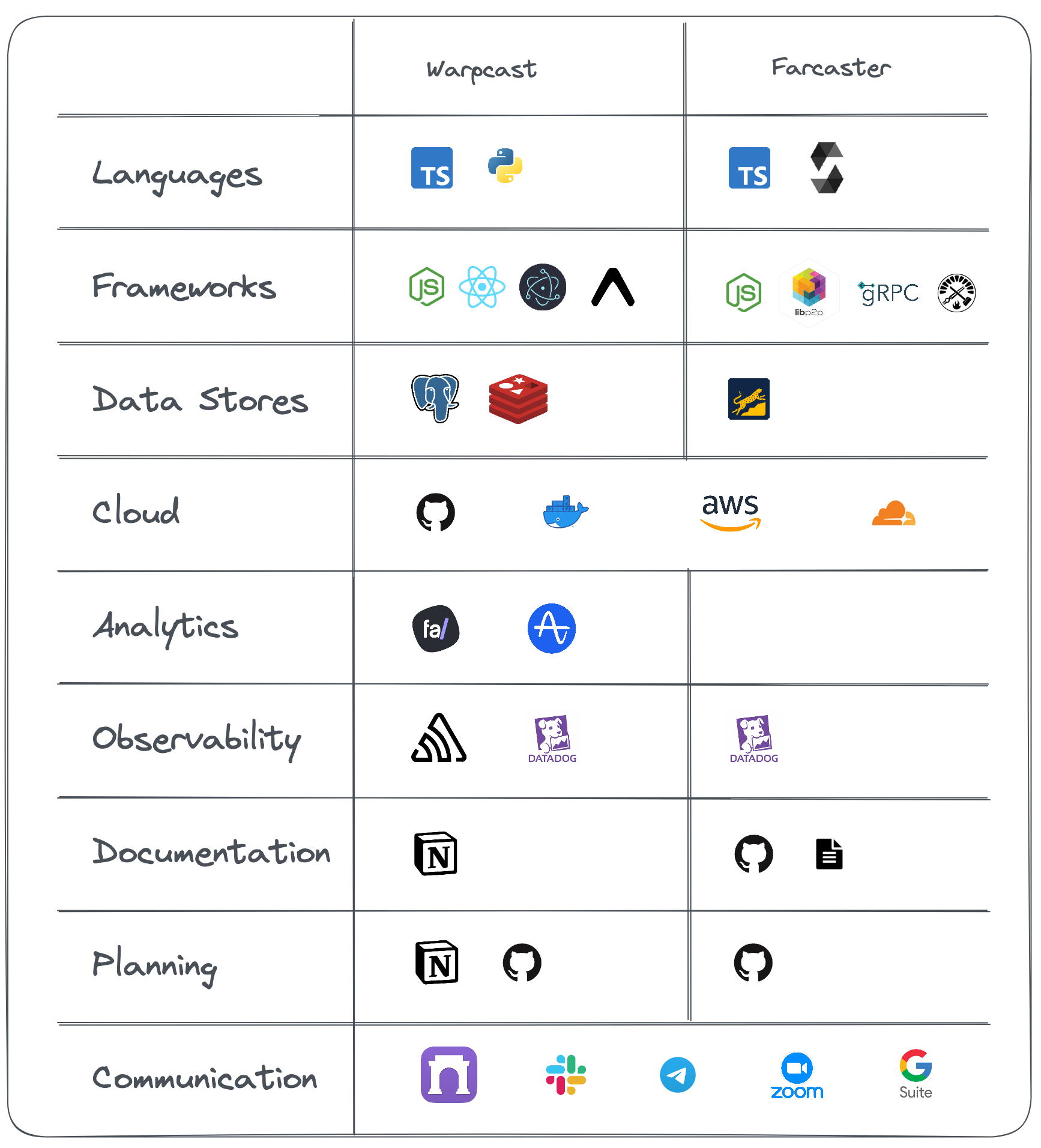 Romero announced that the Farcaster-related channels on Telegram have been spruced up in conjunction with the Warpcast rebrand:
Srinivasan said that Hubs are almost ready and gave a shoutout to a handful of community contributors, including @kc, @deodad, @pixel, @lndnnft, @timdaub, @sagar, and @gavi. "If you want to contribute, there are a ton of things we could use your help with, both big and small!," he added, linking to the Hubble issues on Github. In a separate cast, Srinivasan gave a second shoutout to @pixel, a.k.a. Vincent Liao, for adding docs to the Typescript SDK for Hubble. The docs "will make it easier for future developers to get started," said Srinivasan.
@billzh, a.k.a. Bill Zheng, shared notes on the v0.0.4 update of Alphacaster.xyz, a DAO-aware client for Farcaster. The app now shows all votes and reasons for each proposal, and Builder DAO was added to the list of supported DAOs. Support for more nounish DAOs is in the works.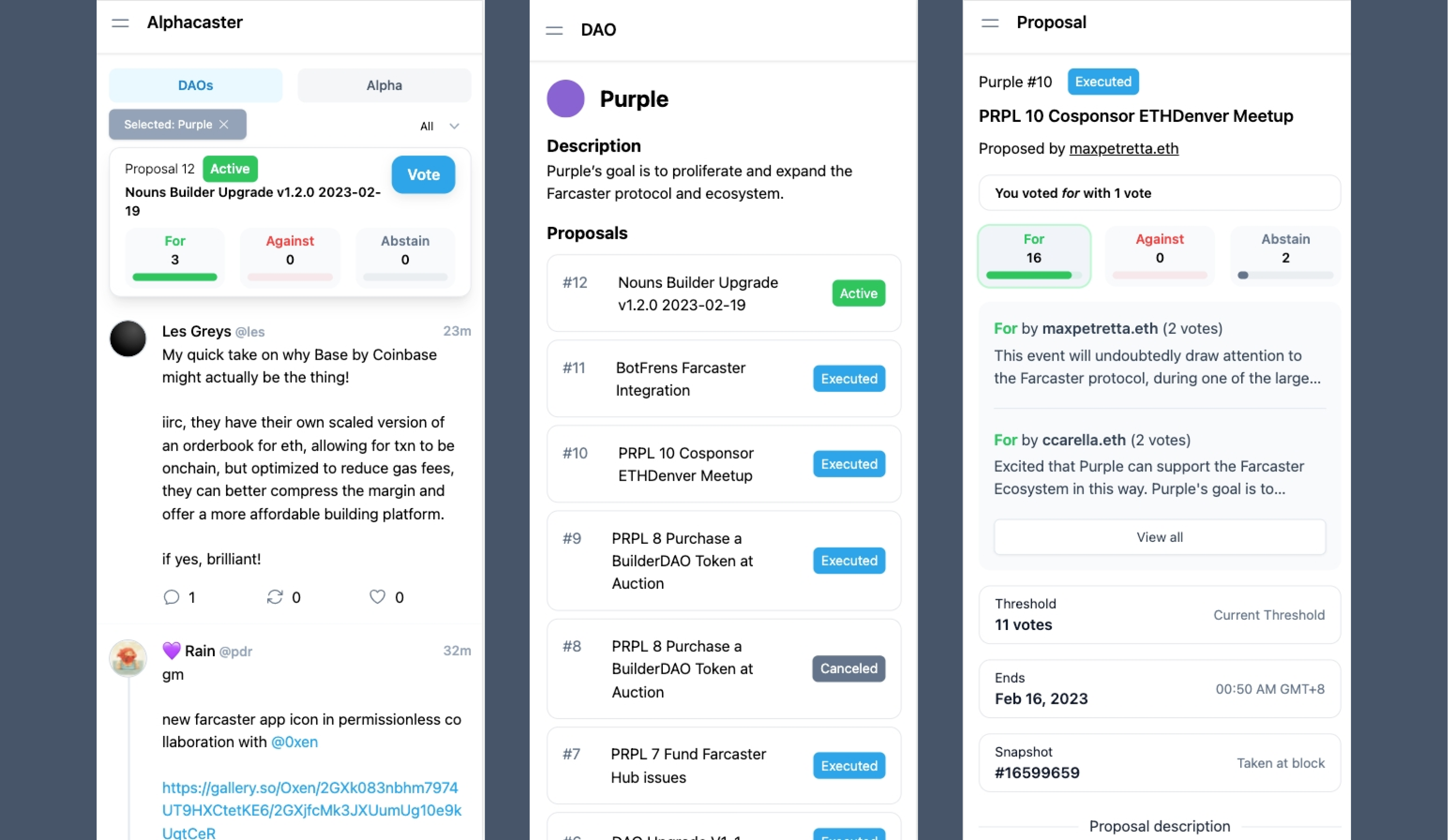 @dylsteck.eth, a.k.a. Dylan Steck, shared a "super rough mockup" of a block explorer for Farcaster and asked whether anyone would use it. Srinivasan chimed in and said that, "@dwr was just talking about how he thinks this is a great opportunity that no current product has quite nailed (I agree)."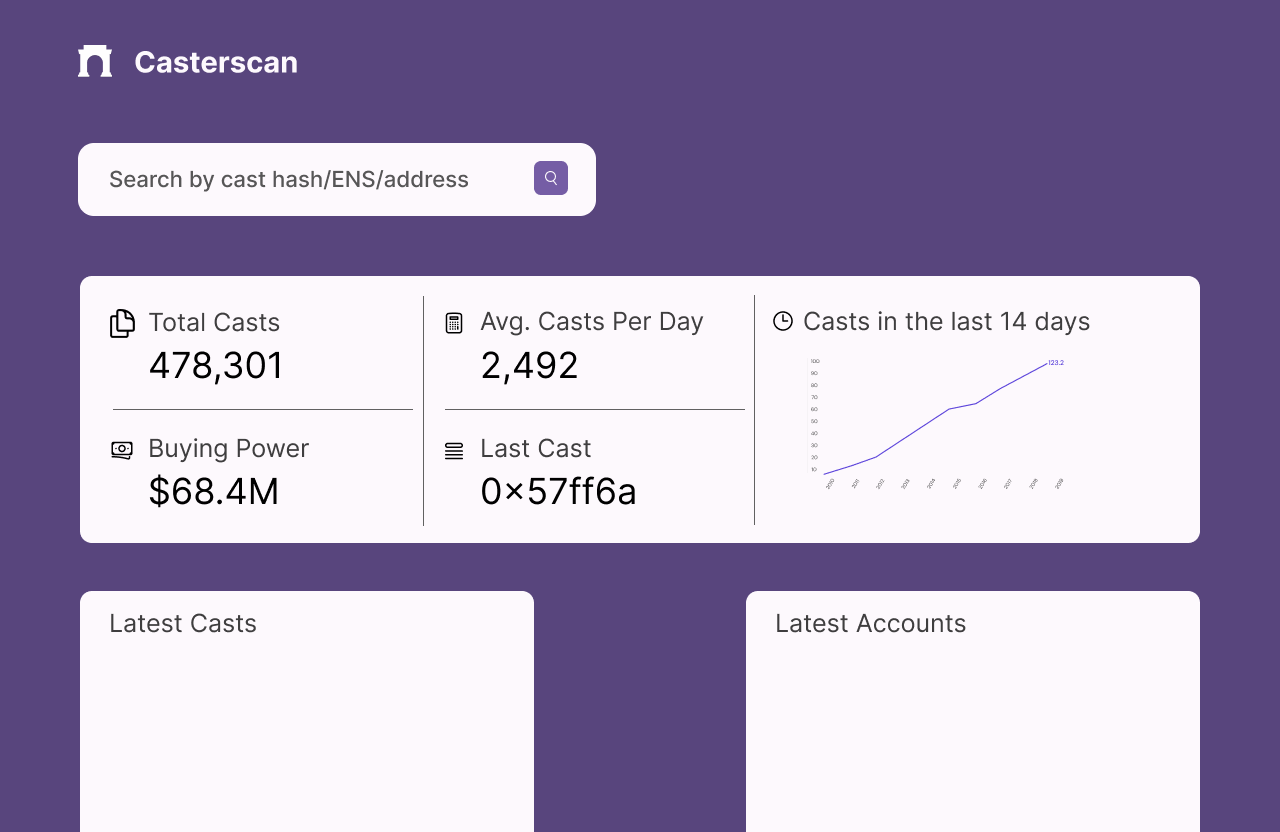 Devs, take note: If you are using the Merkle Manufactory API, make sure to read up on the upcoming migration to update hashes to the Farcaster v2 spec. Srinivasan said that this will be a breaking change. There's a doc on Notion with more info about the change.
This week, GetPurple.xyz launched Android and iOS apps. "If you're looking to take your Farcaster experience to the next level, we're ready for you!," said @betashop, a.k.a. founder Jason Goldberg. Although casting is not yet supported, the apps do include a live feed of every cast, the ability to search casts and people, and sorting people by various engagement metrics. Goldberg is looking for feedback via a Telegram channel. The app also added a Nuzzle-link experience this week called Newscaster.
@tiago, a.k.a. Tiago Alves, is working on something new. "Back to what makes me tick," he said in a cryptic cast. The screenshot appears to show a CRM-like interface for Farcaster.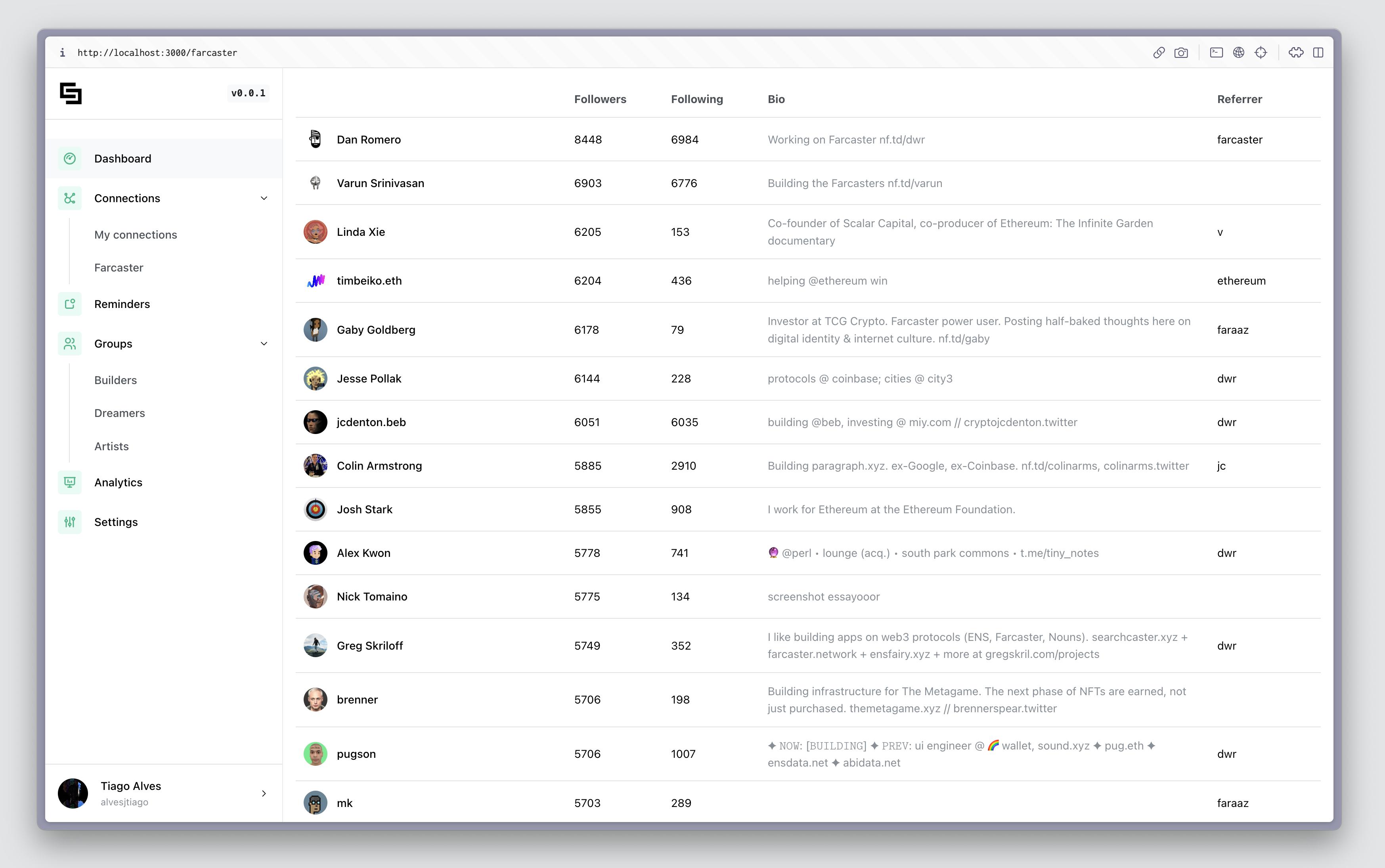 Merkle Manufactory developer @nickcherry, a.k.a. Nick Cherry, shared some info on the Warpcast web client stack after being prompted by @colin, a.k.a. Colin Armstrong. Cherry used the opportunity to talk about the tradeoffs between better SEO with server-side rendering (SSR) and the increased complexity required for implementation of SSR. Cherry explained that the team ultimately cut the knot by using Cloudflare to route bot traffic to an SSR endpoint (`ssr.warpcast.com`) for an HTML document with super simple markup and (importantly!) Open Graph tags. "This approach adds some maintenance burden, but the benefits are that 1) the main web app isn't burdened with additional complexity relating to SSR, 2) almost all incoming requests just require us to serve static assets, and 3) a separation of concerns between OG/SEO logic for robots and an actual web app for humans." Cherry noted that the team also considered using a service like prerender.io, but "we didn't love the idea of relying on a third-party, particularly when our product reqs weren't that demanding." Cherry also said that the web app itself is using Create React App as the base.
@payton, a.k.a. Payton Garland, shared some alfafa: He's working on a "farcaster-etl" library. Will this be a new repo or an extension of his farcaster-py project? Stay tuned for future updates via This Week in Farcaster. By the way, Romero also suggested a possible weekend project based on farcaster-py: Visualizing the Farcaster graph. Let us know if you build it!
@iammatthias, a.k.a. Matthias Jordan, is continuing to work on his microclient for surfacing music shared on the Farcaster protocol. SongCaster.xyz is built using Remix, CSS Modules, and the unofficial Discove API, he said in a cast this week. He has also open-sourced the project repo.
Other news
Unlonely founder @briang, a.k.a. Brian Guan, has challenged Romero to a duel... of words. On Thursday, Guan announced "the first-ever @unlonely debate" between him and Romero on whether Farcaster should launch a token. The debate will be held on Unlonely Tuesday, Feb. 28, at 6 p.m. PST. The search for a moderator is currently in progress, with @ted leading the pack at three of six nominations as of Friday morning.
Romero said that Farcaster has a new invite policy. To invite someone to Farcaster, send him a direct cast @dwr with some info about who you want to invite. You'll then receive an invite in-app. "If you're good at inviting people (i.e. they stick around and engage with others), you'll get more invites," he said. In a followup cast, Romero said that he's planning to discontinue invites via Twitter direct message in the next few weeks.
Romero held an AMA-like chat on Tuesday about things that are "unclear or confusing to you about Farcaster." @metaversity asked about the vision for Farcaster from a sociological perspective. "Internet-scale protocol for building social networks," said Romero. "So in time, everything! For now, focus on onboarding thoughtful curious people." How about whether Farcaster will scale? @konradkokosa asked whether the P2P protocol and hubs could handle 10x or 100x traffic. "We will find out!," said Romero. The whole exchange is worth a skim.
ActivityPub bridge for Farcaster? Let us know if you're building it. The idea has been tossed around several times, including by Romero who said that he thinks it's an interesting idea.
Romero shared ideas for a few "micro client mobile apps" which could start as read-only interfaces. His suggestions included an Instagram-like experience ("display only casts with images, full screen"), a music interface ("only casts with Spotify / YouTube / music NFT links with player"), and an NFT firehose ("endless scroll of Farcaster NFT mints, full screen").
Farcaster By the Numbers
Powered by Farcaster.network. Change calculations based on last week.
Weekly Active Casters: 1.5K (no change)

Monthly Active Casters: 3K (+100)

Total Casts: 483K (+17K)

Total Users: 9.7k (+300)

Average Casts per Day: 2,465 (+81)

New Users per Week: 402 (+160)
Sponsored by Purple

Purple is a DAO whose goal is to proliferate and expand the Farcaster protocol and ecosystem. The DAO operates on Nouns.Build, Discord, and Charmverse.
This Week in Purple
Purple is excited to meet all the Farcasters going to ETHDenver. Join Purple at the Farcaster Meetup on March 2 at 6 p.m. MT for the event cosponsored through Prop PRPL 10.
Prop PRL 11 BotFrens Farcaster Integration passed and was executed this week. In the Purple Discord, the BotFrens team said, "Our first step is to build a rudimentary UI for our beta testers which will include 'Connect your account to Farcaster' and some basic config. In parallel, we will start wiring the Python SDK for post queueing, etc. More updates next week 💜."
Purple is trying to decide on the size and the shape of its next Prop House Round. The initial plan called for 30 ETH over three rounds but it was recently suggested that the DAO should just focus on one round and then iterate based on its learnings. Reader, Purple wants to know: What are your suggestions for Purple's next Prop House Round? See the working Proposal Draft here.
This week, Purple bid on a BuilderDAO Token in accordance with Prop PRPL 8 Purchase a BuilderDAO Token at Auction but failed to get the multisig to execute a bid in time. Multisigs are a challenging way to participate in an auction! Purple will try again next week when a few of the signers are together in person at the Farcaster meetup.
Get to Know Purple
This week, meet Purple DAO member @brittkim.
TWIF: Why did you want to join Purple?
For years, I'd been interested in participation in a nounish DAO, but until Purple I had never found one that resonated with me so strongly. Right after I joined Farcaster, I noticed several users sporting solid purple PFPs, which piqued my curiosity. Upon learning that Purple was a nounish DAO, I was immediately attracted and started placing bids. Joining Purple seemed like the best way to familiarize myself with the Farcaster community and stay up to date with the latest developments. As it turns out, this was totally correct. I knew that there was something special about Farcaster, and seeing a group of purple people focused on the singular mission to celebrate and promote the protocol was too compelling to pass up.
TWIF: What excites you most about Farcaster?
It's hard to order the list of exciting things about Farcaster. I generally believe social networks should be built on open protocols. The integration of Ethereum into Farcaster is particularly exciting for me since these users will likely have a similar attitude regarding open protocols and decentralization. Farcaster's potential grows as interest in crypto and open protocols increases, and the community of crypto natives and builder that is already taking shape here gives it a definite edge. It's hard to imagine a better class of fanatics to seed the platform with. The NFT social layer on Farcaster is another thing that excites me. Currently on social platforms, we find other users through recommendations, keyword searches, and common friends. This isn't terrible, but I'm convinced NFTs can say far more about people and give rise to powerful discovery tools.
TWiF: Can you give us a few recommended follows on Farcaster?
I recommend following artists. I've recently been enjoying the drawings by @molly.
Upcoming Dates of Note
Mountain View IRL Farcaster Meetup
Tuesday, Feb. 28, at 6 p.m. PST - Steins Beer Garden & Restaurant
Farcaster meetup @ ETHDenver
Thursday, Mar. 2, at 5 p.m. MT
Job Listings
Nothing yet! Have a job listing we should add to a future edition? Send us a reply to this email!
This newsletter is published with Paragraph.xyz. The format of this newsletter was inspired by Week in Ethereum News. With questions, comments, or other feedback, please send a reply to this email, or access the "farcaster-weekly" channel in Purple's Discord.