This edition is sponsored by Purple, a DAO whose goal is to proliferate and expand the Farcaster protocol and ecosystem. Interested in sponsoring a future edition? Send us a reply to this email!
Farcaster News and Links
Invites and leaderboard
A Farcaster leaderboard has been added to Merkle Manufactory's Warpcast apps. @dwr, a.k.a. Farcaster cofounder Dan Romero, had been teasing the feature this week and officially announced it on Friday. "For each person invited, 100 pts for someone active at the protocol level (cast, like, recast) in trailing 7 days. -25 pts for inactive," he said, adding that "It will be gamed, we will iterate, goal is to add value to the protocol." Romero clarified in a followup cast that points won't be awarded for the first week. "Want to encourage people who stick around after a week," he said.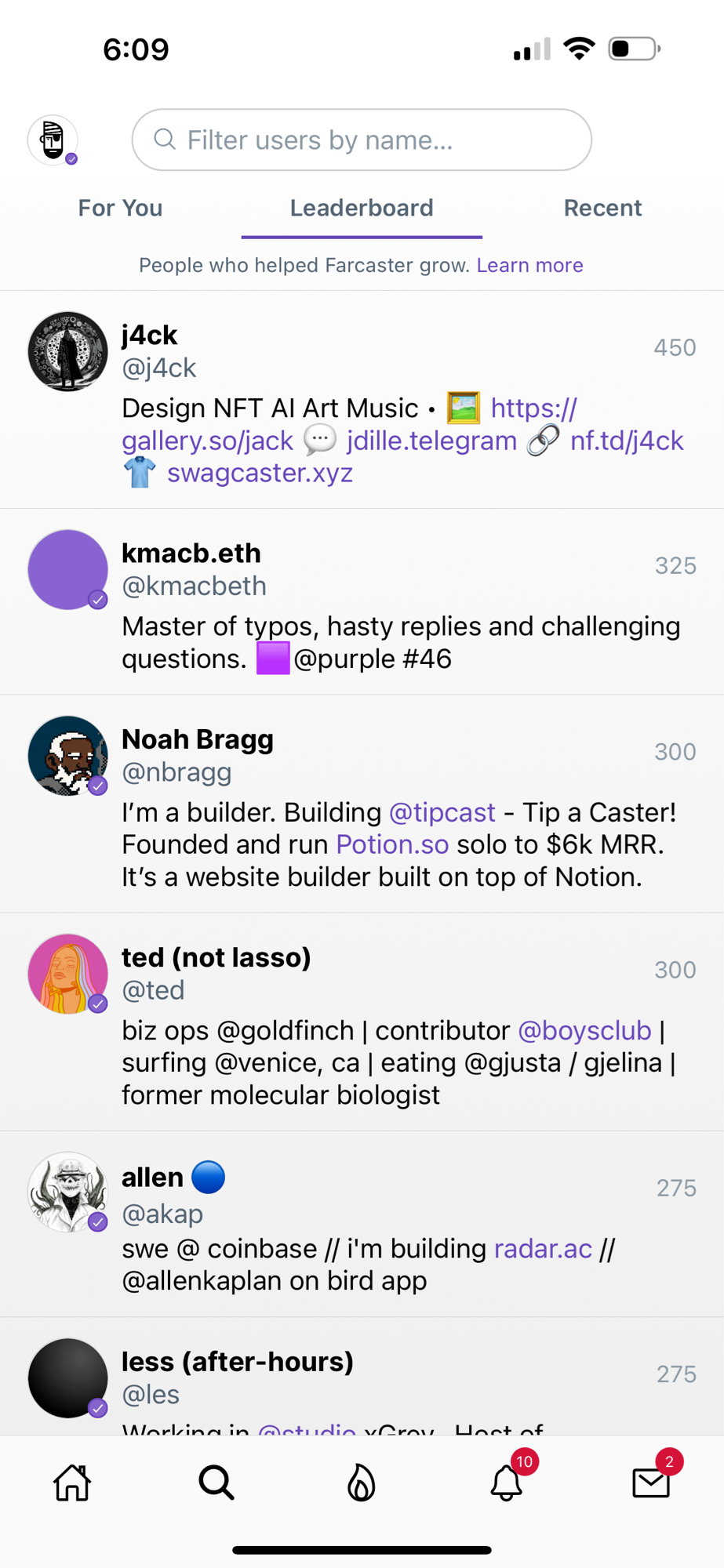 As of publication time, @j4ck was at the top of the leaderboard with 450 points, followed by @kmacbeth with 325, and @nbragg and @ted were tied at 300 points.
With invites having switched from the "DM @dwr on the bird app for an invite" to "DC @dwr on Farcaster to get an invite you can use at will," the rate of new users has bumped up a bit, with more than 500 new users over the past week. This has come with some "disappointing but expected" behavior, according to Romero, who was commenting on the imposter @timcook account created this week. The account used Cook's bio from Twitter verbatim. Romero said that the Merkle team is exploring a medium-term fix, but noted that long-term the network will be permissionless. "fwiw, in this specific case, I don't think this was malicious (more of a prank), but every time you lose trust in the network, that has a cost," said Romero in a subsequent cast. "Trying to figure out how to scale trust is one of the core reasons we're not permissionless yet." It's not clear who invited the user that created the @timcook account, or who that user is.
What does the future look like for signing up? On Wednesday, Romero shared a peek into the future. He said that a year from now, he's optimistic that the Warpcast signup flow will be:
Welcome

Email confirmation

Apple Pay IAP

Register username

Finish profile
Events and media
Romero and @v, a.k.a. Varun Srinivasan, cofounder of Farcaster, will host the first 'Farcaster Broadcast' on March 16. Romero announced the new comms channel on Thursday. The plan is for Farcaster Broadcast to be a one-hour call between the two cofounders on Clubhouse, sharing brief protocol updates and holding an AMA. Romero said they plan to try this out for a few weeks. The first broadcast is tentatively scheduled for Thursday evening, March 16, at 5 p.m. PST. Romero said that the broadcast will be recorded and that they are open to varying the times.
@matthew, founder of the IRL-focused services @event and citycaster.xyz, asked Farcaster users what's stopping them from hosting a Farcaster meetup in their city. "If you've thought about hosting a FC meetup in your city (or another community!), what's stopped you?," he casted. "What are your roadblocks?" The most common response was that users felt they were the only caster nearby, or that they didn't know how many casters were in the same city.
Romero said that he's been asked by a few people about a Farcaster conference. He said that while the team likes the idea of an annual WWDC-type event for Farcaster, "We're not going to start thinking about it until Hubs are shipped and mainnet migration is underway. Need to stay focused." (Srinivasan chimed in to say that Romero actually already has a name for this potential event - FarFest.)
Even if a WWFC event is a ways off, @mcbain, a.k.a. Graham McBain, has already started brainstorming what this should look like. A few of the points he made: 250 people max, uses @event for paid tickets, held in LA, livestream by @unlonely, and pre-party in Romero's backyard.
Romero appeared on @unlonely to debate founder @briang, a.k.a. Brian Guan, on whether Farcaster needs a token. You can watch the debate recording by picking up some $BRIAN tokens and accessing a token-gated archive of stream recordings here. The debate was moderated by @ted. In an AMA later in the week, Romero said that he had a fun time and that @ted was an excellent moderator. "@briang was civil and the chat was the right amount of unhinged," he added.
An unofficial Farcaster conference is in the works. @farcon, a.k.a. FarCon, casted this week about a plan to convene 100 or so casters for a weekend in Boston this summer. The effort is being instigated by @grin, @cameron, and "all of you." Organizers said that the goal of the conference is to "meet your mutuals, hack on stuff, just vibe, learn from each other, enjoy the city." They encouraged folks to follow the account for updates, and to reach out if they're interested.
Romero held an AMA this week on Farcaster. Among the interesting questions and responses was one from @dylsteck about what it would take to scale Farcaster to a larger, more non-crypto native user base. Romero responded that, essentially, this wasn't the goal yet. "We need to be the an excellent social network for people building in Ethereum first (still a ways to go here), then crypto, then tech, then mainstream," he said. "Going broad too early leads to loss of connective tissue between early users (the social network's 'asabiyyah' )." Read the full AMA here.
Alex Reyes published a Paragraph post on "the enlightenment, American ideals, and Farcaster." Reyes used the post to compare the checks and balances of American government with the permissionless/decentralized vision for Farcaster. Read the full post here.
App and dev notes
Should string length limits for casts be based on bytes or characters? Srinivasan started a conversation on Friday about this question, and linked to a doc delving into the details. After soliciting feedback, Srinivasan said that it was a tough decision, but ultimately the proposal is to use bytes. As explained in the doc, the proposal is to, "Calculate cast text length in bytes and limit it to 320." So for example, "The text hi would take 2 bytes, ħi would take 3 bytes and ħī would take four bytes due to UTF-8 encoding." The proposal notes that there are benefits to this approach for users, the protocol, and developers. Read the full proposal here.
@reyes, a.k.a. Alex, is working on BoringCaster, an app described as "so boring you literally won't want to use it." Alex said that the visually boring approach was inspired by an idea from @aafren that "boring = visual cues more than actual content." In a subsequent cast, Alex shared a screenshot of the WIP. He said that quote tweets and replies might be added, but that's about it. "I like the idea of it being more of a personal microblog than a full social network."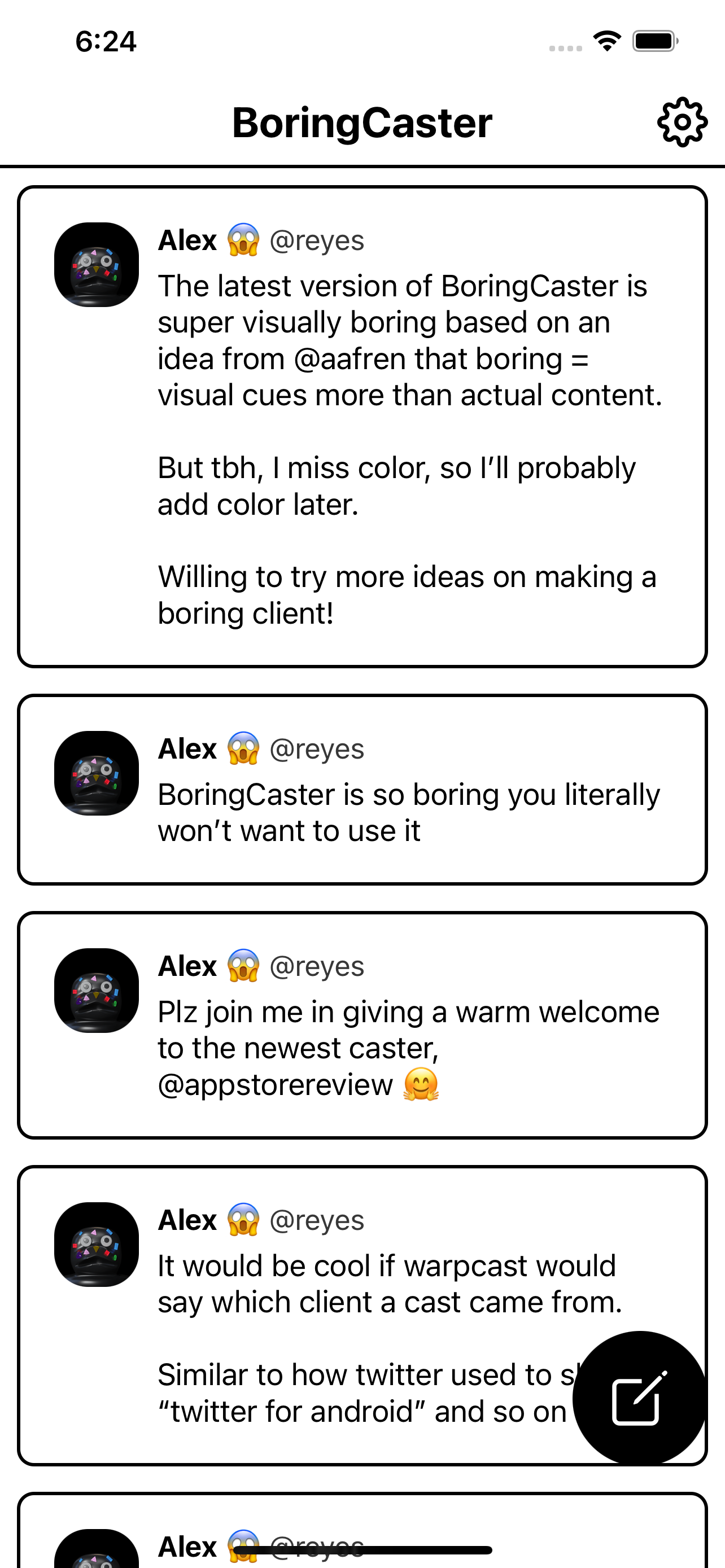 @survey, a.k.a. Surveycaster, has been updated by builder @colin- to include auto-generated "sexy deep purple charts" after questions close. Colin said the charts were courtesy of @ba, a.k.a. Ben Adamsky.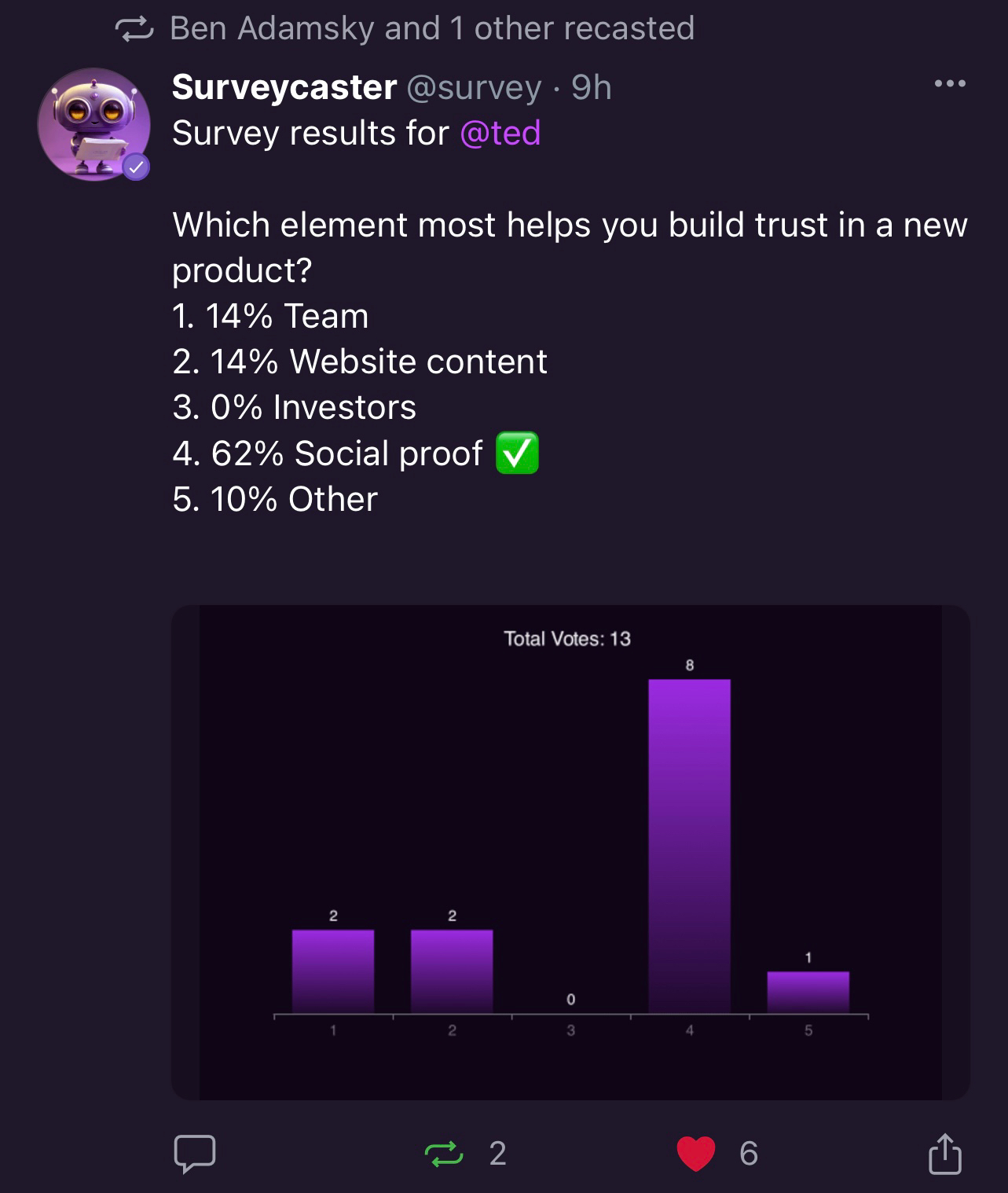 @jayme, a.k.a. Jayme Hoffman, shared some thoughts on product NFTs based on his experience with Launch Pass for Launchcaster.xyz. He said that the Launch Pass now has over 3,000 mints. "It was a fun experiment, and I'm more bullish than ever on 'Product NFTs.'," he said. Read the full Paragraph post here.
The Farcaster CLI created by @mason, a.k.a. Mason Hall, has now been published as a PyPi package, Hall announced this week. To try it out, run pip install farcaster-cli. The project is also available on Github.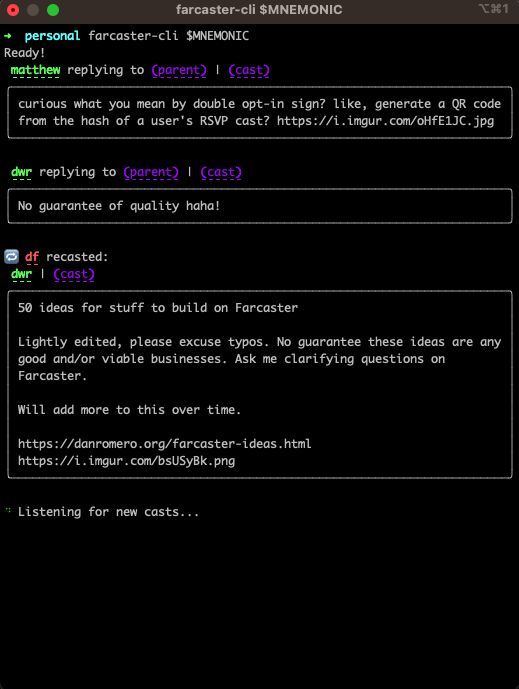 Are you looking for something to build? Romero shared 50 ideas for stuff to build on Farcaster, although he noted that there's "no guarantee these ideas are any good and/or viable businesses." Romero encouraged interested parties to ask clarifying questions. Some of the ideas include a client that looks like the iMessage home screen, a TikTok-style client for Farcaster, sports-specific clients, and an iPad client. Read the full list here.
@greg, a.k.a. Greg Skriloff, asked Farcaster whether there'd be interest in having ENS subdomains for Farcaster addresses, e.g. username.farcaster.eth. Responses were mixed. Read the full conversation here.
@alexpaden is working on a follow change tracker service for Farcaster. The service is available at https://ditti.xyz. A few caveats noted in the launch cast - you'll need to refresh after signing in, and the results/design have some rough edges at this point.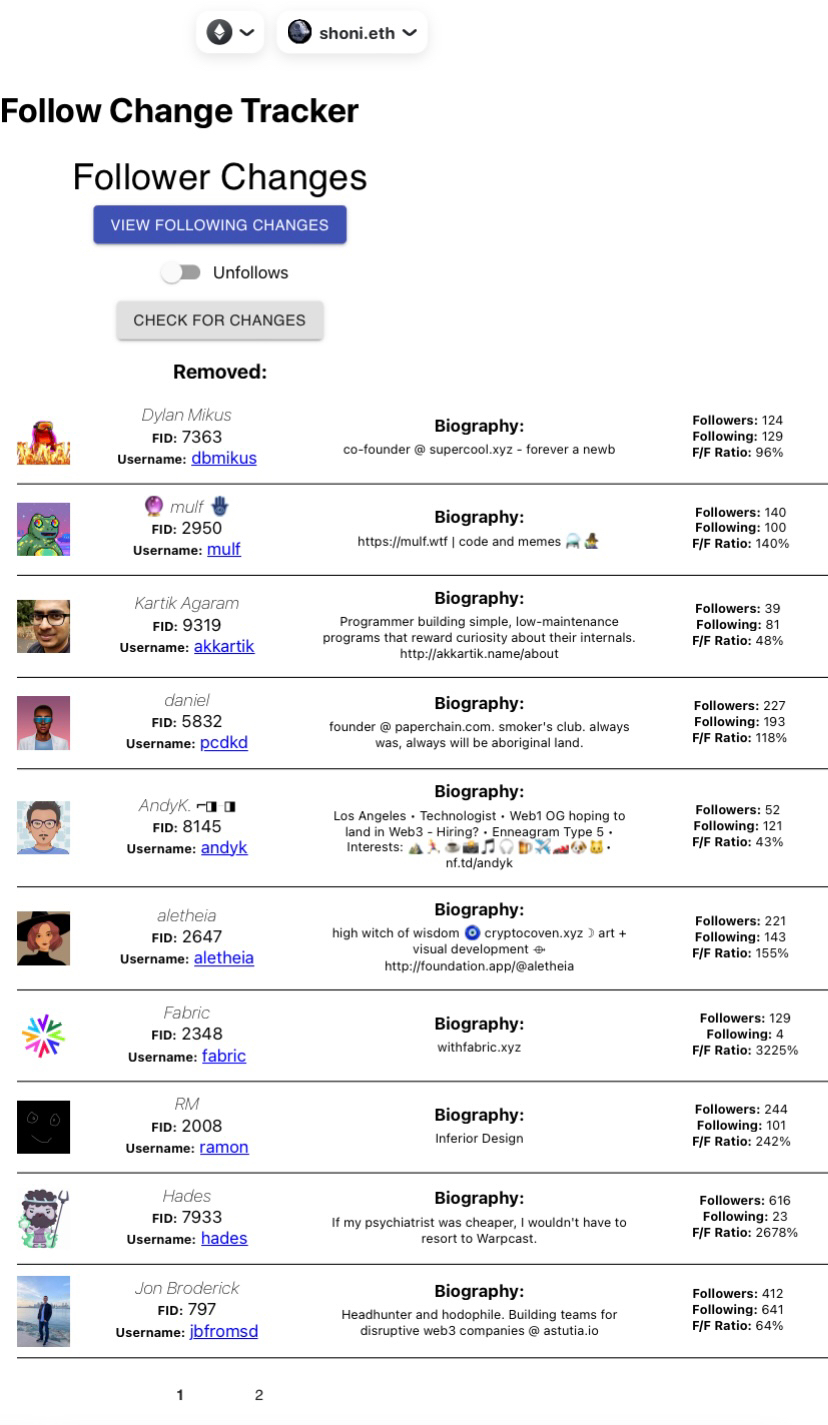 @tipcast, a.k.a. TipCast, launched this week. Built by @nbragg, the service makes it easy to tip a caster. Check it out at tipcast.xyz. The service works by sending a cast to a user you want to tip with the account @tip tagged, which will prompt you to get a link to to that user's TipCast page where you can tip them with MATIC on the Polygon chain. According to the site, "The goal with TipCast is to allow you to be able to tip Casters directly in Farcaster apps without ever having to leave the app." With feedback, reach out to @nbragg on Farcaster.
@betashop, a.k.a. Jason Goldberg, said that a new name has been identified for GetPurple.xyz after the decision to change the branding was announced last week, prompted by a conversation on the namespace collision between the Farcaster client and Purple, the Nounish public goods DAO for Farcaster. Goldberg said that a relaunch is planned for early this coming week, along with a slew of new features.
Direct casts are coming to the MacOS Warpcast client. Romero put out a call this week for volunteers to test the feature. "Expect some bumpiness if join us in the test group," he said with a grin. If you're interested, send Romero a direct cast.
The breaking change to the Merkle Manufactory API regarding cast hashes is coming up next week. Romero asked any developers who are still using v1 hashes and aren't on track to switch to v2 hashes by March 14 to contact him on Telegram.
@billzh, a.k.a. Bill Zheng, shared a couple updates on his DAO-aware Farcaster client, Alphacaster.xyz. The governance feed now shows proposal status changes and a new auction feed shows real-time auction bids and settlements. Zheng also gave a shoutout to @16, who he described as a "true 10x eng."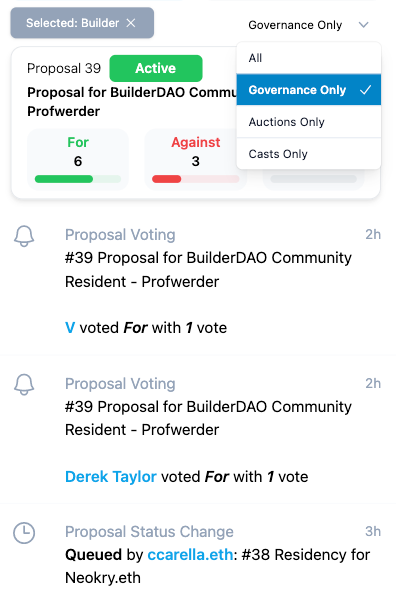 Romero shared "a small way to contribute to the Farcaster protocol": labelling GitHub projects related to Farcaster with the farcaster label. As of publication time, there were 19 public repos with the label added.
Farcaster By the Numbers
Powered by Farcaster.network. Change calculations based on last week.
Weekly Active Casters: 1.6K (-100)

Monthly Active Casters: 3.1K (same as last week)

Total Casts: 506K 🥳 (+20K)

Total Users: 11k (+1,000)

Average Casts per Day: 2,769 (+454)

New Users per Week: 552 (+271)
Sponsored by Purple

Purple is a DAO whose goal is to proliferate and expand the Farcaster protocol and ecosystem. The DAO operates on Nouns.Build, Discord, and Charmverse.
This Week in Purple
On Monday, Purple passed PRPL 13 to upgrade Nouns Builder to the latest version of the governance contract. The vote prompted a healthy internal debate about what due diligence measures the DAO should take when upgrading Nouns Builder contracts, such as whether it should perform its own code review or contract audit, defer contract updates until they are explicitly needed for some reason, or simply delay updates as a matter of course to "let code harden." The DAO is reaching out to BuilderDAO for more information on their own security practices.
Purple is discussing internally (and in public) what a reasonable funding model for TWIF would be. Currently the DAO is leaning towards a quarter-by-quarter funding approach at least to start. Simultaneous with this proposal, the DAO would also be advertising for writers/editors who might want to get involved with the newsletter, so as to reduce the bus factor for the endeavor. A proposal is expected to be put up for formal voting soon.
The deadline for Purple's Hub bounty program is coming up on April 2. If you have fixed a Github issue for Farcaster Hub since Dec 21, 2022 you may qualify for receiving 0.2 - 0.5 ETH bounties from Purple (depending on the impact of the issue). Only people outside of Merkle are eligible. For details on how to claim the rewards, see the proposal here.
Now that Purple has acquired a BuilderDAO token, its discussing the best way to handle governance. Currently the DAO is leaning towards selecting a delegate, so as to minimize governance overhead compared to participating in BuilderDAO via multisig.
Purple is currently exploring hosting a Quadratic Public Goods Funding Round via Gitcoin's Allo Protocol. This might be a good way to fund an open source Farcaster client, as @ccarella said in a cast this week - "Open Source clients seem like such an obvious fit for funding when we do."
Get to Know Purple
This week, meet Purple DAO member @scottrepreneur.
TWIF: Why did you want to join Purple?
To proliferate the memes of decentralized social at a time when centralized institutions are crumbling under wanting to retain power. My twitter was also suspended not too long ago, without warning. Had to fully rebuild from scratch.
TWIF: What excites you most about Farcaster?
Being able to leverage flexible clients to share within different perspectives.
TWiF: Can you give us a few recommended follows on Farcaster?
Some hopefully underrated follows that aren't on all the lists:
Upcoming Dates of Note
Farcaster meetup @ SXSW
Thursday, Mar. 11, at 8 a.m. 10 a.m. CST
Have an event we should add to a future edition? Send us a reply to this email!
Job Listings
Nothing yet! Have a job listing we should add to a future edition? Send us a reply to this email!
This newsletter is published with Paragraph.xyz. The format of this newsletter was inspired by Week in Ethereum News. With questions, comments, or other feedback, please send a reply to this email, or access the "farcaster-weekly" channel in Purple's Discord.