This edition is sponsored by Purple, a DAO whose goal is to proliferate and expand the Farcaster protocol and ecosystem. Interested in sponsoring a future edition? Send us a reply to this email!
Farcaster News and Links
App updates
@borodutch, a.k.a. Nikita Kolmogorov, updated Farcaster on the status of Farcantasy.xyz. The arena mode feature for Farcantasy (first mentioned in the Feb. 4 edition of TWIF) has been implemented in a smart contract with assistance by GPT-4. "Now I need to write two ZK circuits, deploy everything and create the frontend," said Kolmogorov, adding that, "it is insane that I was able to make GPT-4 to write the whole thing for me." The contract is viewable here.
Whomst among us has not accidentally swiped down on the Warpcast mobile client and lost a draft cast? Fear the downward swipe no more; @dwr, a.k.a. Dan Romero, cofounder of Farcaster/Merkle Manufactory, announced a mobile app improvement for Warpcast midweek which allows users to restore a draft after swiping down. Romero advised: "Be sure you're on the latest version of the app in the App Store and worth restarting the app just to be sure the new functionality kicks in!"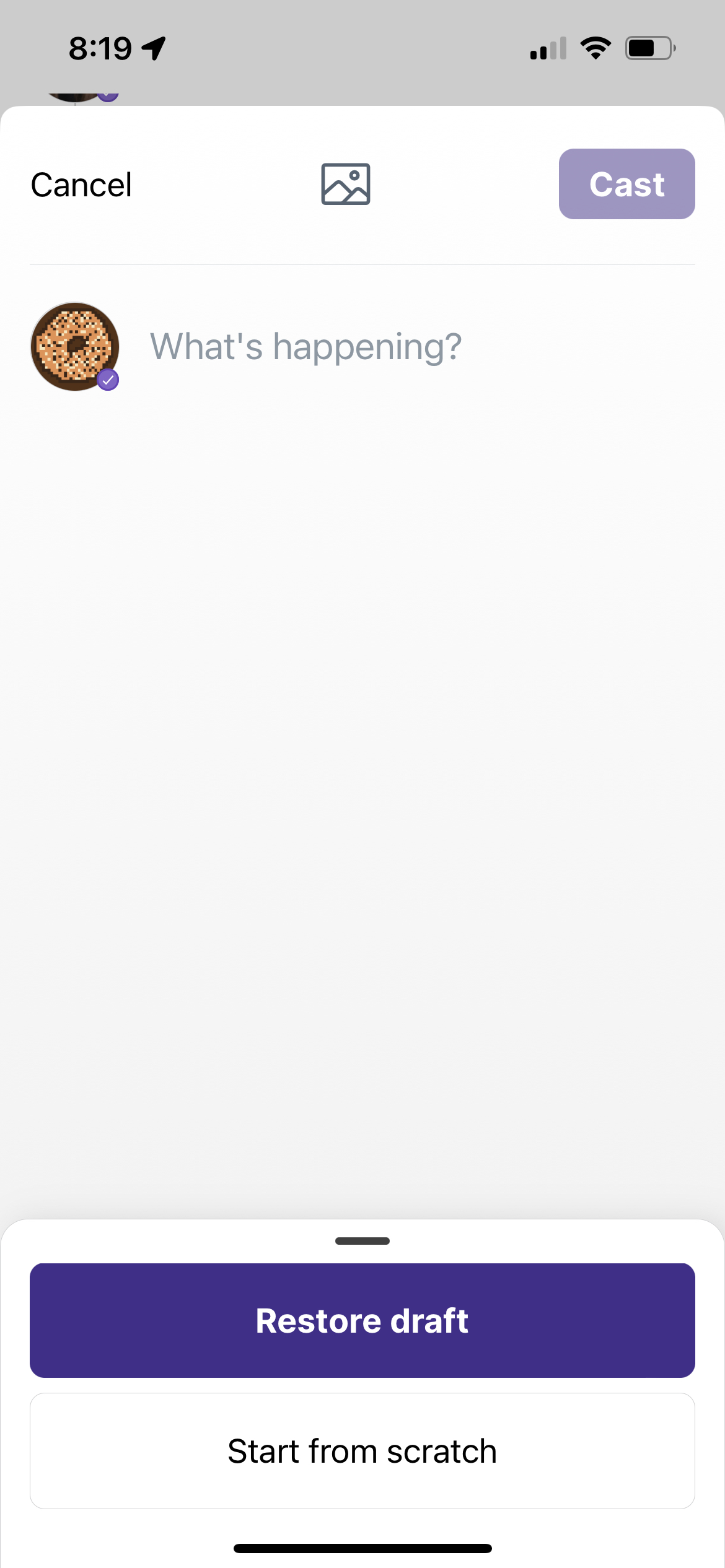 Is this the Farcaster version of "Drop your ENS in the thread?" Romero used replies to a cast this week to opt Warpcast users into a test for a new default feed algorithm for Following. It's not clear what impact the experiment had; a followup cast from Romero asked the test group if they noticed anything different, but "no change" was the general response.
@df, a.k.a. David Furlong, founder of Discove, casted a thread about whether Discove plans to support other social protocols. Furlong shared his reasons why this isn't the direction Discove is headed. "I think supporting multiple protocols creates complex UX, uses dev cycles & shows a lack of conviction," said Furlong. "Long term I think social protocols have strong network effects and there will be a clear winner; I'm betting on Farcaster." Read the full thread here.
App developers are anxiously awaiting the launch of Sign In With Farcaster (SIWF). Alphacaster.xyz, a DAO-aware Farcaster client, briefly had a countdown timer on the site, but later removed it due to the uncertainty of when the feature will launch publicly, according to a cast by @billzh, a.ka. Bill Zheng, creator of Alphacaster. In other news, this week Alphacaster launched a global Farcaster feed, and has "write" features ready to go once SIWF launches.
@cameron, a.k.a. Cameron Armstrong, launched @saymore this week, a new service which allows casters to be nudged to say more about a cast. "If you see a cast that would be perfect to expand into a thread, screenshot essay, or blog post - just tag @saymore in a reply with a short message to the author," said Armstrong in the launch cast. "The bot will save it and notify them so they can accept/complete the request." @saymore interactions will be aggregated at SayMore.tv and can be upvoted and (soon) funded there. Armstrong said in a followup cast, "I want to make this an enduringly useful utility for the Farcaster ecosystem for bother creators and everyone else: from pre-funding content ideas, to fully in protocol action flows, and a ton more 🔥." With feedback, reach Armstrong at camarmstr.telegram.
@molo added a new feature to CasterNews.xyz – a feed that aggregates AMAs. @molo noted that you'll only see AMAs that are created on CasterNews, but AMAs can be replied to on Farcaster. As of publication time, it didn't look like any AMAs had been posted yet, but the interface is still worth checking out, if only for the clever use of rotating placeholder text in the "Start an AMA" textbox (including a handful of Farcaster in-jokes).
Romero dropped word of a new Warpcast feature on Friday – in-app notifications when someone you invited signs up. "Very much love how your team thinks about your product," said @les, a.k.a. Les Greys, in response to the feature. "Speaks volumes."

Dev notes
@v, a.k.a. Varun Srinivasan, cofounder of Farcaster/Merkle Manufactory, is looking for feedback on the Farcaster protocol docs. "What's something that you've found hard to understand?," he asked this week. Head on over to his cast to provide your thoughts.
The first launch of a Hub seemed imminent for much of the week. Romero announced earlier in the week that the first Hub would be launching for developers in the next few days. "Soon enough, it will be permissionless for anyone to download from GitHub and have full API / data access with global state," said Romero. "Just like an Ethereum node." Romero also shared a code snippet showing a simple way of getting a user's casts once Hubs are launched.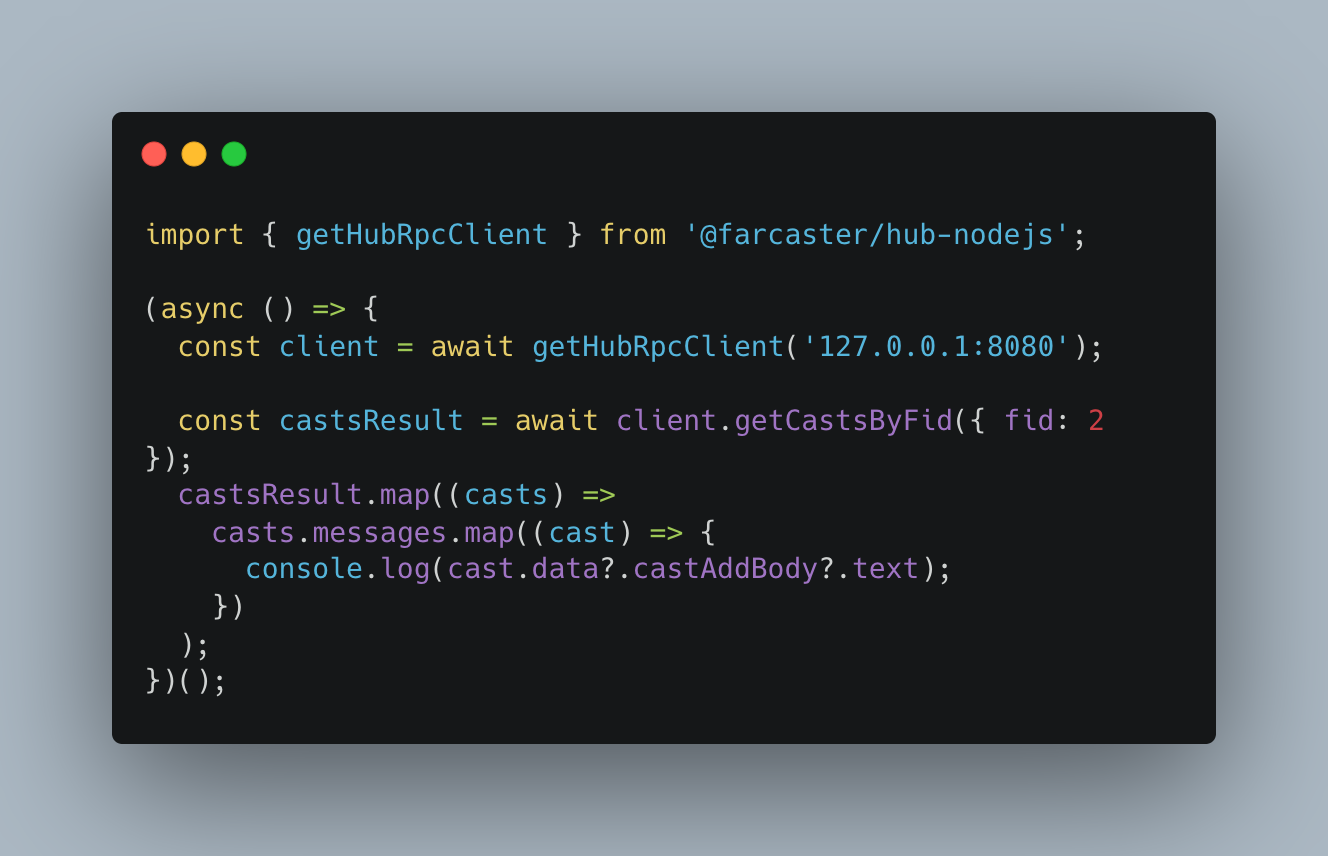 Sure enough, Srinivasan announced Friday that the first Hub testnet was up and running with a full copy of all data. Srinivasan said the Merkle team was tracking down a couple performance issues, but expected that apps will be able to write directly to Hubs within the next week. "Top of mind for us is making the right tradeoff between speed and reliability," said Srinivasan in a followup cast. "We're choosing speed, because reaching credible neutrality and eliminating reliance on Warpcast is the most important thing for the health of the Farcaster protocol." Srinivasan also gave a shoutout to @pfh, @sds, @adityapk, @cassie, and @deodad for shipping like crazy and working nights and weekends to get Hubs out. "They've managed to accomplish an incredible amount in the span of a few months, and their velocity in the last few weeks has been (literally) off the charts," he said.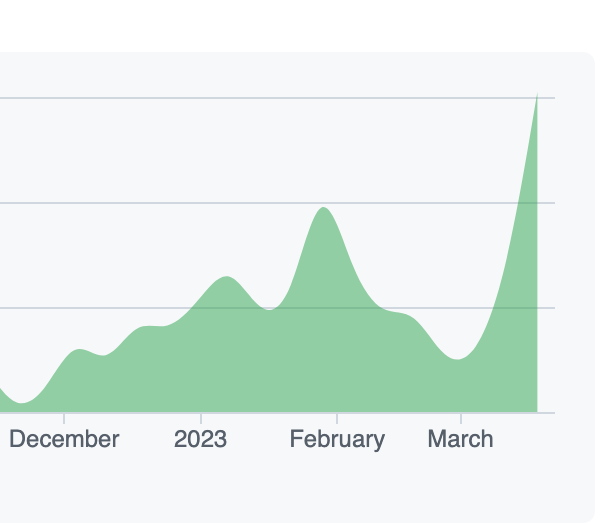 Srinivasan shared a link to the YouTube recording of the March 16 Farcaster dev call. On the call, Srinivasan and Romero discussed the difficulty of timeline planning when it comes to these novel and distributed systems, especially the Hubs launch, as well as touching upon a number of other topics. You can read the agenda and shoutouts here. The next dev call is scheduled for March 30 at 10 a.m. PT.
@betashop, a.k.a. Jason Goldberg, leaked some AI-powered alfalfa through a screenshot of a natural language to GQL query for Farcaster. "Working on something, probably nothing," he teased.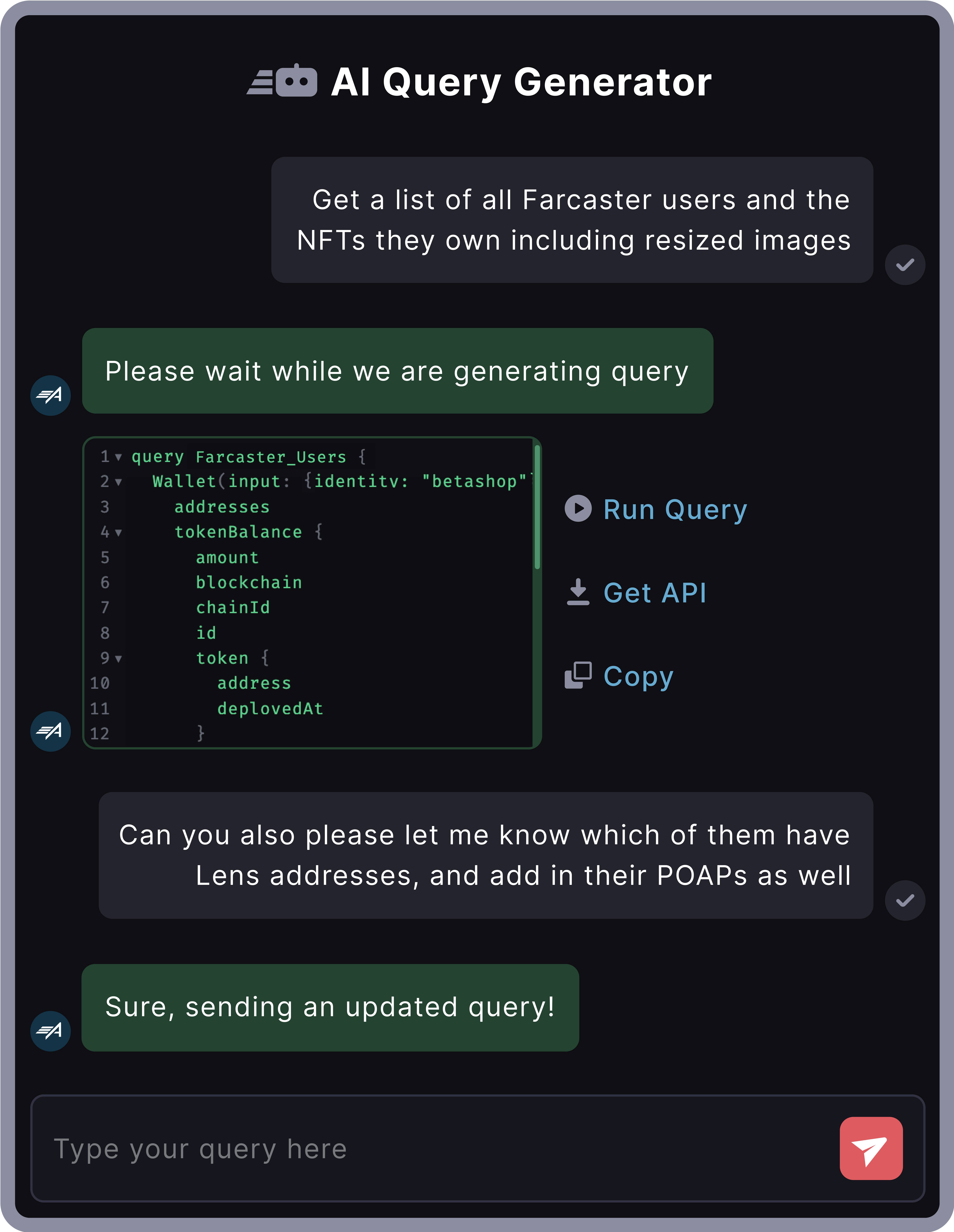 The source code for the Farcaster "cast line interface" bot Ditti has been open sourced. The Python codebase for @ditti can be found here.
Ideas worth sharing
@colin, a.k.a. Colin Armstrong, shared an idea for "Caviarcaster," a food-centric app where "anyone can post pic of a meal they've cooked, along with a link (or screenshot essay?) of the recipe, and a review." Armstrong suggested that the client could aggregate meals and allow filter/sorting by ingredient, rating, dietary restriction, popularity, etc.
@ace, a.k.a. Alex Kwon, asked what's changed on Farcaster between March 2022 and March 2023. @macbudkowski, a.k.a. Mac Budkowski, said that compared to "screenshot essays summer," there are almost none now. @pdr, a.ka. Peter Rood, said that the Farcaster community is still curious, engaged, and friendly, but there are more perspectives now and more projects being built.
@jayme, a.k.a. Jayme Hoffman, brainstormed some ideas for increasing Weekly Active Casters through tweaks to Merkle Manufactory's Warpcast clients. His suggestions include changing "Highlights" to "Convos", moving the NFTs tab to the Discover section and replacing it with "New" (a feed of new casters), and more.
HAAS? Srinivasan casted about some serendipity which occurred this week as he was working on a "private, unshared Notion doc about how someone should build Infura for Farcaster Hubs" when he got a DM from @greg, a.k.a. Greg Skriloff, about considering that very idea. @landnnft, a.k.a. Landon Boles, chimed in to say that Skriloff might not be along in considering the opportunity here.
Does Farcaster need a Twitter Spaces clone? @rachael, a.k.a. Rachael Sacks, put it this way: "If Farcaster had Spaces, no one would use Twitter again. Change my mind."
Have you ever wondered what the very first cast on the Farcaster protocol is? Wonder no more. Romero confirmed this week, in response to a question from @ccarella, a.k.a. Chris Carella, that this is his and the protocol's genesis cast: "Finally back on dwr! Good lesson to always back up your keys kids!" As @elad, a.k.a. Elad Gil, noted, it was perhaps a missed opportunity to pay homage to Jack Dorsey's first tweet with something like "Just setting up my 'caster'," but in time could still prove as iconic. @kevinoconnell certainly thinks so – he's now the proud owner of an NFT for the cast, through Kolmogorov's @mintit service.
Now that ChatGPT supports plugins, Romero says there's an opportunity for someone to build a Farcaster Hub plugin. If you build it, let us know!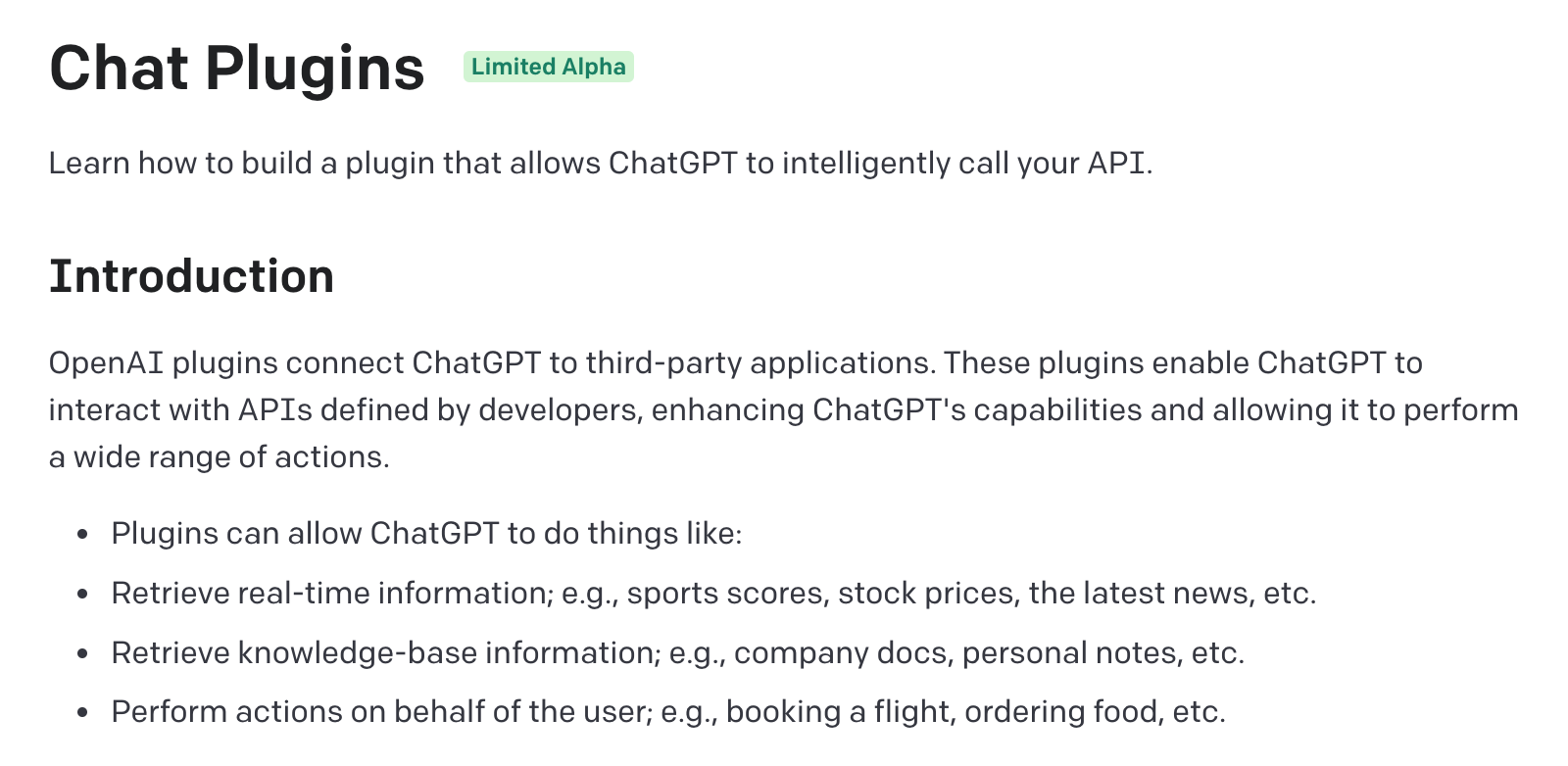 Goldberg has opened up his calendar to offer free pitch reviews to pre-seed and seed startups building on the Farcaster protocol. "You must have a prelim deck," said Goldberg. "I'll review it and provide feedback on a call."
Farcaster By the Numbers
Powered by Farcaster.network. Change calculations based on last week. Note: The total casts figure and average casts per day figure appear to have spiked, possibly due to the Hubs launch. We will clarify this in next week's edition.
Weekly Active Casters: 1.6K (same as last week)

Monthly Active Casters: 3.2K (same as last week)

Total Casts: 598K (+76K)

Total Users: 11k (same as last week)

Average Casts per Day: 10,794 (+8,201)

New Users per Week: 302 (-95)
Sponsored by Purple

Purple is a DAO whose goal is to proliferate and expand the Farcaster protocol and ecosystem. The DAO operates on Nouns.Build, Discord, and Charmverse.
This Week in Purple
It's been a busy week in Purple, with two votes currently underway, and more proposals in the pipeline.
Voting on PRPL 16 Developer in Residence - Pilot program with Juicebox rage quit option ends on Saturday, March 25. This is the most voted upon proposal so far considered by the DAO, and also one of the closest. As of publication time, 14 DAO members had voted 'For' the proposal, and 10 had voted 'Against' it. The proposal would fund @alexpaden, a.k.a. Alex Paden, to concentrate full-time on Farcaster development for three months, with much of that capacity to be focused on Ditti.xyz, the bot/service first mentioned in the March 11 edition of TWIF. The debate has been respectful and productive, with the 'Against' votes generally supporting the idea and builder, but expressing concern at the funding mechanism.
Voting on PRPL 17 Prop House Round 2 also ends on Saturday, March 25. As of publication time, all 17 votes were unanimously 'For' the proposal, which would put 5 ETH into a Prop House round, with 5 winners to be awarded 1 ETH each. The requirements for the Prop House round would be open to any application in the Farcaster ecosystem (both technical and non-technical are fine) but the submission must have at least a working prototype to be considered. Projects that are open source and/or public goods will also be looked on favorably. Once the proposal is passed, Purple will use a week to advertise it, and then two weeks for submissions and one week for the DAO to vote on funding.
The DAO is currently discussing plans for a Farcaster hackathon. You can read a public version of the forum post here. Purple is actively seeking feedback and input on how to make a Farcaster hackathon as successful as possible. Additionally, Purple is looking into the first-ever Purple "droposal," a proposal which would automatically mint an NFT for sale once passed. Proceeds from the sales would be split between the DAO and artists, and can also include a commission fee for the artists. You can read more about this idea here.
Looking ahead, Purple is tracking the upcoming release of Gitcoin Grant Stacks and how the product could be used for the DAO and its mission. @ccarella, a.k.a. Chris Carella, noted in a cast that it would be interesting to see what a public-private partnership could look like for Purple using Quadratic Funding. "I would love to see 10 companies invested in the FC ecosystem join us and contribute any amount of ETH to it," said Carella. Read more about Quadratic Funding here.
Purple also heard back from BuilderDAO this week regarding upgrades to the Nouns Builder contracts and whether the upgrades themselves are audited. BuilderDAO explained that the upgrades are not individually audited, but noted that the changelog is publicly visible on the Github repo. The DAO had loose consensus around the idea of letting Nouns Builder upgrade first and waiting a week to a month before upgrading the Purple contract settings.
Get to Know Purple
We'll be back next week with a profile of another Purple member!
Upcoming Dates of Note
Venice Beach Farcaster Meetup
Thursday, March 30, at 6 p.m. PST - Bright Moments
NFT NYC Farcaster Meetup
Saturday, April 15, at 5 p.m. EST - Betaworks
Have an event we should add to a future edition? Send us a reply to this email!
Job Listings
Senior Engineers (Discove)
According to founder David Furlong, the ideal hire "already uses Farcaster, believes in it & wants to see it succeed 💜." The stack includes React Native, Next.js, and TypeScript. For more information, DM Furlong at davidfurlong.telegram for more info.
Have a job listing we should add to a future edition? Send us a reply to this email!
This newsletter is published with Paragraph.xyz. The format of this newsletter was inspired by Week in Ethereum News. With questions, comments, or other feedback, please send a reply to this email, or access the "farcaster-weekly" channel in Purple's Discord.