This edition is sponsored by Purple, a DAO whose goal is to proliferate and expand the Farcaster protocol and ecosystem. Interested in sponsoring a future edition? Send us a reply to this email!
Farcaster News and Links
Farcaster at ETHDenver
ETHDenver was atwitter with Farcaster-related buzz, according to on-the-ground reports, culminating in Thursday night's Farcaster meetup, sponsored by Orange DAO, Purple, and GetPurple.xyz. Organizers said that 400 Farcasters showed up or, as @dwr, a.k.a. Farcaster cofounder Dan Romero, put it, "4% of the protocol in one place IRL!" Reviews of the event were wholly positive.
"Meeting everyone you know from FC for the first time IRL is such a magical experience," said @billzh, a.k.a. Bill Zheng. "Thank you Farcaster."
"Energy tonight at the meetup was insane 🔥🔥🔥," said @matthew. "If you were there, hope you had a wonderful time and made some new friends! I know I did."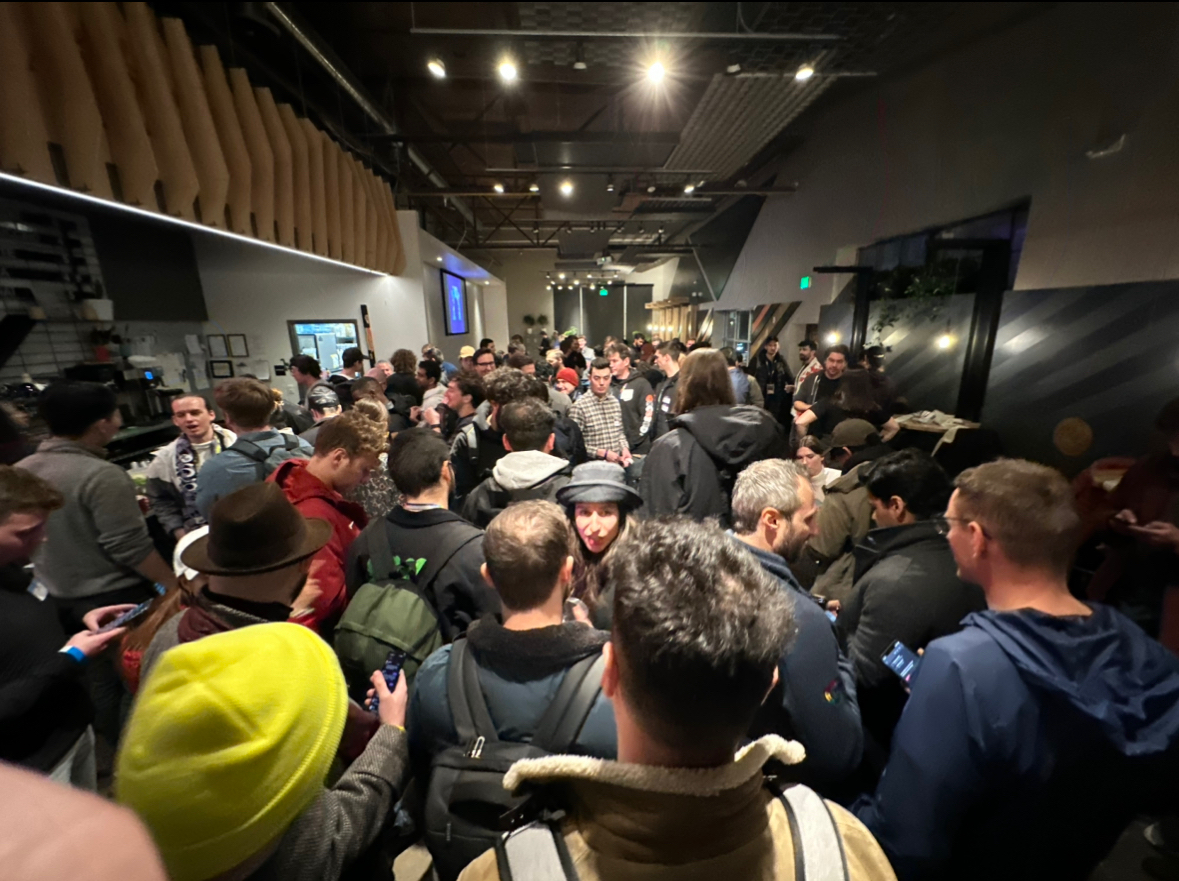 Just in time for ETHDenver, @nor, a.k.a. Connor McCormick, launched a prototype of "Farcaster Pokemon Go" built using the no-code hyper docs platform Coda.io. The app lets users sign up and then access a dashboard which they can use to mark themselves as "caught" by other Farcaster users when bumping into them IRL. @greg, a.k.a. Greg Skriloff, is currently on top of the leaderboard with 6 catches, out of 11 total "Farcastermon" which were catchable this week.
In a surprise ETHDenver update, @event, a.k.a. Eventcaster, added POAPs to the website. @matthew and @alvesjtiago added the feature and debuted it for the Farcaster meetup using a new kiosk feature they also built into the service. "Once you add your drop details, you can use our native kiosk to send POAPs to casters just by searching their username or ENS, or scan a QR code," said @matthew. The POAP ended up being acquired by over 120 Farcaster users. @matthew noted that Eventcaster also added a new activity feed this week with threading support. "Anytime you mention an event across FC, the thread will appear here. And it will do that whether you mentioned the Eventcaster link or an external link like Luma," he said.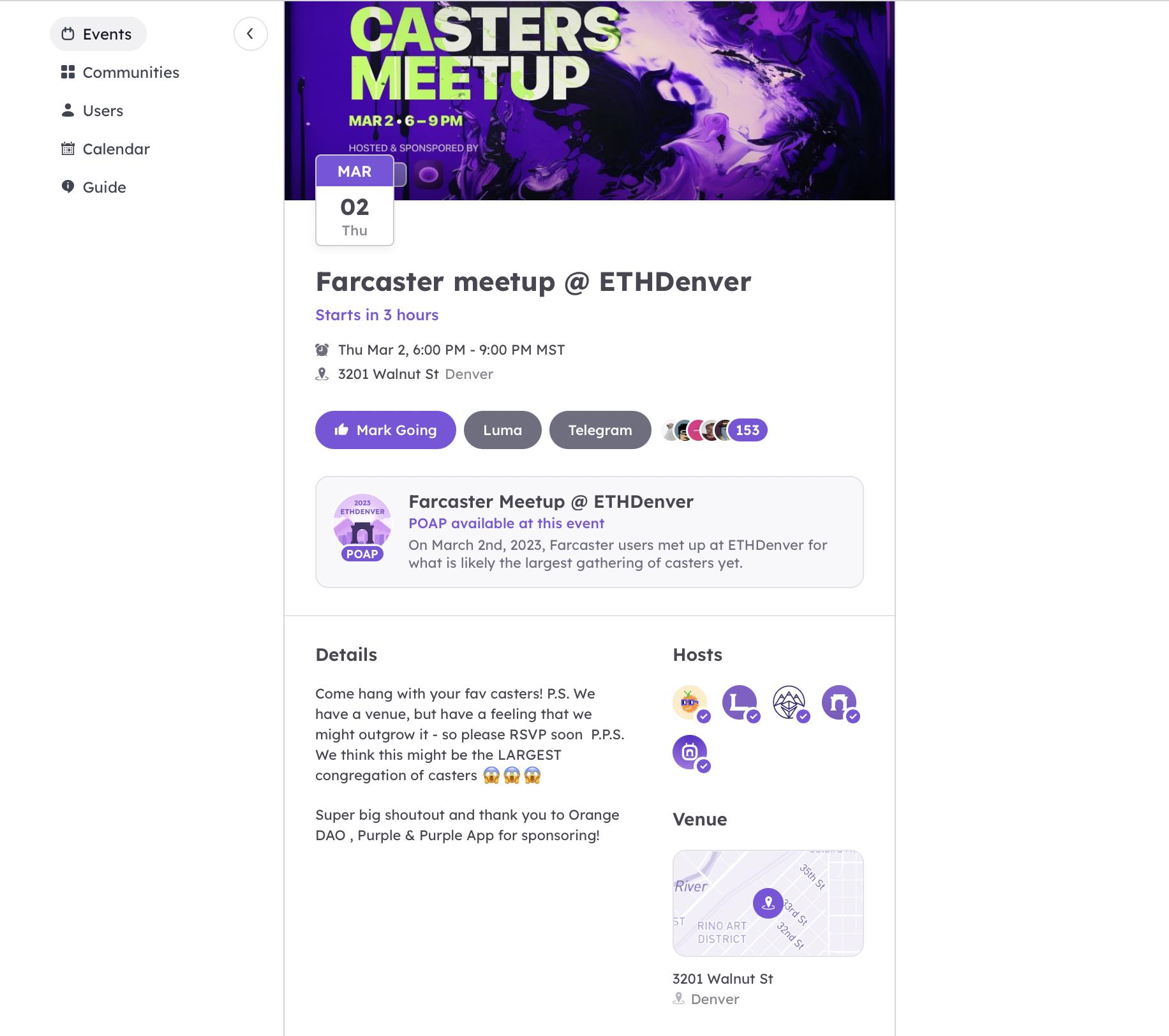 Farcaster users made use of the new location feature this week, with upwards of 100 users setting themselves to be in "Denver" while ETHDenver was in progress, according to a graph shared by Romero. Romero also noted that three users have set themselves as located in "Llanfairpwllgwyngyllgogerychwyrndrobwllllantysiliogogogoch, Llanfairpwllgwyngyll, UK."

With all the ETHDenver buzz about Farcaster, it's probably no coincidence that this week Farcaster saw its first 2000+ DAU day in 2023. Farcaster also broke 10,000 total users this week, and is poised to hit 500K total casts in the next week or two. (In case you were wondering, Zheng identified Farcaster user @julieshi as holder of FID #10,000.)
App updates and launches
@0xen launched the Castaways collection this week, consisting of 1,000 unique Farcaster-themed NFTs featuring the (soon-to-be iconic?) Farcaster 'arch' logo. As of publication time, 287 of the 0.03 ETH tokens had been minted. 2.5% of secondary profits will be allocated to Purple. @0xen notes in the description that, "After the mint it's my hope that the collection will take on a life of its own; there is no Castaways 'team,' this is an art project and there should be no expectation of utility outside of what you create yourself." In the launch cast, @0xen thanked @nicole, @j4ck, and @bias for contributions, and @emodi and the team at Highlight for their help bringing the collection to the public.
What's in a name? A lingering branding question was resolved this week when GetPurple.xyz founder @betashop, a.k.a. Jason Goldberg, agreed to participate in a poll by the new bot service @survey, a.k.a. Surveycaster, to gauge Farcaster sentiment on how the namespace collision between Purple App and Purple DAO should be resolved. The survey offered four different ideas for how the naming conflict should be resolved: Purple App changes its name; Purple, the Public Goods DAO changes its name; Don't stress, leave as-is; Other. 44 of the 48 responses indicated that the Purple App should change its name. In a cast, Goldberg thanked the community for its passion and feedback on the survey, and noted that the, "Purple App team has tons of 💜, respect, & enthusiasm for the Farcaster community, ecosystem, & protocol. We want to work with @purple and others to support Farcaster. So... Purple app will be changing its name soon." Purple DAO founder @ccarrella and Goldberg also posted a selfie of an IRL meetup at ETHDenver, showing the Purple love runs deep. In the meantime, the app can still be found at GetPurple.xyz, and on iOS Testflight and Google Play.
Alphacaster.xyz, the DAO-aware Farcaster client being built by Zheng added Farcaster-powered comments this week. "Testing out a new feature that allows you to comment on a proposal by casting with its Alphacaster link," said Zheng. "Please let me know if this is useful." Zheng has also updated the DAO feeds to show all active proposals and proposals should load faster thanks to caching.
"Sharecaster is back baby," said @pfista, a.k.a. Michael Pfister, in announcing updates to the Sharecaster.xyz service, which had been somewhat in flux since the Warpcast web debut a couple weeks ago. Pfister noted that if you are using the iOS shortcut, you'll need to install a new version here.
@san launched Readcaster.in in beta. "Could be bit ugly and buggy," he said in the launch cast, adding that, "feedback would be appreciated." The service curates links shared with the hashtag #MyReadCast and presents them in a personalized feed. @san said that he decided not to include all links because there are "lots of links shared on here or Twitter do not qualify for great reading." The feed links users out to the original site to read stories.
Looking for something to build? @df, a.k.a. David Furlong, shared an idea this week for Casterroulette. "At a set time every week to start off with, for an hour, you can connect to a website that pairs you with other casters for a 5 minute video call that automatically terminates after 5 mins," he explained. "For distribution, require casters to recast/approve a cast sharing that theyre live on it. Make it an event." Romero said he loved the idea and said that LiveKit might be useful. @yashkarthik, a.k.a. Yash Karthik, said he's going to give it a try!
If that idea doesn't strike your fancy, Romero shared another one this week – FarHouse, which he describes as "a single room audio hang out gated with Farcaster account." Romero noted that the Daily audio SDK could be useful for this. "If someone wants to do this and make it Open Source I would sponsor a 5 ETH @purple proposal for this," said Purple's @ccarella, a.k.a. Chris Carella.
@nbragg, a.k.a. Noah Bragg, is working on @tipcast, a Farcaster tipping service. He shared a screenshot of the "basic layout of a tipping page" this week.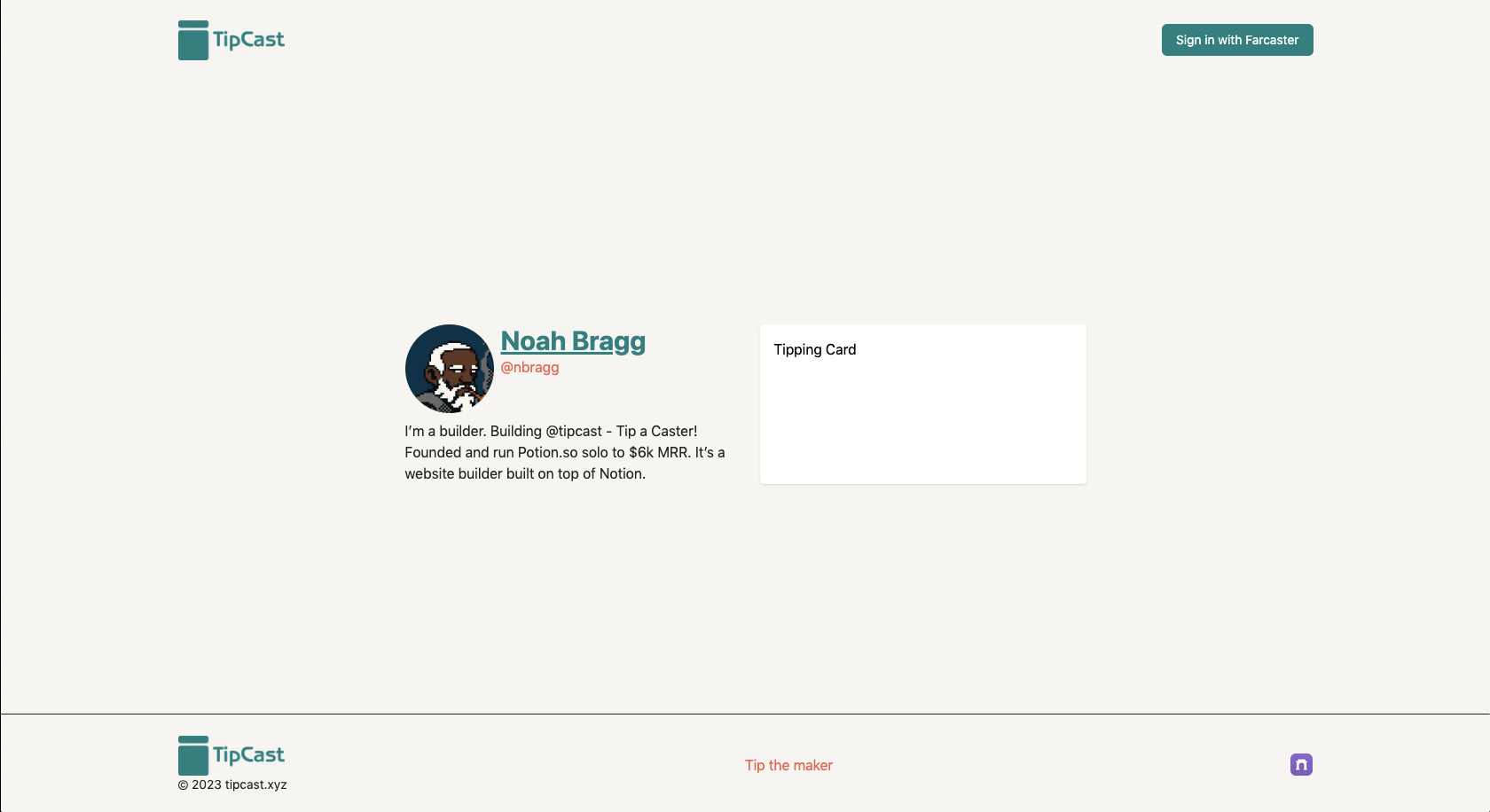 @molo launched a Hacker News-inspired news feed this week at CasterNews.xyz. After using your Farcaster address to sign a message and authenticate yourself, you can upvote and comment on stories using your Farcaster ID. Currently on top of the leaderboard is @harper's launch this week, SkyTeller.xyz. @molo explained that the service, "captures top casts with links in the past two days. Skips some things like NFT mints or music services that aren't so much written-conversation-focused. Also filters out Twitter links…willing to debate that choice though :)"
@uncledavo integrated Farcaster content into the personalized web3 digest service unjumble.xyz. In the launch cast, @uncledavo explained that users can select the communities, creators, and topics they want to keep up with. "We auto-curate content for you, across platforms, into one clean daily email."
Dev notes
A "Copy link to profile" button has been added to the desktop client, Romero casted on Thursday. The feature is available now.

Romero also noted another "small UX improvement" – when you invite someone to Farcaster with an in-app invite, you and the invitee will now automatically follow each other. By the way, Romero said this week that his invite to sign up acceptance rate is currently at 70%, while the average for everyone else is at 50%. Keep in mind that invites expire, so you'll want to nudge anyone you invite to accept within a few days of receiving the link.
Warpcast deeplinks have now been setup for mobile. Romero said that, "Warpcast URLs now automatically open to the mobile app if you have it installed. Also prompts you to open the app if you somehow end up in the browser."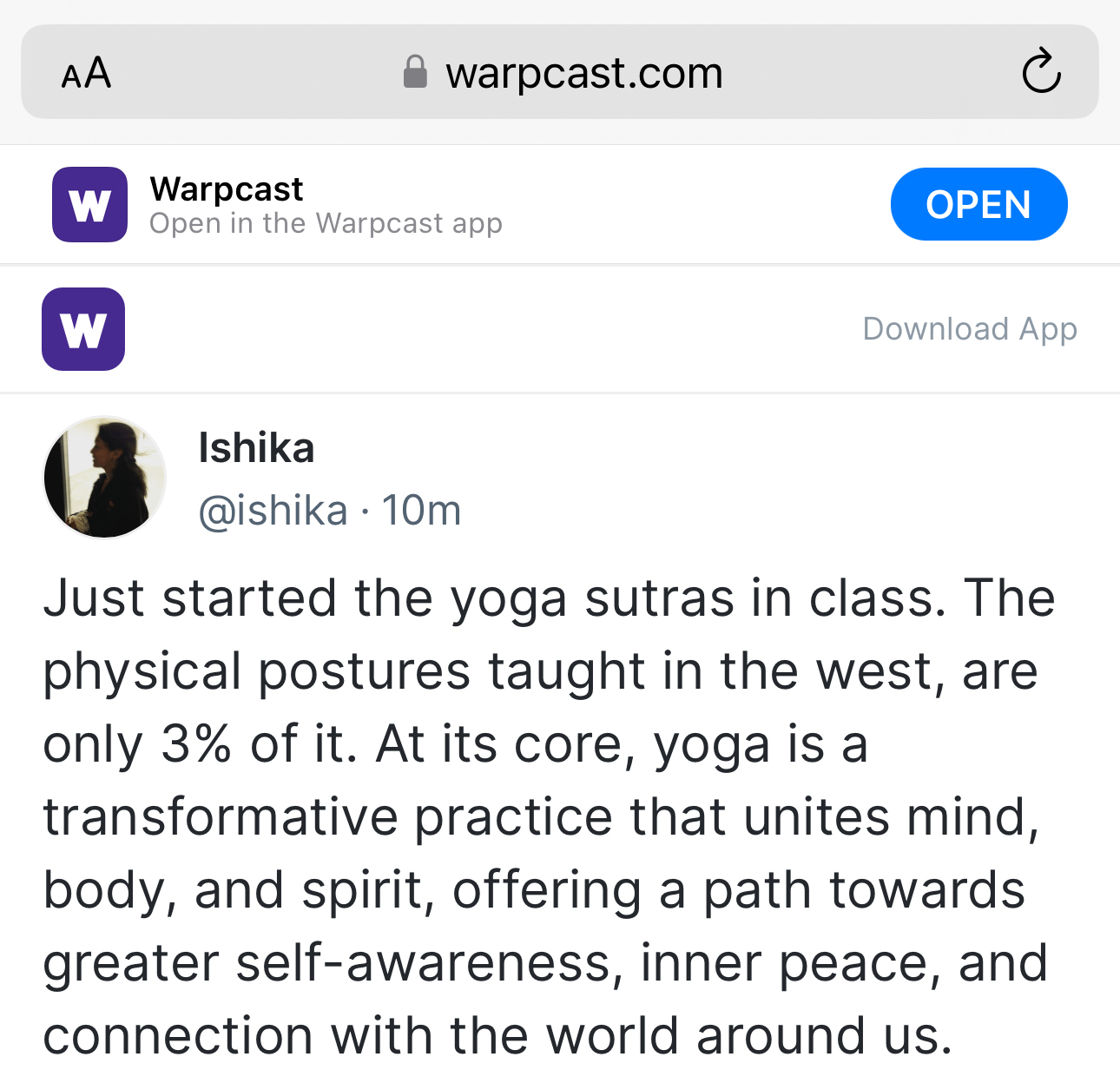 @v, a.k.a. Varun Srinivasan, cofounder of Farcaster, shared a Notion post delving into the relationship between Farcaster identities and wallets. Srinivasan said the post addresses "how we're thinking about the interaction between farcaster clients, wallets and on-chain identities." The post explains why generating a new wallet "offers the best possible experience for new and existing users."
Jack Dorsey-backed Twitter alternative Bluesky launched this week. Farcaster user @kc, a.k.a. Chu Ka-Cheong, shared a thread reviewing the differences between the AT Protocol (Bluesky) and Farcaster. "Both protocols have quite similar objectives, but they have very different design," said Ka-Cheong. The whole thread is worth a read.
Open source Zapier-alternative Pipedream added a Warpcast API integration this week. Romero noted the feature while welcoming founder @tod, a.k.a. Tod Sacerdoti, to Farcaster. "(Pipedream) went ahead and permissionlessly integrated the Warpcast API to their API no code product with 1000+ integrations," said Romero.
Here's your weekly reminder that if you want to see v2 and Hubs get here faster, there are plenty of ways to help. "Calling all Solidity breakers and golfers!," said Srinivasan in a cast this week pointing to the "help wanted" label in the farcasterxyz/contracts repo. "There are many contract improvements we need your help with!," he said. Keep in mind, there is also a Hubs repo which needs contributors, and Purple has setup funding for authors of merged Hubs PRs to claim 0.2-0.5 ETH for their work.
@cameron, a.k.a. Cameron Armstrong, posted a request for bot builders to stick to a norm: "Can we make it a Farcaster bot builder norm that you can ask a bot how it works by tagging it and asking help?" Armstrong offered an example – posting a cast like "@cameronbot help" could lead to a response from @cameron bot like, "Hi I'm a bot that fills your feed with too many casts whether you like it or not. Cast @cameronbot Meme - to get a dumb meme and @cameronbot Take - to get a dumb take 🫡"
Romero shared a "cast-length plan for Farcaster being 100% permissionless." The plan calls for Hubs (data and APIs) in May; Ethereum L1 mainnet migration this summer; and permissionless signups from any client by end of the year or early 2024.
Have you been wondering when Sign In With Farcaster will arrive? @mcbain, a.k.a. Graham McBain was. Romero chimed in and said that it's just a few weeks away.
Farcaster By the Numbers
Powered by Farcaster.network. Change calculations based on last week.
Weekly Active Casters: 1.7K (+200)

Monthly Active Casters: 3.1K (+100)

Total Casts: 486K (+3K) (lower than normal due to database adjustment this week)

Total Users: 10k 🥳 (+300)

Average Casts per Day: 2,315 (-150)

New Users per Week: 281 (-121)
Sponsored by Purple

Purple is a DAO whose goal is to proliferate and expand the Farcaster protocol and ecosystem. The DAO operates on Nouns.Build, Discord, and Charmverse.
This Week in Purple
The highlight of the week was by far the Farcaster meetup at ETHDenver, which Purple cosponsored through PRPL 10 Cosponsor ETHDenver Meetup. Thanks to everyone who came out for the gathering! In addition to meeting other DAO members and Farcaster users in person, three members of the Purple multisig also used the opportunity to make a bid together on a BuilderDAO token (see below).
Also noteworthy this week was resolving the naming confusion around Purple and GetPurple.xyz. Purple looks forward to continuing to work with GetPurple.xyz founder Jason Goldberg and team on the betterment of the Farcaster community, ecosystem, and protocol.
Purple is currently trying a second time to pass a proposal to upgrade Nouns Builder. PRPL 13 Nouns Builder Upgrade is pending, with all 7 votes so far 'For' the proposal. An identical proposal, PRPL 12, was defeated last week as it fell just shy of quorum with all 11 votes 'For' the upgrade. The new version, v1.2, includes several features, improvements, and bug fixes, including the ability to airdrop tokens. The difficulty reaching quorum is well known to DAOs, and one that Purple is currently discussing in relation to how the DAO can make it easier for members to stay informed about new proposals and needed actions on their part. To this end, members are currently discussing setting up announcement/broadcast-only channels in Discord and Telegram, and making better use of the @purple account on Farcaster.
Purple acquired a BuilderDAO token this week, following up PRPL 8 Purchase a BuilderDAO Token at Auction, which was passed last month. As @ccarella casted on Thursday, "@purple is now the proud owner of BuilderDAO #113 and excited to help govern a Public Good that launched our DAO and enables anyone else to do the same."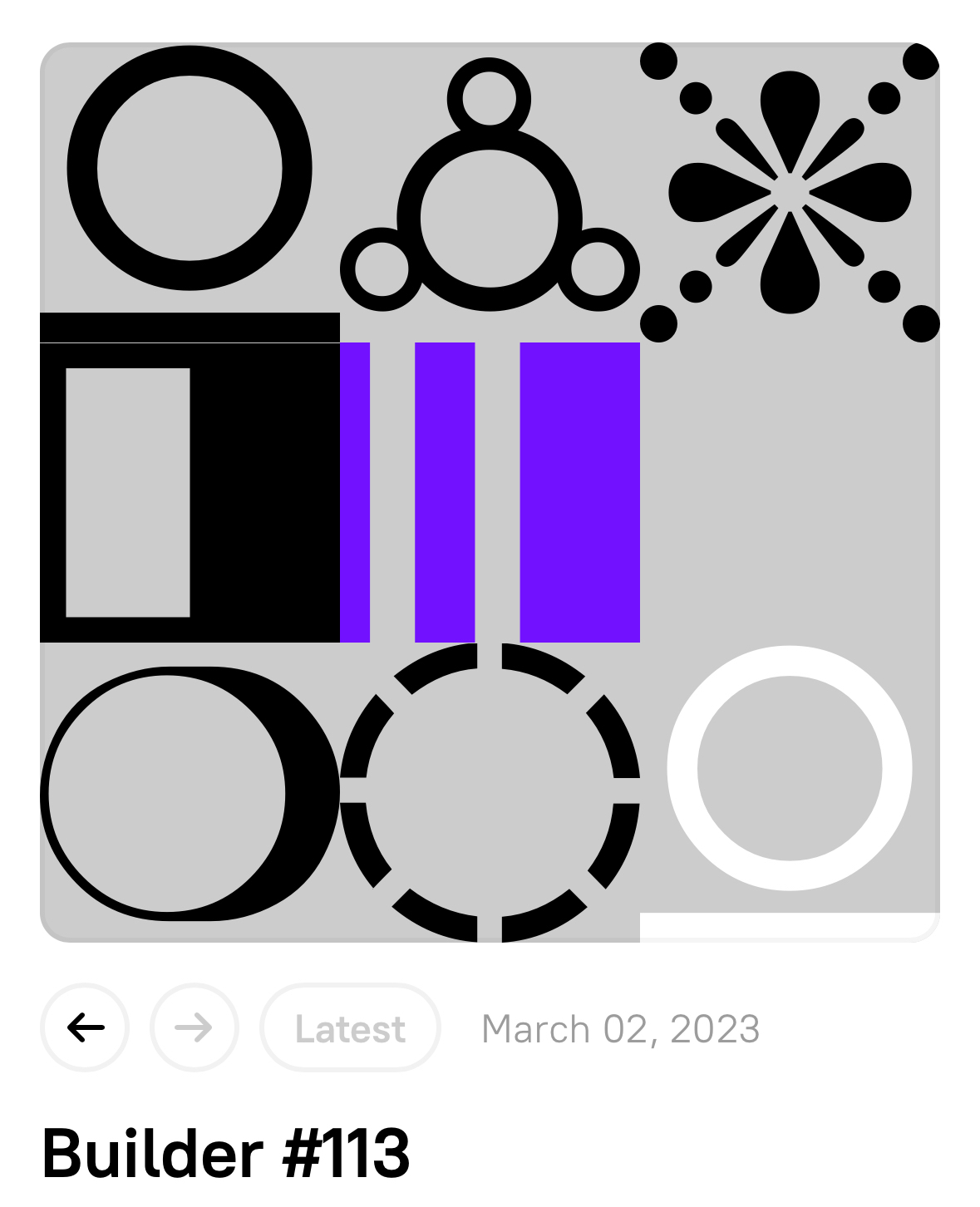 Get to Know Purple
This week, meet Purple DAO member @thethriller.
TWIF: Why did you want to join Purple?
As soon as I saw Farcaster and realized that web3 social was here, I felt a strong desire to be a part of it and support it. I also come from the world of DAOs, as my company MIDAO is focused on creating the best legal and regulatory framework in the world for DAOs. So when I saw there was a DAO supporting the Farcaster ecosystem, it was an easy decision!
TWIF: What excites you most about Farcaster?
For years, I've been optimistic about the prospects for web3 social. The last time I tried it out, about a year ago, I got a lens profile and couldn't get any apps to actually work or be useful. Recently, I listened to a Bankless podcast with @dwr on as a guest, and he invited listeners to join. When I joined, I was shocked to see that the Farcaster ecosystem had already essentially rebuilt Twitter on web3 and even so much more.
To me, what's so excited about web3 social is the potential for it to help humans and humanity find truth. Today, knowing that so many voices are censored from web2 social media, it is impossible for the internet to reflect the true views of humanity. I want there to be a place where I (and others) can go and see what everyone thinks, even when those views are at odds with your own.
Beyond that, once core web3 social infrastructure is ready, we can also introduce incentive structures, gamification, and webs of trust to help every human being find their own truth. I believe that when we do that, we also push all of humanity towards finding objective truth by helping people know what information to trust.
TWiF: Can you give us a few recommended follows on Farcaster?
@dwr of course. @matthew and his product @event so you can stay on top of all the latest happenings. @kmacbeth because he's fucking brilliant. @mxvoid for beautiful art. @ccarella for being a founder of purple and badasss dude.
Upcoming Dates of Note
Nothing yet! Have an event we should add to a future edition? Send us a reply to this email!
Job Listings
Nothing yet! Have a job listing we should add to a future edition? Send us a reply to this email!
This newsletter is published with Paragraph.xyz. The format of this newsletter was inspired by Week in Ethereum News. With questions, comments, or other feedback, please send a reply to this email, or access the "farcaster-weekly" channel in Purple's Discord.