This issue is brought to you with the support of MASQ, the dMeshVPN, browser, dAppStore, protocol, and earning ecosystem that makes living in Web3 anonymous and private.
MASQ's next gen, open source, and decentralized tools provide secure and anonymous access to the internet so that you can be in complete control of your data.
Learn more about MASQ by visiting masq.ai today and don't forget to follow them on twitter for updates.
---
Hey friends 👋
After almost two years since my last vacation, I'm finally taking a much-needed break from my 9 to 5, and at the same time doing my best to log off from twitter, discord, and limit my research and writing. In other words, I'm taking some me time.
It's not so simple, of course, since I have a monthly newsletter, not to mention I truly love writing, but I am trying to be less connected and enjoy the beautiful scenery, the fresh air, and some time with family and friends.
A Quick Refresher
In the last issue of the newsletter, I reflected on a book and film I'd recently enjoyed and shared some thoughts on the ways they helped me look at the subjects of anarchy, free assembly, and interestingly, DAO governance.
In that article, I feature some quotes by Noam Chomsky that helped me make the point that anarchism, or more specifically libertarian socialism, is more in line with the vision of the founding fathers of the United States, more equitably socialist, and more aligned with the system that only crypto and blockchain can build.
These might be bold, contentious ideas, but I believe them to be correct, and this is my newsletter, after all. If that sounds interesting to you, make sure to have a read through and let me know what you think.
Look Ma, I Participated!
Last month, PoolTogether announced they were extending their Delegation Week promotion with Tally (from one week, to one month), meaning POOL holders could delegate their voting power without paying gas; so I decided to pitch myself as a delegate.
PoolTogether is a community that I care a lot about, and I've been an active part of it for two years already. In fact, the only reason I don't hold POOL and participate in governance is because I just can't afford to have so much of my portfolio tied up in speculative assets.
As many of you know, I have a lot of debt left over from my college years, and with interest rates going up and up, it's more important to me to attack my debt than invest. Anyone watching my wallet will have seen me liquidate airdrops, NFT profits, DeFi and professional income just about as soon as it comes into my possession.
All this to say, I want to vote, but I can't buy my voting power. Fortunately, I'm a good salesman, and so during delegation week, I made a delegate profile on Tally and shared my pitch or more specifically my voting principles.

I'm proud to say that I received a delegation for 20K POOL worth of voting power. Based on this level of voting power, and the average number of votes cast on proposals (around 200k-300k), this could be enough to swing certain proposals that are close.
All this to say, I feel like I'm finally able to participate in a way that commensurate with my level of passion for this project. It feels like validation for work put in and I'm nothing but grateful.
Maybe you have a DAO that you're passionate about. If so, I encourage you to get involved. It can really change the way you look at web3. I know it did for me.
Diving into DAOs with PoolTogether
There's probably no better place to get started with than PoolTogether. The community is welcoming, transparent, and rooted in trying to build something that's genuinely good for the world: an onchain prize-savings protocol.
And that protocol just celebrated 4 years if you can believe it.
I've been a part of the community on Discord for almost two years, and it's always been one of my favourite places to pass my time. There are tons of ways to connect, like:
Weekly community calls

Twitter Spaces

PoolyPedia: trivia (with prizes!)

ReadTogether community book club

PlayTogether gaming events (with prizes!)

discussion channels around various subjects and general discussion in multiple languages
If you want to get involved, join the Discord and follow PoolTogether on twitter.
And in case you missed it, community members and active users of the protocol can now unlock free pooltogether.eth subdomains! Learn all about that in the blog post below ⬇️
In Other News
ZachXBT, the renowned crypto sleuth, is the target of a defamation lawsuit from one of the alleged scammers he uncovered. Like so many defamation suits, it will have the (plausibly intentional) effect of costing Zach a lot of money in legal expenses.
The crypto community has rallied around Zach and managed to raise around a million dollars in the first 24 hours. This is yet another reminder that when it comes to crowdfunding, peer-to-peer money transfers, and charity, there is no better technology than cryptocurrency.
Those who can't donate directly, can contribute in other ways. For example, anyone who is deposited into PoolTogether can use prize delegation to share their any prizes they win over a specified period of time, without risking their deposit.
You can learn more about that in this post.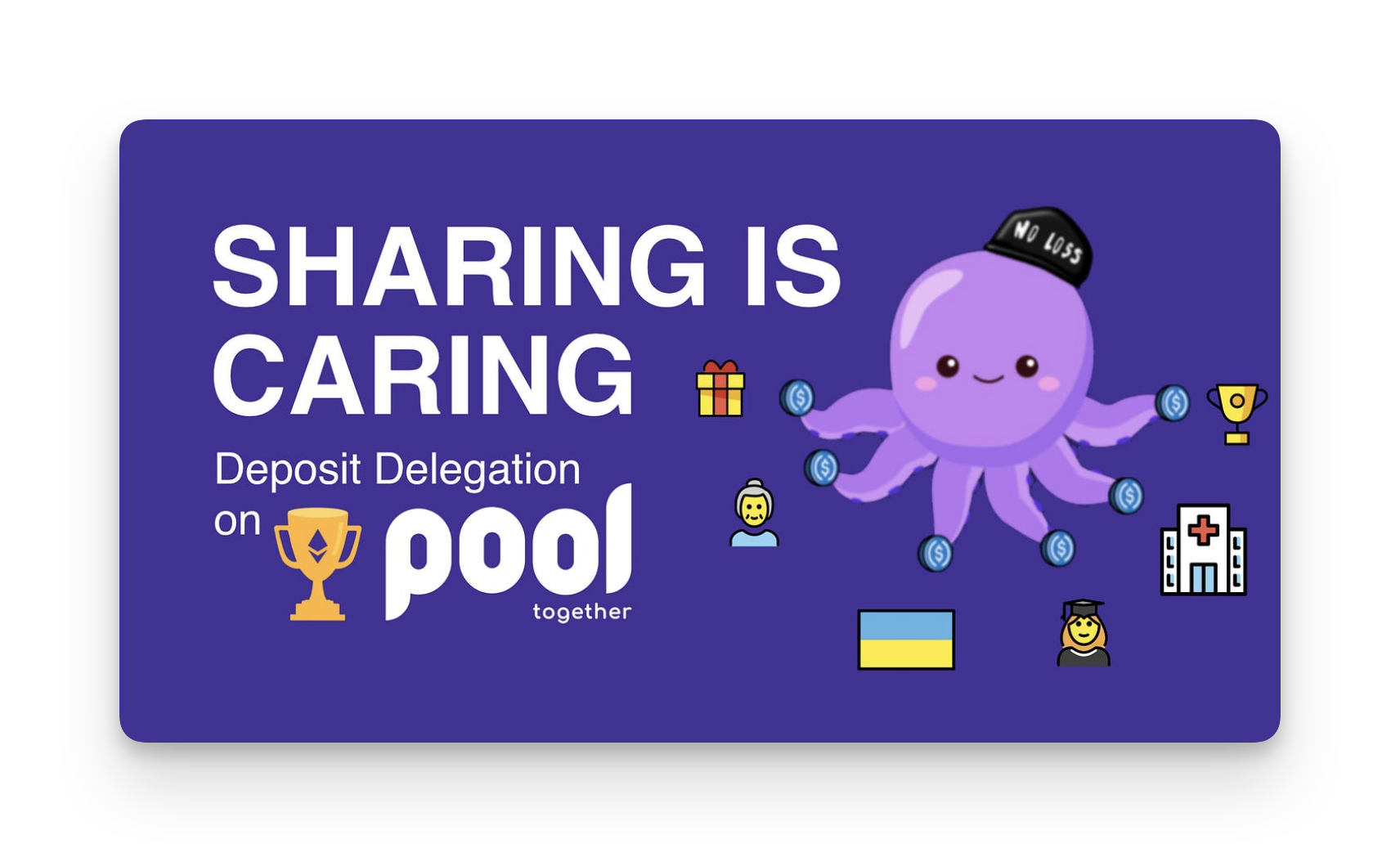 And, David who created pfers, the PoolyNFT x mfers derivative, has made an announcement of support as well ⬇️
Speaking of NFTs…
A Wild L2 Appears
Zora, the NFT minting protocol / platform / community / state of mind, has officially launched their network. Those of you who read the newsletter regularly will recall that in the last issue I announced the launch of the testnet for this new optimistic rollup, simply called ZORA NETWORK. Now the mainnet is live and you can use it already!
ZORA NETWORK is built on the OP Stack, the modular and open-source software stack that Optimism created. This stack, which is enabled by the Optimism Network's recent Bedrock upgrade, is what also powers Coinbase's upcoming L2, Base.
I won't go too much into detail about the Bedrock upgrade because I'm going to be writing about it soon. Subscribe to my Mirror (blog.thumbsup.finance) to get email notifications about new posts so that you don't miss it! For now, the thing to know is that minting an NFT on L2 is about 10-20 times cheaper than minting on Ethereum mainnet.
You can bridge from Ethereum mainnet to ZORA NETWORK at zora.co. I did it, and it was fast and cost only a few dollars.
And if you're looking for something to mint, check out…
My New NFT Project
I've been waiting patiently for Zora's L2. I've advocated for them to come to Optimism for a while now…
After all, my patronage NFT, Hey Friends! was built on Zora. And I'm lucky to have had a small handful of supporters mint on Ethereum, despite the gas. That's why on day one, I ported Hey Friends! to ZORA NETWORK.
And that's not all, I also lowered the barrier to entry by reducing the mint price!
Check it out at mint.thumbsup.finance
The first ten people to mint on L2, as well as all the people who paid to mint on L1, will receive an airdrop from my new project: Retrofutures.
What is Retrofutures?
Well, a little over a year ago, I decided to mint the ENS domain retrofuturist.eth. I'd been going through a period of getting overly interested in utopian socialist architecture. The aesthetic of these structures, like so much of my favourite sci-fi, can be described as retrofutristic which is to say, modelled after a vision of the future that could only have been from a specific vantage point in the past.
When I began using generative AI to make my graphics for my blog posts and newsletters, I quickly found that I was left with countless excess images that were really great, but that I had no use for.
My piece on PoolTogether v5, also known as the hyperstructure, made reference to arcology and architectural hyperstructures, and creating the graphics for that, helped me to conceive of this new project.
In my announcement post on twitter, I explained Retrofutures like this:
Like everything I do, this is an experiment; another way to explore my creativity and see if people value the things I create. Unlike Thumbs Up, this is not educational content in any way. Instead, each artwork is like a capsule from an imagined sci-fi novel, with a beautiful retrofuturistic image and a description that reads like an excerpt, synopsis, or teaser.
The first edition is out now. The first piece is available as an edition of 42 at a mint price of 0.0042 ETH. My only goal is to help pay for Midjourney which is costing me about $42 (CAD) per month. Though it would always be nice to earn a little income from my creative projects. I'll probably use it to pay for subscription Dall-E or Photoshop to try their generative AI tools.
You can check out the first edition and even mint it on ZORA NETWORK at the link below ⬇️
Oh, and speaking of monthly expenses…
Elon Got My Money
I've written a lot about my distaste for Elon Musk and what he's done to twitter. The culture on the platform is more toxic than ever, engagement is way down even though the bots haven't gone anywhere, and, despite pretending to be a free speech maximalist, he's done everything from banning protected speech such as satire and journalism, to ignoring unlawful content like CSAM and hate speech, to anticompetitive behaviour like blocking and shadowbanning content from competitors like Mastadon and Substack, and even, in perhaps the biggest hypocrisy of all, censoring political dissidents in India.
I was once an Elon evangelist for his work with Tesla and Solar City, but now I realize what he is: a modern-day Rockefeller. And the worst part is, he probably thinks that's a complement. It's not.
I've had the newsletter for over a year, but it was a sporadic mess that came out once in a whenever I felt like it. It wasn't until early this year, when I decided to decentralize my content that I committed to a monthly schedule (plus bonus issues). Initially, I wrote the newsletter on Substack, but when Elon began shadowbanning Substack posts, I moved to the platform I've always believed in, Mirror. And later added Paragraph to the mix.
But, blogging and writing newsletters is not enough to grow my audience. I've always believed in twitter—at least conceptually—and I love the kind of interaction it allows for. I've written about trying to move to Lens, Bluesky, and Farcaster. And in truth, each of these platforms offers something special, but, like twitter itself, there are tradeoffs.
So, I decided some time ago to switch to twitter Blue. It's supposed to offer some algorithmic boosting of tweets and replies, as an anti-bot measure, though I haven't noticed anything. I finally saved up, bought a burner eSim (for the required phone number) and shilled out the $11.50 (that's the price in Canada!) I wrote my thoughts about it in the tweet below.
It sucks to be paying so much per month. But I'll try it… for now.
Re: Farcaster & Bluesky
I still use twitter more than any other platform because there are so many users there and, as a result, there's more content to engage with, but decentralized social has come a long way and offers some pretty wonderful features.
Bluesky has a great vibe and ships features fast. It feels like it's being built in the public, which I love. There was an issue with people selling invites, and so they've been giving out far fewer, which is why I haven't invited anyone since the issue where I gave out 5 invites, otherwise I would have.
By the way, I have one invite now, which I will give out at the end of the month to whoever shares this newsletter on twitter and gets the most (non-bot) interactions. Make sure to tag me!
Farcaster, is probably my favourite twitter alternative. There are basically no bots (that I've seen), the community is diverse and, while it skews crypto heavy in terms of the users, the content people post is actually pretty varied. I have many invites available, so if anyone wants one, tag me on twitter, Blusky, or Lens and let me know. You can also DM me on twitter, or email me at thumbsup@skiff.com. A heads-up though: you will need to provide me with an email address because that's what you'll use to create your Farcaster account.
Moving on…
A Little Love for My Sponsors
Skiff, the service I use for my public-facing email (referenced above) is a fantastic privacy-first productivity suite. They sponsored the newsletter for the past two months, and I'm incredibly grateful, so much so that I want to give them a shoutout here.
They recently announced that even the free tiers of their pricing plans allow for custom domains, which is unheard of! If you'd like to upgrade from free, you can contact me at thumbsup@skiff.com and the first two people to ask nicely will get one year of Essential for free!
It was through Skiff that I discovered this month's sponsor, MASQ. I commented on twitter that all Skiff was missing to compete with Proton (which I use for my personal email, file storage, calendar, and VPN) was a proper, decentralized VPN (dVPN).
Someone replied:
And as usual, I made a mental note that later led to a rabbit hole, that later led to a conversation with the team at MASQ, that led to them becoming this month's sponsor.
What is MASQ?
MASQ is a dMeshVPN, a browser, a dAppStore, a protocol, and an earning ecosystem that come together to make living in Web3 anonymous, private, and potentially rewarding. The MASQ Browser is similar to TOR browser, but goes further by incentivizing users node operators instead of relying simply on volunteers. This allows the network to decentralize further, improving anonymity.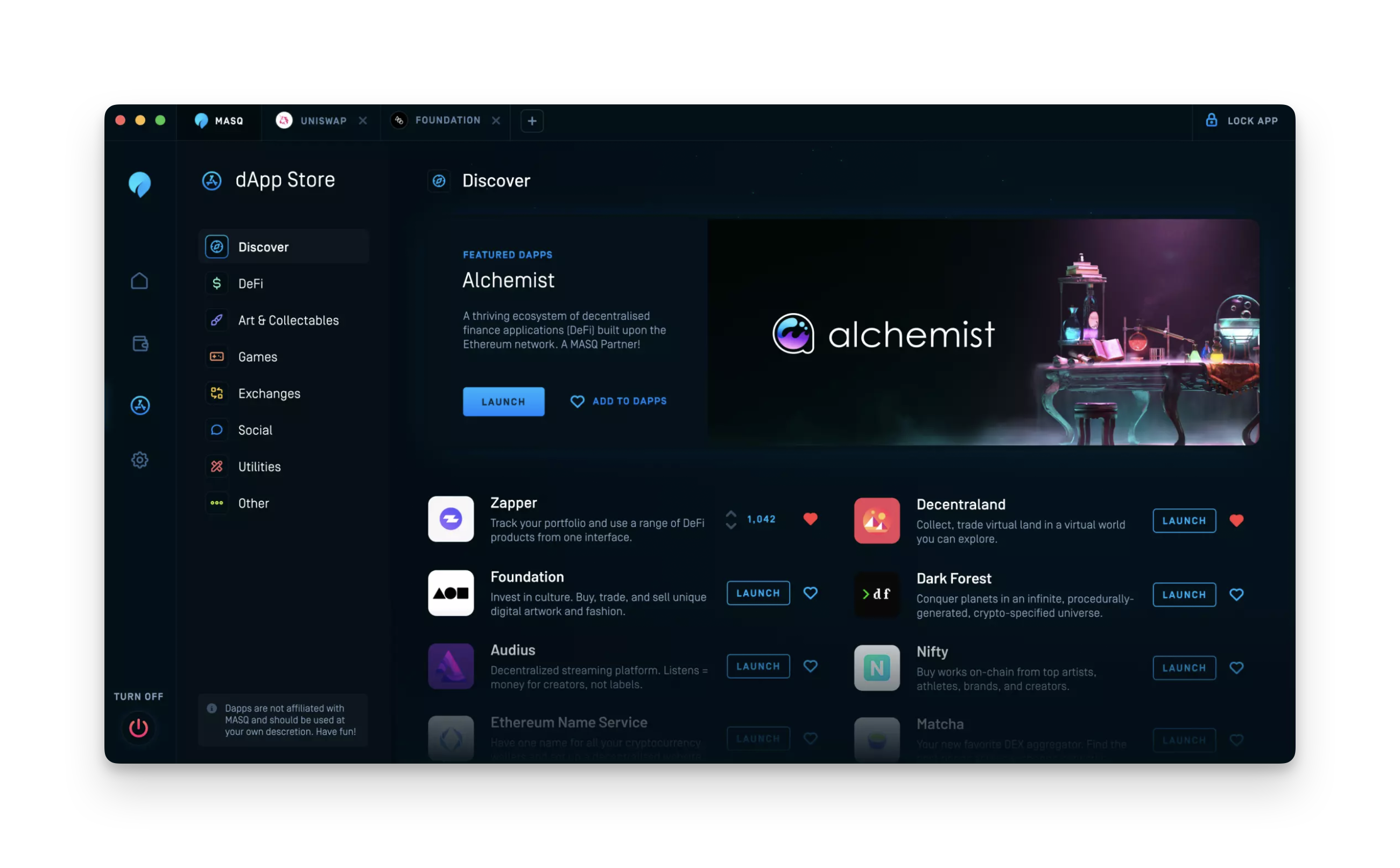 While I've only just begun my journey with MASQ, I'm so excited about what the team is doing, and I'll be making some deeper dive content soon, so stay tuned. In the meantime, check out MASQ's website and don't forget to follow them on twitter for updates.
Speaking of updates, that's pretty much it for this issue. I'm about ready to get back to my vacation, but first I want to give you a few…
Recommendations
On the subject of Bluesky, and the innovative thinking behind their approach to building decentralized social media, here's an article from Bluesky on their innovative thinking behind their approach to building decentralized social media.
If you've read much of my writing, you'll know I'm a big believer in Zcash. This fork of Bitcoin is mentioned throughout my works. In my piece Bitcoin and the History (and Future) of Money, I made the bold claim that Zcash is actually the Bitcoin satoshi wanted. In my piece The Progressive Case for Crypto Privacy, I explained Zcash's design, compared it to similar privacy-preserving technologies like Monero, and argued that the political left should not be fighting this kind of technology if they truly believe in equity, inclusion, and access.
---
Side note: That piece is really overdue for an update, and so if anyone wants to see that happen, give me a signal, either with a Zcash tip (address at the bottom of this newsletter), by minting my patronage NFT and leaving a comment like "more privacy content please!" or something along those lines, or, if you're working in that domain, DM me or email me at thumbsup@skiff.com and we can discuss sponsorship.
---
Anyway, back to Zcash… There's a new website and it's beautiful! Check it out at Z.cash and learn all about what makes Zcash special through a host of great educational content and more.
And lastly, I just wanted to give a shoutout to Layer3, the crypto quest and education platform. I've been a part of the Layer3 since the beginning. I was the number one content producer back when it was more of a bounty board. I won the most contests and that's where I connected with a lot of my earliest sponsors.
I'm proud of what Layer3 has become. The site design is clean yet engaging, the quests are often fun and informative, and compared to similar platforms, there is no contest; it's far and away the best.
They just announced their new Quest API, the first step in turning Layer3 from a platform to a protocol that interoperates across apps and sites. I'm so excited to see what this becomes and proud of the team.
Here's the announcement thread from twitter and by the way, if you've never tried Layer3, use my invite link, peppered throughout this section. I don't get money or anything, but our profiles will be connected, and I'll unlock some unique quests when I hit certain milestones of referrals.
And with that, my Out of Office is officially back on.
Until next time,
Thumbs Up
---
If you enjoyed this newsletter, consider collecting a copy. It's like tipping and receiving a unique digital collectible as a receipt.
To become a patron of Thumbs' Update and unlock special perks, like Q&A, you can mint my non-fungible patronage NFT on Optimism, Zora, Base, or Ethereum.
And for the cypherpunks, I accept anonymous tips with Zcash to my shielded address:
zs17a2mhl6xeu56cqqeqync9kddyg8gggcy6253l5evjdyw8l8j8f60eg40exr4wk27hnvfgkkgnju
#web3
#nft
#social
#privacy
#cryptocurrency