Welcome to the Trove marketplace recap. This will be a bi-weekly post breaking down all the action happening in the Treasure ecosystem. Each summary will feature price movement on projects, upcoming events, and potential catalysts
---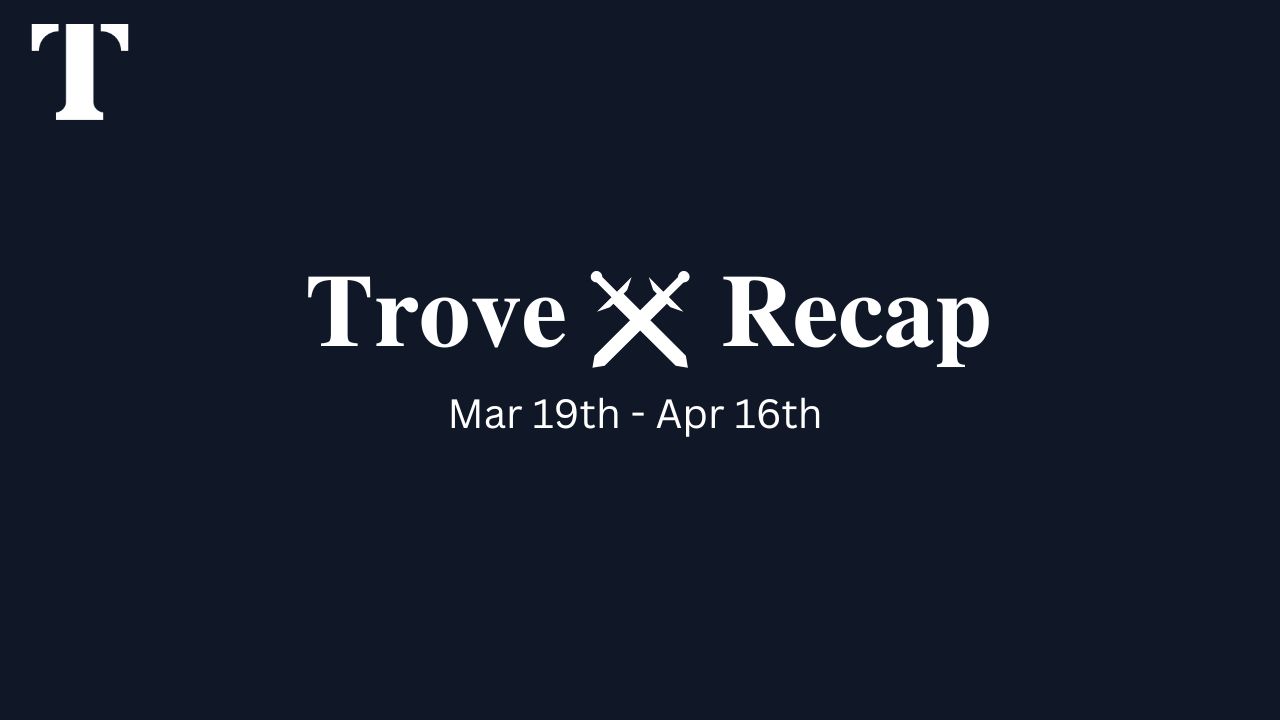 ---
The Beacon:
Writer - Exor (@ExorTreasure)
If there is something The Beacon team does well… it's working hard on adding new features to the game! 
The team recently decided to add Lux Shards to the game, resources that can now be collected during dungeon runs and be used in The Bazaar! As the game comes closer to being fully released, it is very exciting to see what the team is building and many more features will be added.
Moreover, The Beacon will also participate in the Treasure Cup hosted by AI Arena. Although the deadline to qualify to represent The Beacon has passed, many more competitions will take place in the months to come so keep an eye on their social media.
The floor price of Pets and Founding Characters are currently ~200 $MAGIC and ~25 $MAGIC, respectively.
Tales of Elleria:
Writer - Jurskin (@TheJurskin)
Spiritualist mint is over. Stay tuned for the ninja mint. In the meantime, enjoy all the boost from the anniversary celebration, and awesome new features like hero rebirth and all other anniversary events.
TLDR:
Spiritualist mint is over. Ninja is coming next 

World Boss S8 is over. Over 6000 $MAGIC distributed among all participants.

Special attack for spiritualist is live: a degen 200% damage at 50% accuracy.

Hero rebirth is live. Burn a hero to reroll stats for another

Anniversary events are live! Make good use of these time-limited events while they last

Completely new game loop: Tower of Babel will be available in May.
Price action of $ELM and all staking pools
ELM is currently sitting at $0.90 and ELM:MAGIC remained at 0.58:1 as compared to 3 weeks ago. Single-sided ELM emission pool was hovering at 113k $ELM while LP staking pool is slightly increased from 77k to 80k $MLP in the past 3 weeks. The floor for CS heroes are currently at 395 $MAGIC while floor heroes went as high as 60 $MAGIC in the past week, and currently sitting at 44 $MAGIC after hero rebirth went live.
Weekly Recap:
1) Spiritualist Mint:
The spiritualist mint is over. Ninja will be next and the mint date is not announced yet. We can now bid our heroes in USDC+ELM or ARB.
For the first week, all 250 spiritualists were minted: 43 max bids and lowest bid is 0 $ELM.
For the second week, 189 spiritualists were minted: 4 max bids and lowest bid is 0 $ELM.
For the third week, 215 spiritualists were minted: 1 max bid and lowest bid is 0 $ELM.
For the fourth week, 250 spiritualist were minted: 5 max bids and lowest bid is 0 $ELM (41 $ARB).
2) Special attack (Devour) for spiritualist
The spiritualist special attack went live and it turned out to be a degen huge blow at a cost of reduced hit rate. It does 200% damage at 50% current hit rate. 
You can read more about it in this discord announcement: https://discord.com/channels/933280677338701826/933280677879762986/1087795636688130098
3) Anniversary events
Elleria finally turned 1 year old! To celebrate such glorious achievement, the team has a lot of celebration event in place which includes: Hero rebirth, $MEDALS boost, free hero renaming, levelling event (with scroll reward for every level up) and cosmetic event.
Hero Rebirth:
You may now burn a hero to reroll stats for another hero. Heroes with higher experience will have advantage in better rolls and you may also add MAGIC shard to increase your odds up to 375 and 400 total stats for dawn and genesis heroes respectively. Read more about it in this article: https://medium.com/@talesofelleria/hero-rebirth-feature-5171a2b8abc2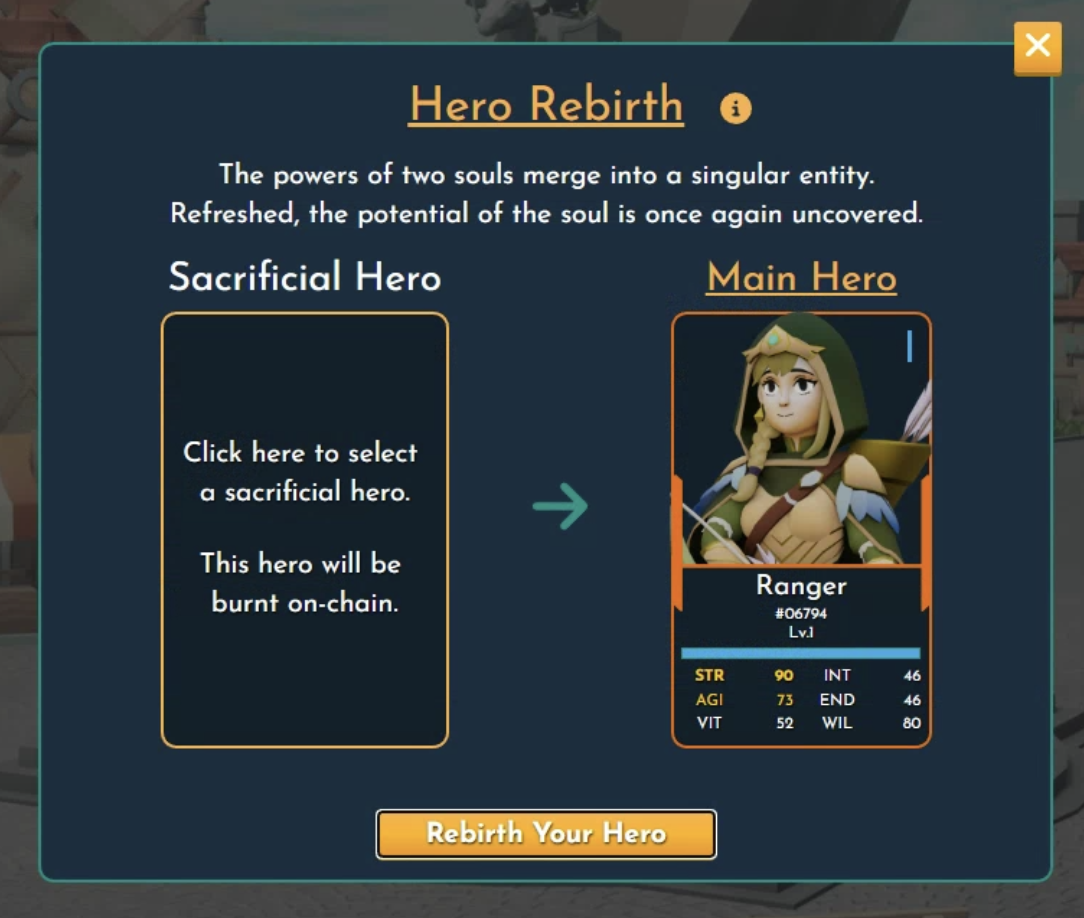 Stat Boost:
You may now enjoy a free 1-month long 20% stat boost for all heroes. Depending on the number of different classes of heroes you have, you may also receive up to another 20% stat boost. Read more about it in this discord announcement: https://discord.com/channels/933280677338701826/933280677879762986/1092301922280689734
$MEDALS Boost:
All heroes in Basic Task will receive a 100% boost in $MEDALS emission. Get those floor heroes to work on them!
Free Hero Renaming:
Always wanted to rename and personalize your heroes but deterred by that whopping 5000 $MEDALS cost? You may now do this for free for the entire April. Make good use of it and get your creative mind working to rename each and every one of your heroes!
Levelling Event:
All experience cap for levelling are removed so you may now level up your heroes as long as you have enough $MEDALS and $ELM. Time to spend some of those stimmy to buy $MEDALS and $ELM to get your heroes up to speed and send them to difficult quests to earn all those sweet $ELM!

On top of this, you will also receive a soul-bound scroll as reward for levelling up your heroes regardless of failure/success. 

Every upgrade between 15 and 20 gives 1x Risky Scroll.
Every upgrade between 21 and 30 gives 1x Chaos Scroll.
Every upgrade between 31 and 40 gives 1x Lesser Positive Scroll.
Every upgrade between 41 and 50 gives 1x Blessing Scroll.
Every upgrade from 51 gives one 1x Miracle Scroll.

Check this discord announcement for more: https://discord.com/channels/933280677338701826/933280677879762986/1094840601758933062
Cosmetic Event:
Lootbox from previous mints will be airdropped and players can also purchase additional ones. Please be reminded that skins can only be applied on genesis heroes (i.e. warrior, assassin, ranger and mages). Once applied, the skin would then be binded with the character.

Read more about the anniversary event in this medium article:
https://medium.com/@talesofelleria/tales-of-ellerias-1st-anniversary-event-106620914712
4) Tower of Babel
A new tower filled with monsters will be available to all heroes in May. Players may compete with each other and climb to higher levels of the tower and win weekly rewards which includes $ELM. Of course, monsters become increasingly tough at higher levels - it is time to make good use of the existing leveling event and get your heroes prepared for the challenge!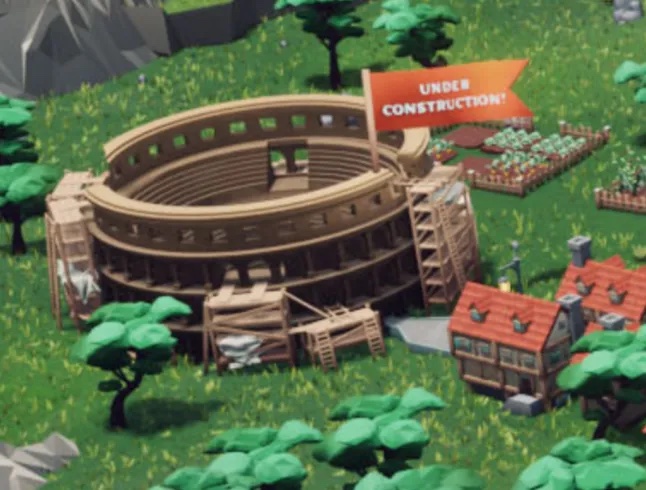 Elleria always welcomes comments and suggestions so if you have any questions or recommendations for the team, feel free to drop by discord and speak up in the general chat!
Realm:
Writer - J (@Dysto1911)
There's a lot to catch up on in the Realmverse since our last issue:
Adventurers of the Void (AoV) minting officially ended on April 12

$ANIMA was approved under TreasureDAO MIP-04 to be listed on MagicSwap 

Big sweeps on Realms in the last week

AoV Updates
Minting AoVs with $ARB went live shortly after the token's public launch. At 69 $ARB per AoV (a relative discount to the $ETH mint price, at least for now), many took advantage of the opportunity to join the Realmverse or add to their existing collection. In addition, every AoV minted with $ARB will receive a one-time $ANIMA bonus, a LootBox whitelist, and was entered into a raffle for another starter pack of TreasureDAO essential NFTs from across the ecosystem.
This period also represented the final opportunity for AoV minting, in preparation for the next phases of gameplay. Minting officially ended on April 12 with a total of 9,472 minted by players, up almost 3,000 since enabling mint with $ARB. Another 1000 AoV remain reserved by the team for giveaways, etc. The full collection will forever be capped at 10,472.
Celebrating the upcoming $ANIMA listing (more info below), along with the final AoV mints, battles are temporarily receiving boosted $ANIMA output for defeating more powerful opponents. More details are linked in the tweet below.
There's a lot to look forward to soon now that the collection is complete, in terms of both in-game activity and the collection itself! Not to mention that new variants will be dropping this week.
Boosted $ANIMA Output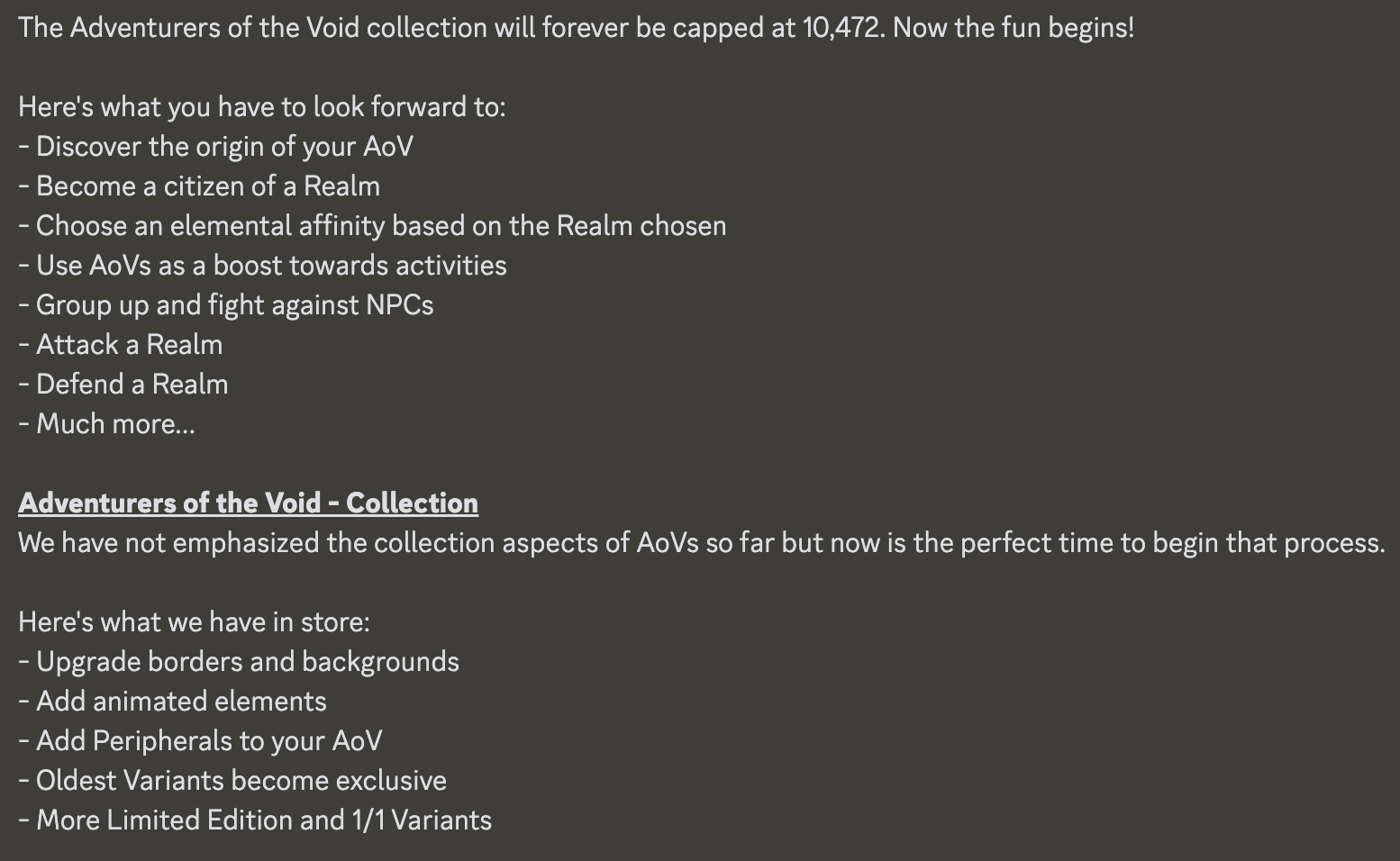 More to Come for AoVs
Ecosystem & Community News
$ANIMA listing has been approved for MagicSwap, though the date of listing is still TBD. The process for unlocking and listing $ANIMA on MagicSwap began and passed the TreasureDAO governance process under proposal MIP-04. The Realm and TreasureDAO teams are now working to organize the listing.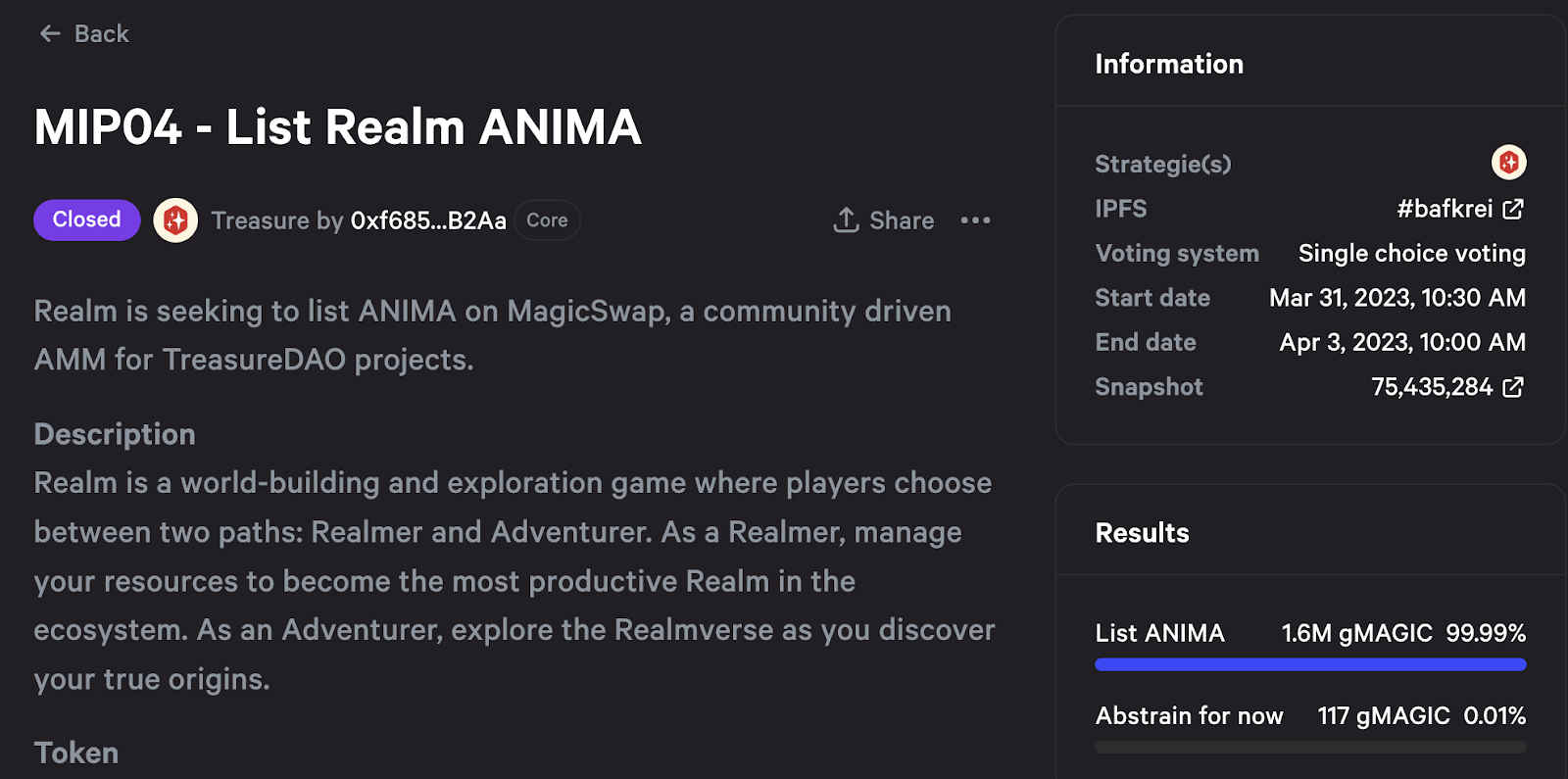 March was a historic month for building in the Realmverse, as Realm legend memberberries set the highest individual Realm production score in a single month. 
Another Realm legend, ASX (AKA ROTG), was recently recognized for their outstanding community contributions.
Realm will be participating in the AI Arena Treasure Cup. Thanks to ClickClickEnvy, qualifiers will be held through an R56 Games Pinball competition.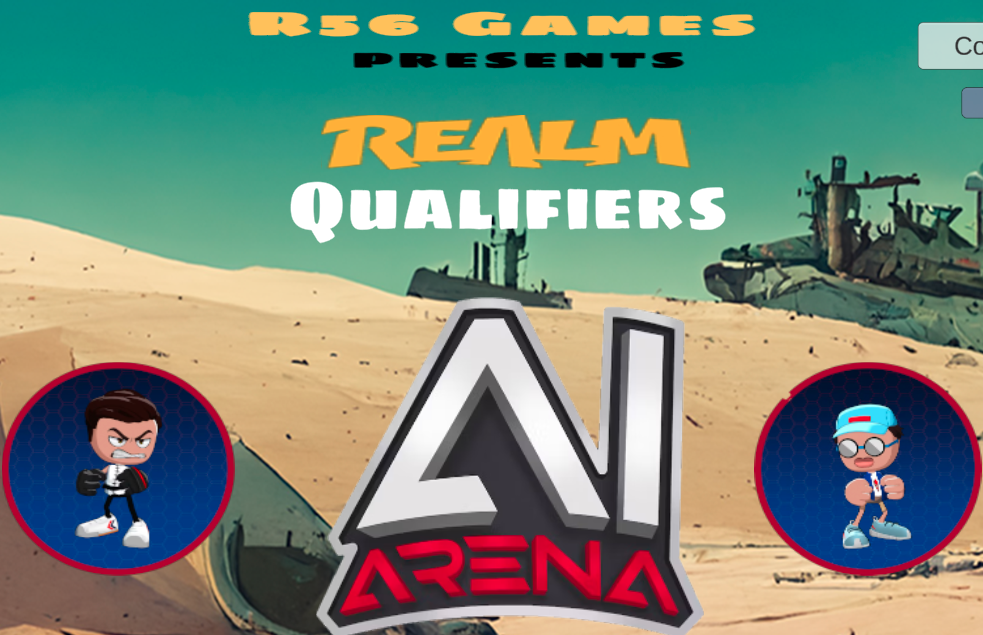 Market Activity

There were a few big sweeps on Realms in the last week, bringing floor price up from recent lows under 100 $MAGIC to 259 $MAGIC at the time of writing.
With AoVs minted out, we're also seeing some renewed interest in secondary sales for higher levels. A level 12 AoV recently traded at 0.255 ETH. 
In the Collectibles market, volume and prices are also up from their mid-March lows.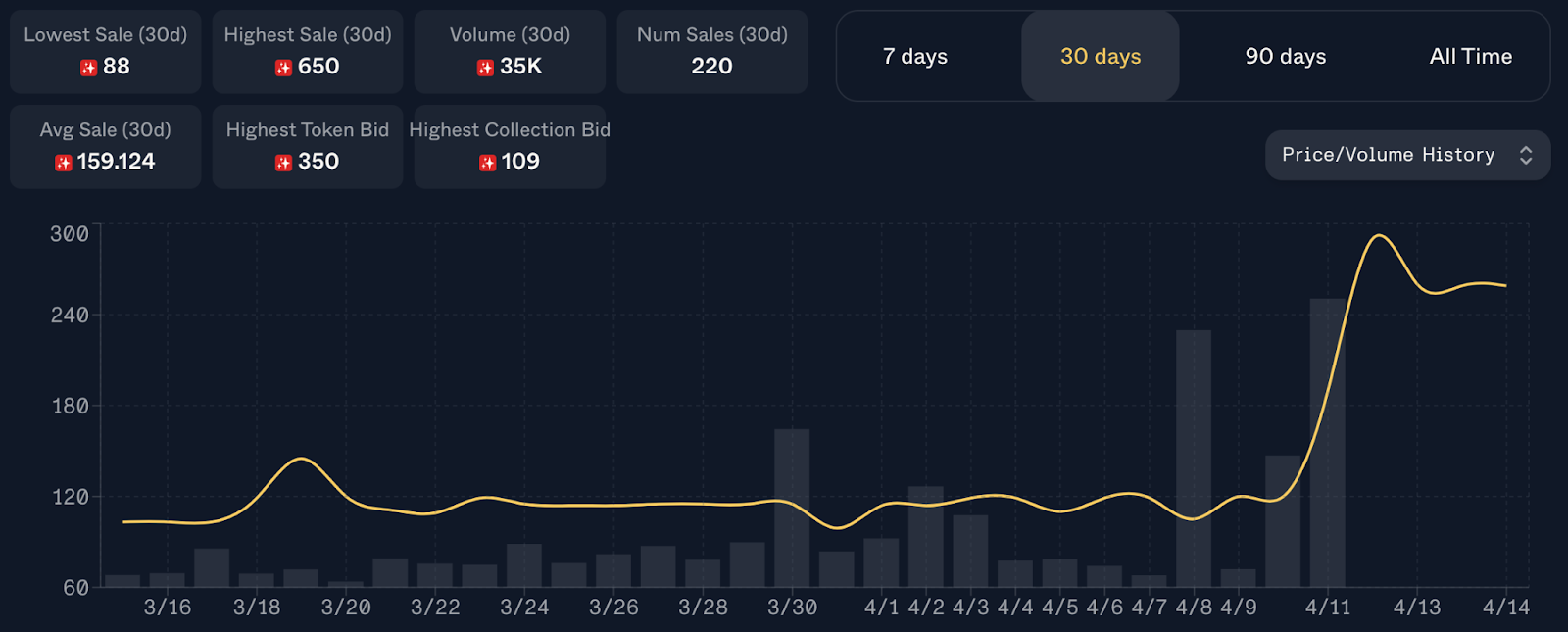 Smolverse:
Writer - Kowl (@kkowll)
A Lot has happened since the last recap update. First Smols have migrated on-chain (if you have not migrated yet head over to the migration page on the Smolverse site)
Being on-chain will bring many interesting features for Smols like customizable head sizes, dynamic traits, spendable IQ, and more. The team plans to bring the rest of the Smolverse collections on-chain starting with the Swols

You can now walk around the Smolverse map with your own Smols or Swol
In terms of price action Smolverse collections are down from their March run-up highs.
Smols are at a 550 $Magic floor
Swols are sitting at a 95 $Magic floor
Smol Pets are at a 17 $Magic floor and Smol Body Pets are at a 10 $Magic floor
Cars and Swolercycles are trading at $10 and $9 $Magic floor prices
Land is down to a 78 $Magic floor
Smol Treasure is the only item that has been somewhat stable since the end of March. With Moonrocks trading at a floor price of 0.14 $Magic and Alien Relics trading around 250 $Magic.
Bridgeworld:
Writer - Tempest (@0x_zughead)
Weekly recap/developments
Steady as she goes - T1 fragment hunting is quite attractive in corruption play!

TIP-24 is up and voting finishes April 17th. The idea is to use 60% of protocol owned liquidity ($2.7 mn for a playable BW game - ala Smolverse's game studio development). 

 The vision of inter-op & BW's original thesis remains the key reason behind this TIP - so please do vote if you wish!
Market recap
ARB pamps and MAGIC also pamped too
LG prices have hung around 1,250 MAGIC vs. 1,400 in the last update. Interestingly, Aux has ranged ~185-200 vs. last update of 175 as treasure hunting and harvester play has continued to see more interest. 
Treasures are still in a good spot and the latest prices below:
T1 = 395 (OMG)
T2 = 144 (try not to break these yes?)
T3 = 24.8
T4 = 21 (yikes!)
T5 = 8.8 

Level 5+ craftooors have held up ~700 MAGIC vs. prior 665. Crafting remains only good for Extractors, but watch those T1-2 shinees - breaking one is going to hurt.

APR (Aux questing)
Part 1 = 179%
Part 2 = 142%
Part 3 = 224% (assuming 1 card flipped & no corruption)
BattleFly:
Writer - Kowl (@kkowll)
BattleFly BFIP-02 "Ratify Product Roadmap" has been approved by the Dao. There are many features that are currently in development and these features should add a lot to the overall game. To read the full product roadmap: https://docs.google.com/document/d/1zgfsw63TbkSSeIDX2TRn7mxoBicEBL7468H3spziO_0/edit
Price Action:

BattleFly V1 Founders are sitting at a floor price of 7,200 $Magic
V2 Founders are at a floor of 1,199 $Magic
Wasteland's current floor is around 2,280 $Magic
Battleflys are at a floor price of 7.75 $Magic (at the time of writing)
Knights of the Ether:
Writer - Kowl (@kkowll)
Lots happening in KOTE recently. A new build went live last week and adding some changes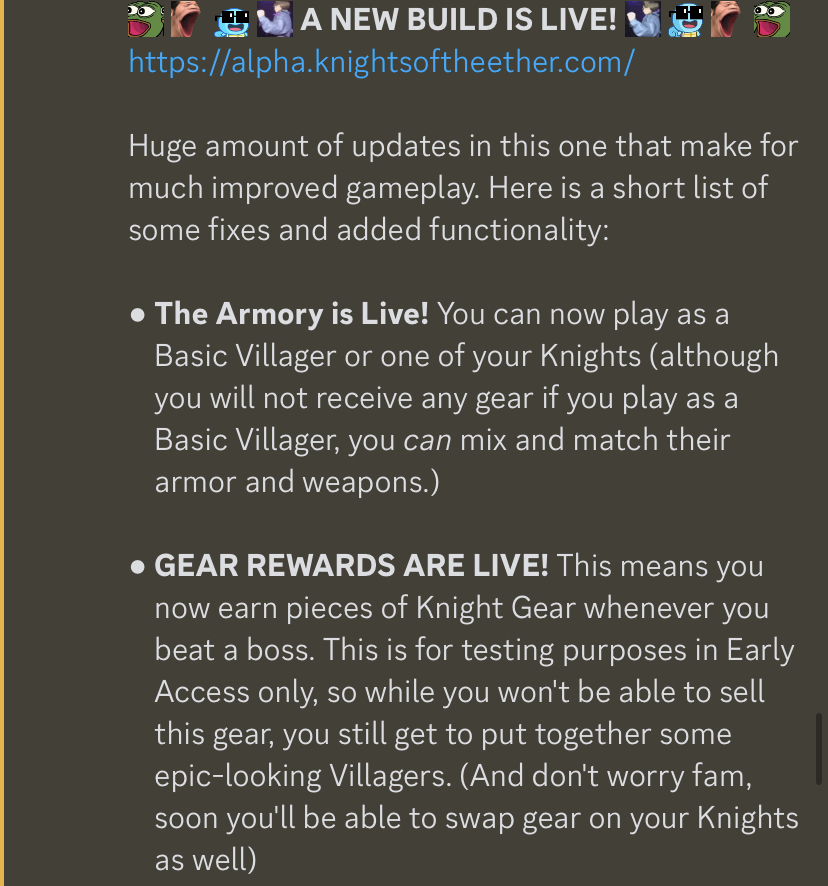 Be on the lookout for Villages which is a new play-to-earn feature that is coming in the future.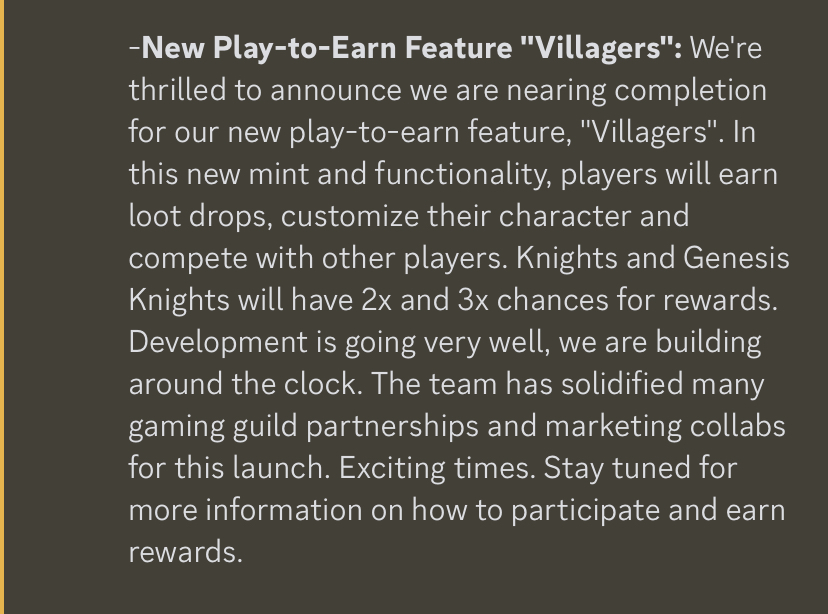 Prices have been pretty stable across the board with Knigths staying around 0.05 ETH on Trove and Squires staying in the 90 $Magic range.
Lost Donkey:
Writer - Exor (@ExorTreasure)
There is no boring day in The Lost Land, especially when Donkeys decide to all start sliding on extremely cool Donkeboards! Over 1,400 Donkeboards were offered to Donkey holders who staked their donkeys for over 200 days or who owned over 5 donkeys. If you did not qualify, you can still get your Donkeboard for only $25 MAGIC!
You may have a Donkey and an awesome Donkeboard… but do you also have a Barn that will allow you to play in The Lost Land? A short but very useful thread was released by TLD to explain why Barns are potentially undervalued:
Finally, do you still have $ARB lying around that you haven't delegated yet? If yes, Big Noodle, Founder of TLD, is now an Arbitrum delegate and will use your $ARB to vote in favor of propositions that will support the gaming ecosystem on Arbitrum!
The floor price of Donkeys, Donkeboards, and Barns are now ~45 $MAGIC, ~24 $MAGIC and ~13 $MAGIC, respectively.
Lifeverse:
Writer - Kowl (@kkowll)
Colosseum of Phanes Season 3 is coming out soon (Registration is set to launch this month with a tease from discord hinting at April 20th) Unlike previous seasons, COP season 3 will be a browser-based game with improved UI/UX.
You can read more about Colosseum of Phanes below
Price Action:
Imbued Souls are trading at a $Magic floor of 64
Skill Rest Potions are at a floor price of 1.87 $Magic
---

Thank you all for reading. This will be a bi-weekly report so look out for the next one

Follow Treasure Times on Twitter for more $Magic content - https://twitter.com/treasuretimes_
To keep track of upcoming events: Magic Calendar - https://www.treasuretimes.lol/nft-calendar
Check out some amazing game guides by Treasure Hunt:
Check out all our amazing writers and give them a follow:
Kowl - https://twitter.com/kkowll
Tempest - https://twitter.com/0x_zughead
Jurskin - https://twitter.com/TheJurskin
Exor - https://twitter.com/ExorTreasure
J - https://twitter.com/Dysto1911
---
Disclaimer: Treasure Times is not affiliated with Treasure, Trove, or any project mentioned in these summaries. These recaps are intended for entertainment purposes. None of the information in this piece is financial advice. Always do your own research and talk to a financial professional when making investment decisions.
Disclaimer: Every project we have talked about we own an NFT or multiple of those NFTs. Always do your own research before making a purchase.

#$magic
#arbitrum
#web3 gaming
#web3
#gaming
#nft
#treasure times